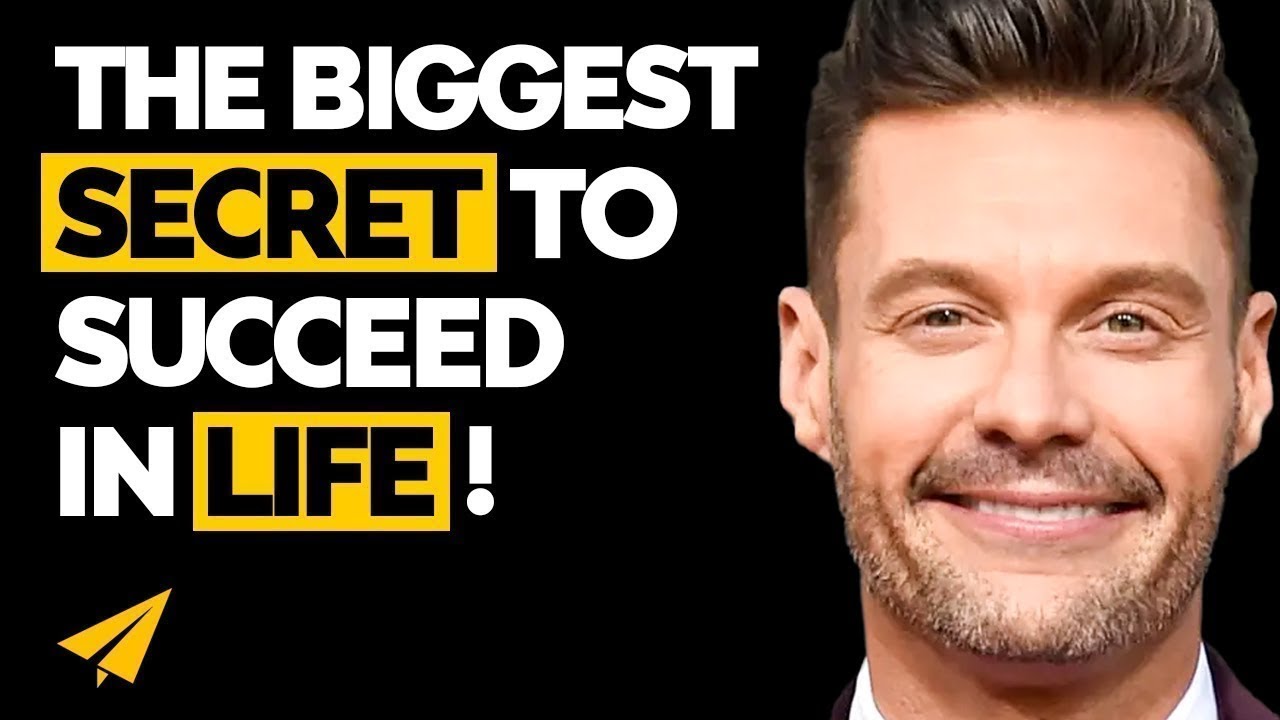 Good morning, Believe Nation!
My name is Evan Carmichael. My one word is believe and I believe that entrepreneurs are going to solve all of the world's major problems.
So, today we're going to learn how to not take no for an answer. Over to you, Ryan Seacrest.
Ryan Seacrest
What do you think the secret to your success has been?
I think, for me,
Like if they were going to ask you, Ryan what can I do, what would you tell them?
It is absolute focus and determination and a love for what you're pursuing. And I think they, as I did, will be told no a lot, and that no is something you can't always listen to. Like, sometimes that no can become a yes. But, I think you've got to find out something you love and pursue it with a lot of focus.
Evan Carmichael
So, along your path to success you're going to get a lot of no's. You get a lot of people saying no, no, no, no, no, no, no. You can expect it. And, you know what? A lot of those no's are justified because when you are first starting something, you're going to suck.
Your quality, your output is going to suck. It's not going to be very good because you don't have the talent. You don't have the skills. You haven't put in the effort yet. And so, you can expect people to say no and it's not a malicious no, it's not, I want you to fail no.
You just aren't providing them with enough value yet. And, that's okay, but if you have the passion for what you want to do, this is a big dream, this is a big goal of yours, then you have to push through. There's this great clip of Sylvester Stallone where he says I love getting no's, because a no just means a yes.
"If you can learn to use your no's as motivation to do better, then you're on the fast path to success." – Evan Carmichael
He sees it as a challenge. The fact that he got a no is a challenge for him to want to go and push harder and go faster and do more and prove, prove to, prove to them but prove to himself that he's good enough. That he can do it.
And so, I think it's really important that you use negativity, you use no's, you use criticism as a kick not down, but forward.
Use a no as motivation to want to go and do better and eventually get the yes, as opposed to, I suck. I'm never going to get this. This is never going to work out. I think it's really important to be hard on yourself, but most people kick themselves down instead of kicking themselves forward. So, if you can learn to use your no's as motivation to do better, then you're on the fast path to success.
Question Of The Day
So, the question of the day today is, I'm curious, what was the most painful no that you've gotten in your life? I want to know what it is, so go in deep today. Leave it down in the comments below and I want you to, as you write it out, release it so it doesn't hold you back anymore. I'm curious, put it down in the comments.
I also want to give a quick shoutout to Ed Reyes from Creative New Media, Inc. Ed, and thank you so much for picking up a copy of my book, Your One Word. It really, really, really means a lot to me and I hope you're enjoying the read.
So, thank you guys again for watching. I believe in you. I hope you continue to believe in yourself and whatever your one word is. Much love and I'll see you again tomorrow morning for another shot of Entspresso.
---
BONUS
Don't Take No For An Answer
George Carlin
Don't take no for an answer. If it's not working well that night it's not you, it's the audience. Blame it on the audience. Because if it worked on Friday night, it ought to work on Saturday night and if it doesn't it's their fault. It's over simple but, you know what? It works as a formula. Just go on and do the Sunday night show and forget Saturday night. Keep kicking them in the nuts.
Pierre Omidyar
There's something about an entrepreneur that is somewhat sort of anti-establishment, somewhat disrespectful of the previous generation. And, although that can grate people the wrong way a little bit, that's a really important element actually. You need to be passionate about what you want to work on, and don't take no for an answer when people out there are giving you advice, and saying, no this'll never work.
I mean, you look at eBay. The idea that in 1995, that you could create something over the internet, which is this brand new thing that nobody was really using at the time, except for scientists and academics, and it would be a place where strangers could actually do business with on another, could actually exchange merchandise for money without ever meeting.
And, the notion that people could actually buy and sell cars over the internet. I mean, that's crazy, right. It's totally crazy. So, in fact lots and lots of people told me that it was crazy. And, I didn't, I have to say I didn't have this vision, oh, it's going to take over the world. It's going to be this fantastic thing overnight. I didn't have that kind of delusion, either. But, I did say, you know what? There's something worth trying here. It's not crazy.
---
You might also like
---
More from Entspresso
---
Today's message is be confident. Good morning believe nation, it's Evan. My one word is believe and I believe that …