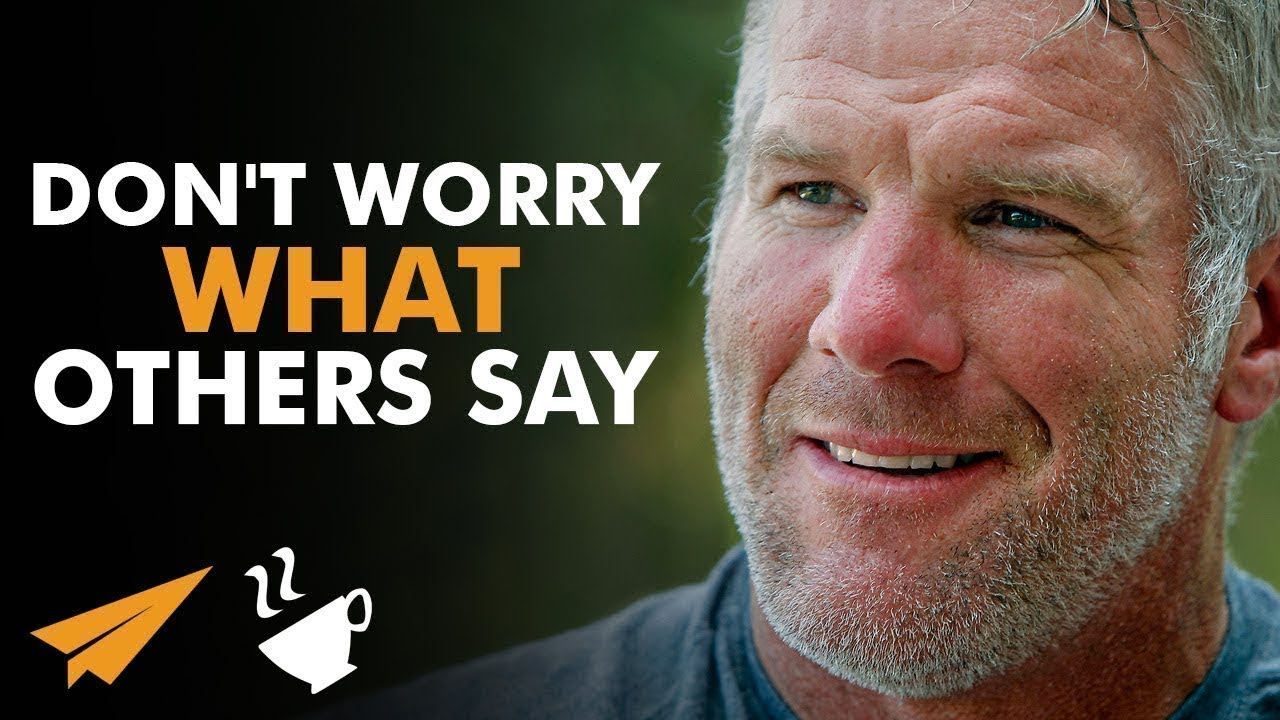 Good morning Believe Nation! My name is Evan Carmichael. My one word is believe and I believe that entrepreneurs are going to solve all of the world's major problems. So to help you on your journey, today we're going to learn about how to not worry about what other people say. Over to you, Brett Favre.
Don't WORRY What Others Say – Brett Favre
Brett Favre
You know, for me, my career has been awesome. There's probably decisions I wish I would have made differently and as I look to the future there'll probably be the same thing. You know? In all phases of life. And I don't worry about what people say, good or bad. We would all love good things to be said about us. It sure is nice to pick up the paper, turn on the news, and good things are said about you. And that's not always the case. So I don't really pay attention to it. I really feel like my character speaks for itself. The way I've played the game, the way I've carried myself It's not always been perfect. But I'm very proud of what I've done on and off the field. And, ultimately, that is the most important thing, is how we feel about ourselves.
Evan Carmichael
It's important to understand that the minute that you start to do something different, the minute that you start to try to stand up from the crowd and go do your own thing, that's the minute that you start to get criticized by other people.
If you don't do the thing that your family wants you to do, if you don't do the thing that your friends want you to do, or your culture wants you to do, as soon as you start to lay your own path and say, "This is the direction that I want to go in and be different," that's when you start to open yourself up to criticism.
Cause people are one, afraid that you're off doing this thing that's different and it's not normal and it's unsafe and so we're going to tear down that person. People are going to be jealous of you, saying "I wish I could go and do that, but I'm too afraid to go do that myself, so I'm just going to stay in my corner and just throw tomatoes at that person." People, also out of love, will criticize you.
Because they thing that your path should be the normal, safe one instead of going off and doing that scary thing. So as entrepreneurs that's something we all will come up against. Because by the very nature of what we do, we're off doing different things. We're off trying to create a new world. We're off trying to invent something different. We want to change the way things are done.
And whenever you stand out you're going to get criticism. And so, at the start I think it's one, understanding that, recognizing that, trying to put yourself in that person's shoes and say, "Listen, this person who's criticizing me just doesn't get it," instead of taking it personally. Because what happens to a lot of people, when they get that criticism, is they shut down.
"It's important to understand that the minute that you start to do something different, the minute that you start to try to stand up from the crowd and go do your own thing, that's the minute that you start to get criticized by other people. " – Evan Carmichael
They can't handle it. They're not used to it. So they shrink. So they have this bold goal, this bold mission of where they want to go, and then as soon as somebody attacks them, the yshrink back down and think, "Maybe I shouldn't do that. Maybe I shouldn't go for that." And so you cancel your own dream because of other people expectations on you. I remember when I made my first Believe video.
I showed it to somebody who I respected in the film industry and he didn't like it. He said it was too long and nobody would ever watch it and that I should cut it down. And he told me that I didn't understand how the internet worked. And I looked at the video again, and this was a guy who understood the industry, not some outsider who doesn't really understand anything, just people throwing their opinions at you, he understood the industry and I looked at the video again and, you know what, I just loved it.
I loved the video and even if it was a complete flop, I still had to put it out, because it meant something to me. Now, luckily, the video did well. The video had 100,000 views in the first month, it's sitting at over 2,000,000 views now. The video became the best video that I had on my channel at the time. But not everything is going to work out. Some thing are going to fail. Some things you're going to flop on.
You're not going to have great results at the beginning of anything, because you're learning a new skill. What's important to understand is, you need to make a decision at some point in your life, that you're going to live your version of your life instead of somebody else's version of your life, because everybody else has a plan for what you should do and until you decide to break free and run with your own plan and deal with the criticism that will come alongside it then you're never going to go off and accomplish the big things that you have in your head.
Question Of The Day
So the question today is, I'm curious, what was some harsh feedback that you got on your business idea, or in your personal life, that hurt you for a while. And maybe by spreading it here, you can release it. Release it from your system so that it no longer bothers you. Leave it down in the comments below, I'm really curious to find out.
I also want to give a quick shout out to Alfred Gonzalez, Alfred, that you so much for picking up a copy of my book. You're One Word, it really, really, really means a lot to me, man, and I hope you're enjoying the read. So that you guys again for watching I believe in you.
I hope you can continue to believe in yourself and whatever your one word is. Much love and I'll see you again tomorrow morning for another shot of Entspresso.
---
BONUS
Don't Worry What Others Say
Denzel Washington
Interviewer: You don't pay a lot of attention to reviews and those kind of things?
Well, you know, you're always affected by opinion, but the more opinions there are of you, of me, the more I, the less I look at them. Because I just can't live my life based on what other people think about me. So I can't concern myself too much with other people's thing, you know, it's just not healthy. I don't think I could continue to do what I do if I was constantly worrying about what somebody thought about it.
Ted Turner
You know, how did you ignore all those naysayers and continue to blaze the trail?
Well, 90 to 95% of all new ventures fail so if you just bet against all new ventures the odds are 90% that you're going to be right 90% of the time, but you're going to miss that one out of 10 or one out of 20 chances to really hit a home run. And I wasn't worried about the naysayers saying it wasn't going to work, I just laughed about it, because I knew it was.
And you worked very hard at it as well.
I wasn't going to let it fail. And if you read my book, it's right there. I wasn't going to let it fail and I'm not going to let humanity fail to get rid of nuclear weapons and handle this energy thing. I'm going to keep fighting until we start getting it right.
---
You might also like
---