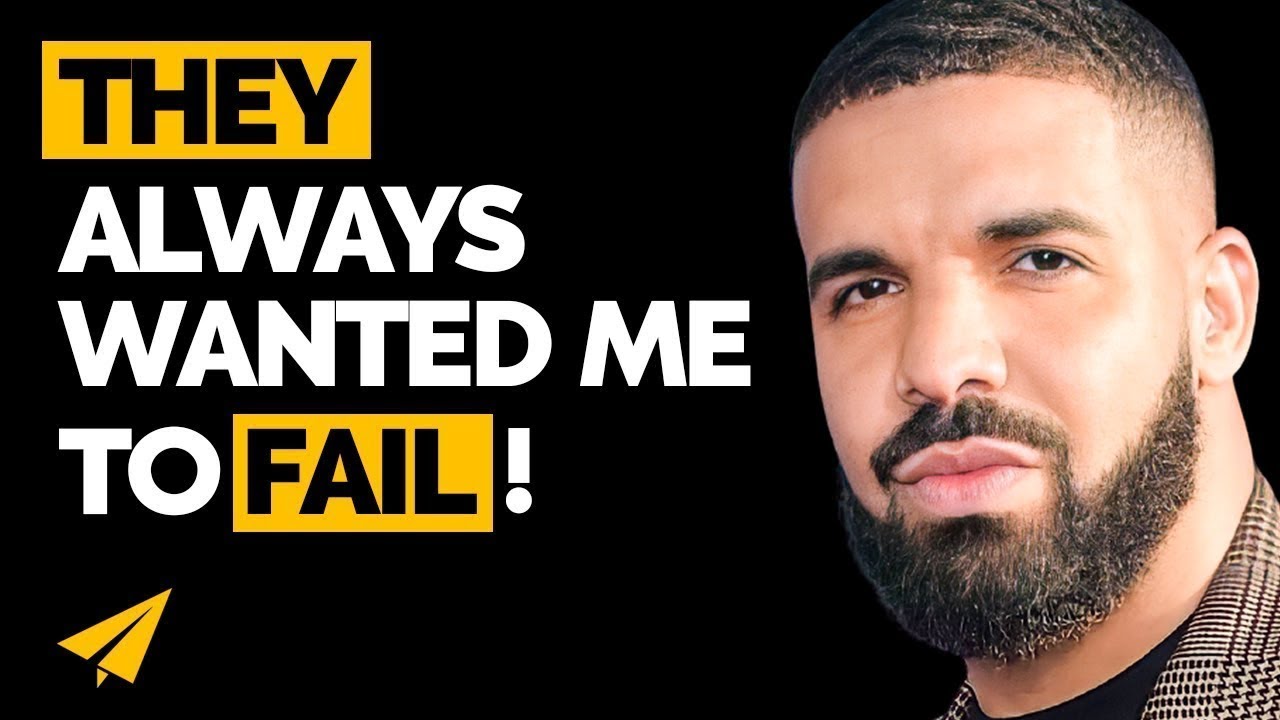 Famous Entrepreneur Quotes
Drake Aubrey Graham's Quotes
"While you're on the journey, you have to disconnect from the end goal."
"I always want to outdo everybody else around me. I'm a very competitive person, I'm just quite about it."
"I never want to be always right cause then I can't grow, I can't learn."
Drake Aubrey Graham's Top 10 Entrepreneurship Rules for Success and Business
He's a comedian, rapper, singer, songwriter, record producer, and actor. His work has earned him a Grammy award, three Juno awards and six BET awards. He has the most number one singles on the Billboard Hot Rap Song's chart. He's Drake, and here are his top 10 rules for success.
Rule #1: Live Right Now
I don't care about numbers, like I don't want number one spots. It's just like four, five weeks ago there was another guy that was in a number one spot according to the entire world, and then next week, two weeks from now, when somebody else does it, all these discussions about like I said number ones and classics, I don't care, I just want to make good music and I just want you to enjoy it, and as long as we have that relationship for the duration of this career, I'm good, and maybe that's why people say I'm there, because I disconnect from it.
My uncle always told me something early in my life which stuck with me which is that while you're on the journey you have to disconnect from the end goal, because if you're just focused on some end goal, you might get there, but it will be hard to progress past that, because you're so focused on that one destination that it's like, you may forget everything in between, and maybe you could've done more in between.
He always told me just be here right now. Live right now and do the best you can right now. Don't worry about what that end goal is. It's great to have goals, it's great to have dreams, but you get too attached to it, and sometimes it can be a self destructive thing. I just kind of try and progress as much as I can, like right now man.
Rule #2: Don't Let Haters Pull You Down
I think every time I say I'm about to do something, people are waiting for me to fumble. That's probably the biggest motivations behind a lot of my raps is the amount of people that want me to fall or whatever. I think that should be the motivation for most rappers.
The further you climb towards the top, the more hands you have one your pantleg dragging you to the bottom. They just start tugging at you but, I wear really strong pants.
Rule #3: Learn From Mistakes
I never want to be always right cause then I can't grow, I can't learn. I have no desire to be always right, I need mistakes, you know? And luckily enough, and knock on this wooden piano here, that my mistakes are never crucial enough for me to be like, "man," they're always great learning experiences.
Rule #4: Outdo Yourself
I always want to outdo myself. I always want to outdo everybody else around me. I'm a very competitive person, I'm just quiet about it. I'm not really out there talking about who I want to outdo. I'd rather just go and outdo it, you know what I'm saying? As opposed to just sitting back and being like oh, I don't need to tell you who I'm better than or who I'm trying to be better than.
I just want to put my music out and then you tell me who's better than, you know what I'm saying? I leave it up to the people, you know? As far as how do I get better? I push myself really hard, I have great opinions in the studio, like me, myself, Hush, we all sit in the studio. Sorry, me, myself, hush, that makes no sense.
My, Forty, and Hush. I need that drink whenever you guys are ready. So we all sit in the studio and I try not to sacrifice any bar, I'll sit there on the last two lines of a verse for three, four days if I need to. Just to figure out how to end it. I want it to be cohesive.
I always want the beginning of the verse to be strong, I always want the end to be strong, and I really, really spend a lot of time on bars, man.
Luckily for me melodies come extremely easy, knock on wood, but they do, that is something that naturally I just get in there and it starts flowing and by 40 minutes in, an hour in I have pretty much the direction I'm going in, but when it comes to raps, I spend a lot of time on it, man. I'm not going to sit here and be like "oh, you know, that's all of the top, baby." Like, nah, I spend a lot of time.
Rule #5: Use Positive Inspiration
Interviewer: When you're in a lab going and crafting the music, is there somebody that you think about form your past that you like, you know what, for every time such and such gave me a wedgie, or for every time that girl fronted on me, I do this for that.
Nah, it's more the influential people that I know, I don't really think about the people that did negative things to me. I think about the individuals like like Wayne, like Ross, like Yay, like the guys that I know.
If I take tonight off I know that one of them's probably in the studio crafting something magical, you know? So I should probably stay a little longer, I should probably not go to the club, I should just work, because I know that there's somebody else working if I decide to go play.
I just use individuals, especially, probably one of the most influential people in that regard obviously is Wayne, but, you know, as well Jay is one of those guys too.
That's one guy you can guarantee if he's going in there rapping it's going to be something great. I use positive inspiration as opposed to like, "oh, man, that guy still owes me." It's all good, man. I'm in a great positive head space right now. I don't want to give anybody no problems, I don't want no problems, I just want people to appreciate this music.
Rule #6: Write Down Your Ideas
So my thing is usually when I'm in my phone, it's because you said something or you said something, someone said something that's prompted me to be like, oh, I got to write that down, it doesn't even have to rhyme, right away it doesn't have to be a thought.
It doesn't have to be a bar. It just can be something you say, like even the last thing I wrote down was like someone last night was like, man I feel like I've become a recluse, and I was like, man recluse, that's such a great word I love that word, and I just write down. I write down use the word recluse.
So if you hear recluse in a rap it's cause someone said it. So it's just like those type of things I keep a constant notepad of just ideas, play by play, if you read through that notepad you could really see where my mind is at where my life is at, but no one is allowed to read through that notepad.
Rule #7: Just Be Yourself
I made a commitment very early on to just be myself, and what really bothers me the most is the fact that sometimes I feel like I don't get enough credit or I'm not making a big enough impact because I'm not enough of a loose cannon in situations like this where we're doing a one on one interview or people just want me to go off more and loose my composure and then that way I guess maybe I would make more headlines or be more iconic, but that's not me, I'm a naturally poised individual I don't want to just come out making mistakes and having to be like, ah.
Rule #8: Market Yourself
That's the thing right, like you said, a lot of artists just have Myspace and just have a couple songs and don't have a website, don't have marketing, don't have anything, and then they get disappointed when they only sell like 70 records, you know? It's like you got to understand that this is about marketing, like this whole thing is about marketing, it's about your image it's about your story, you got to be appealing to people and if you're going to release a record in Canada, you have to do something that nobody else has done or else there's no point, that's how I see it.
Rule #9: Create A Great Product
Audience Member: So all I want to say is what do I have to do, or any artist in this room have to do to get noticed by you.
That's a great question, and I think that for anybody what you have to understand is like there's a way to exist in this world that's like, we've never had it before but like, I strongly believe in the fact that if you have a good product, for the first time ever, there's a way to get the world to hear your product, and if it's good, you will see the results from it.
There's people that artists will drop a mixtape, and if that mixtape picks up whether it's House of Balloons or Party Next Door, I remember seeing when House of Balloons dropped I remember people being like, "yo I'm in the Netherlands right now listening to House of Balloons."
It's like, what? We have such a platform to access the entire world and my biggest thing to you, your question was how do you catch the attention, it's just about finding your own moment and having the music be great, as cliche as that sounds, but it's just like man, there's not a lot of great music to choose from so when somebody is great, the world will let you know, trust me.
It doesn't take me, it doesn't take this guy, the world will let you know. All you have to do is put it out there, and there are people who scour the internet everyday looking for the next big thing, and I promise you if that product you have is potent enough, you will be the next big thing, and I feel like that's it.
Rule #10: Have A Sense Of Humor
(Click here to play the video)
Thank you guys so much. We made this because Ryze Online asked us to, if you have any famous entrepreneurs that you want us to profile next, please leave it below.
I'd also love to know which of Drake's rules meant the most to you? Had the biggest impact? Leave in the comments below, and we'll join the discussion. Thank you so much for watching, continue to believe, and we'll see you soon.
---
Summary
Drake Aubrey Graham's Rules
I hope you enjoyed this article, make sure to check my Drake Aubrey Graham video on his Top 10 Rules For Success as well.
You might also like
---
More from Drake
---
Hello Believe Nation. My name is Evan Carmichael. My one word is believe and I believe that entrepreneurs are going …