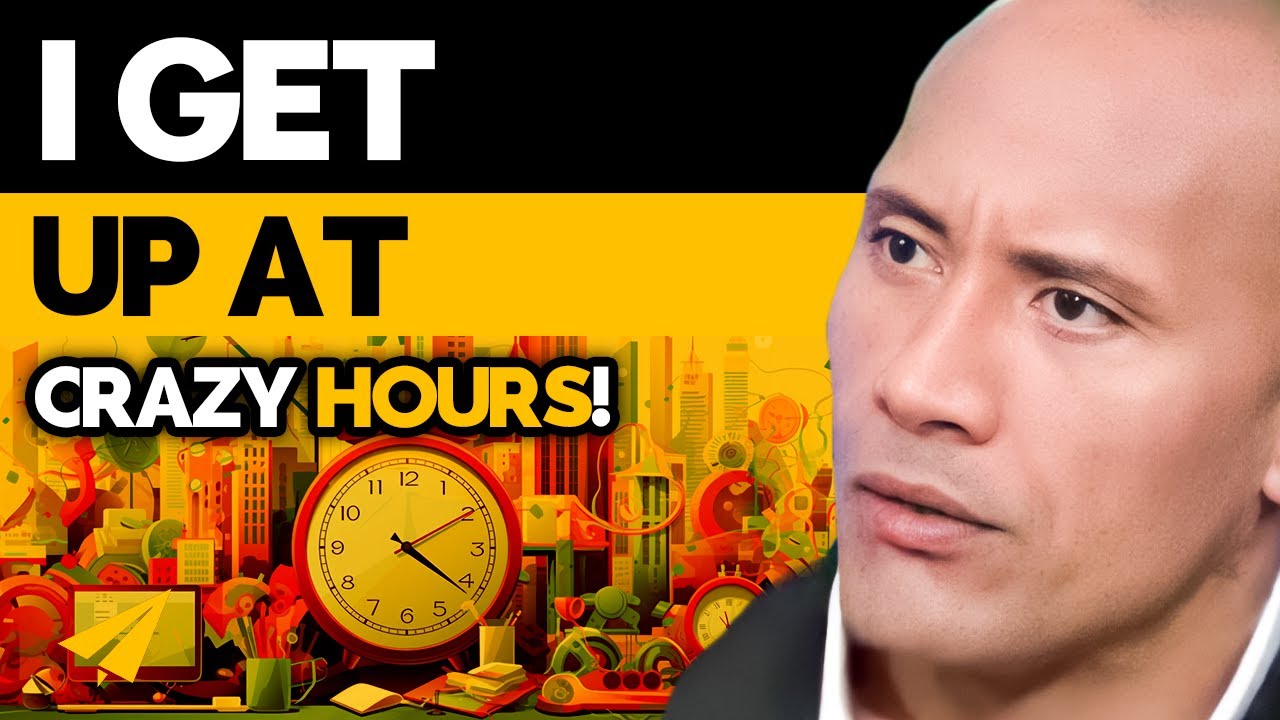 Hello, Believe Nation.
I started the Mentor Me series to try to hang around people who've done a lot more than us, and hopefully, by spending a little bit more time with them, some of how they think, their values, their beliefs, their mindsets, their attitudes, seeps into us to help us become the best version of ourselves.
So, today we're going to learn from Dwayne "The Rock" Johnson and some of his best motivation for you. Mentor me, Rock.
And as always, guys, as you're watching, if you hear something that really resonates with you, please leave it down in the comments below or put quotes around it so other people can be inspired as well. And, when you write it down, it's much more likely to stick with yourself as well. Enjoy.
Dwayne 'The Rock' Johnson MOTIVATION
#1: Be Driven By Harship
They say that nothing good happens in the 4:00 a.m. hour. Well, I can guaran-damn-tee you this, it's 4:45 a.m., it's still dark outside, look at that, the lights just went out and I'm getting ready to kill this a.m. cardio.
You can't even see me but it's going to be so good, it's bad. I did a lot of my growing up in Hawaii, and all my years of struggling, as family, I was evicted out of Hawaii, we were evicted out of our little efficiency, forced to move, forced to leave Hawaii.
My grandfather, years ago, bought the wrestling promotion in Hawaii and he struggled with it. He died struggling. My grandmother took over the wrestling promotion. She became the first woman promoter in pro wrestling in a very cut-throat, shark infested world.
Greatest thing to ever happen
And, anyway, Hawaii just always represented so much struggle. I started getting molested when I was 14 years old, doing a lot of stupid  that I shouldn't have been doing. I was, at that time, when we got evicted out of our efficiency, I thought it was the worst thing that could ever happen, and actually, at that time, it was.
But now, in hindsight, it was the greatest thing to ever happen because it forced me into this mindset, honestly, of hard work, because I was like, if I could do anything, I would do everything I can to make sure we never get evicted again. And, anyway, that kind of mentality drives me today.
#2: Bring It On
Yes, I get up at crazy hours, whether it's three o'clock in the morning, by the way, when we were talking in London, I was getting up at three because I had to be on set by four. I'm sorry, by seven.
So, whatever time my call time is, and I tell this to studios and directors and our producers, whatever time's my call time, so if my call time is at seven, then you back your clock up four hours and that's when I get up, and I train twice, I'll get my cardio in, have breakfast and then I'll go hit the weights. Clanging and banging, we call it. Jacking iron.
Interviewer: But, like, what time do you  go to bed. I mean, you might shoot really late at night. 
I'm averaging on, a movie, on average, probably about five hours of sleep.
Interviewer: Okay.  
Alright, empty gym, the way we like it. It's Sunday. Just finished my warm-up. It is family day, it's the Lord's day, it is also leg day. So, this pain ought to be fun.  Happy Sunday. Alright, it's Saturday afternoon. Empty gym, the way we like it. I'm tripping over here. It's leg day, which means it's going to be sweaty, painful and fun.
Focus!
Trainer: Go on, get it.  Come on. Four left, come on. One more, come on.
Ah!
Trainer: Good.
Focus! Alright, workout number two. I'm outworking all my competition. Alright, empty gym, the way we like it. Getting ready to get after it, me and my favorite training partner.  Let's bring it on. Let's bring it on.
#3: Always Be Preparing
I was raised in a household where my old man was kicking the  out of me at an early age, teaching me hard work and discipline. I was up before the sun with him and in wrestling, a world that I grew up in, professional wrestling, especially in the '80s, '70's, '80s, where wrestling was a lot different than it is today, it was, there was no off seasons.
Obviously, there's no off season in wrestling, and there was no off season then and there's no off season now. So, I think, having that mentality of no off season, and being in a constant state of training and trying to get better, and by the way, it's like, look, I've got a lot of professional athletes who are my friends, UFC fighters to pro football players, pro soccer players, amateur, weekend warriors.
"Work begets work, and I always enjoyed working, and I love what I do" – Dwayne 'The Rock' Johnson
The greatest part, I think, about training is, and I always tell this to people, is, look, you can't play football forever. I played for 10 years. You can't be in the ring forever, you can't be in the Octagon forever, you can't be in the boxing ring forever or a football field, but you can always train and get better and push yourself. Work begets work, and I always enjoyed working, and I love what I do in terms of making movies, so I'm always preparing for some sort of role that keeps me lean and mean.
#4: Swing Away
I wanted to entertain. When I was eight years old, I thought I was a combination of these guys. I thought I was a combination of Chuck Norris, Richard Pryor, Harrison Ford and Rocky Balboa, and Harrison Ford from Indiana Jones. So, I was like all these guys in my, oh, and Elvis Presley too, at eight, alright?
Interviewer: Pretty lofty ambition.
Yes, exactly.  So, I knew at that time, when I was eight, I wanted to be an entertainer, and I loved the idea of that and what it meant. And, when I was eight, I saw Indiana Jones for the first time and I loved that character.
Like, wow, that guy was so heroic and he kicked ass and he … I knew I wanted to be something and it was important to me to be something. It was important to me that I didn't fail. But, by the way, and if I did fail, at least, what was also important was the lesson, and I didn't realize that until I got older 'cause, you know, when you're in it, you're in the grind, you don't really recognize those things when you're younger, but I could recognize them now and the importance of them now.
And, just in terms of the drive and the determination, a lot of it was experience too. You get your ass kicked, you get back up, and you put the gloves back on and you swing away.
#5 Survive Failure
Me, failing has become critical in my growth. I graduated from the University of Miami. I had a terrible senior year. I had a bad injury. I had a bad injury, and you only get one shot as a senior, you don't come back. And Warren Sapp came in and lit the world on fire with how he played. We pushed each other, we were partners. He outplayed me, beat me out of my position. And, I had a really terrible year that year.
Graduated, didn't get invited to the Combine, the NFL Combine, and I didn't get drafted in the NFL, and I had one option, and that option was the CFL. So, now, you work so hard for 10 years and draft day comes, you only get one shot. Warren Sapp gets taken in the first round. All my other teammates, who are NFL worthy, were gone. They're in the NFL, signing the big contracts and I signed a contract in the CFL to make 350 bucks a week, Canadian.
That lasted for three months, then I got cut, and I got sent back home and I had to move back in with my parents at 24 years old, after I left at 18, ready to tackle the world. And, in my way, I did, but I had fallen so flat on my face for the first time in my life. I was depressed, asking myself, why? Why, why me? How can this happen? I work so hard. Hard work pays, I always thought. It's not paying for me. I've got nothing.
I literally had seven bucks  in my pocket, so, my seven dollar story. That failure, rising from that to say it's not over for me, I'm immediately going to launch myself into training for professional wrestling. I couldn't have launched myself with that type of training that I did every day for hours in a boxing ring that was  stiff like concrete, every day for hours, I couldn't have launched myself with that type of mentality had I not fallen on my face after 10 years of football failed. A failed football player who wound up moving back in with his parents at 24.
#6: Do It From The Heart
What inspires me in terms of what I do in film or TV, or anything else, by the way, any other platform, the first thing that comes to mind when I read a script or a television project that we're either producing, or in front of the camera, or behind the camera is, will the audience like it?
That is my number one thing I think about, is, will the audience like it? Will the audience like this TV show that I'm putting out? For example, Ballers, will the audience like Ballers? Will the audience like this role? Will the audience like this movie, like with San Andreas? Will the audience like it? And then, so, that's part one.
Part one B is, will I like it? Am I going to enjoy playing this? Because, look, cameras don't lie and as good as an actor as I am, or as I think I am,  if I didn't feel anything and it wasn't coming from here, my heart, my soul, even if it's a comedy or a dramatic role, action, whatever it is, TV, digital, Instagram, whatever, if I wasn't feeling it then you guys would be able to tell, so.
#7: Live In The Moment
Training, and some sort of physical activity, becomes my anchor every day. To try and stay focused, for me, I've got to get up at 3:45 in the morning, I do my cardio, I'll have my breakfast, then I'll go train and hit the iron, then I'll go to set.
And, if I can get those things done before I go to set, then I can work for the next 12, 14, 16 hours. Fun part is the strategy behind it. Training for a role like Ballers is different than training for a role like Baywatch, Fast and Furious, for a role like San Andreas. They're all different 'cause if you do anything, you never want to do anything half-assed, especially when it comes to your training. Get in, be intense, execute on it, then get out.
For a lot of guys out there, and I was certainly one of those guys, in my 20's, I thought I had all the answers. Didn't know , by the way. In my 30 years, I'm still trying to find myself, as a lot of guys are out there.
Hopefully when you hit your 40's, you're hitting a nice stride. Every day, today, I'm just more appreciative of the moments. Been through relationships, been through a divorce, have a beautiful daughter and one on the way.
Very, very lucky man. If I'm going to do it, I need to do this job right, I need to stay focused on it and I need to give the best effort I possibly can. And, not only that, but just between us, I was like, I'm going to be the baddest  walking at 43, 44, 45, 46, 47.
Thank You!
Thank you, guys, so much for watching. I hope you enjoyed. I'd love to know, what did you take from this video that you're going to immediately apply to your life or to your business? What was the most important lesson that you learned? Please leave it down in the comments below. I'm super curious to find out. I also want to give a quick shout out to Charles. Charles, thank you so much for picking up a copy of my book, Your One Word, and doing that review on your YouTube channel. I'm glad you enjoyed the book and I really, really appreciate the support.
Going to be reviewing his book, Evan Carmichael, who is one of the, probably one of my original YouTube subscribers.
So, thank you guys, again, for watching. I believe in you. I hope you continue to believe in yourself and whatever your one word is, much love. I'll see you soon.
---
You might also like
---
More from Dwayne 'The Rock' Johnson
---
My name is Lily Ma and my one word is extraordinary. I believe that every human being is capable of …
Evan: Hello believe nation, my name is Evan Carmichael. My one word is believe, and I believe that entrepreneurs are …
We took a lot of pride in trailblazing and how the game was played. I knew at that time, when I …