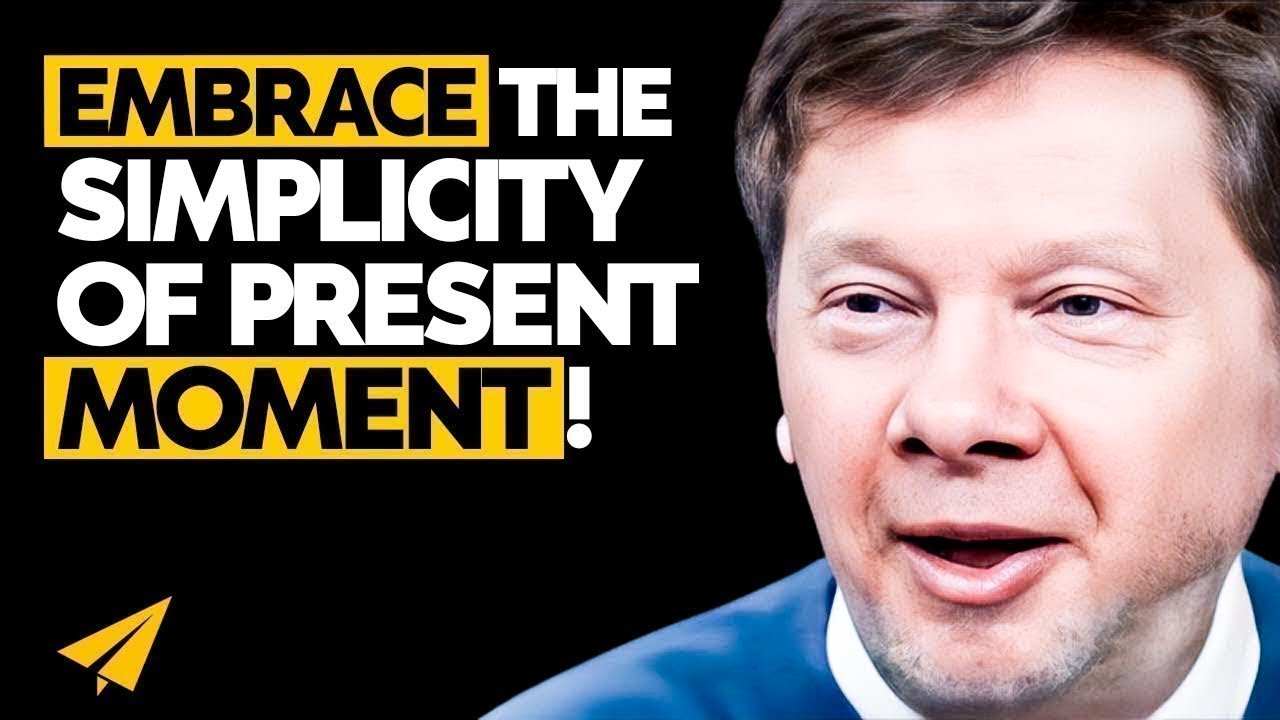 Hello Believe Nation!
I made the Mentor Me series to try to hang around and spend a little bit more time with people who've done a lot more than us and hopefully their mindset, their ways of thinking, some of their beliefs kind of seep into us to help us become the best version of ourselves.
So today we're going to learn from Eckhart Tolle on the Power of Now motivation. And as always guys, if Eckhart says something that really, really resinates with you, please leave it in the comments below and put quotes around it so other people could be inspired as well, enjoy.
Eckhart Tolle and the POWER OF NOW Motivation
#1: Live In The Now
The ego, of course, looks for liberation from its unsatisfying, unsatisfactory state. It looks at the ego, knows, this is, what's, it knows something is missing, but always looks in the wrong place, as we already state. It looks there but never here.
So it never goes deep into life, into what it is, it ignores the simple reality of the present moment and looks in the, towards the next moment for satisfaction, for that which I can add that will make me complete. Hence its obsession with future, with the next moment and hence everybody lives that way, almost everybody, as if the next moment were more important than this moment and isn't that strange?
It's a form of mental illness because the next moment doesn't even exist, except as a thought in your head. That's the only absolute reality that future has, is it exists as a thought in your head and it is fine. As for practical purposes, it's a helpful thought that there is such a thing as future, because it enables you to make an appointment.
So it's helpful, we got here because of future, because of this thought that there is such a thing as future. But there isn't, because nobody has ever seen it or touched it or experienced it and since nobody has ever seen, touched or experienced it, we can assume that it doesn't exist and obviously it doesn't, because when the future comes, it's the now.
The next moment comes that you wanted to get to and finally you get there and it turns out, well it's the now again.  And the ego runs away from it, not realizing that what it has been looking for is hiding here, no matter what form this now takes. It is hiding where the conditioned mind, which is the ego, has never really looked. It always made the now at best into a means to an end.
Okay, this now, I need this now because it enables me to get to that more important moment, which is the future, okay. A stepping stone, best of times. All the ego had to reduce the now to an obstacle and some people, some people that is their normal existence. Every day long,  every day long, whatever comes into the now, they look at it as an obstacle.  Get out of the way, I want to get there.
Every person that comes in, no, I want something else. The ego always wants not this, it wants to use this to get there. It wants to use every person that comes into now, to get there. So every person the ego meets, it say, "Okay, are you going to enable me "to get to the next more important moment? "How can I use you to get where I want to get to?"
The now is made into an obstacle. Or, for the people who are very strongly, very strongly identified with the egoic mind, they make the now into an enemy. Continuously complaining, it's never enough. They should, why don't they, this is never. Well, they could go into the most wonderful place and after five minutes they've found the one thing that's not working as it should and they're complaining.
They should do something about it, if not I'm going to do something about it!  And if they're not complaining verbally, they're complaining in their heads.   They're complaining about situations, about other people, about what's happening, or complaining that's something that should be happening is not happening.
This is, it sounds insane, because it is insane,  but it is not recog, nothing personal.  It is not recognized as insanity because it is fairly normal and if it's normal then it's not recognized as an illness so that is the dysfunctional state of consciousness that is condemned to perpetual discontent.
#2: Stop The Habit Of Excessive Thinking
Man: How do I, you know, it seems you try to stop thinking but and you read all this and you try to practice it, but yet at any given situation, I find that in order to get closer to practicing it or even practice it, it's causing a lot of thoughts to happen. So, is that different kind of thoughts or are those thoughts that I should break that kind of habit and, if so how?
Okay, thank you, thank you. Now the, there's a lot of talk these days about, not just talk but actually it's happening, addictions. Many people are addicted to all kinds of things, substances, but one of the greatest addictions, or one of the greatest addiction never actually, you've never read it in the papers, because the people who are addicted to it don't know it. It's the addiction to thinking. It's actually addictive.
Can't stop thinking, It's like can't stop drinking, can't stop smoking, can't stop eating, can't stop thinking. Thinking is the greater addiction than any of these and it's an addiction because it's, first it's been a drug, well it's just been around for so long and it's a subtle sense of self, so it's, a great reluctance on the part of most people to let go of thinking, which is equated with the state of sleep, to let go of thinking.
There isn't that much to understand in this teaching, there's a little bit to understand about how the ego works but even that is just mainly a self-observation. The main thing about it is presence, presence. And presence is a space of no thought, but presence can also be there in the background, even when thinking is happening. You can still be not completely involved in the thinking.
Thinking loses the ability to create havoc in your life and confuse you so your choice then is not to understand more, or to bring some intellectual analysis to the practice, but to practice the state of not thinking which can be arrived at by various ways as you probably know, if you don't think about it, just do it.  Becoming more aware of the present moment and accept it as it is, slows down the overactive mind is one thing.
Because a lot of the overactivity of the mind is an attempt to get away from the isness, the simplicity of the present moment. So, to become more aware of the present moment as a practice, have perhaps a little pointers in your office, at home, in your car, that say present moment or whatever, or a symbol for it and and some different entry points into the present moment.
Present moment awareness means thinking subsides, may not disappear completely, but something else arises that is primary. We call it presence or awareness, Buddhist's call it mindfulness, which I don't use because it implies, your mind is full of things, but it isn't of course.  It's just a mistranslation, so.  To be present, first of all, use the present moment to become, but how do you become conscious of the present moment?
Now when you get it, after awhile you can, you can actually sense the presence of the present, sort of speak, directly and there it is, choo. But, helpful things are, sense perceptions, take you out of thinking if you're not judging the sense perceptions, labeling, naming, looking around.
Anywhere, wherever you are, look around, practice sense perceptions without this compulsive interference of naming what you're perceiving. Oh, that's a beautiful flower, I wonder what it's called? I don't know what it's called, to all that helps I can be free of thinking.
If I know what it's called, I can say, oh, that's such and such and then drop that. See what it means to perceive without interference of concepts, words. In this moment for example, you're looking at me, now, let's say, between now and now, were you thinking? No. Okay. And again, between now and now, were you thinking or present?
Present.
Eckhart: No thought? And while I speak, do you need to think to understand what I'm saying or can you just listen and understand it?
Just listen.
And this is what you're doing? And so, that's part of the teaching and the function of the spiritual teacher, imparting information is secondary. What I'm telling you now is secondary. What is primary is the underlying state of consciousness which is presence, that's the teaching.
But you can't talk about that. It's underlying. But the, a sign that it's working is that while you listen, there's no thought, there's just a alert presence. And when the so called teacher stops speaking for a moment, the alert presence remains, it does not need to be filled with anything.  Like now.
What is there to think about? Nothing. Now, if we do this for longer, if I, at some point, your mind will probably start up and think, well, how much longer is he going to sit there.  And when that happens, you can allow your mind to say how much longer is he going to sit there and say nothing and then come back to a presence. And then some other thought will come.
What's this all about? And then you can allow that thought arise and then be present again, which means you're not really, your priority is no longer to follow the thought where it wants to take you, because the thought has a magnetic pull, it wants more of your consciousness but it wants to grow, because it's a little entity. It wants to grow, so it wants your attention and in subtle ways he tries to get your attention.
It says, it might even use a bodily feeling, it says, "God, I'm hungry suddenly, "why didn't I need to eat something?" And then you think of a, what restaurant am I going to afterwards? And so the presence is gone, you are gone, you are looking for a restaurant in your mind.
Which means the thought used as some bodily thing to make thoughts out of it completely pointless because you can't find a restaurant because you're standing here.  But it can use all kinds of things to manufacture most, to get your attention and if you're not careful, if you don't know the mechanism, it's not so much an intellectual understanding but a simple realization that this what the mind does.
It tries to pull you in. It's fine, that's what it does. Once you know that, you can allow thought to arise without following it, where it wants you to go, which is into another bigger thought and a bigger one. So then you become like, like my dog when it finds a scent and when suddenly, even the dog, when the dog is off leash, usually she's fine, she just runs around you, but suddenly she picks up a scent and then she goes off completely unaware of surroundings or anything, you just follow the scent.
Then she could get lost, she goes off to the horizon sometimes.  Just disappears. And that's, when you follow a thought, it goes like that, you can wake up 20 minutes later,  when it started with I was feeling a little bit hungry and thinking of a restaurant and it ends up with thinking about how dreadful your life is.
#3: Don't Get Attached To Material Thingss
"I find myself fluctuating "between the path of spirituality "and wanting more material wealth. "Are these paths mutually exclusive? Your feedback is much appreciated." Fluctuating between the path of spirituality and wanting more material wealth. Are these paths mutually exclusive? If material wealth becomes your primary aim, then one could say they are mutually exclusive.
But if you engage in some activity, that you truly, first of all truly enjoy, enjoy the doing and secondly, you've let activity that you engage in and enjoy doing, makes some contribution, some positive contribution to this world, to the planet, to other human beings, add something valuable, to life, increases, perhaps consciousness on the planet, then if those two things come together, then you may find that as a by-product of that activity, some material wealth also comes to you and there's no reason why you cannot enjoy certain forms, material form, whatever it is that come to you and you enjoy that.
You may, should give away some of that and that's enjoyable too and you mean, if beautiful things come or bigger things come, the enjoyment of a beautiful thing or a house or even a car is not necessarily non-spiritual. The attachment or the excessive preoccupation with it, with the attainment of it, that is not compatible, that it takes you away from reality, the truth of who you are from awakening, but you can be quite present and in touch with that which is beyond form and nevertheless enjoy forms that come to you.
And not in an obsessive way or if you're wanting to accumulate as much as possible of this or that but enjoy what comes, without identification with the forms that come, the house, the car, whatever the material thing may be. So in that sense they are not incompatible.
Renunciation, which traditionally is recommended as a path to awakening, is not, the true renunciation is not really renouncing material things, it's renouncing attachment or identification with, because many people traditionally, in many cultures and religions, who have renounced material things, didn't realize that they had not renounced desire in their mind.
So they suppress, they just try to suppress desire and by having no possessions and refraining another part of course, renunciation would be, celibacy for example, refraining from sexual activity as part of renunciation, without realizing that they have, they spend large part of the day thinking about sex.  So yeah, that alter renunciation, is not really the main thing, the true renunciation is attachment to, which operates on an inner level.
So you can have a very poor person being attached to their few possessions very strongly and seeking identification through that. You could have a very wealth person, not being attached to anything. Of course, the other way around can also be the case.
So, it's the inner that matters and whether or not you're attached to some material thing, you can usually, often, you can may not be able to really tell it until you lose it, or it breaks and so it's always a good little test when something leaves you or is stolen or breaks or destroyed.
If then, upset arises, anger or whatever, then oh, I was attached, I thought I was not.  But when you can let go of when things come and then things go. Perhaps things come to you and perhaps often, well you give it to somebody else to enjoy. That's appreciating beautiful things that you, a sense of ownership also begins to disappear, so you look after something for awhile and then it's handed on to somebody else.
#4: Express Your Emotion
There are a quite a few people who do not express emotions fully, or don't express them at all. Perhaps in mostly in Northern countries. The further north you go, the less they express their emotions, that's how it seems to be.  Maybe it's too cold to express their emotions.
Now the practice I describe of observing your emotions, allowing them to be, well somebody who habitually does not express emotions, it is not uswually the best way to try and observe his or her emotions because they may not even know what the emotions they are having.
They may be so much pushed down, so particularly for those people who have been suppressing emotions, it is very helpful to express the emotions if possible without injuring anybody or yourself. To allow yourself to express emotions and witness that at the same time.
So the expression itself would not free you, because emotions, if they are not observed and not witnessed tend to renew themselves through renewed thinking because there's this vicious circle of emotion and thought processes.
So the expression alone, is not enough because you would simply be stuck with it and express the anger, because the anger dissipates somewhat as you express it, but if you're not conscious of the relationship between your thought processes and the anger, the thought processes will create renewed anger.
And so you would be going to the same or other therapists and hitting the pillows for 20 or 30 years, not realizing that, through your thought processes, you're continuously recreating emotion and you're identifying so much, so without the presence, expression is better than repression.
Repression can make you ill. But to become, to transcend, it is essential to be alert and present and watch it as an energy field, so that through the watching it becomes depersonalized so that you don't feel,  you're not totally stuck in it and then you can express it, hit something, not a person if possible, the pillow if its anger, or scream and it feels good perhaps and feel the raw energy of it like fire.
And feel it, wow! And if you allow it completely and express it, it can even very quickly turn around and then you can do something useful, that you have enormous energy and suddenly it gets turned around and it's just, it's no longer, it can shift from anger to just being intense energy. Okay, now I'm going to clean my room.  Not angry anymore, simply with energy.
You could also clean your room still being angry but that's not good cleaning, because you would be cleaning on the material level and on an energetic level, you would be polluting your room.  And so, to become free, for awhile some people need to express fully and then a time comes when, there's enough presence and you have expressed it, then you can gradually more and more, work on the inner level and bring presence to it on the inner, not that you ever hold it down.
If it wants to and needs to express itself, you may do something. Maybe you can transform it into physical movement, vigorous movement or whatever it is, and watch, but always be there as the witness. At some point, you may, you have find that you have a choice.
The emotion arises, you can express it or not express it and it can simply be, transformed or transmuted through bringing presence to it. You will know in the moment whether it needs to express itself or not. If you have never or rarely expressed emotion, then, by all means allow yourself to express it without indulging and without personalizing it. Recognizing it as energy no more, just it's energy and watch.
#5: Interact Fully
What happens when you pay attention to the way in which interact with objects. And what is, okay, every minute of the day this, you pick something up, you put something down. You unbutton your shirt, you take off your shoes, you lift this, put this there, open your zipper, bag.
You look inside, take something out, can you feel it as you take it out, can you feel the texture that and then you put it on the table. It makes a sound as you put it on the table and then you have a glass of water and the light is reflected in it and it moves. Perhaps you drink and it tastes and you put it down again and then you look at a familiar object and instead of using it, always as a means to an end.
Here you have the luxury of occasionally just taking an ordinary object that you handle every day and just for a few seconds give it, give it attention and acknowledge its being just as that, as that object, just feel it, see it, perhaps it makes a noise as you put it down. And again you bring in sense perceptions, getting dressed in the morning, putting your pants on, they make a noise as you put them on a little bit.
Do things, you pick up the toothpaste, you hold it for a moment, open, put the cap on the sink, click and then turn on the tap  and then while you brush your teeth you turn off the tap, because you don't waste water  but that's not part of the exercise, that's a natural thing.
You can actually begin to like and to enjoy the tiniest things around you that would normally be completely overlooked. So the way in which you interact with a world of objects and that brings a richness into your life that doesn't depend on how many objects you own.
You don't need to own them to interact with them and so, here you acknowledge their beingness and you sometimes you might just put your hand as I'm doing now, here's a table, it's wood and I'm putting my hand on it and for a moment I feel the smooth texture, surface of this table and it, it feels very pleasant. But I don't need the mind to tell me that, I can sense that and the strange thing is, even so called inanimate objects, in a strange way have a life of their own.
#6: Manage Yourself
"As I'm awakening, I'm becoming more aware "of how often I'm angry "and it is getting tiresome.  "How do I manage the expectations of myself?" Well, let's see, so man that you need to manage the expectations and then you need to manage the anger, anger management and expectation management.
Expectation means you beat yourself up for being unconscious,  which is more unconsciousness.  Because the mental image of who you access, I'm not good enough, I can't do it, you see? But been at it for 25 years and I still can't do it. You can't possibly be any good if you still can't do it after 25 years.
Those are thoughts that float around in your mind and how do you feel, well I suppose that's bar, Katie would ask that, how do you feel when you believe in your thoughts?  Not good. You're beating yourself up and you feel an emotion. Feel bad about myself, more ego, more conceptualized identity in your mind. Concept in your mind about you, you derive your sense of self from that, more of the same.
So the, let's say it's anger and then you wake up after the anger reactions,  I did it again, I'm no good. So you have the second egoic reaction to the first one.  Anger is something that is comes in many people very fast, so there may not be, unless there's already considerable presence power in you, there may not be enough presence to catch it. It takes you all over before you know it, especially old reaction  and before you know it, you're talking and shouting and you are not doing at all.
It's the pattern, it's the, the mind pattern, mental emotional pattern in you, which often related to what I call the Pain-Body, which is old accumulated painful emotion, which could be anger, which could be a deep depressed sadness. Anger is a very frequent one, as the pain-body energy is just waiting in people who have accumulated old anger going back to childhood, feeling powerless and what does a child do when the child feels powerless?
It starts screaming, it's all he can do and sometimes it works, sometimes the parents come and say, okay, you can have the sweet, if you scream loud enough. So its powerlessness is always behind anger and the ego pretends that there's your power there in anger, but anger rises out of sense of powerlessness and it's a, so they, and there's often fear hiding underneath it and when you, when you are there looking at it, then you can, you realize that at first hand within yourself, there's a sense of powerlessness behind it and the ego's pretending to be powerful when really it's in a state of fear.
You can see these with little dogs. The smallest dogs are the most, they bark the most.  Whenever their, their little, I've seen little, little dogs whenever a big one goes past, they get angry,   because, I mean if I were that size, I would do that too probably.  So you are, you are a little, Chihuahua or you're a little sweet Bichon Frise and a Mastiff walks past or a Rottweiler, who looks very quiet because the Rottweiler knows its own power. It doesn't need to, it goes  and the little one goes.
But with dogs we smile when we see that because we somehow recognize that pattern and we smile and probably the Rottweiler has an inner smile too when he walks past.  But with humans it's more difficult to smile when they go  and words come streaming out of their mouth, it's more difficult to smile and but it's possible, not necessarily you say, you don't necessarily smile but recognize it for what it is when you see it in another.
Don't equate that with who that person is, recognize it that the person has been taken over by that energy field and that already is a wonderful thing. That already we could call is forgiveness is a wider sense. We don't equate unconscious behavior with who that person is. If we equate it with who that person is, that is, that's the real meaning of judgment.
Judgment is not to say, to somebody, I realize that you get angry a lot and that person then might tell you, are you judging me? No, it's a fact. If I see that you get angry a lot, that was just a fact, there's no judgment in it, but if I equate that with your essential identity of who are, you are an angry person and then I always expect more anger from you, that's a judgment.
Not recognizing a pattern that apparates unconsciously through humans and taking them for their identity is judgment and you can do it to yourself. So you can judge yourself for those things and that is just as much ego as judging somebody else. You can beat yourself up and call yourselves no good and whatever else the self talk tells you in your head, it's, it calls you, you. In many peoples minds, when they talk to, the mind talks to you,  it says you, see, you are such and such, you, see, you can't do it.
Sometimes it says I, it might say I in some people, but in many it says you. Isn't that strange? You talk to yourself in your head. One part of your mind condemns the other part.  When you see it, you can rise above it and there's a suddenly an awareness that comes with it, you're no longer trapped in those patterns.
I would recommend particularly to become particularly alert when you know you're getting stressed, something, a situation is building up and some kind of, for example, if you get, anger takes over when you get stressed, it could happen, when you feel stress building up towards it, you can become very alert, so that you can, doesn't take you over, when you know the anger is about to, about to come, or if it's, if you know a certain areas of your life are more likely to break your unconscious, sometimes you know just beforehand that, that those are going to arise in the next minute or so and then you can be alert, feel the entire energy field in your body, be alert with every cell of your body, then pick up the phone and talk about the financial situation with your investment advisor, so that, and treat those as spiritual practices and realize nothing is more important than consciousness, not the situation, it's consciousness.
Some people's pain-body's are, consist as I said predominantly of anger and you can some, in some people you can sense their semi dormant pain-body in the background even when their not particularly angry right now, but there are people who are waiting for the next opportunity to be angry, that's their pain-body and sometimes when you, when you are sensitive towards other, you can feel energy fields, you can sometimes sense in other people, they're waiting for an excuse to be angry.
Some are when you look into their eyes, it's already there, but it's not them. It's that which occupies their inner energy field, which the pain-body and so they're waiting and any excuse and they will get angry at you or whoever it may be, so you become a grievance looking for a cause.
#7: Evolve Through Challenges
It seems to be there's a general pattern at work that it is inherant the nature of physical existence of life forms that challenges our essential ingredient of their lifespan, here and part of the way through which they evolve, but when they say they evolve, for here it means, it's the one consciousness evolves, awakens into this dimension through the different life forms in different ways and it awakens only because we are being challenged. And that is quite a relief to realize to be challenged doesn't mean there's something wrong.
There's something wrong with my life, that shouldn't be. If you believe or act as if this shouldn't be happening, then you get really unhappy. Then the challenges become transformed into unhappiness inside you. You know, if it's not unhappiness, it's resentment. If it's not resentment, it's anger, it's self-pity, it's complaining, it's despondency.  The simple reason that you are misunderstanding the very purpose of life and expecting something your mind has come up with and so be it different.
#8: Access Your Inner Power
There is a source of power in you that transcends the person and it's not egoic power over somebody and it's one with the power that is the power of life in the universe, where all life arises and people sometimes have a problem with self-confidence or valuing yourself and sometimes you try to convince yourself by changing your thinking that you are actually good enough, that you should be self-confident, but there is a better way to find the source of self-confidence.
On the egoic level, self-confidence is there because you see, you can tell yourself, I'm actually more intelligent than most of these people.  Or I'm better-looking that most,  I have to remind myself that I'm better-looking than most and then you go okay, yeah, I feel a bit more confident now.  Or you say, I actually have more money than these people so I should, I have more self-confidence.
Whatever it is, some way of convincing yourself and then you compare yourself with others and then you focus on those areas where you feel superior to others and try not to think about other areas where inevitably you are inferior to others because you cannot be superior in all areas. It's a complicated game when you start,  start comparing yourself to other people and if you want to bolster your self-confidence and you only have to focus on where you feel, I'm actually better than most, but that doesn't really work that well.
So, there is a better way of self-confidence that has nothing to do with comparing yourself with others, or with feeling you're better than, or not as good as and that is direct access to an inner power. You don't need any comparison, you can have it right now at this very moment, if you're not stuck in your thinking mind, but take your attention a little bit beyond the thinking mind and then realize that you are the presence behind the thinking mind without which there could be no thinking.
You're the aware presence behind it all, that is deeper, you've gone deeper than the thinking mind and that aware presence is where power resides and it's not yours because it connects you with universal power, therefore you don't need to compare yourself to anybody anymore or feel as the ego always does, that you're either superior or inferior to somebody else. That's not a comfortable way to live, where you have to classify yourself when you meet people  and so your, the fears always, I might be inferior, or behind that fear is a desire to be superior.
#9: Communicate With Awareness
The way in which you communicate, can be done in such a way that you don't make the other person wrong. That is a very helpful thing, don't, I was, staying many years ago, I was staying with, in somebody's, when I didn't have a, I was actually writing, it doesn't really matter what I was doing, I was writing,  the beginning of The Power of Now, somebody offered me a room in his apartment and he had three cars and he said, "You can have one of them, "you can use it, "I don't use it anymore."
He would always buy the next, more expensive car, because he got dissatisfied with the old one, so I could, I got one of the old ones that he was dissatisfied with to drive around and it was a beautiful car, but a few years old. But I thought, one day I left the car and there was a signal when I closed the door but I didn't realize that why the sound was beeping  and when he realized the next day, well I wanted to use it again and the engine wouldn't start so it seems that the light stayed on, the sound was to advert me to the light, but why I'm telling you this is  he had done some spiritual work and I was very impressed when he left me a note, 'cause he got up before me, he left a note which said, "The lights were on and the battery got depleted. "You need to call the Triple A to."
That's all and I was very impressed by that note because he didn't, a normal person who had not done any consciousness work, would have said you left the lights on, despite the fact that you must heard the warning signs of the engine,  so I was able, this person has some awareness, he's not making me wrong, although it was my mistake, but he's not making somebody else wrong in the service of being more right than me.
#10: Know The Universe
Woman: Could you please explain what the divine purpose of the universe is?
The universe wants to awaken consciousness coming into that, this dimension is the divine purpose, but the divine purpose is two-fold. One is, the universe delights in creation, it delights in creativity, it delights in creating new forms. How do I know that? Well, just look around on the planet here, the millions of life forms, in the sea, on land, the air, the universe delights in, in creating this multiplicity of forms and it delights in experiencing itself through all those forms, because you are not a separate entity, it's not the case as sometimes the ego, the egoic self believes that here is me and there's the rest of the world or the universe.
Or the ego thinks that, that it is the universe, it somehow, suddenly appeared, fallen into this universe and then, where am I? I'm in this universe, you're not in the universe, you are the universe. The one life expressing itself through countless life forms and there's a growing complexity in life forms.  And with every experience, the universe is experiencing itself as your life is extremely differentiated in human beings.
The way in which life or the universe or the one consciousness experiences itself in this dreamlike world is extremely differentiated, it's amazing that every human being is different, of billions of humans on the planet, every human, not only looks different, you could recognize if you know one person out of these billions, and I don't know how many billions on the planet now, you could recognize this person out of billions of other human beings just by looking at their face.
This is how differentiated it is on the surface level already and then every life experience of course, there are many similarities but there's a uniqueness to every life experience. Every life experience is a world that arises and subsides. My mother's life was, your mother's life, your parents life, anybody's life was a particular world.
The way she experienced the world was very different from the way I experienced, it's like my mother and I and I'm just taking one example from my personal experience, seemed to inhabit completely different universes, but we were in the same place, but experiencing life in a totally, totally different way, and the universe delights in that complexity of experience, so it wants to experience itself as form.
That means and so the forms become evolving more, more complex. The humans that are alive now have far greater complexity than the humans that were alive 10,000 years ago, or 50,000 years ago. Life at that time was more simple. Gather the food, gather the plants or hunt an animal if they did that, prepare the meal, go out hunting, come back home, so fairly simple.
It wasn't the complexity of New York City, L.A. freeways  and all that's behind that, nuclear physics, whatever and so on and so the universe delights in that and you are an expression of that. It wants to become conscious of itself through you and its doing that, attempting to do that through humans but the universe, that one consciousness is not separate from you, you are an expression of it.
But the universe also wants to know itself deeply, its own source, it wants the source realization also, so I know that because I, I know it by looking within myself, there is an outgoing movement into a creation and there's a return movement that wants to realize itself in its essence. The universe wants both, it wants to go out and create, it also wants to realize its own essence through you.
In human life that expresses as wanting to do things in this life, wanting to contribute to this life, wanting to create something and to make something of your life, your so-called life, it expresses as that. The other, the return movement, so you have the outward movement of the universe, the return movement expresses as coming totally into the present moment.
Stepping away from becoming into being. Becoming is the outward movement, what can I do now? I need to do something, I want to create this, I feel that this one, there's something coming through me. I feel a piece of music wants to come through me, a book wants to be written or something, whatever, I want do this or create this, setup this business or that, whatever and then it's, it's becoming, doing, but then there's another movement that says, I just want to be and be still and this present moment, go deeply into this moment.
I don't need to become anything at all, I just want to be fully who I am already and go deeply into being. So you have, it's almost this contradictory movements. In some humans, the outward tendency is greater, in others, the inward tendency is greater. Both are necessary and some or both need to be there as long as you're here in the human form.
Both to some extent will be in you, but there will be different, to different degrees. Some are much more going within and to being to the source, but I would suggest that it's not either or, there are certain spiritual additions that look upon it as more as either or, they say forget about the world, just realize who are and then you can just sit in a corner for the rest of your life and never do anything again, you don't need to.
That's one way but it's, for us, it's finding a certain balance, which doesn't mean this needs to be totally in balance. A very few humans who are totally balanced between the outward movement of creating and the inward movement, of connecting with your, with your inner being at the source of all life, you need to have both so that you, the universe can create through you without losing itself in its creations.
So you can create, not from a place of egoic need, where you depend on the outcome. Well if I don't get that, I'll kill myself. If I don't achieve, if I don't get famous and rich, I'll, I don't know what I'll do. Not that, but a playful participation in the world of form and contributing to it, to the world of form without losing itself in the creation and in the doing.
If you become stressed it means you're losing yourself in the doing.  This is more important than, so you're completely, you become uprooted, you're no longer connected to the spaciousness, the unconditioned, the one within, so to be and do at the same time, but some humans, yes, are much more drawn to being, I call them Frequency Holders,  they hold the frequency of being on the planet, they're not interested in creating huge things out there.
They're interested in doing perhaps little things, gardening, cooking, looking after animals, being with animals, helping humans in some capacity, helping even physical, helping humans, with their bodies and so on. So they are frequency holders, they're more into being than, they're some doing but you cannot, you always have to do something, you can't, but, they don't put the emphasis on doing.
The emphasis is on being and then they allow presence to flow into what they do and they effect the world also very significantly. Others have a greater tendency to performing creative action and they need to go out there and become active, but their challenge is, not to get lost in what they do and thinking that's all important.
They forget that this is a play of form and there comes a seriousness into heaviness into the doing and they get unhappy and when you're unhappy, whatever you create has some flavor of that unhappiness so the divine purpose of the universe to summarize my long explanation,  is to know itself, most through the creation of form and through realization of, of the formless essence of all life and that is the divine purpose of the universe and that you are here as part of that.
Thank You!
Thank you guys so much for watching. I hope you enjoyed. I'd love to know what did you think of this video? What was the message that resinated the most with you? What did you learn from this that you're now going to apply in your life or your business? Please leave it in the comments below, I'm going to join in the discussion, thank you again for watching. I believe in you, I hope you continue to believe in yourself and whatever your one word is, much love, I'll see you soon.
---
You might also like
---
More from Eckhart Tolle
---
Watch Eckhart Tolle's Top 10 Rules For Success video. Famous Entrepreneur Quotes Eckhart Tolle's Quotes "I believe there's more to who I …
Today's message is, enjoy the journey.  Good morning Believe Nation. It's Evan, my one word is believe, and I believe in …