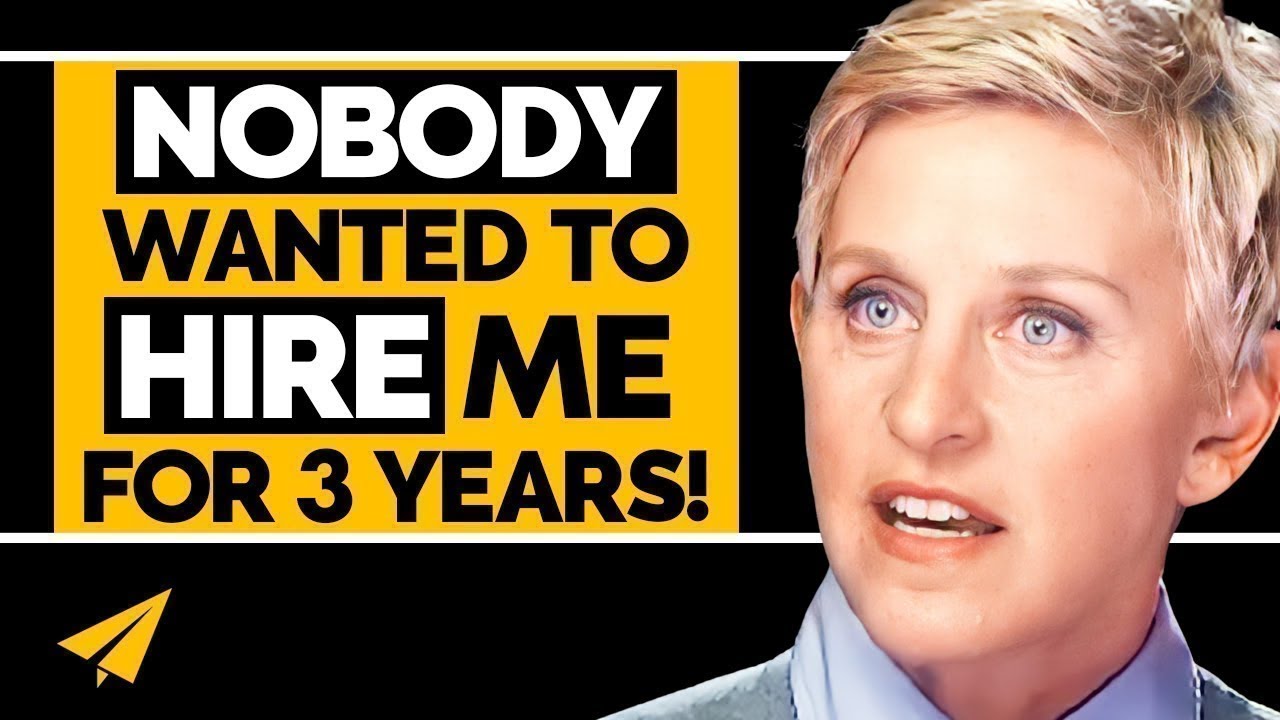 Famous Entrepreneur Quotes
Ellen DeGeneres's Quotes
"I'm an introvert for sure as I have a career despite myself. "
"Every single day that I do my show, it is an energy that is like no other energy."
"Never follow someone else's path unless you're in the woods and you're lost and you see a path."
Ellen DeGeneres's Top 10 Entrepreneurship Rules for Success and Business
She's an American comedienne, TV host, writer, and producer. She starred in a popular sitcom Ellen and hosted the Ellen Degeneres Show. She's won 13 Emmys and 14 People's Choice Awards. She's Ellen Degeneres, and here's my take on her top 10 rules for success. Rule number one is my personal favorite, and I'm curious to figure out which one you guys like the best, too.
Rule #1: Be Exactly Who You Are
Interviewer: I get the distinct impression that while you may be this famous talk show host, you are a private person, maybe even shy.
I'm an introvert for sure as I have a career despite myself. 'Cause I really am awkward socially. I hate going to big events. I hate having to do small talk. I don't like a lot of attention.
Interviewer: It's bold of you being an introvert to not only do this show, but to also put yourself out there realizing that not everybody's going to like you.
If it costs me some viewers, and if it costs me some money, I'd rather talk about what I think is important than just be, you know, vanilla, and try to be liked by everybody.
Ann Curry: That honesty has cost here, especially in 1997 when she famously came out of the closet.
I'm gay.
Ann Curry: Only to have Hollywood shut the door. Advertisers pulled out. Within a year, her sitcom was canceled. Her career stopped cold.
I don't think it was a failure, but it certainly gave me a lot of free time for three years to sit still and go, okay. Who am I without a career? Who am I without people loving me?
Interviewer: Did you feel that you had made a mistake in coming out?
No. Absolutely not.
Why?
Because I am free. I am completely able to be exactly who I am. To have to hide anything is just a horrible way to live.
Rule #2: Live Your Life With Integrity
When I was younger I thought success was something different. I thought when I grow up, I want to be famous. I want to be a star. I want to be in movies. When I grow up I want to see the world. Drive nice cars. I want to have groupies.
To quote the Pussycat Dolls. How many people thought it was boobies by the way? It's not. It's groupies.  But my idea of success is different today, and as you grow, you'll realize the definition of success changes. For many of you, today's success is being able to hold down 20 shots of tequila.
For me, the most important thing in your life is to live your life with integrity and not to give in to peer pressure to try to be something that you're not, to live your life as an honest and compassionate person, to contribute in some way.
Rule #3: Share Positive Energy
This energy, I mean, you can feel it in here. And you've talked. People come from very, very far away. They fly here. They make plans.
This is their vacation or their trip, and they come in here and bring this positive energy and this love and this joy, and I get to feel that every single day. It's the most amazing feeling that that energy is coming at me every day, and I hope I give it back to them.
I hope they get that. And I think if I do that every single day, and I keep, I feel like I have a purpose. I feel like I am, that's why I started out as a comedienne.
I started out to make people happy and make people feel good, and I'm doing it on a larger scale. And I think if, I hope I can do this for a long, long, long time.
Rule #4: Care About Your fans
Robin Roberts: But you're in front of an audience all the time. This is a big deal. This is the Oscars. What's the difference?
Oh, there's a big difference. That audience comes to see me, and they travel from, and God bless 'em. They travel from all over the world to come to a taping. And they wait for a year for tickets.
They're my core group of people that get me, know me, and love me, and I feel that. And that room is like church. Really every single day that I do my show it is an energy that is like no other energy.
Robin Roberts: The way you are with your audience is unlike I think anything I've ever seen. I mean, they really feel that they are, they are a part of the show.
Yeah, yeah, they are. I mean, this is our 11th season, and when we started building the studio, it was really important that the audience was comfortable, and it was really important that they were not in the dark, that they were lit because they're a part of the show.
It's not a spotlight on me. Of course, my lighting is better. I'm a Cover Girl. I have to look good.  But it's still bright enough that they're part of it.
Rule #5: Be Honest
Interviewer: You know you did a very successful sitcom. You came out. And then it was canceled. Has this show sort of saved you do you think in a way?
I think what saved me is me being honest, and I think I somehow had the courage to do something and say something that I knew would possibly end my career, and instead of making business more important I made my soul and my life more important.
And I think by being truthful and by being honest that saved me. Then I was given the opportunity to do something where I could actually just be myself, and people could see who I am. And if they respond to it, great, and if they don't, great. And they responded.
Rule #6: Show People Your Brain
Follow your passion. Stay true to yourself. Never follow someone else's path unless you're in the woods and your lost and you see a path. Then, by all means, you should follow that.
Don't give advice. It'll come back and bite you in the ass. Don't take anyone's advice. So my advice to you is to  be true to yourself, and everything will be fine. And I know that a lot of you are concerned about your future, but there's no need to worry.
The economy is booming. The job market is wide open.  The planet is just fine.  It's going to be great. You've already survived a hurricane. What else can happen to you? As I mentioned before, some of the most devastating things that happen to you will teach you the most.
And now you the right questions to ask for your first job interview like is it above sea level?  So to conclude my conclusion that I previously concluded in the common cement speech, I guess what I'm trying to say is life is like one big Mardi Gras.
But instead of showing your boobs, show people your brain. And if they like what they see, you'll have more beads than you know what to do with.
Rule #7: Appreciate Your Experiences
Interviewer: Do you carry any resentment form that time?
I'm furious.
Interviewer: You were cranky at the time though.
Oh, I was furious at the time. You know, because when you're new, and you all the sudden are like, you know, I just felt like I was, and it was my own fault.
I kind of felt like I was stuck living my life the way, and if I, how dare they not like me anymore just because I suddenly revealed the truth of who I am in one aspect of my life. I'm just saying I'm gay.
That's all I was saying, and I was so mad. I was so mad that I lost my show. I lost, not just my show, but nobody wanted to hire me for three years. I didn't have any offers.
I mean, literally, the phone did not ring for three years. And I had no money. I was out of money. I was just so, that tends to make people cranky.
And then you know, I just kind of, it was good. It was actually, I was very grateful for that time. I'm very grateful that I got to experience, it gave me more compassion. I know what it feels like to be out of money.
I know what it feels like to be up and high and like, I was in a top-rated sitcom and very successful, and people treated me very well. And then all of the sudden just because of one revelation, I just was the joke.
I was the punchline of every late night talk show. I was made fun of in magazines. It was, and it felt horrible at the time.
And now, I look back, and I'm so grateful for it because it really gave me a chance to examine myself and say who are you without fame? Who are you without success? Who are you without money? And I kind of found different parts of me that would not have grown had I not experienced that.
Rule #8: Be Kind
Most comedy is based on getting a laugh at somebody else's expense. And I find that that's just a form of bullying in a major way, so I want to be an example that you can be funny and be kind and make people laugh without hurting somebody else's feelings.
Rule #9: Be Grateful
Barbara: The big breakthrough was in 1986. You were on with Johnny Carson, first time with Johnny Carson, and he loved you. You did a routine about calling God on the phone.
Ellen: Right.
Barbara: I think he put you on hold, didn't he?
Well, it was a big place. People talk about praying and talking to God all the time, but I just thought it would be great if you could have a phone conversation, if you could actually just reach God somehow, if you could just pick up the phone and call God.
Barbara: If you were calling God today, what would you say?
Thank you.
Barbara: Oh, Ellen.
Just I got nothin' but gratitude. My whole life is just I'm so blessed. I'm so lucky. And I feel it every day.
Rule #10: Just Dance!
Interviewer: I was talking to some of your audience before the show today, and I asked them what they love about you, and what they said unanimously was your energy and your dancing. Where did the dancing start?
It really started as such a ridiculous accident. It was kind of, you know, when I, even when I did my sitcom when I was introduced to the audience before we would tape the show, I just have always loved music, and I always love to dance.
I mean, how could you not dance when you hear music. That's just sort of who I am. When I hear music, I dance. And then it became where I would dance into the audience, and then it just kind of, I saw the audience respond to it in a way that it freed them up to just dance with me.
And I think people come here almost, it doesn't really matter who's on the show. It's just a place to let go and be free. And I mean, everyone in this audience is, you know, a stranger to the other.
People are from all over the world, and they come here. It's day time. It's not dark in here. They're not drunk as far as I know.  They may be. I don't know. And they're all dancing.
All right. You got a little move.
And you know people just stop dancing. I think people grow up, and they stop playing games. They stop playing Hide and Seek. They stop, you know, we just grow up, and we get so serious and stop playing. And we stop dancing.
And you know, we get busy with our lives, and the only time we dance is maybe at a wedding, and maybe if we're drunk and maybe if there's 20 other people out there. And nobody goes to clubs anymore.
And so it's a place to just, you know, and to me dancing represents just freedom and letting go and having fun and being a kid again. So I think that's why they respond to it, and that's why I do it.
Thank You
Thank you so much . I made this because Julia Kole asked me to, so if there's a famous entrepreneur that you want me to profile next, leave it in the comments below, and I'll see what I can do. I'd also love to know which of Ellen's top 10 rules had the biggest impact on you and why.
Leave it in the comments. I will join in the discussion. Thank you again. Continue to believe in whatever your one word is, and I'll see you soon.
---
Summary
Rule number one is my personal favorite, and I'd love to know which one you guys like the best.
Ellen DeGeneres's Rules
BONUS
I hope you enjoyed this article, make sure to check my Ellen DeGeneres video on his Top 10 Rules For Success as well.
You might also like
---