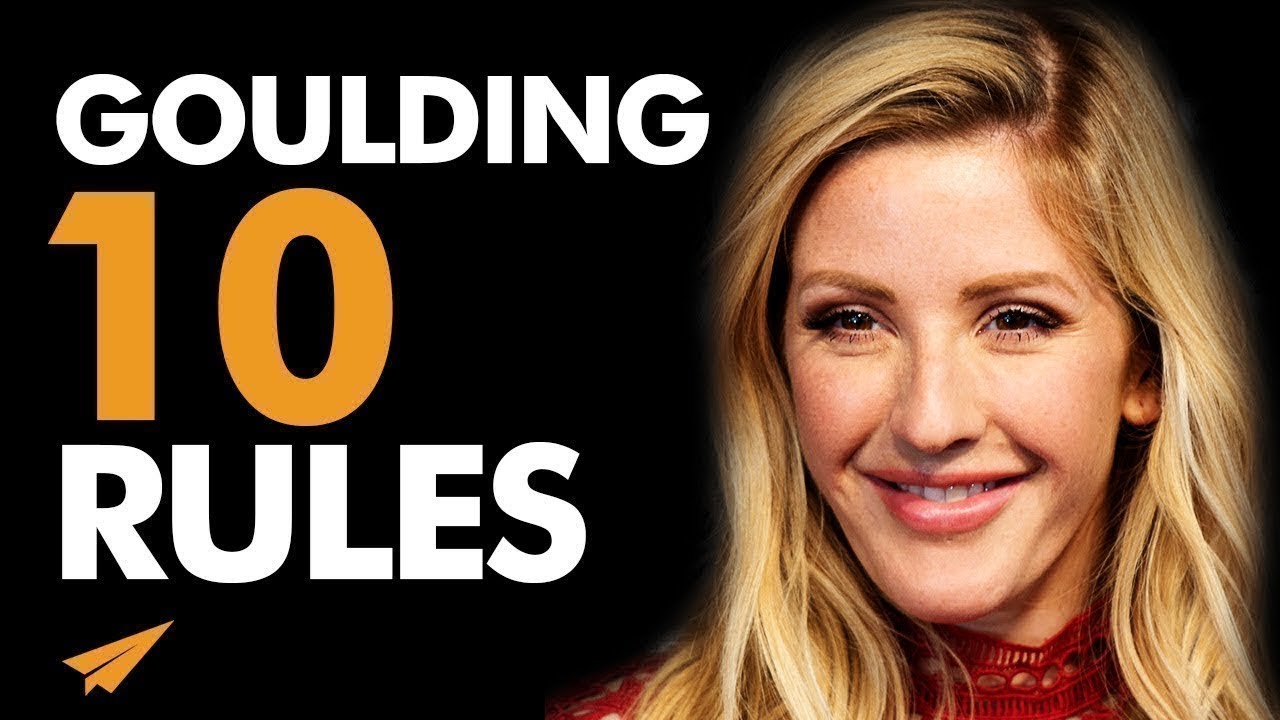 Famous Entrepreneur Quotes
Ellie Goulding's Quotes
"I like knowing that I can be there for people without actually being there. That's a nice feeling."
" I've always been a very honest, open, writer. I've always wore my heart on my sleeve."
"My voice is my instrument, so sometimes I sing things that sound crazy, but then like one take out of 20 will be really, really cool."
Ellie Goulding's Top 10 Entrepreneurship Rules For Business and Success
She's Grammy award-winning singer and songwriter. At 9, she began playing the clarinet and at 14 began learning guitar. At 15, she started songwriting. Her career began when she met record producers Starsmith and Frankmusik. She's Ellie Goulding and here's my take on her top 10 rules for success.
Rule #1: Make It Positive
Often fans tell me that the music I make has helped them through things with their family and their friends, and boyfriend/girlfriend. Help them reconcile with their father or mother, or whoever. That's quite a nice feeling, that my music can do that. ♫ 'Cause this is devotion, I am … I like knowing that I can be there for people without actually being there. That's a nice feeling. I can't even be there for my own family, let alone my fans.
So it's nice I can produce something that is comforting. This is devotion My writing style has always been very hopeful. I don't like writing depressing songs, unless I can offer some kind of resolution. And that's just how I've always written. Even when I used to write poetry and essays, and shit when I was young.
I write my songs in a very specific way. Like even if they're about someone. It will never be like, ooh that's about; you know like it would never be; It's never like shade or burn, or any of that kind of stuff. I don't believe in that. I believe in; I write songs, I like to write songs with a resolution. I like to write songs always with something positive. So even if I write about somebody that's broken my heart, or somebody that's hurt me, or a situation I've been in that's been unpleasant. I still want to try and write like a poet.
I still want to write something that is timeless. Like Shakespeare. I want to write things that sound true forever. I see the good in everyone, and I see the good in everything, and I think that there's always a silver lining and there's always good to come out of everything. So if you notice my lyrics, there's always a resolution of some kind. There's always an everything is going to be okay moment. So even if I have been in situations where I think that was really unfair, that was mean, or I was hurt by something. I always try and do it in a way that resolves it in my own head.
Rule #2: Be Real & Honest
I think that; I think that as a writer I've progressed. I've always been a very honest, open writer. I've always worn my heart on my sleeve, the way that I write lyrics, and tell stories. Without wanting to sound like a cliche, I genuinely like being very honest and being real about my situation, about my childhood, about my past.
It kind of contributes to what I write, and what I do as an artist. So I think it's important to shed light on what I've been through and stuff. And I never; I always feel weird if I leave stuff out, and fans are left not knowing stuff about me. I'd like them to to kind of know everything.
Rule #3: Find The Balance
I did listen to a bit of Joni Mitchell. Did listen to; I have listened to a lot of Feist. My Brightest Diamond, and I love the I really like their lyrics. And suddenly I realized that you could be quirky, but you could also still be quite poppy. My mom constantly listened to pop and dance music.
So it was very pop, and I wasn't introduced to any old bands. I was discovering music by myself. So it was kind of a discovery; it was me discovering things that would allow me to find out about older bands and older singers.
Maybe it could be that I have a very kind of unique sort of way, in that I've listened to a hell of a lot of quite obscure folk music, and Bjork. But then I also really love pop music. But I refuse to let one of them overtake the other. So I think that's why I seem to have been given this appreciation in blocks. Sort of a more of an Indie area. And then also I seem to have this sort of pop thing as well.
I guess my lyrics are just really important to me. I never want them to be too alien and complicated, but I want them to have a meaning always. It's like it's always finding the right kind of balance in my songs of surreal stuff and then very real stuff that's very universal and relatable. So for me it's always finding that balance within my tracks.
Rule #4: Do Things In The Moment
I write things on my laptop a lot. And now that I've got a laptop. And I write on my phone. I write on paper. It depends sometimes; I kind of have to be in a certain frame of mind to write. I have to be; sometimes I have to be quite down, sometimes I have to be really elated. But generally, it's me coming up with some chords and some words, and something I really want to write about, something I need to get off my chest.
Interviewer: What do you think that this panel is seeing in you, they have decided that you hit the moment.
I don't know. And I wish I did, because it would be a lot easier. I suppose I'm quite normal, and I wasn't necessarily ambitious so I guess I don't really have a business kind of mind. So in that way my music ends up being; I hate using this word, but quite organic in that I write things; I just go after it blind and just hope for the best. And that's how I've always worked. I sort of like to do things in the moment. So if I have a resolution I want to make, I just kind of do it. Actually, you know, I want to be a bit more adventurous next year. As in I want to be a bit more of an adventure seeker, do some skydives and stuff. But I don't think I can do a bungee jump. I think that's a bit too far.
Interviewer: You can skydive, but you couldn't bungee jump.
I think it's very different. Bungee jumping you throw yourself off. At least skydive, someone's going to and that's that, and just takes you with them. I think bungee jumping is a while different thing. But I think I want to do things that kind of scare me, and get over my fears a bit more next year. So maybe I do have some New Year's resolutions actually.
Rule #5: Practice Without Pressure
I've been supporting Bruno Mars, and I supported quite a few artists in arenas, so I feel like I've been lucky in that respect because I've built a stamina that's required of playing such big shows, but they haven't been my shows, so the pressure's been off. So I've been able to practice playing to lots of people, but like I said the pressure is off in that it's not my own show, and I can sort of, I dunno.
It's definitely easier supporting someone in an arena. Like the crowd is not necessarily there to support you, but you can win them over. It makes you realize that you have to put on a really special show, to get people's favor. So I've been able to do that. And then my own shows; I go back and do my own shows, and I sort of replicate what I do in arenas, and it makes the show a bit bigger, and a bit more special.
Rule #6: Don't Try Hard
Interviewer: What is it like as a writer, as a musician, at a time when there is this. I mean once upon a time, I'm showing my age I apologize, but I can't help it. Something like you would have come along, and in a way there would have been one of it, maybe two. Whereas now, and not to say they're exactly the same, but you know what I'm saying, there can be a lot of the same kind of thing, of peers. So I wondered how difficult it is for you to try and generate the kind of originality that you really want to have.
Well I think the important thing is not to try. And hopefully you don't have to try. And luckily I feel like I've been given that kind of advantage, in that I feel like I'm not trying hard to create something that's original. But because I have such a passion for folk music, and music which is so simple and beautiful with just a guitar, that it just so happens that I've constructed my songs that way without thinking about it too much.
Not putting too much, this song has to be different but it also has to be mainstream so that I sell records. It's completely not like that. It's just the fact that myself and my producer Starsmith, he's the same age, and he has a passion for electronic music. I have a passion for folk music in particular. But we also listen to a lot of the same things when we were younger. So we just go into a session and slowly start to construct a song, and I usually already have the kind of the backbone for it.
But I think it's easy enough for me to say this, but I think the best thing is not to try hard, because you can almost tell. I think that's why the break of connection between you and your listeners, that's when the break comes because they can't connect. 'Cause they can almost sense that it's like too try hard or whatever.
Rule #7: Experiment
It's key to everything, or it's key to what I do. I wouldn't be here without experimenting like crazy. I like so many different types of music, and I hope that I could get away with including all of those different influences on my first record. And I think I got away with it. And maybe on my second as well. But I mean like, I would say that I'm a pop artist, I make pop music.
But it's not without a lot of experimentation and also risking writing something that maybe isn't very good, or is silly. My voice is my instrument so sometimes I sing things that just sound crazy, but then one take out of 20 will be really, really cool, and then I keep that one. Then that's that. So yeah, experimentation is everything for me as a musician, yeah.
Rule #8: Inspire Others
Interviewer: When I tweeted today that you were going to do another interview, we got all kinds of questions. One of them was, how do you feel about so many people remixing Starry Eyes?
Well a lot of people have remixed that, and a lot of people have remixed; Ones that just kind of blown up out of nowhere, and it's amazing. I love hearing my song with a completely different feel to it. I love the idea that my vocal can just be put onto pretty much anything.
Interviewer: Lights has been remixed by every single artist right now. On the planet, it seems like. Do you have a favorite version?
Bassnectar remix has always been my favorite. He's like my big brother, Lorin. It's so funny how the remix started off our friendship, but it really kick started Lights in the States. 'Cause at first when Lights started having some kind of prominence in America, it was always like, "Oh yo, I love the Bassnectar remix."
At first, and then all of a sudden Lights just creeping up and it had its own journey. So yeah, there's probably about 1,000 Lights remixes out now.
I'm not even joking. It's the most remixed song probably of all time. I've been probably the most remixed artist in the UK. For some reason I'm just like, that's okay. But then some I listen to, I think that is better than the original.
And I really fall in love with them. Like a guy from Monsieur Adi from France, remixed Guns and Horses, and it just blew me away. I thought, God it sounded like it was supposed to be at the end of a film. Like some epic, a love story, because it was amazing. It made me cry a little bit. It's almost like it wasn't my song anymore. It was just an amazing thing that someone had created.
Rule #9: Inundate Yourself With Inspiration
I've read a lot since I was young, so books inspire me, like , poetry. I've read a lot of poetry over the last few years. And I like kind of dark, like funny, kind of humorous stuff. I read a big book of poems at Staying Alive, a compilation of poems. They're like real and raw, and quite explicit. And so I used those.
Obviously like other singers of the band, musicians, I like classical music. I listen to so much stuff that I'm just kind of inundated all the time. So that's kind of how I work really. Listen to a lot of music all the time. Now it's just, internet is used by so many people, and there's so much downloading that it's become the way. And more people are getting iPods, more people are finding their music.
And so it's kind of they're more attracted to internet stuff. I guess there's more ways of finding music. You can get things like Track in a Box. You get a track sent to you every day. And you find out things that way. And me personally, I do feel like there's so much music, it's impossible for me as a maker of new music, to be completely aware of everything. I just go on random recommendations that people give me, and I might discover something for myself. But I think that's the best way, because you can get just inundated with; you just get so much stuff thrown at you.
Rule #10: Beatbox!
I can beat box.
Interviewer: Oh yeah, well forget that.
A little bit, probably not as good, I dunno.
Interviewer: Go ahead, try.
That was a little one.
Interviewer: Oh no.
It's getting that.
---
Thank you guys so much. I made this because Shailendra Einstein asked me to. If there's someone you'd like me to profile and their future top ten, please check out the link down in the description below, and you can cast your vote on who we should do next. I also want to give a quick shout out to Marta Magdalena. Marta thank you so much for picking up a copy of my book, Your One Word, and posting that awesome message on Twitter.
I'm so glad that you're coming back to it and rereading it whenever you're having moments of doubt. I really appreciate that, and for sharing it as well. Thank you, thank you, thank you so much, and I'm really happy you enjoyed the book. Thank you guys. I believe in you.
I hope you continue to believe in yourself, and whatever your one word is. Much love. I'll see you soon.
---
BONUS
Always Evolve
Interviewer: How have your going? Your sound's evolved a lot since the first album. How's it been taken?
It's pretty good. The second album has gotten me around the world, and gotten me some, I dunno, to go some cool places. It's definitely, I think everything's evolved. Like I've managed to sort of, get worldwide a bit more, and tour places I've never toured before. And it's all evolved in general. Like touring, and the records, and just everything.
Have Fun With It
I don't know really. I feel like I do work really hard, but I sort of stay at a level that I'm really comfortable and happy with. I genuinely never wanted to be a superstar. I just didn't. It just never really occurred to me that that would ever be possible. I'm grateful for everyday, because I get to support Bruno, fricking, Mars on tour. I just don't understand it. So long as I have that, which I do everyday, I just have the best time. I get to write songs and put them on a record. Some people buy them, and some people don't. I have a really fun time with it.
Reach Out & Connect
The biggest thing I probably go to, if I'm kind of in a rush, is Hype Machine. I go on Hype Machine a lot. I go on EARMILK, quite a lot. But you know, I feel like I'm very lucky, because I've been connected with so many producers and DJs just from remixes and from working with people, and having such an affinity with electronic music. I get to meet people, and people send me stuff. I have connections with a lot of people. So yeah, just 'cause I've been doing it for such a long time.
The first people that I reached out to on MySpace for the electronic producers Barrio and Frank Music, and a bunch of people; Roscoe. So I've been; I think that people appreciate that I have that connection with electronic music and just my love of so many different types of music. 'Cause it led me to that.
Summary
Rule number 1 is my personal favorite, and I'd love to know which one you guys like the best.
Ellie Goulding's Rules
BONUS
I hope you enjoyed this article, make sure to check my Ellie Goulding video on his Top 10 Rules For Success as well.
---
You might also like
---
More from Ellie Goulding
---
Good morning, Believe Nation, today's message is experiment. Over to you, Elie Goulding. ♫ I wake up every morning ♫ Entspresso …