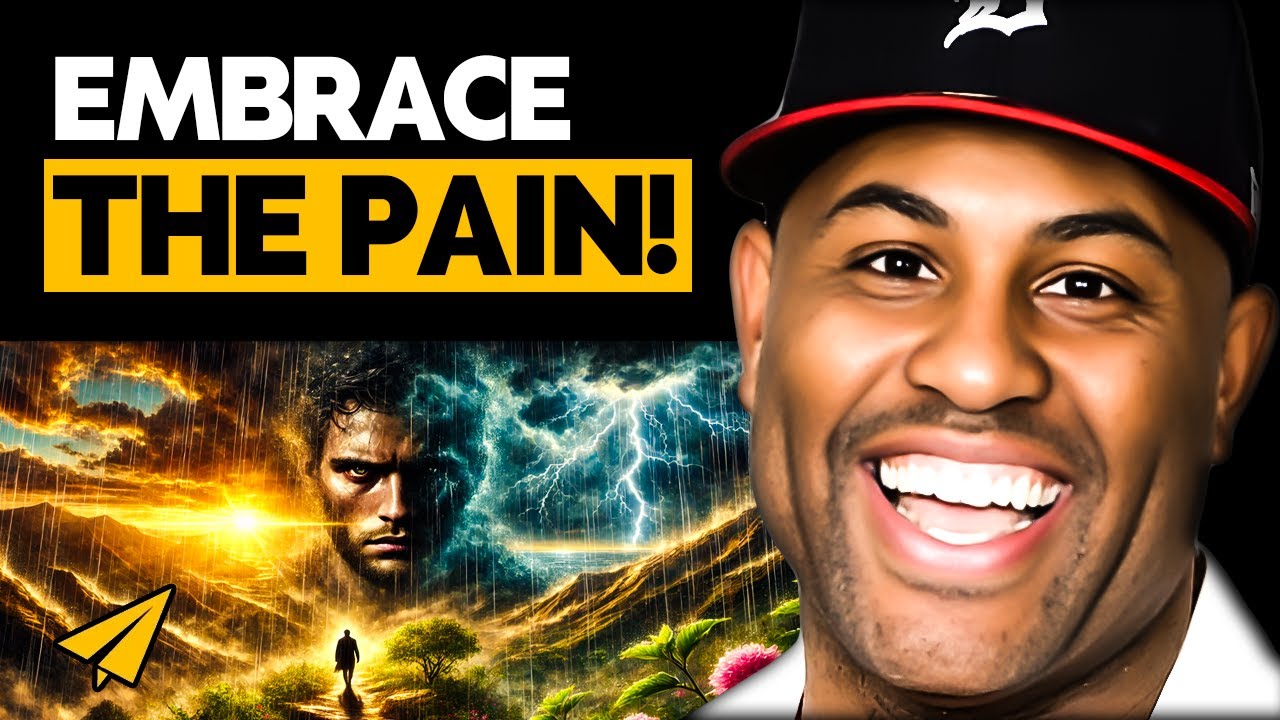 Embrace PAIN! Check out what Eric Thomas, C.T. Fletcher, and Joe Rogan have to say about pain, and how it can help you achieve success in life.
Eric Thomas
Pain is temporary.
It may last for a minute, or an hour, or a day, or even a year. But eventually it will subside.
And something else will take its place. If I quit, however, it will last forever. Listen to me, I'm telling you all as I leave.
I'm telling you as I leave, I was homeless for two and a half years. And the problem with most of you, you never felt no pain before.
You all spoiled. You all spoiled. Some of you all spoiled, just bottom line.
Your parents have done everything for you. You never had to do nothing for yourself. You're spoiled.
We going to keep it real tonight. Some of you are spoiled brats. Every time you ever got in trouble somebody in your house got you out of it.
Every time you done something you're not supposed to do people say, Eric's your mother's a tyrant.
You're right, she kicked me out. You're right, she's mean. But she developed a man, because she put me out there and said, you're going to have to grow up.
And some of you have never learned to grow up. And so every time something get hard, you quit, you call momma.
I dare you to take a little pain. I dare you. I dare you not to go home. Somebody say, if I don't go home I feel bad. Go through it.
You ain't going to die. At the end of pain is success. You're not going to die cause you're feelin' a little pain.
I'm not eating like I eat at home. That's why you're about to go to the next level, cause if you keep eating like you eat at home, you will keep being a boy, or a girl.
It's time to become a man, woman. So don't worry about a little pain.
CT Fletcher
Pain… Is necessary.
It's inescapable.
There's no way, I mean out of pain, we are born.
Pain is a must.
Pain is a necessity of growth.
Be comfortable with being uncomfortable.
Pain is a necessary evil.
Get used to it.
Make friends with it, and kick  pain's ass.
And that way, when it comes to take you down, you can brush that   off.
I'm used to you, come on bring it on.
Sit your ass down and let's have a  lunch together.
You and me, pain, let's do it. Let's  bring it.
"Pain is a must. Pain is a necessity of growth." – CT Fletcher
Joe Rogan
There's a bunch of people that will say, well, I have a family, so it's all a great idea for you to just go out there and go crazy, I have people to support.
You need to listen.
Stop saying that.
Stop saying any of those things.
Any single person who has ever done anything worthwhile or exceptional or difficult or extraordinary, anyone, whether it's great artists or authors or mathematicians or whatever the  it is.
Everyone encounters difficulties.
There is no easy road.
It does not exist, it is impossible.
Everyone has issues.
If you have time to pursue a hobby, if you have time to do anything in your life, you can better yourself.
And here's one way you never better yourself: when you come up with excuses for why other people are successful, and you're not. That  is  dangerous.
When you give yourself an escape. Yeah, well that's easy for you to say, You know, you do this… Trust me. Everybody has a hard road.
I wanted to jump out a window several times during my young life.
I wanted to jump in front of a  train, just end it because it's too much pressure.
Not really. But you know what I'm saying, theoretically.
We all go through hard times, we all go through depression, we all go through doubt and moments in your life when it's really  difficult and you're trying to figure out what the  your path is going to be. It's hard as sh**.
But Steph and I were talking about this before this podcast starts, that that is what makes you a person.
And those difficult moments are what build your character Show me a great man who's the son of a great man, that's what we're saying.
You know, these kids that were born billionaires, you're . You're .
You're never going to be a self-made person. You have a back-up trust for your back-up trust for your trust, and you're , man.
Arnold Schwarzenegger
By experiencing pain in your muscles and aching, then go on and go on and go on, and those last two or three or four repetitions, that's what makes actually the muscle then grow.
And that divides one from being a champion, and one from not being a champion.
If you can go through this pain period, you may get to be a champion.
If you can't get through, forget it.
And that's what most people lack, is having the guts.
The guts to go in, and go through, and say, I don't care what happens.
It aches, and if I fall down… I have no fear of fainting in a gym, because I know it could happen, I threw up many times while I was working out, but it doesn't matter. Because it's all worth it.
"If you can go through this pain period, you may get to be a champion. If you can't get through, forget it." – Arnold Schwarzenegger
Elon Musk
I wasn't happy, focused on the short term money coming in when creating a company, because otherwise the company will die.
A lot of times people think, creating a company is going to be fun.
It's really not that fun.
I mean, there are periods of fun. And there are periods where it's just awful.
And particularly, if you're the CEO of a company, you actually a have distillation of all the worst problems in the company.
There's no point in spending your time on things that are going right, so you're only spending your time on things that are going wrong.
And there are things that are going wrong that other people can't take care of. So you're the worst, you have a filter for the crappiest problem in the company.
The most pernicious and painful problem. I wouldn't say it's, I think you have to feel quite compelled to do it, and have a fairly high pain threshold.
And there's a friend of mine who says, starting a company is like staring into the abyss, and eating glass.
And there's some truth to that.
The staring into the abyss part is that you're going to be constantly facing the extermination of the company.
Because most start-ups fail. It's like 90%, 99% of start-ups fail.
So that's the staring into the abyss part, you're constantly saying, okay, if I don't get this right, the company will die.
Which can be quite stressful.
And then, the eating glass part is, is you got to work on the problems the company needs you to work on, not the problems you want to work on.
You're going to wind up working on problems you really wish you weren't working on.
And so that's the eating glass part. And so that goes on for a long time
Audience Member: So how do you keep your focus on the big picture when you're constantly faced with, we could be out of business in a month.
Well, it's just a very small percentage of mental energy is on the bigger picture.
You know where you're generally headed for, and the actual path is going to be some sort of zig-zaggy thing in that direction.
You try not to deviate too far from the path that you want to be on.
But you're going to have to do that to some degree. I don't want to diminish the profit motive is a good one, if the rules of an industry are properly set up.
So there's nothing fundamentally wrong with profit. In fact, profit just means that people are paying you more for whatever you're doing, than you're spending to create.
That's a good thing. And if that's not the case, then you'll be out of business and rightfully so. You're not adding enough value.
Joel Osteen
The key is what we do in our times of pain.
Pain will change us.
Heartache, loss, disappointment, they don't leave us the same.
When I lost my father, I didn't come out like I was before. I was changed.
If you go through a divorce, a legal battle, a friend betrays you, eventually that will pass.
You'll get through it, but you'll be different. No how the pain changes you, is up to you.
You can come out bitter, or you can come out better. You can come out with a chip on your shoulder, blaming God, or you can come out stronger, with a greater confidence in God.
You can come out defeated, giving up on your dreams, or you can come out with a new passion, a new fire, excited about the new opportunities in front of you.
All of us experience pain. My challenge: don't just go through it, grow through it.
That difficulty is an opportunity to get stronger, to develop character, to gain new confidence.
Anybody can give up, anybody can let it overwhelm you.
But you know what that's doing?
Wasting your pain. That pain is not there to stop you, it's there to prepare you, to increase you, to develop you.
"All of us experience pain. My challenge: don't just go through it, grow through it." – Joel Osteen
Machine Gun Kelly
People used to take my raps and crunch them up, and throw them on the ground.
I used to get make fun of all the time, cause who believes that the guy sitting next to them in math class is going to blow up and become a superstar? Right, you don't believe that.
But like, you should have. And it's a bummer, you what I mean? Take it and make… You know, pain is the best inspiration.
So if you're a creative out there and you're getting bullied, take it and make something great out of it.
Damon Dash
Have you ever watched the James Bond movie where it doesn't look like he's losing at some point, and then he wins? Or Batman? Or Iron Man? Or any superhero?
There has to be some diversity for to overcome, to win.
You can't be a champ unless you are in a place where you look like you're going to lose, and then you win.
The pain's that going to come with being independent, you have to embrace it.
Because it's going to happen.
And also know that the more successful you get, the more problems you're going to have, the more knots you're going to have to untie.
Being a boss does not mean smooth sailing, it means having the ability to care about other people before yourself, and to untie problems, untie knots.
That's all it is. It's not business if there's not problems.
There's nothing good without struggle. It just doesn't happen. In all my experiences, there hasn't been one thing that's been successful without me feeling some pain before it was successful.
So now when there is pain, I embrace it. I've been embracing it, I'm a G about it because I know that must mean, that if I'm cool, then, what awaits me… It's darkest before the dawn. I don't want to sound corny, but that's what has to happen.
"The more successful you get, the more problems you're going to have, the more knots you're going to have to untie." – Damon Dash
Aaron Marino
And I know that I personally that I personally have experienced quite a bit of disappointment in my life.
And I'm assuming that you have as well. And guess what? We're going to continue to be disappointed throughout our lives.
At least we should be.
Cause if you're not, that means that you're really not trying.
Now how you handle yourself post-disappointment, this is critical to your emotional and mental well-being. Pain. Pain. Hurtin'. Right?
It's part of the growing process.
But I'll tell you something: life has a funny way of closing doors in order to keep you moving in the right direction.
So often in our society and as people, we run from pain.
We do everything we can to protect ourselves and to shield ourselves from feeling uncomfortable, that feeling of pain.
And this is the reason why so many people abuse drugs, alcohol, casual sex. We do this to not feel the pain, but I'm saying, stop running. Stop trying to mask it. When you feel pain, disappointment, it's okay.
Don't try and cover it up. What you should do is actually embrace it. I know, it's easy for me sitting here, saying, oh, embrace the pain.
You're feeling like crap, don't worry about it. Feel it. Feel it. I get it, right, that's not… That's kind of a long shot.
But what I'm saying, is that the pain is normal, it's natural, it's a part of the growth process. Learn from it.
Once you do, you accept it, you embrace it, learn from it, put it in its place, you're going to be able to move forward, faster, stronger, smarter.
If you're not struggling and getting disappointed from time to time, this probably means that you're not really pushing your limits too far. All right, it's okay. Embrace it, don't get discouraged, and stay focused.
Elliot Hulse
Pain is a beautiful thing. Challenge is what life is about.
A life without challenge, a life without pain, is a life without growth.
And where is there no growth, there is stale, stagnant energy. And that's where most people live.
Cause most people's lives are designed around treading a path that is void of challenge.
The minute they recognize challenge or pain, they move away. This is a primal instinct, and normal and natural.
But a weak perspective. Most people are bored, if you ask them. What do you think about your life.
Same old, same old. Every single day, what's the thing… Same , different day.
Things of this nature. That's because they're living their lives… in a lie… That is shrouded in comfort. It doesn't exist.
They're not challenged, they're not growing. They're bored, and they're better off dead. Your aliveness is found in your pain. Embrace it, love it, and grow from it.
"Pain is a beautiful thing. Challenge is what life is about." – Elliot Hulse
---
Thank you guys so much.
I hope you enjoyed. I'd love to know, what did you take from this article that you're going to immediately apply somehow to your life, to your business. Leave it down in the comments below. I'm really excited to see what you have to say.
So thank you guys again for watching, I believe in you, I hope you continue to believe in yourself, and whatever your one word is. Much love, I'll see you soon.
---
You might also like
---
More from Aaron Marino
---
Today we're going to learn how to communicate effectively.  Good morning, Believe Nation. It's Evan. My one word is believe, …
Today we're going to learn how to gain confidence.What's up believe nation, my one word is believe and I believe …
"Guys, here's the deal. Entrepreneurship, you're going to have highs. You're going to have lows, I promise. But as long …