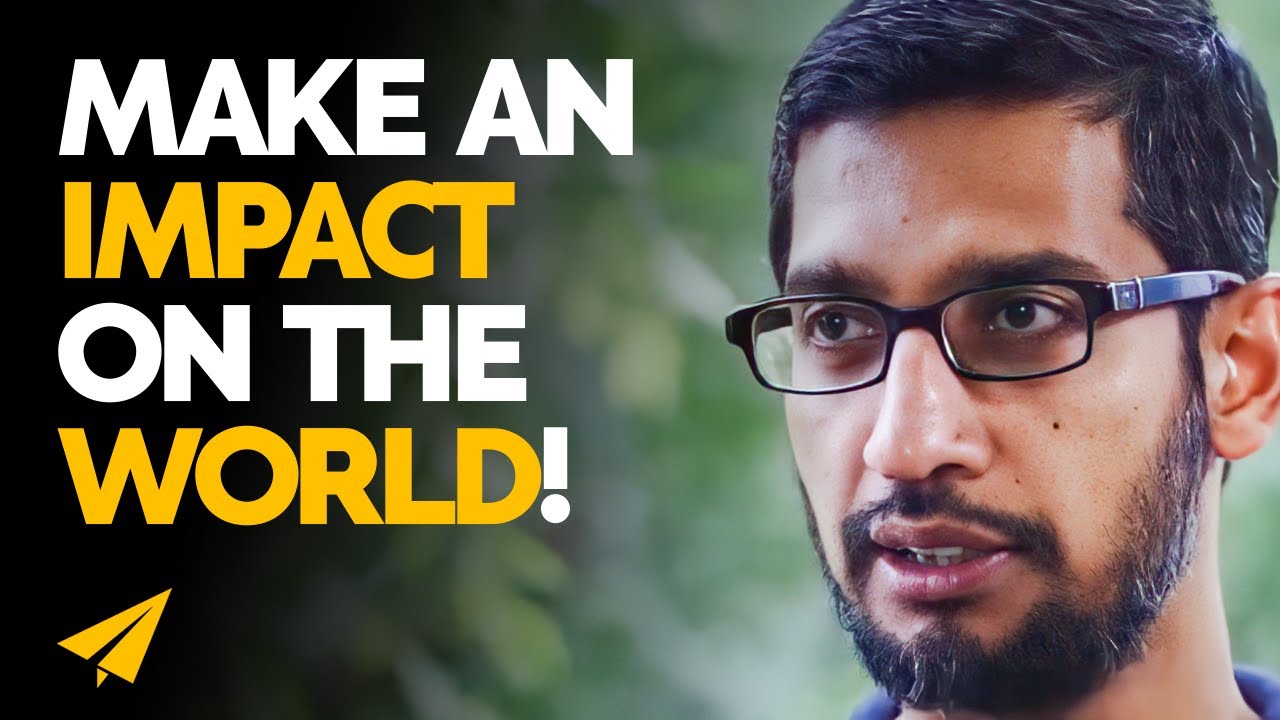 Good morning, Believe Nation, my name is Evan Carmichael. My one word is "Believe", and I believe that entrepreneurs will solve all of the major problems in the world. So today's message is empower people. Over to you, Sundar Pichai.
EMPOWER People – Sundar Pichai
The thing which attracted me to Google, and to Internet in general, is that it's a great equalizer. And so, to me, always been struck by the fact that Google Search worked the same as long as you had access to a computer with connectivity, if you were a rural kid anywhere or if you were a professor in Stanford or Harvard.
And to me, I want Google to strive to push to do that, not just build technology for certain segments, for me it matters that we drive technology as an equalizing force, as an enabler to everyone around the world.
Evan Carmichael
I think the best thing that you can do is create a product or service that empowers people. That's what we do as entrepreneurs. We see a problem, we see an opportunity, we want to make a difference in the world. We want to make money, yes, but we want to have an impact, we want to empower people, we want the output that we are creating to touch people's lives in some way.
And I think that's the most gratifying thing that you can do as an entrepreneur, to know that the thing that you spent all this time and energy and effort in putting into the world is being received, great, people like it, but it's empowering them to do more in their lives and in their businesses. It's why my YouTube channel is so fun for me, it's so amazing for me to wake up and see your comments everyday because I know the work that I do is empowering, it allows you to go out and do, hopefully, amazing things.
I believe that entrepreneurs will solve every problem in the world, the major problems. It's not big corporations, it's entrepreneurs. And so, I can help by giving you content, by giving you inspiration, by giving you strategies and tactics to help your businesses become better.
"The best thing that you can do is create a product or service that empowers people." – Evan Carmichael
If I play a quarter percent role in helping you get better and build your company, I know it's going to have a ripple effect out, and that's why my goal's to help a billion entrepreneurs, because if I can touch a billion entrepreneurs in a quarter percent way, that is massive world change.
That's what gets me pumped up, that's why I love doing what I do. I want to empower you guys to do great things. If I look at this business, Toronto Dance Salsa, people come to learn how to dance salsa, but really they're coming for other reasons, they're lonely, they want to meet people, they're looking for a relationship, they're looking for some friends, they're looking to build their self-confidence.
There's always a deeper reason for why they come here, and people always leave feeling happier with themselves, feeling more confident, maybe meeting some new friends. And that empowers them in their entire life, not just in the one hour when they come in and they learn how to do a turn, right?
We're empowering them to live a better life for the rest of their life because of the time that they spend in our class. That's exciting, that's energizing, so we stand for. And so, if you are focused on creating a product or service that, yes, can make money, but has an impact by empowering people to do great things in their lives and their businesses, I think that's the ultimate most satisfying thing that you can create as an entrepreneur.
Question Of The Day
So the question I have for you guys today is, what are you doing to empower others? Let me know, let me feel the passion you got for it. Leave it down in the comments below, super curious to find out.
I also want to give a quick shout to Imran Dean. Imran, thank you so much for picking up a copy of my book, "Your One Word". Really, really, really means a lot to me, and I hope you're enjoying the read.
So, thank you guys again for watching. I believe in you. I hope you continue to believe in yourself. And remember your one word is … And I'll see you again tomorrow morning for another shot of "Entspresso".
---
BONUS
EMPOWER People
Salman Khan
The traditional reform mindset towards education is let's micromanage teachers more. Like a good number of really great teachers are getting handicapped by this micromanaging, teaching to the test or whatever else.
And forcing like, "On Tuesday, September 27 "you have to cover this", and you can't question that, "and you have to say it in these words", and you have no time to run your own project, and you have no time to think of your own curriculum or whatever you want to do.
We generally feel like the teachers are getting liberated here. Do what you want everyday and the students are going to learn what they want to understand and we're freeing tons of class time for you to do what I think you wanted to teach to begin with.
Like, when I ran my little summer camp, I won't claim I have 30 years of experience and all the rest, but what was fun for me was not having to give a lecture on least common multiple, not having to give a lecture on probability.
To know that that was out of the way and getting this super fun simulation where the kids are trading piece and all this, and I got to, I felt like I was able to express my creativity, I was able to go home and say, "What would be a really cool way "to understand this concept intuitively?" And when I went to classroom that's what we did, and I felt like it was a much richer experience.
And so, we genuinely feel and we genuinely hope that it's doing that for teachers, and the teachers in Los Altos have expressed that, that they love, the they feel liberated, they feel like they have data that they never had before.
The fifth-grade teachers they teach all the classes, 'cause they're elementary school, and they feel handicapped in their other classes now because they are doing that, the lecture, they are doing the stuff that I would say is lower value than what they're doing in their Math classes which is the projects, which are the one-on-one interactions.
And so, they're actually asking us as quickly as possible, "When are the grammar videos coming? "When are the grammar exercises coming "so I can do more interesting things "with that part of my day in class?"
Pierre Omidyar
Interviewer: I've heard the story that the first line of code that you wrote was in an apartment in Campbell.
That's right.
Interviewer: Not too far from here.
Just down the street. That's right.
Interviewer: I mean, did you have any idea, you know, you wrote this, you put it out on the Internet, you didn't sort of do it thinking, "Hey, I'm going to build and $83-billion-dollar business"?
No, of course not at all, not at all. Really, I mean, it was just this, as I said, as a software engineer I wanted to write some tools that I thought could be useful to ordinary people, regular people. I had a day job, started as a nights and weekends projects.
And it's amazing, of course now, we all understand, code does change the world and it can change people's lives, but I think what makes eBay unique, despite the fact there are many, so now there are more marketplace businesses out there, we are really, have always been about people. It's always been about bringing tools to ordinary people.
And giving them the tools and the opportunities that they need, that they can use to then be successful, and define success in their own way. So, yeah, those were really, those were really weeks and months for crazy. So I remember, one of the first items listed, this was in 1995, in September 1995, one of the first items listed was a 1952 Silver Dawn Rolls-Royce, okay?
And the seller, and I wish we could find the seller, the seller was amazing because he, or she, had done this beautiful listing. And so, you know, you could put HTML in there, the seller had created this server somewhere to actually host photos, back in those days you had to actually own, bring your own server to host photos, and actually had this beautiful listing in there. I looked to that and I said, "This is incredible. "
There is no way anyone will ever buy a car on the Internet. "Like, that's just ridiculous. That will never happen". Of course, now there's a car sold every four minutes on a mobile device. I mean, it's incredible, it's totally incredible. So, who could have imagines that?
Punit Renjen
Interviewer: How do you motivate people to get things done?
You know, the reason why I paused was I was trying not to come up with a tried answer. I think, and this is a much use, an overused term, I think defining an overall goal that's reaching in that it isn't attainable, and then empowering, this is the overused word, and then empowering people to actually go try and get it, and ensuring that when they have a misstep that you're there to help them along is probably the way to.
I mean, you know, to be frank with you, most of the people that we hired are extremely smart, they're self-motivated, they're very hardworking, and you've got to, much like a racehorse, you've got to make sure that you give them the space to develop and mature and accomplish.
So I think most of my partners would say the same thing. I mean, it takes an element of defining the ultimate destination and then empowering people to actually go to achieve it.
---
You might also like
---
More from Entspresso
---
Today's message is be confident. Good morning believe nation, it's Evan. My one word is believe and I believe that …