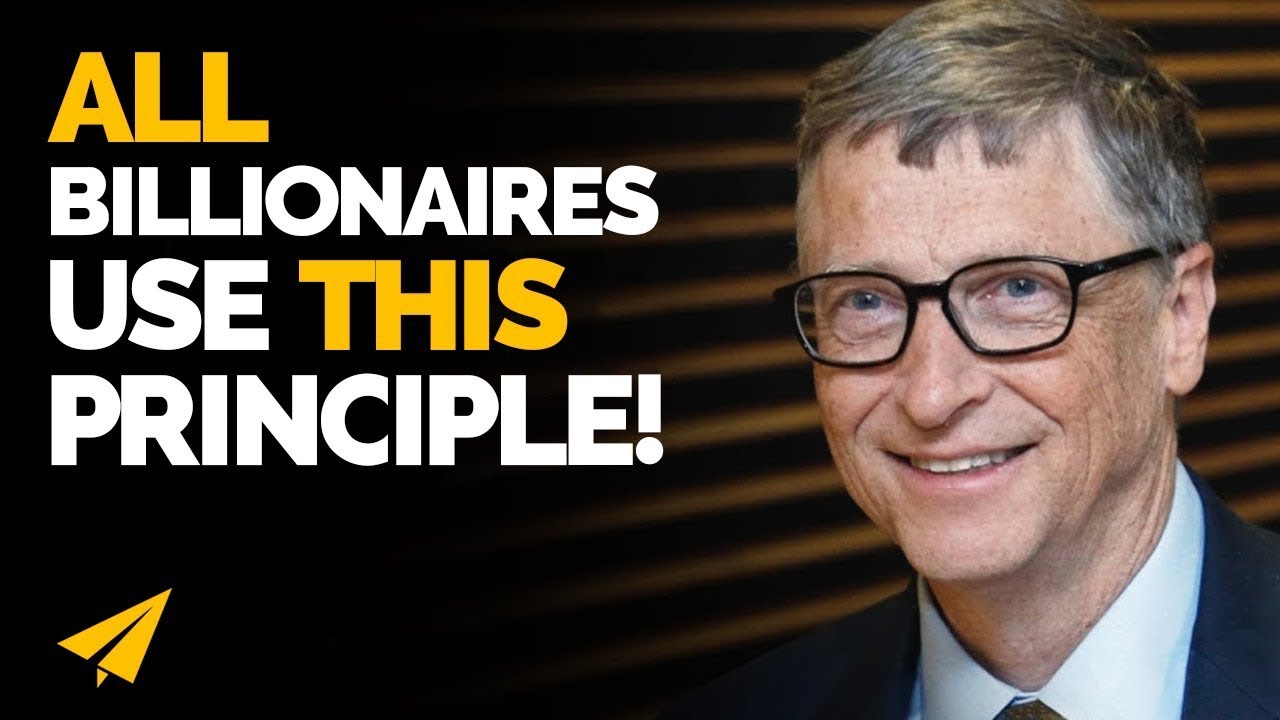 Good morning, believe nation, my name is Evan Carmichael, my one word is believe, and I #Believe that entrepreneurs will solve all the major problems of the world. So today's message is have energy. Over to you, Bill Gates.
Have ENERGY – Bill Gates (@BillGates)
When I started Microsoft, I didn't think of it as all that risky. I mean I was so excited about what we were doing. It's true I could have gone bankrupt, but I had a set of skills that were highly employable, and in fact my parents were still willing to let me go back to Harvard and finish my education if I wanted to.
You've always got a job with me, Bill.  
And the the thing that was scary to me wasn't quitting and starting the company, it was when I started hiring my friends, and they expected to be paid.  And then we had customers who went bankrupt, customers that I'd counted on to come through. So then I got this incredible conservative approach that I wanted to have enough money in the bank to be able to pay a year's worth of payroll even if we didn't get any payments coming in.
And I'm almost true to that the whole time. We have about 10 billion now, which is pretty much enough for the next year.  Anyway, if you're going to start a company, it takes so much energy, that it better overcome your feeling of risk. I don't think that you necessarily, if you're going to start a company, should do it at the start of your career. I think there's a lot to be said for working for a company, learning how they do things.
You know, if you're young it's hard to go lease premises. They made that hard for me. You couldn't rent a car when you were under 25 at the time, so I was always taking taxis to go see customers.  People would say, well we're going to go have a discussion in the bar, well I couldn't go to the bar.  But you know, that's fun.
Because I'll tell you, when people are first skeptical, and they think this kid doesn't know anything, then when you show them you've really got a good product and you know something, they actually tend to go overboard and they think whoa, they know a lot, let's really do an incredible amount with these people.
So our youth, at least in this country, was a huge asset for us once we reached a certain threshold. It is hard, it's hard to hire older people, because they'll be a little bit conservative about whether they should come and take the risk. And it took three or four years before we could go out into the normal sort of employment pool. But those problems that come with starting a firm, you better think of those as part of the pleasure, part of the challenge that is part of the excitement.
Evan Carmichael
Having the energy to be resourceful is one of the most important criteria that you need to be as an entrepreneur, you need to have it. If you are not energetic and resourceful to solve problems, you're going to fail, because there's going to be so many problems.
For those of you who've already started and who are further along your entrepreneur journey, you know what I'm talking about. There's problems after problems after problems. And I'm an optimistic, positive guy, you know I see through the problems, I see the success and I believe in your success. But I'm also realistic in that there's going to be tons of problems, there's going to be tons of crap.
And I don't believe enough people are talking about all the problems and crap that you have to deal with on your path to success, and so you need to have the energy to be resourceful to get through it. And what often happens is, people finally figure out something, they figure out how their industry is working, they start having success, and then something tweaks, something changes, cause it's always going to change.
An industry doesn't just stay static forever, something changes and people complain. Right, when people get a problem or when they change something, people complain. They complain to their friends, they complain maybe to their customers, they complain to the people around them, and that is never the solution. You're never going to win by complaining. The entrepreneurs are the ones who see those changes, who see those problems that are happening, the shifts, and they see that as an opportunity, for them to stand out, for them to figure it out, and to win.
I look at the recent changes in the YouTube algorithm, as an example, since we're watching this on YouTube. YouTube is really focused on promoting people who are making consistent content. They want daily content. If you are producing high quality daily content, you're going to win really hard, right now, in the YouTube environment.
And I go to Climber Con, which is an event for YouTubers with 100,000 plus subscribers, and I'm telling people, this is how I've been able to win, I've been able to pass people who I think have better content, or better channels, or are better speakers than I am, and I've been able to smoke past them because I am playing to YouTube's algorithm better than they are.
And a lot of the feedback coming back is I don't know, I can't do it, why does YouTube have to do this. And just complaints. I love it. It's like, this is a golden era, this is your chance to capitalize, where the bigger players, the people ahead of you are not paying attention, or they're complaining. This is your chance.
"Having the energy to be resourceful is one of the most important criteria that you need to be as an entrepreneur, you need to have it. " – Evan Carmichael
Even if you have worse quality stuff, even if you're not as good or talented as they are, you can start to beat them because you understand the rules better. This should be exciting for you. I wish YouTube changed their algorithm every month. Because when everybody else is complaining, I'd be figuring it out and starting to win. That has to be your approach as an entrepreneur. Like where did Amazon come from? Amazon shouldn't exist.
Amazon should have been started by Barnes and Noble and Borders. But they didn't pay attention, they thought the internet was a fad, they complained about online sales, and they allowed Amazon to come and eat up a lot of their business. And it happens in every single industry. No industry stays the same forever, it's constantly changing. Disruption is the friend of the entrepreneur. You want massive disruption in your industry.
You want the people above you complaining about how something is being done. Complaining won't make it change, and that change is coming, it's coming hard and it's coming fast, and that is your opportunity. When you see people complaining around you, that is your opportunity to win. And so talking to these YouTubers, you know I try to give them advice, I try to help them out, some people might take it, a lot of people won't, and those guys will start to lose.
And people will come out of nowhere and crush them in their own space, because they just understand how the algorithm works. And so you need to stay on top of the change in your industry and have the energy, and have the belief system that every change that comes, I love it, and I'm going to crush it, and this is my opportunity to win while everybody else complains.
Question Of The Day
So the question of the day today is I'm curious, what is one complaint that you've heard over and over and over again in your industry that you are turning into an opportunity for your business, leave it down in the comments below, I'm super curious to find out. I also want to give a quick shout-out to David Hurley, David thank you so much for picking up a copy of my book, Your One Word, it really really means a lot to me man, and I hope you're enjoying the read. So thank you guys again for watching, I believe in you, I hope you continue to believe in yourself and whatever your one word is. And I'll see you again tomorrow morning for another shot of Entspresso.
---
BONUS
Have ENERGY
Will Smith
I have to show up at work with the right attitude and with the positive energy. And I actually had a T-shirt made that said positive energy is a part of your job description. Right, so, the idea that I want to show up with the right energy, I want to show up, you know we're all here.
Even now we're all here, we're trying to feed our families, we're trying to have a good time, this is an important part of our lives, our time is all that we have. So to me it's hugely important to deliver positive energy in a way because it's viral.
So if I come with positive energy, then someone else is going to pick up on the positive energy and you're going to take it home to your families, and then you know so for me it's just hugely important to approach everything and everybody at every turn with the most positive loving kindness that I can generate.
Satya Nadella
One of the things that people talk a lot about is, what gets somebody to become an entrepreneur? You know, it's just a fascinating mindset, right. You really have to be slightly delusional to be an entrepreneur, because you have to suspend disbelief. Or you have to believe about your own idea, and have deep passion to go pursue it. So in some sense, quite honestly, before I knew advice, I take a lot of inspiration from what you're doing, it takes a lot of guts.
It takes a lot of energy to be an entrepreneur. And I think that therein lies your secret to success, which is your ability to overcome every constraint and every obstacle. And do it with the boldness, and the risk-on nature of it, I think it's fantastic. If anything, I would say, especially for entrepreneurs, is you got to keep sustained that sense of energy over a long period of time.
Because we all know, and you are grounded in it, the mortality rate is super high. And that means you will be thrown curve balls day in and day out, and you have to be able to overcome that. And so being a source of energy in your small team, especially if you're a CEO of a startup.
I like to sort of absolve them a lot, because you can't have a bad day, you're all the time. You know, you get up in the morning, you're coding, and in the afternoon you're talking to your investors, in the evening you're hiring. And that constant sense of energy and passion for what you're doing is what I think it takes.
And to never give up, which is what makes you who you are, in terms of the core makeup. And I think that for me, I am personally inspired by that. And I think that even from a Microsoft culture, that's what really my dream is. My dream is not that okay, we have a large organization, my hope is that every team inside of Microsoft feels both that sense of energy and empowerement and goes about it.
---
You might also like
---
More from Bill Gates
---
Good Morning, Believe Nation. My name is Evan Carmichael. My one word is believe and I believe that entrepreneurs will …
Watch Bill Gates's Top 10 Rules For Success video. Famous Entrepreneur Quotes Bill Gates's Quotes "Anyway, if you are going to start …
Hello believe nation! Today we're going to talk about the power of belief. And as always guys, as you're watching, if you …