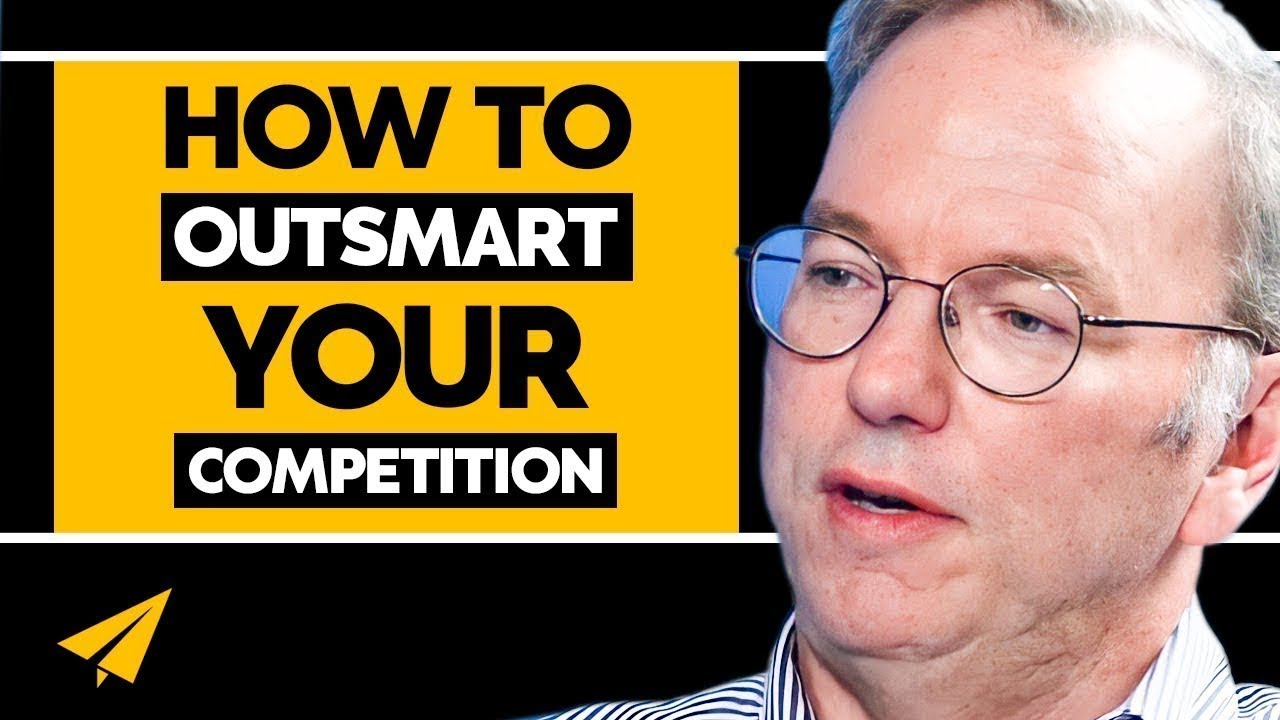 Usually, in companies, there's a notion of a hierarchy, a set of objectives, a quarterly plan, and so we had none of that.
There's always people smarter than you. There's always people who just think more clearly than you. And if you can find such a person, align yourself with them.
As a general statement about society, we need to ask the harder questions, and we need to ask for stronger solutions.
And one of the engineers, his name is Ron, pounds the table and said, "That would be evil!" And I'm like, oh, okay, what just happened?
Eric Schmidt's Top 10 Rules For Success
Evan: He's an American software engineer, businessperson, and Executive Chairman of Alphabet.
From 2001 to 2011, he served as CEO of Google.
In 2016, Forbes ranked him as the 100th richest person in the world, with a fortune of 10.8 billion dollars.
He's Eric Schmidt, and here's my take on his top 10 rules for success.
Rule #10 is my personal favorite, and make sure to stick around all the way to the end for some special bonus clips.
Also, as Eric is talking, if he says something that really resonates with you, leave it in the comments, and put it in quotes, so that other people can be inspired, as well!
---
SCHMIDT'S RULES
Keep pushing
Align with smart people
Dream bigger
Hire interesting people
Have a 5 year plan
Spend your money wisely
Don't narrow your focus
Find a coach
Help your customers be successful
Have strong shared values
BONUS
Ask the impossible.
Create scalable products.
Embrace the And.
Rule #1: Keep Pushing
Usually, in companies, there's a notion of a hierarchy, a set of objectives, a quarterly plan, sort of, we had none of that. Our theory was that the leadership, and particularly the bottoms-up leadership, really should be empowered by what we were doing, and we'd see how far they get.
We didn't have an 18-month strategy, we just kept iterating. So what I learned from this is that fast iteration is the key. The most important thing to do is, every week, a new product, a new idea, just keep pushing. You'd be amazed how much progress you make in three months or six months.
Rule #2: Align With Smart People
Interviewer: The background that you had, you know, working at Novell, working at Bell Labs, working at Xerox. To that point in your career when you met Larry and Sergey, I wonder what led you to choose that opportunity next? What about them was so different that made you say, okay, this is the next thing for me to do?
In my case, I'd been working at Novell, and I was invited to visit Larry and Sergey. They invited me to their little office. They had all this food on the table, which had been prepared by the Google chef, which I thought was rather odd. And they had my background on the whiteboard, which they were projecting.
And they proceeded to examine me, in terms of my ideas and the technology we were building, which they disagreed with completely. And I thought, well, that's a very nice meeting. And I realized, as I left, and it was, curiously, in an old Sun building, that it was the most interesting conversation I'd had in a decade. And that's why I joined.
Align yourself
Interviewer: Could it have gone another way? Was there a moment that you looked at that, as you look back on that, and said, if this had happened, I wouldn't have taken it, or if this had happened, I wouldn't have gotten it. Are there moments like that?
I think, from my perspective, is I'd already run a large organization. I wanted to work at a very small, very, very smart organization, and I figured Google would be that. God knows it came out differently. But what I learned in this process is that there's always people smarter than you.
There's always people who just think more clearly than you. And if you can find such a person, align yourself with them. In this case, these two young men, they're in their 20s, right? And they're awfully precocious. And I haven't had that tough an argument from such young men in a long time, and I thought, this is it.
You know, you just knew. And these people are rare. And we now know them as the great founders in our industry, and I'm sure some of them are here in the audience. You find such a person, work with them, work for them, manage them, do whatever it takes.
Rule #3: Dream Bigger
Interviewer: When someone's pitching you, what don't you want to hear? Everyone asks what you do. What don't you want to hear?
I want to hear that everybody is focused on this new architecture, and anybody who's coming in with plans based on the earlier architectures, you're not going to make it. You need to be on scalable plans that solve real problems. It's so easy to solve a local problem; you need to dream bigger.
Over and over again, we hear ideas that interesting in a local context, but they're not big enough. So dream bigger, right? As a general statement about society, we need to ask the harder questions, and we need to ask for stronger solutions. There is a global emerging consensus around issues and so forth. Together, we're very strong.
"Fast iteration is the key. The most important thing to do is, every week, a new product, a new idea, just keep pushing." – Eric Schmidt
Rule #4: Hire Interesting People
The people you hire to find the culture, whether you like it or not. So Larry and Sergey, when they started the company, said we need to have really smart people, so they hired a rocket scientist, and they hired a medical doctor. And they hired a Stanford graduate who'd been a professional football player, 'cause they figured that they wanted normal people who'd done something exceptional.
So in my case, I was a pilot, and I had done other things, and they said, "Okay, you're good enough." You know, the CEO has to have something besides being a CEO that makes them interesting. And everyone had something. I would go around, and I'd say, "Well, what's special about you?" It's like Sesame Street, you know? What's special about you, and what's special about you? But there was always an interesting story.
So another lesson I learned is that you don't hire generic people. You hire people who've had some kind of stress or achievement or whatever. The best people to hire, by the way, are CFOs who've gone bankrupt. 'Cause boy have they been through the war. And on the CFO side, and the finance side, you want somebody who's not going to happen again. And you only go bankrupt once, by the way.
Rule #5: Have A 5 Year Plan
Interviewer: I'd like to ask you a general question for all businesses. If you were coaching a business class, or a company, how does a company remain nimble today? What do we have to do to remain nimble?
My problem with most strategy conversations is that they're always inward-out. You know, we establish, well, first, we're the best in the world, 'cause everybody thinks that. Which can't possibly be true. And second, we see that all of our products are going to be successful, and therefore we'll be very successful in the future. And that's usually how strategy is done in businesses. I prefer a completely different approach.
Work very, very, very hard to figure out what the world's going to look like in five years. What will people be doing? What will your customers want? Where costs will be. In our case, what will networks look like?
How important will phones be? What will the apps look like? Web services? And spend an awful lot of time on that, and then take a look at your offerings. What are the strongest ones, which are the ones that are going to iterate quickly.
We try something different.
You're probably gone do fine there, you understand these businesses. What about these others? If you think about, in the media business, there are media businesses that are going very well, and others that are in great trouble. This was completely predicted five years ago, right?
So the leaders in the ones that are in trouble should have, right, done a five-year plan, and said, "Holy cow, what are we going to do? "What are the things we can do?" Or maybe we sell ourselves, or we try something different.
But almost all of these strategic shifts are predictable using my five year model. Almost nobody does a five-year plan. Most business do a one to two-year plan. Especially in our space. But even in businesses, the only business that I discovered that does a five-year or longer plan is the oil and gas industry.
And the reason is because they have to deploy so much capital and do all this planning. But even there, they have trouble, because the prices go up and down and so forth, so even there, it's difficult.
"There's always people who just think more clearly than you. And if you can find such a person, align yourself with them." – Eric Schmidt
Rule #6: Spend Your Money Wisely
What would you tell a founder they should do to protect and to hold onto their equity? What advice would you give them?
I can always tell when we're dealing with a proper founder when we start with how are they spending their money. And so whenever I go into a startup that has beautiful offices and really nice chairs, I cringe. 'Cause that means that they haven't quite figured out that it's not their money.
Unless it is their money, in which case they can waste it on that. When I joined Google, I was given an office and I had a little corner of a desk with four other engineers. Eventually I was given an 8×12 office, where my desk was a door with… Hobbyhorses, whatever they are.
Interviewer: Like the tabletop was your door?
The great founders are frugal
The table top, literally a door. Which I've retained, to try to remind myself of what it takes to be successful, so my office today has that door in it. The great founders are frugal. They understand that the money needs to be used precisely for certain areas.
Many of the most successful founders begin with no salary at all. I have lots of stories about Larry and Sergey, but let's just say that when I started, one of them was having trouble with his car, so I had loan him my car 'cause his car broke down.
I mean, that's the kind of stuff we're talking about. So if you're not prepared to live that, you don't really understand what being a founder's like. For me, I'd love to be a founder, I'd love to have a nice corner office with a beautiful view, and lots of secretaries, and all this art. That's not how it works, right? And the great founders always started that way. So that should give you some data.
Rule #7: Don't Narrow Your Focus
I don't agree that you should narrow your focus. What I believe is that you get the best outcome when you make the broadest appeal in terms of leadership and excitement and so forth. And we worked very hard to make that happen. But there were other things.
For example, we would refuse to do exclusive deals with people. But I would explain to people, "Well, we don't really do exclusive deals, "but we only have the capacity "to work with one, and it's going to be you." Right? There are other ways of achieving those kinds of things.
So I'd be careful to conclude that you should do a small thing. All success starts from doing one thing really, really well, but you'll recruit better with a broader vision that's credible and that you can articulate. But go back to that, selling the dream. What you do is selling a dream. If you can't sell the dream, then you're not going to be successful.
Rule #8: Find A Coach
I've received so many different kinds of advice I don't know where to start. One that comes to mind is to have a coach. Our board member in 2002, John Doerr, said, "You need a coach." And I said, well, I don't need a coach, I'm an established CEO, why would I need a coach? Is something wrong? He said, "No, no, no, you need a coach. "Everybody needs a coach."
So Bill Campbell became my coach, and it served Google very well. Every famous athlete, every famous performer, has somebody who's a coach. Somebody who can watch what they're doing and say, "Is that what you really meant? "Did you really do that?" And give them perspective. The one thing people are never good at is seeing themselves as others see them. A coach really, really helps.
"It's so easy to solve a local problem; you need to dream bigger." – Eric Schmidt
Rule #9: Help Your Customers Be Successful
So one of the ideas that we had a few years ago was that we would be better off with more and more people in our ecosystem. And the best way to do that is to essentially help entrepreneurs be successful.
It doesn't mean they're captive to us, they're still going to use competitor products, and competitor ad systems and competitor platforms. But it seems one of the things that people don't understand when they view business is they assume that business is, how to describe it, it's a zero sum game. That if company A wins, company B loses. I'll tell you that when Yahoo was young and Terry Semel was running it, whenever he and his company would win a deal, I would call him to congratulate him.
And whenever we would win a deal, he would call me to congratulate me. And by the way, we were tough competitors. Why would we do that? Because we both understood that we were building a larger market. So you can understand our goal as philanthropic, you can understand it as making the world a better place, but you can also understand it as self-interested, in that building more people who understand the concepts of network computing and platforms and so forth benefits everyone, including Google.
Rule #10: Have Strong Shared Values
20% time was a rule invented, again, when I started there, there were two actually interesting. One was "don't be evil", and the second one was "20% time." "Don't be evil" I thought was a joke. 'Cause I mean, nobody here is evil. I don't want to be evil, you don't want to be evil.
And so I was sitting in the original conference room in this small building where we started, and there's conversation about ad targeting and a particular ad click, and one of the engineers, his name is Ron, pounds the table, and said, "That would be evil!" And I'm like, oh, okay, what just happened?
And the whole mood of the room changes, and there's this huge debate over whether that's evil or not. And ultimately, they didn't do the change. And so I thought, what's the analogy there? And the analogy was, it's the kanban system, right?
In Japan, the notion that any employee can stop the line if they see a poor quality thing. And it works, 'cause of shared values. Strong shared values, a strong buy into principles, takes you far. I think that helped us. And that, I think it may or may not be true today that the company has that feeling, but certainly its history is clearly that.
Thank You!
Thank you guys so much for watching, I made this video because Sam Borsten asked me to. So if there's a famous entrepreneur that you want me to profile next, leave it down in the comments below, and I'll see what I can do.
I'd also love to know which of the 10 rules had the biggest impact on you, and why. What did you learn from this? What are you going to change in your business or your life after watching this video? Leave it in the comments, and I will join in the discussion.
I also want to give a quick shout out to Jim Firaben. Jim, thank you so much for buying my book, it really means a lot to me. For those of those you watching, if you want your chance at a shout out in a future video, make sure to pick up a copy of the book and email in your receipt so we can keep track.
Thank you guys so much for watching. Continue to believe, or whatever your one word is! And I'll see you soon.
---
BONUS
Ask the impossible.
I learned a lot from our founders. And one of the things I learned was ask the impossible and really dream big. What you'll learn about people is if you paint a very broad vision, you attract people who really want to make it happen, 'cause they're dreamers, too. So you can inspire people, and with that inspiration, you get the smartest people, and they deal with a lot of stuff.
Interviewer: But can an organization like Google, which espouses the idea that you're going to give people in the organization 15 or 20% of their time to do almost anything they want, in terms of innovation, can that system work in smaller companies? Can that system work in any company? Is that a leadership tenant that can work across a broad range of companies?
Fastest way to do that was to create a real group or buy a company.
Well, in fact, it worked at Google when Google was tiny. So the answer is yes, it does work in small companies. Remember, we give this to engineers, and engineers are not that clever. If they're going to work on something in their 20% time, it's going to be something that's pretty related to their training and their knowledge. And that's why it's so powerful. Very, very few people sort of get off the reservation and do something completely different from technology and so forth, and if they did, we would encourage it.
Interviewer: Has something manifested you can recall come from just that kind of incubation?
Virtually all of the interesting apps now came from a combination of an acquisition and a 20% time. If you look at Maps, if you look at Google Earth, if you look at Chrome and Android, all of them came from somebody trying something, identifying something, and then we would say, we have all these 20% timers but we need a real group! And the fastest way to do that was to create a real group or buy a company.
Create scalable products.
I want to offer a cautionary tale. And again, having both read your book and also the notes that you kindly sent me before this, if you don't understand the subtlety here, you would conclude that the correct thing to do is to grow everything as fast as you possibly can, everywhere. Right? So let's just make as many engineers, as many salespeople, as many products, and so on and so on. That completely does not work.
And it doesn't work because no product shall ship before it actually works. Right? And the way you build great products is you have small teams with strong leaders, who obsess over trade-offs, and they push things off, and they say, "We've got to get it done," and they put a lot of pressure on the team. They work all night, and they produce a product that just barely works. The original, I'll use non-Google examples, the original iPod just barely worked.
Look at what it became. Try, people, remember the original iPhone. No apps, right? Everyone's forgotten that. Just barely worked. But it just was just the right combination to create an enormous franchise that's now 70% of the revenue of the world's most valuable company. I was talking to Travis Kalanick, we are major investors inside of Uber, so we have good relationships with Uber. And his description of Uber was that he understood scaling, but the product, the app, wasn't ready.
Shocking.
So you have to sort of have judgment about when the product is ready to scale against it. And so we would debate this over and over again. And so Larry and Sergey would play tricks on me. So a typical example would be, I would say, we're not strong enough to take on Microsoft.
And they wanted to do an operating system and a browser. And I said, there's no scenario where we'll ever do an operating system and a browser. 'Cause Microsoft will kill us, and I don't want to get killed. We're a small company, and yes, yes, you're very smart, and yes, yes, we're full of smart people, and yes, yes, we have lots of revenue; these guys can kill us. 'Cause I'd been previously killed in previous jobs.
And so they hired somebody to improve the performance of Firefox. Six months later, I'm called down to one office, and this person who's supposed to improve the performance of Firefox has managed to invent Chrome. Shocking.
Have judgment as to when these things can scale
And I say, well how long have you been doing this? "Well, I've been doing it on the side." No you haven't, you've done it full-time. "Well, yeah, you know, I had three other people." Okay, well, how many more people do you have? "Oh, 10 more people."
Well, okay, did Larry and Sergey know about this? "Larry and Sergey encouraged it." Those assholes, right?  I knew it! I knew they were going around me, right? Okay? Then I said, well, we can't do an operating system, so they bought this company called Android, and they said, "Yeah, it's just for smartphones, "it's software for smartphones, don't worry, Eric."
Today Android is 1.4 billion plus operating systems used, largest number of operating systems in the world, Chrome is the largest and most successful browser. So, maybe the lesson to learn in management is I'm just wrong all the time. But the secret was, you sort of, you have to have judgment as to when these things can scale, right?
There's no reason why you shouldn't go global and wide.
And I can give you plenty of negative examples. An obvious one is Wave. It was a complicated email product that we launched to great fanfare, and we watched its adoption rate. Marissa had this rule, which is a good rule, that you cannot, at Google, you cannot tell how successful a product is until the first six months.
Because what happens is you get this adoption cycle, and everyone loves the product, 'cause everyone tests it, and then you watch what happens. And the great products, you know, they're bumpy, but they go up.
Well, this is what it looked like, like this. So it took Eric, your friendly CEO, 18 months of going down, straight down, before the project was canceled. So again, lack of due diligence lasts. The reason I'm answering your question in the Blitz growth argument by saying you've got to have the products that you can scale. If you have the products that can scale, the thing that's new is you can scale very quickly. The Uber example. Once you have an app and a business model that more or less works, there's no reason why you shouldn't go global and wide.
Embrace the And.
Successful companies are a set of things. So Google was and is this remarkable technical platform; it also was a new way of doing advertising. ROI-based advertising. And if you go back to your career and look at what you've done in sales for us, what you did at Oracle, what I did at these other jobs, they all had the property that you had an interesting platform that the technologists saw, and you also had a monetization model.
The next generation of that is going to be applications monetization, web services monetization, the way these developers, this new generation can make money. 'Cause ultimately, if they want to be very successful, there has to be revenue coming in to focus everything. So I think, for me, the fact that we were able to combine those was both the hardest thing, but also the most powerful thing. Because when the two work together, it happens very, very quickly.
---
You might also like
---