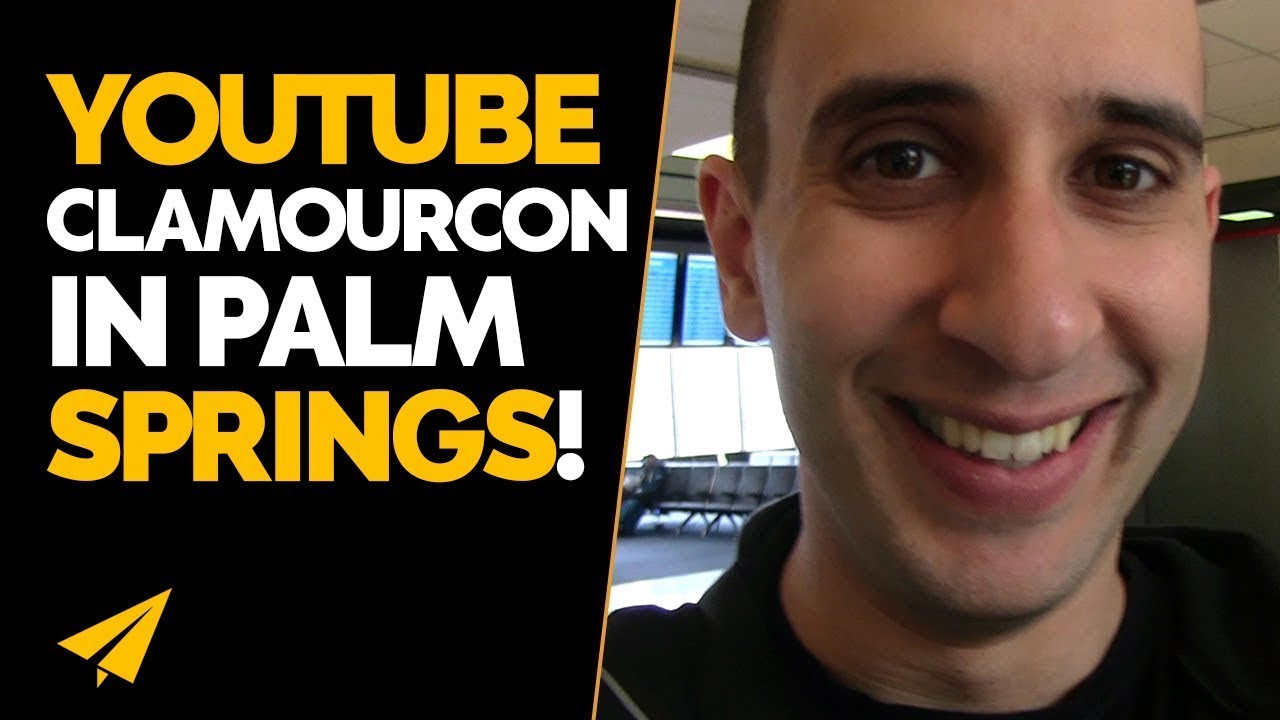 Palm Springs. I guess you can't have it called Palm Springs if you don't have palm trees. It's Tim Schmoyer, with the hat! Out first time meeting in person. Roberto Blake in the house. Friend of the channel, friend of the book. About to go on an epic rant.
It's going to be crazy.
I'm looking forward.
Morning guys. It is just past five o'clock in the morning. I am on my way to a YouTube conference called Clamour Con in Palm Springs, California. And I'm going to take you guys on my journey with me.
So Clamour Con is a YouTube conference that, I don't know how long it's been around for, I was invited to go by Tim Schmoyer who I have a lot of respect for, friend of the channel, done some collabs together. And I don't usually go to conferences unless I'm speaking. Mostly because the main value of going to a conference is the networking, and I don't really enjoy networking. It's not really something I want to get better at either, it's not really on my list. There's a bunch of people that I know that are going who I've virtually met. Like Tim, like Roberto Blake, like Antonio. A bunch of people that I've virtually met that I know are going, so at least it's going to be a good time with them, and we'll see what happens. It was one of those things where, I felt like I didn't need to go, but I may regret not going so I want to know. I'm okay with knowing and it failing. I'm okay with knowing and it not working out and being a waste of a couple of days. What I'm not okay with is wondering, uhh I should've gone, what if I went? So anytime you get that feeling where you know you might regret not doing it, just go out and do it. You can live with failure, but you can't live with the regret of not knowing. So, that's me. That's Clamour Con. I'm on my way to Palm Springs. We'll have some fun.
Landed in Chicago. Got to hop my flight now to Palm Springs. One of the things that I love doing, on airplanes when I run out of things to do, catching up on emails, is my Evernote file. So when people send me articles or I find an article that I want to read, one of the things I'll do is I'll clip it to save it later and then I'll load it offline in Evernote and it was good. It was a bunch of articles that I haven't read for a while. I saved up for myself to read and finally got to check them off my to do list so that was fun. In Chicago it's rainy, but hopefully it's nice, warm, and sunny in Palm Springs, California.
Evan: So I was on the fence whether to get a Starbucks or not. Try to eat healthy, but then I saw this, frappuccino new, Midnight Mint Mocha. I have to try one. Oh, oh my God it's so good, the mint. Maybe it's cause I haven't had frappuccino in a while. There's no coffee though I think it's just cream based. Oh my God the mint. It's like after eight, in a drink. Oh my God it's so good. This isn't in Canada. I might end up having one of these a day. Nina's not going to be happy with me.
Are you serious?
But it's really yummy.
Alright I made it. Look what I see when I come out. It says entrepreneur, entrepreneur of the year. I love it. That was actually a decent trip. I decided to get Wifi for the first time I think I would ever order Wifi from the plane. Usually, I get on the plane answer my email, I read my articles, and then I might have stuff to do until I watch the movie and whatever, but today I decided I'm going to get Wifi and I was productive pretty much every single minute so far of the trip. I was either at the airport I was on Instagram just sending messages to people to thank them for following me. Ooh look at this, Welcome to Palm Springs. Look at that, it's beautiful here. Nice and warm and then on the airplane I was watching the YouTube videos prepping for next week, for all the videos. Got a lot of work done. I'm being really hard on the team this week, I feel bad. But I feel good because it's for you guys. The standards are going up of what kind of clips make it into the top ten. Rising standards mean better videos. So, anyway, I'm feeling good I feel really didn't waste a whole bunch of time in the air, traveling, so I'm going to hop an Uber and get to the hotel. I'm feeling pumped it's beautiful, palm trees. Palm Springs, I guess you can't have it called Palm Springs if you don't have palm trees. Kind of goes together right? Alright, let's do it. Exit only, no return. Ha ha! I have to walk across the street to get to where Uber is allowed to pick you up but, it's beautiful here guys. Look what I see, nice mountains, palm trees, water fountain, flowers. Kind of missing Nina right now. Should be holding hands, doing this together. She has a nine to five job so, she can only take so much time off.
I love it. I'm really glad I took my allergy medication. Smell of grass, I'm allergic to grass but it smells so good.
Alright I made it. Home for the next couple days. The Westin, Mission Hills. Let's go see inside.
I think I found Tim Schmoyer, friend of the channel, YouTuber, done some collabs I'm going to go surprise him. It's Tim Schmoyer! It's Tim Schmoyer, with the hat! Our first time meeting in person.
It's good to see you man.
Well that was good. Tim and I meet pretty much every week in an online Mastermind group that he started so it's always fun to meet people in person instead of just meeting on the computer. I'm excited. I'm going to go find my room.
I need to find my room and I get checked in.
Evan: 535, casa Carmichael for the next three days. Let's put on some lights. That's pretty nice. Master bedroom, got some coffee, look at the bathroom, looks nice. I approve, going to unpack and it is what, one thirty right now and the first reception pool party intros to people is at two. So I'm going to go hang out there. Tim offered to introduce me to people. My general strategy with these kinds of things is since I don't go up and talk to people, I will often just bring a computer, or have my phone and sit down in a public place and chill, or work. And then people recognize me and come up and start conversations. So that's my plan! And we'll see how it goes. I don't know why, but the first thing I do when I check into a hotel in the U.S. is I turn on CNN. I never watch CNN at home, I don't know why. It just feels like I'm traveling.
And I need to put on CNN. It's a tradition. Alright had a shower, changed my shirt, look at that. Totally different shirt, right? You guys can totally tell it's a different shirt. Going to go check in. Apparently they have some other stuff happening. People are just still starting to arrive and so, we'll see. Today's mostly just about meeting people, connecting, hanging out by the pool. If I don't connect with anybody I'll work on some videos for you guys and then the conference actually starts tomorrow. So, let's check in and see what happens. I'm here to pick up some SWAG. Got a tee shirt, got some cashew almond toffee, and there's some bugs, chile lime crickets. Nina's going to love this. Are they all crickets?
Man: Yeah, all of them.
Barbecue mealworms, I don't know about that. This is Ricky!
Hey guys.
Ricky what's up. What's your favorite video?
All of them, to be honest. I mean I wake up every morning I have my cup of coffee or my espresso, and you know, the marketing one, I just watched the marketing one, which is why I love to do this kind of stuff so.
Love it. Ricky's a YouTuber too. We're going to chat afterwards, we're going to chat after I grab my crickets. Time to eat, we're at the Seasons Grill. I don't know if this is dinner, or lunch, both?
Tim: Dinner's at seven, so this is like lunch.
Evan: Dinner's at seven, I'm chilling with Tim. And we're on weird time zone differences we're three hours behind. So this is lunch okay, what's for lunch? There it is, chicken fettuccine. Tim just ordered this crazy, there's a pineapple inside the burger. That's crazy. I'm going to have to come back and get that next time. We're going to do a video with videoinfluencers, here's Sean. What are we talking about?
We could talk about entrepreneurship. We're going to be talking about your one word. We're going to be talking about online video. It's going to be crazy.
I'm looking forward.
In this video I interview Evan Carmichael on his tips for how to stand out on your YouTube channel through branding, YouTube algorithm hacks, and how to make more money on your YouTube channel through strategic brand deals.
So far so good, fun event. Lots of people inside, big YouTubers. Nobody's really vlogging or filming so I don't want to be the douche bag inside filming everybody. Next up.
I didn't want to video bomb you too much.
We're going to head back to Tim's room for a private interview. For video creators, go check that out. Actually, when is ours going to go live?
Tim: I have no idea.
Okay this will go live before Tim's so go check out Tim's channel at some point for this interview.
Tim: It'll be a few weeks at least.
Couple weeks. This is Tim's setup, it's pretty impressive.
Set it up once and leave it set up for the whole time.
Evan: His camera's bigger than mine, but it's how you use it. Look at that, I feel like a winner today. Yes. That's how I'm greeted when I come into Tim's home. Tim's home. So it was a fun interview with Tim. We'll see when it comes out. Hopefully, that he keeps the bloopers on. Now there's hors d'oeuvres. Hors d'oeuvres in the background. Just basically being up saying hi. Got some drink tickets. We'll see.
Definitely got to grab some guacamole.
Roberto Blake in the house, friend of the channel, friend of the book. About to go on an epic rant.
Oh God we're doing that.
Evan: Epic rant!
I was talking to Karen. You got my friend Karen Cabot over here.
Hey!
We're actually doing a panel tomorrow together, it's going to be a long epic rant from both of us about design aesthetic. But what I was talking about is the fact that none of us are entitled to anything. Any result that you see that someone you admire got, was just a byproduct of all there hard work and that's it. And sometimes there's a byproduct of circumstances they had no control over that were very fortuitous for them. I don't really want to call it luck because yeah, you start to show up and make the effort, but at the end of the day, whatever it is that you want to happen: It's great that you want it to happen, it's great that you're working for it, but you can't have the expectation that just because you work hard, that anyone should care. Like what's in it for them? I think no one believes in that anymore like, what's in it for the other person? What are they getting out of this interaction? Because I think if people thought about what's in it for the other person when they start something, everything we see would be very different.
Karen: Yeah.
Dramatically different. There's entitlement now that just because you showed up and you worked hard or you put your heart and soul into anything like that, you're supposed to get something? I ran track. Showing up and working hard and leaving my heart on the field still meant that I could get tenth or twelfth place, or as was normally the case, second or third. But, I wasn't entitled to that. If someone beat me, I'm more concerned… and here's my other thing, if I got first place but I was 30 seconds slower than my last race I was more upset. I'd rather have the bronze or silver or be in eighth place and be 20 seconds faster, than win and be 30 seconds slower.
Evan: Boom!
Every time, every time.
Evan: Roberto Blake. So it was a lot more fun than anticipated. Let's see if I can find my way. It's what, one thirty or so in the morning Toronto time. We kind of closed the party. Had some good conversations, well you can't see me I went dark. Had a good chunk of time with Charlie from Charisma on Command. We had met on email but hadn't connected in person and so we connected, and had some good business talk. Him and his girlfriend Jessica, good people.
Ended up closing down the show talking entrepreneurship, it's good, it's good. A lot of the people here are family vloggers, not a lot of connection to what I do but Charlie, Antonio, Roberto, and Tim it's a good group. I'm going to get ready for bed, the downside was I didn't get to say goodnight to Nina. So I missed that I'm kind of sad about it but we're going to have breakfast tomorrow at eight and then head off for a fun day of whatever we're doing tomorrow. So I'm back, I'm going to put on CNN. Yeah!  Get ready for bed, and I'll see ya tomorrow.
---
You might also like
---
More from Evan Carmichael
---
What's up, Believe Nation? Greetings from London, England. It's Evan. My one word is believe and I believe in people, …
Watch Evan Carmichael's Top 10 Rules For Success video. Famous Entrepreneur Quotes Evan Carmichael's Quotes "Changing my environment had a dramatic impact …
Today we're going to look at seven different ways that you can make business alliances. What's up Believe Nation? It's Evan. …