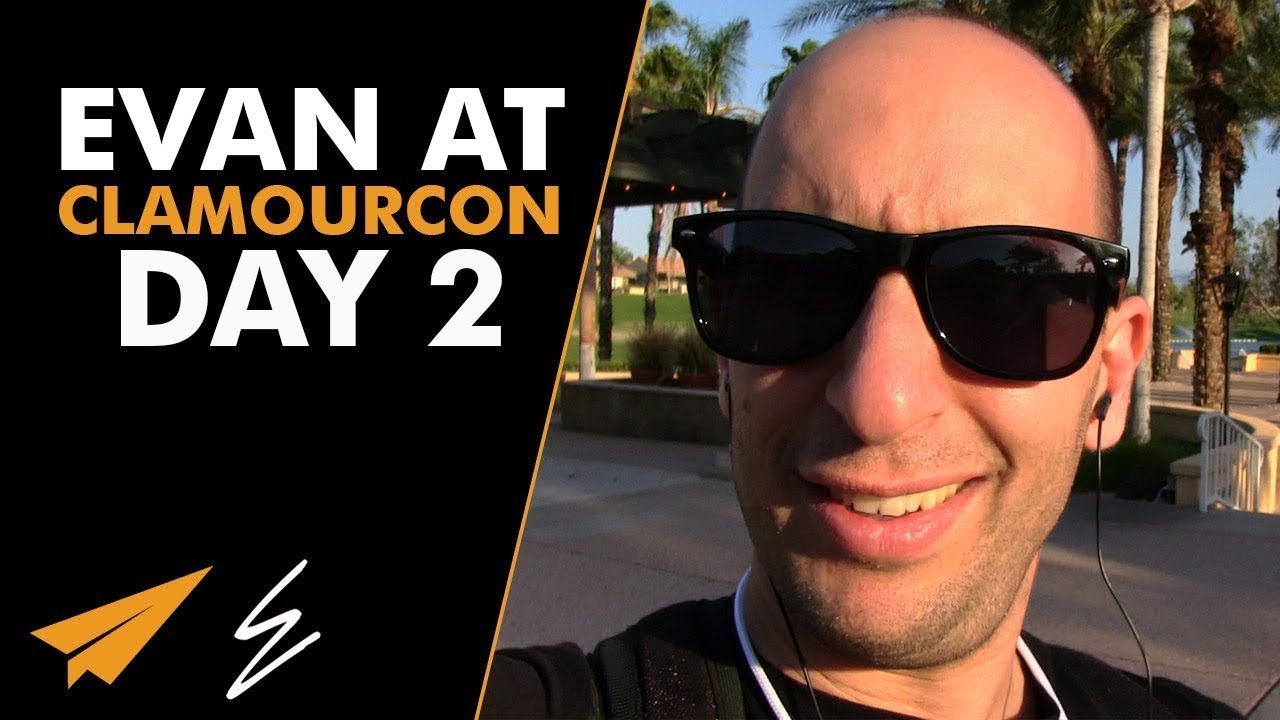 This video's about me, Nina, okay? Stop taking all the attention    Good morning, good morning, good morning, good morning. Bit of a rough sleep last night. My alarm went off at five in the morning 'cause it was still on from the day before when I had to wake up at five a.m. to get here. But it's okay. Antonio from Real Men, Real Style invited everyone for breakfast. So I'm going to go try to find them. And get started. Yesterday was just about meeting people. Today we're actually going to get some content, so I'm excited, got some Starbucks. Ready to go. And this town has the best bacon in the world, I just heard that.
Yeah, Nueske's bacon.
Evan: Got to check it out.  Breakfast is still going on. Lots of good conversations. This guy's causing trouble, though.
I'm trying.
This guy's causing trouble like crazy  Justin. What's your thing again, science? It's called Fascinate, SEM and the science channel.
Yeah what's your shirt, it's like-
Science, not silence.
Science, not silence.
Look at this one we did, man.
Evan: What's that?
It's Neil the Mass Tyson. You know, the science communicator-
Evan: Oh yeah, okay.
It's I love asteroids with the A crossed out.
This guy.
Justin: Complete gym bro, you know, you know.
This guy, this guy. So lots of fun. You know, nobody's filming inside any of these things, so again I don't want to be the guy filming everybody while they're trying to relax and chill but lots of really cool conversations with people. Got to head to the first session. Actually going to go back to the room, drop off some stuff and head to the first session and see. One of the things that is a lot of fun is I'm connecting people together which is strange for me 'cause I don't really know that many people here, but as I have breakfast with somebody, he could be a good interview on this other guy's channel. And it's good, it's working out.
Some fun, I'm excited.  First up, my man Roberto Blake is doing a session on designing and branding your YouTube channel. He's just getting set up here. So I'm waiting to do an interview right now and one of the things that I like to do on my breaks in between sessions when I'm waiting, these are the guys I'm going to be interviewing with, is I go on Instagram, I look at people who have been viewing my stories recently and I follow them and just send them a message. Just as simple as hey Julie, thank you for the love on Instagram, really appreciate it. I love your bio, some quote or something in the bio.
And I hope you have an amazing day and tell you to believe. That's it, so I've been sending out, I don't know, I've sent out probably a hundred of them or so. Between today and yesterday. And we get response. Let me show you. Life between two worlds. Thank you so much Evan. I am so scared to post on my personal account because I don't think my family is going to be happy when they read it.
I feel you, but you got to decide whether you're going to live your life or your family's version of your life. Make a powerful choice, today, let's see it, believe. That's what I do. That's what I do, let's find another one. I'll show you. Supporting the fans. What's this one? Hey Evan, wow very surprised to get a video message. Thanks a lot bro. Send him a heart. Okay, I'll show you. This is what I do. This is exactly what I do.
I go to my story. I'll scroll up. Okay I just posted that, nine people have seen it. I think I've added everybody here. Let's go back. Okay. I'll look at this, I'll go find someone. It's Dilip. Dilip is a programmer with four posts and 103 followers. Let's do it. So I'm going to follow him and I'm going to make a video. This is it. Here we go, I'll show you, here's what I'm going to do. Ready? Hey Dilip, what's up? It's Evan.
Just want to say thanks for the love on Instagram. I really appreciate that. Hope you're having an amazing Wednesday. I want to see something special out of you today. What can you do today to make it awesome, Dilip? Let's see it, bring it, bring it. Believe, man. That's it. Rinse and repeat, over and over and over and over and over again. The one to one connections. And it has an impact. So when you have down time, that's what I do on my down time. Hopefully you guys can do something too. Time for lunch.  Lunch with Jessica and Charlie.
Oh, yeah.
So I forget where I left off with you guys. There's been a couple of great events. Derral Eves had a good one on the YouTube algorithm that was standing room only and I got there late so I had to sit on the floor, just talking with the Charisma on Command guys. And then-
Hey it's Evan Carmichael, BelieveNation. Hey guys, BelieveNation! I'm a believer, yes! How's it going?
Good, man.
Man: Good, good, good. Subscribe, I mean you probably already are, I don't know, alright, see you-
Cheers. Fun people here. So the second one I went to was about getting attention off of YouTube and using the other platforms to help you do that. I'm cooking up my own strategy around Facebook and Instagram and Twitter and maybe stepping that up a bit, got some ideas I'm going to try to apply so we'll see how that goes. Next up, this must be an ice cream social brought to you by Nintendo. So I'm going to go try to find that, get some free ice cream. I'm ready to eat. There's no more ice cream. The ice cream is done. It's very sad. Roberto is sad too.
Yes, I am, yes.
Roberto told me about the ice cream.
I wanted the ice cream so much.
It looked good actually. I saw people with cones. It looked good, but… So, sad. We'll see what's next.
Roberto's taking some b-roll and we decided we're going to go get some food. Go get some food, do an interview.  What are these guys riding? Food, interview.
Man: Beeps were for obstacle avoidance. I might want to get on one of those.
I think it's for us, us avoidance. Food, interview, relax. And then pool party. Look at how beautiful this park is, eh? Sittin' on a golf course in Palm Springs.  We managed to hop a ride in a golf cart. Getting there the fast way. So that was super fun with Roberto. Had an awesome meal. I'm stuffed. We did an interview for his channel. That's going to go up and I'm excited for that.
Hey everybody, this is Roberto Blake from robertoblake.com helping you create something awesome today with my friend and special guest Evan Carmichael.
And the next thing I had to do was talk to the wife! That's important. It's important to talk to the wife. I was told it's important to talk to the wife. Hey, it's Nina. Everybody misses Nina. Okay, that's enough air time Nina, okay? This video's about me, Nina, okay? Stop taking all the attention  We love Nina. You have to check in with your wife daily if you're going away.
More than daily, right Nina? Like every five minutes you have to check in with your wife  Oh wait, they can't hear you 'cause you're in my headphones. Okay, okay I'm going to talk to my wife, guys. Thank you for the love.  So I had a great chat with Nina.
It was good to see her. I miss her. We had some good time to chat there. Two more days, then I'll be back. Good day overall. Losing my voice. So much talking, chat, chat, chat, chat. And when I wasn't chatting I was leaving messages on Instagram and Twitter and to fans, so it was really good. I'm starting to crash. It is, can you see the time there, 7:17. Which is 10:17 for me. The group is out at a trampoline park.
I don't do trampoline parks 'cause I think I have an inner ear milad or something. I get dizzy, just like on cruise ships I get a little nauseous so I decided I would stay home. There's another after party happening at nine or ten tonight which would be like 12 or one for me so I think I'm going to pack in a little bit early today, relax, I already have my CNN on. There's a commercial. And uh, yeah. Shower, relax. And have a great day tomorrow.
---
You might also like
---
More from Evan Carmichael
---
What's up, Believe Nation? Greetings from London, England. It's Evan. My one word is believe and I believe in people, …
Watch Evan Carmichael's Top 10 Rules For Success video. Famous Entrepreneur Quotes Evan Carmichael's Quotes "Changing my environment had a dramatic impact …
Today we're going to look at seven different ways that you can make business alliances. What's up Believe Nation? It's Evan. …