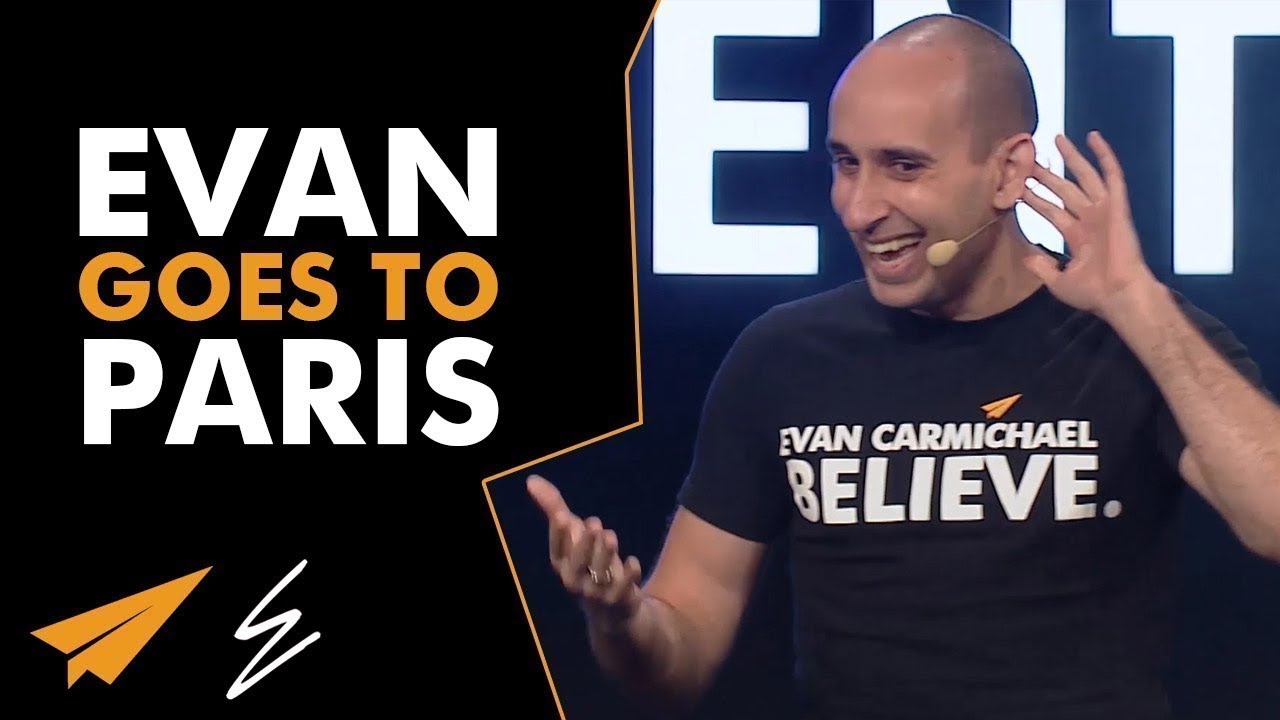 In one of the sessions. I'm like, oh, you thought that was controversial? Wait til you see what's coming, man. Wait til my session .
Good morning everybody. Welcome to day, day two, I guess. Had a rough night last night, slept just under four hours. The jet lag's still seeping in. But grateful to get some sleep because I got a busy day ahead today. So I woke up around 4:30 in the morning Paris time.
Managed to say good night to Nina, which was great. Get some work done, have a shower, do some YouTube. Ray Dalio started following me on Twitter. Might be doing a collab. Ray Dalio is a multi billionaire investor who's worth like 16, 17 billion dollars something like that.
Then I got some good work done, checked in to some YouTube videos that we have coming up and so I'm excited for that. It's now 7:30, I'm going to go grab a coffee and head to the convention center. It kicks off at eight. I'm going to get my badge and get ready to be there for the opening intro.
Hopefully grab maybe an hour or two of sleep after lunch. And then five o'clock, or maybe it's 5:30, I take the stage. So pumped about that. Let's do it. Day two.  Got my coffee. Forgot how bitter Starbucks coffee was. This much importance. But I'm grateful to have some kind of coffee here so it should be good.
I've got a little bit of time to kill before the event starts. So I'm going to get on social media, answer your questions.  I made the wall. I made the wall of my video, guys. Look at that. So my plan, my usual networking strategy, sit in a really busy area, people walking by.
Let me show you. Sit in a really busy area with people walking by. Wear the shirt, and do my thing. Get on social media, start posting, and people come up and talk to me. It's my networking strategy, works every time. I love this wall too. So you can see me on the wall.
Every time I post it ends up going there so, it's working. This is the room, super pumped. Going to be here speaking in, I don't know, eight hours, I don't know what time. This is going to be fun though, check it out. Check out the size of this room. It's legit. And I get to sit right here.
The room is starting to fill up, check it out. It's starting to fill up! We're going to go soon! Almost showtime, I'm just sitting on stage, chilling as people come in. The entrance is over there. People come in, say hi, again, network strategy 101 with Evan. Sit in a public area, have the t-shirt on and people come and say hi. Works every time.
Announcer: Ladies and gentlemen, welcome to Paris!
First part of the day is done. It's a fun event, fun crowd, I'm so pumped to get on. I'm going to, they went for a coffee break and lunch, and some product sessions that I'm not going to be in on, so I'm going to go back to the hotel, try to catch a couple extra snoozes, hour or two, refresh.
Wake up, go over my presentation, one or two more times, like a back. So I got to be back here for 4:30 and I'm excited. One of the guys was talking about how somebody made a kind of controversial remark in one of the sessions. I'm like, oh, you thought that was controversial, wait til you see what's coming, man.
Wait til my session . We're going to bring it. Anyway, back to the hotel.  So it's four o'clock, I have to be at the stage at 4:30 to practice, to get set up, mic'd up, all that. And then at 5:30 I go live, I'm super pumped about that. Did not sleep very well at all. I think the combination of the coffee being in my system,  oh, they're calling me, wake up call. Hello? Combination of the coffee, that large Starbucks coffee, plus being worried about the alarms not going off, so that one actually just worked, you heard it.
I set one on my phone and I set one for the phone that was here. I'm always worried that the alarm is not going to go off, and so it prevents me from sleeping. And also just thinking about the presentation. And I always put a lot of pressure on myself to do a great job because I'm spending time away.
It's four days away, pretty much. Three days away? Monday, Tuesday, Wednesday, three days away. Still a lot of time away. And so this has to work, you know. Not just because I'm getting paid, but I'm missing out on other opportunities to help people, so this has to be great.
And so those combination of things made it not conducive to sleeping. But it's okay, and I'm really trying to think of anytime I complain to see the positive side. We talked about that earlier on in this vlog. So I'm really grateful that I have a hotel room that's right across the street from the conference center that I can easily come back to.
I'm grateful that I have a nice, soft bed to sleep in, at least relax in and not be forced to be out and about losing more energy. I heard a baby cry for a little bit and so I'm really grateful for that baby not freaking out because I've been in hotel rooms where the baby cries all night and that sucks.
And it's pretty clean air. There's a lot of smoking in general in Paris and I get allergic to smoking so it's great that it's so clean. So that's the positive. I had a shower, I changed, new shirt, look at that. Special new shirt, this is the performance shirt.
And I'm pumped, I'm excited and ready to go speak and I'm going to take you guys with me. All right, I'm here. It's almost showtime. We're getting set up. There it is a Club Talentsoft in the back. Here's the room again, going to be filled with people. I'm pumped.
Let's call our last speaker today, last but not least, he is a successful entrepreneur on a mission to help one million entrepreneurs, just that, right. He is the author of this absolutely great book, find Your One Word, and is a rockstar on YouTube with more than 700,000 subscribers, ladies and gentlemen, please give a warm welcome to Evan Carmichael!
I love being in a room full of leaders. I love being in a room full of people who want to be inspired, who come to learn, who want to improve themselves, who want to take the knowledge that they took here and apply it to their business. And most importantly, I love being with people who want to take action, because that's what we do as leaders. Everybody stand up, just quickly.
Quick exercise, everybody stand up. Get the house lights up a little bit. I didn't prep these guys for it. Everybody stand up. I want you to put your hands up like this. Everybody put your hands up like this. Here we go, all right. When I count to three, what we're going to do is we're going to turn to the person next to us, we're going to give them a high ten, and we're going to say, you're a leader baby!  Don't laugh, I'm serious! Okay, you're a leader baby! One, two, three.
Audience: You're a leader baby!
Other side, other side! You're a leader baby!
Audience: You're a leader baby!
Crushed the speech. They're now celebrating with a giant ball, ten year anniversary.  So the event is wrapping up. Lots of fun. Got to meet some new fans, which has been great. Take a lot of selfies, answer some questions. People are just kind of chilling now.
Networking, grabbing some food, some champagne, the cheese, the mozzarella cheese is nuts. I had to have a little, but Shawn's going to kill me, my trainer. But otherwise, everything's been going really, really well. Just going to hang out a little bit longer and then I think there's some other activities planned.
I just go where my handler tells me to go. And then I connected with Nina, so super happy about that. She's doing well, she wants me to bring her back something special from Paris, so I got to find something to bring home to Nina. Should be food related, because Nina loves her food.
So I got to find something that is not too caloric, but tasty so that's going to be the challenge. If you guys have, well, I can't ask you for advice because by the time you watch this I'll be home. So, anyway, having fun.  My trainer's going to kill me for this.  All right, had a great dinner with a savvier.
And heading back to the hotel. So that restaurant that we went to was run by a friend of his and he got some custom stuff there at the end. So filling, but so amazing. Blew past my calorie restriction for the day so Shawn is not going to be happy with me, but the rest of the day was actually pretty solid, so I think we'll be okay.
Going to head back to the hotel, hopefully catch ahold of Nina. It's 10:30 Paris time, which means it's 4:30 back home, so hopefully be able to get ahold of her. Connect and see how she's doing. Pack up and get ready to head back home tomorrow. If I have some time, maybe do a little bit on the town.
And 11:00 a.m. on the flight come back home. See my wife, I'm excited. Good morning, good morning, good morning. There's a fire alarm going off in my building and just this morning they had this crazy fire happening in London where it spread super fast and hit 125 families so I'm watching on CNN and then the fire alarm goes off in my building so it's like, okay, I got to get out of here ASAP.
Hopefully everything's okay here. It's a little scary. I woke up, had ten hours of sleep, which is fantastic. In the first two nights I actually had three and a half to four hours sleep. So it feels good to have a solid ten. I didn't get a chance to do anything this morning. I'm waiting for my ride to the airport, it's going to come in about 20 minutes or so. And right now I just want to get out of this building, with the alarm going off.
I think I made it, whoo. So I'm out. Let's see where, what's going on. Get back to the lobby. I got to get home. I got to see my wife. All right, everything's okay. Time to breathe, relax, and be okay. Waiting on my ride to the airport and get to fly home.  One of Nina's friends and former co-workers collects Starbucks mugs in every city. But not just cities he goes to, cities other people go to.
And so he reminded Nina that on my trip to Paris I need to pick him up a Starbucks Paris mug. Usually you can find them in the airport. So I'm looking for Starbucks, for you Tony. I should be sitting in the Air France lounge right now, relaxing, doing some work, but I'm hustling trying to find a Starbucks for you, Tony.
You better appreciate it man.  So the options at the Air France lounge are a lot healthier than the options at the Air Canada lounge in Toronto. Check out what I got. Got some salad and tomatoes and cheese. Shrimp, mushrooms, chicken, turkey, banana.
Going to eat, do some work, then board the plane. They've got power here on the plane, which means I can get some work done. So I'm either going to be doing videos with this wifi on the flight or I'm going to be working on my new book.  Just got off, got to get through Customs and then hopefully I get to see Nina.
She's just leaving work too, so we'll see if we can sync up our schedules otherwise got to take Uber. Really hope I get to see Nina.  Look who I found, look who I found. It's Teemo and Nina! Kisses to the wife first. Hello mister. I miss this. We talked a lot about Nina.
Yeah. Yeah.
She missed me too. Okay, well thank you for joining me. Hope you have a great weekend, continue to.
Believe.
And we'll see you soon.
Much love.
---
You might also like
---
More from Believe Life
---
Today we're going to learn how to communicate effectively.  Good morning, Believe Nation. It's Evan. My one word is believe, …
Today, we're going to talk about how you can create a massive action plan. Good morning, believe nation. My name …
Today we're helping you to stay motivated, and to learn how to motivate yourself! How to MOTIVATE Yourself - #BelieveLife Why MotivationGrid We're all …