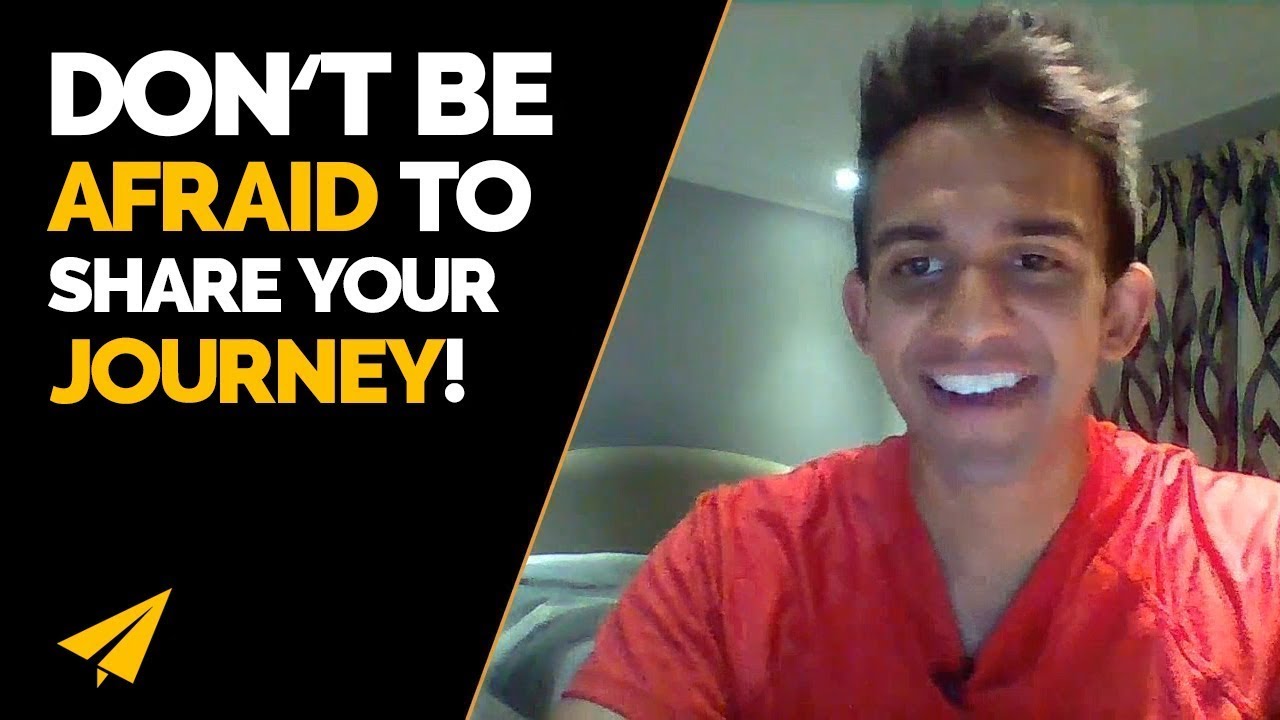 Jayesh: Whoop, whoop, Evan Carmichael is in the house!
Wow, oh my God. I did a review of his book Your One Word and that is amazing that he is on Livestream. Evan's got like six hundred billion followers. That is so cool. His book was so good, The One Word, my one word was inspire because I want to inspire people to read books and travel the world. What you want to do is see the book review of Your One Word. Go check that video out on my channel.
But also check out his videos. What is the one word that defines who you are and what you stand for? In today's video, I'm going to be reviewing Your One Word by Evan Carmichael. Evan's got 700,000 people following him on YouTube. When I did the book review, I'm sure you have like 650,000 people following you. Yeah, #believe, that is Evan's one word.
You can use that in so many ways. Like he says in the book, words that are used the most are usually the best words. I'm super grateful and honored and humbled Evan's in my Livestream. It's actually taken me aback a little bit. It all started with books for me. I didn't go traveling, I was out of shape, I wasn't doing well in school, and books really started that for me.
I started to read and I started to expand my mind, reading books like Your One Word by Evan Carmichael. These kind of books have helped me to think in a way which is very different from the mainstream so I want to spread that message. Okay, so Evan says, "Spread the mission. People would love to hear your inspired journey and want to be apart of it.
Make them feel like they're on the journey with you." Yeah, that is 100%, 100% true. That's what I'm trying to do here with you guys. I want you guys to come on this journey with me, traveling and also reading lots of cool books. Evan, actually this is a good question for you, one thing I'm not so much worried about, but one thing I have to think about is when I go to New Zealand, I'm obviously going to have to find a job so I can support myself but do you have any ideas of any ways for me to be able to work from my laptop or anything like that would be really useful.
Is Evan still in the building? Let me know if you're still in the building Evan. But thank you so much for hoping into my stream. Evan's still here. Evan, do you have an opportunities for me working for you remotely? Because I remember in the book, you said that your team works for you from, um, remotely and actually traveling the world. I remember that clearly because you had a quite young team and they wanted to go traveling.
If you have any opportunities or if you know any ways for me to make money while I'm on the go so I can support my travels, let me know. That's interesting, yes. It depends on what value you can bring. It's all about value. It's all about value. That's all from Evan. Thanks so much for dropping in this Livestream. Go ahead and pick up the wife. You don't want to be late for her. You don't want to be late. Thanks for dropping in Evan. See you in a bit. Guys, Evan
I'm
I'm going to say it in the comments. Oh my God guys Evan. He is so successful. Yeah, so that
I can't believe that just happened to me on my first ever stream. Evan has like a reach of millions of people around the world and he's done what I've wanted to do so that fact that you dropped into my Livestream is incredible. Oh my God. I mean, it's crazy, absolutely crazy. What kind of value can I bring to him guys? I mean, he will be able to
He's the kind of guy who can offer so much opportunities Evan, oh that is so funny. I bet he's still watching this as well. So he said he's left. I hope I said some really nice things. I'm sure I did. He's probably still watching now. "Yes, you only said nice things, Jayesh, don't worry." So this has been so much fun. And the funny thing is that so I was shitting myself before I came on this Livestream.
I was so nervous because it's all unedited and I've never done anything like this before. And I didn't think anyone was going to pop into this conversation. I thought it was just going to be me talking to myself. So it just goes to show you that if you do the things that scare you, you get rewards, and what's happened? We've had 20-25 people, all friends, get into conversations talking about a really cool topic and then having someone like Evan pop in is just a bonus.
---
You might also like
---
More from Evan Carmichael
---
What's up, Believe Nation? Greetings from London, England. It's Evan. My one word is believe and I believe in people, …
Watch Evan Carmichael's Top 10 Rules For Success video. Famous Entrepreneur Quotes Evan Carmichael's Quotes "Changing my environment had a dramatic impact …
Today we're going to look at seven different ways that you can make business alliances. What's up Believe Nation? It's Evan. …