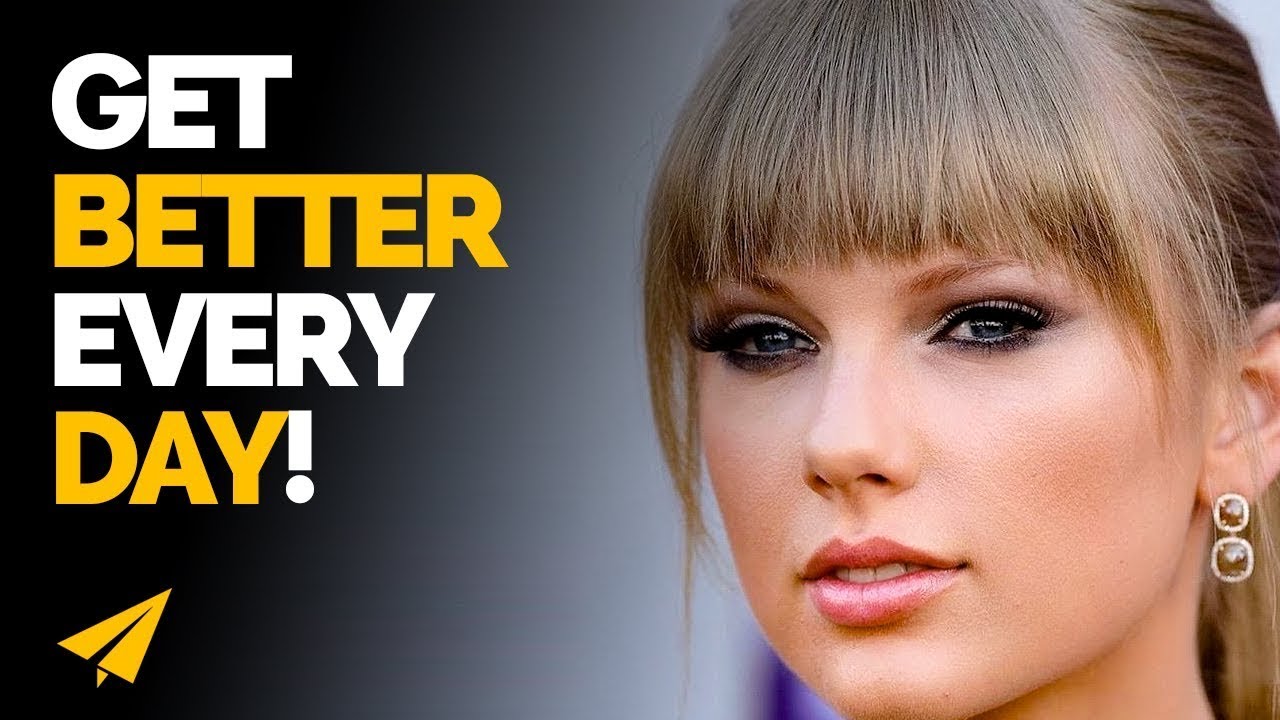 Hello Believe Nation!
Today we're going to talk about how you need to evolve.
And as always guys, if you hear something that really resonates with you, please leave it down in the comments below, put quotes around it so other people can be inspired. And when you write it down yourself, it's much more likely to stick with you as well, enjoy!
EVOLVE to Greatness

Taylor Swift
You can only hope that as a writer you start trying different things and, you try different chords or different structures of songs. Different beats that you've never really explored that path before.
You know, I think, having always been a writer first, I'm obsessed with the syncopation of the way that words sound when they're said a certain way. And, once I've done something once, I always want to go to a different direction and never repeat myself so…
As a writer I think that I've always hoped that my music would constantly be changing because you never want to make the same album twice, the same song twice and, my greatest hope has been that as I grow, my fans will grow up with me, and as I change and my life changes, my music will change as well. So wish me luck there.

John Legend
When I was younger I didn't really know that you could just get better at things. 'Cause I think we're so used to the idea that you're talented at something and, it's sort of fixed. The idea that, oh, he's just a good singer, you know.
And, even with singing, I've gotten better at singing as I've gotten older. I wasn't singing in a way that was sustainable and I wasn't breathing right, I wasn't doing a bunch of things correctly. I realized that there was a ceiling that I couldn't crack through unless I actually studied and worked under a coach to get better.
And, this idea that things are just fixed is proven not to be the case. You can get better at things, you can grow. And even people that are innately talented still need to go beyond that basic talent that they have and cultivate it.

Eric Worre
I've had to evolve so many times. I've had to change and grow so many times! There's been times where I've made such huge mistakes in my network marketing career. Damaged relationships, done things that I wish I could go back and change, but I couldn't.
So I could either live there, or I could use that information to grow and become better. See I've been involved for 25 years and I promise you, every year that we're engaged, we're working together, every year you're going to see me get a little bit better, and a little bit better. And most of the time I'm not going to hit my goals, but then I'm going to get a little bit better, and a little bit better and compounded over time, you'll see noticeable results.
Anybody that knows me knows that I'm a different person than I was five years ago, 10 years ago, 15 years ago. Certainly 25 years ago. 18 jobs, you know, barely surviving. So give yourself some grace. Understand that nothing is ever finished while you're still alive.

Charlamagne The God
Interviewer: So after you've been through the good, the bad, the ugly, what do you know for sure about life?
That it moves on.
Interviewer: Everybody says that.
The truth.
Interviewer: Just everybody's answer.
It's the truth. That it moves on and it keeps going, and guess what, it's going to move on and keep going with or without you. So you know you better adjust to the changes 'cause if you don't adjust to the changes, you stay stuck in the way that you've been moving, you're going to keep getting what you've been getting out of life, and that's not the way life is meant to be lived. Life is meant to be lived…
You got to constantly evolve. You know change is the basis of growth. And growth is the basis of life. If you're not constantly changing, you're not growing. If you're not growing then what are you doing? You're dying, you're not doing nothing.
So that's why when you look at certain people man, and you see them, and they're 40-something years old, they washed up, 'cause they still trying to live the way they were when they were in their 20s and their 30s, nothing about them has grown.
Nothing about them has evolved. Their mindset hasn't grown, their mindset hasn't evolved. It's still hanging around the same people they was hanging around when they were in their 20s doing nothing.
So guess what, if you're hanging around the same people that you were hanging around in your 20s doing nothing, guess what you going to be doing in your 30s? Nothing, so guess what you going to be doing in your 40s? Nothing.
So you got to understand, life moves on. Father time don't wait for nobody man, and when it's over, it's over. When you're 40-something years old and you look back and you're like damn, I wasted all that time doing nothing. You know? Life moved on and I didn't move with it. Now you just a washed individual. You don't got nobody to blame for that but yourself.

Machine Gun Kelly
Interviewer: But you came up with the Waka Flocka record to this, there's like a big difference in your style, in your approach, what's the reason for that?
Probably because we grow and evolution is beautiful and like, I want to be iconic and great and I borderline am iconic, and I am great so it's like, the only thing left to do
Interviewer: Tell me how you really feel.
Is to just evolve and continue to do so, and I'm responsible for possibly bringing rock and roll in general into hip hop within our generation and making that whole wave a cool thing, and influencing all those artists when we were doing those festivals back together in the 2012, and 2011, 2010 years when Wild Boy was a thing and when so many other mixtape songs that I was doing were a thing so like yes, when I brought what I brought in and everyone else took it, I do what all trendsetters do and I just set a new trend and do on to the next thing and let them keep doing that.

Nicki Minaj
Interviewer: Dream Team Minaj says, "I love you, but I'm curious "why did you change your rapping style from the comeup days "to today, I love both." 
I don't think I changed my rap style. I think you guys were just starting to hear me, and you didn't hear all of me yet, that's it. I've always been into being weird a little bit. But, I think what people really mean is that they think that I've changed my persona. And, life is about growth and change, and, I don't want to remain the same for my whole life. I want to be able to change and you know I respect the people who loved '07 Nicki, and I'm definitely going to give you some stuff on Pink Friday. I'm not forgetting anybody. But I just also have to be true to me. And the truth is, I started seeing different things, I started going different places, I started eating different things, I can't… It would be fraudulent to rap the same way and look the same way, act the same way because I am not the same, period. I don't know to…

Tom Brady
Well everyone has their different belief systems. I think everyone has their different opinions of those types of things that you talked about. Certainly as an athlete, I care very much what I put into my body, I think that, I'm 38 years old. I'm not 22 anymore.
Woman: You look good.  
You're very sweet, thank you. You know, all those things are important. And all the little things add up to be big things so when I'm trying to accomplish things professionally that, you know, in a lot of ways, I'm in unchartered territory so, I've got to do things differently, and I got to evolve over time, I've got to, things that may have worked in the past maybe don't work as you move forward.
So the lessons that I've learned through my own trial and error, I think I'm at that point in my career where I'm very efficient with what I'm doing so, I try to eat healthy, I try to get the right amount of rest. I try to do the right types of exercise so I can be on the field and be available to my team. I try to be as productive this time in my career as I was earlier.

Usher
Sure as we all have to set goals for ourselves, I mean, our planned destination is to be busy. And, to, adjust to whatever you, whatever you're introduced to. And what I mean by that is OK, as an entertainer, I started off as a singer.
You know I grew to become a dancer and a performer. After becoming a performer then I became an actor. After becoming an actor I became an entrepreneur. After becoming an entrepreneur I became an entertainer on a different level of introducing other artists, then, after that I became a mentor.
Interviewer: Right.
So I think just to continue to evolve in a way that is beneficial for growth of myself and others, my likeness to continue to be remembered throughout history, and associated with something great. For me, there's a mantra that I've, I've lived by.
And it is that, the journey of the destination is really what it's all about. The pursuit is more important than the actual destination. So as long as you are moving, as long as you are working, that is the destination.
Interviewer: Wow.
Yeah, the journey. Or really it is simply that, the journey is the destination.
Interviewer: I agree.
As long as you're working, you're good.

Gabrielle Union
Fortunate enough to be honored at the Essence Awards Luncheon for the Fierce and Fearless Award, and I was talking to my girlfriend AJ Johnson who was my trainer, but she's also a life coach, and I was like, do I tell it? If I'm getting an award for being fierce and fearless, how 'about I really be fierce and fearless and explain to people my evolution? I love who I am today but that wasn't always the case.
I didn't love my features, I didn't love my weight, I didn't love my hair, I didn't love my lips. And it's been an evolution, and I wasn't always nice, or as gracious as I could've been, or happy for other people. And just sort of explain that journey through my speech.

Lewis Hamilton
When you build up for Formula One, you're obviously preparing to race, but you're not prepared for what comes along with being a Formula One driver. The pressure of such a big team, sponsors, media, sitting onstage talking. You're not prepared for that. You're not put through a school or through other interviews for it. So you arrive in the deep end without being able to swim and I mean I made a lot of mistakes.
I got into, obviously I was quick on track. That was the easy part, it was everything outside. But, lost the first year, in 2007 by one point which was, depending on how seriously you take your job, it was emotionally traumatizing the first year.
Came back the next year, somehow came through that, that experience, and then in that last race, I had to finish fifth. I started third, I think it was, and I was fourth, fifth, and then with probably like six laps, seven laps to go or something, I was down in sixth.
And the guy that was ahead of me was Sebastian Vettel. And, there was, I couldn't do anything even to save my mother's life. If my mom was over there on the edge of a cliff, I had to pass him in order to do it, I couldn't get past him.
You know, I couldn't get past this guy and, for those laps I just wasn't giving up. But I could see that dream fading away. And then the last lap, some guy was on slick tires, I was on wets, he was stumbling, quite a few of them were stumbling.
I missed that a lot, that maturity growing up stage.
I was overtaking cars here and there. I had no idea where I was. I thought they were back markers. The guy came across the line and thought he had, for a second was world champion, and then I came across the line 17 seconds later and I crossed the line and I thought I lost the world championship, so my heart sunk. I was distraught, and then, I don't know why they took so long, but like 12, 13 seconds later they told me I was world champion.
I mean I didn't know what the hell was going on. I think just at the time, after that, big whirlwind of media, back at the factory, there was so much tension. I guess I was only 23, so I just didn't feel I was, don't forget, growing up, instead of hanging out with friends on the weekends and doing normal kid's social life stuff, I was racing. I was with adults. So, I missed that a lot, that maturity growing up stage.
I don't feel I was mature enough to really be able to embrace the whole experience and enjoy it. So I tell you, it was not a great, it was, it's amazing that I won the championship, but it just wasn't able to enjoy it.
And rolled into the second year, the year after that for example. But the last two championships I've really, I guess, I'm coming of an age, been able to really absorb it and enjoy the moment because so much work has gone in for my family.
When you have those lows like losing the world championship only make you stronger
I don't take it for granted, the opportunity that I have for one. There are so many people that would cut their leg off to be in my seat and do what I do. So I make sure that I maximize every time that I get in the car, I'm representing my family every time that I get in that car.
And, so there's nothing, there's no time for second place. Of course those experiences, when you have those lows like losing the world championship only make you stronger when you do, or realize these heights and lows. Once you've had the low, you appreciate the highs even more.
Interviewer: And so presumably particularly frustrating for you this season, I mean it's early days yet.
It's a killer season. It's terrible.  Obviously had a couple of amazing years, the last two. I would say this is, luckily through the experience of the 10 years of racing you kind of, you have the ups and downs and I definitely think these past five races have been massively testing for myself, my mechanics for my engineers.
I think each time I see it as a challenge to rise. I see it as a challenge to, you know, I'm going to be facing the media right now but I feel terrible, I'm angry that I lost the race or something like that.
But it's a moment for me to, kids that are watching, to me to say the right things. It's a moment for me to lift my guys up who are probably feeling just as much as me. Or back in the factory who work non-stop to build my car.
So so much going on, and, I feel, often when I do it right, I feel, I come out of it so much stronger. And so, I do feel this is just a trials and tribulations. This is a period of time of growth for me that, whilst there's always growth, you know, I met Nelson Mandela once, when he was 90, for his 90th birthday, and he said to me, that he was still learning at that time so,
Interviewer: Wow.
I have a long way to go. Hopefully.
Thank You!
Evan: Thank you guys so much for watching. I hope you enjoyed. I love to know what was your favorite clip? What resonated the most with you? What are you going to take from this video and immediately apply to your life or your business somehow? Please leave it down in the comments, I'm super curious to find out.
Thank you guys again for watching. I believe in you, I hope you continue to believe in yourself and whatever your One Word is, much love. I'll see you soon.
---
You might also like
---
More from Charlamagne Tha God
---
Today's message is "Don't dwell on the past."Good morning, Believe Nation. It's Evan, my one word is believe and I …
Hello believe nation, my name is Evan Charmichael, my one word is Believe, and I believe that entrepreneurs are going …