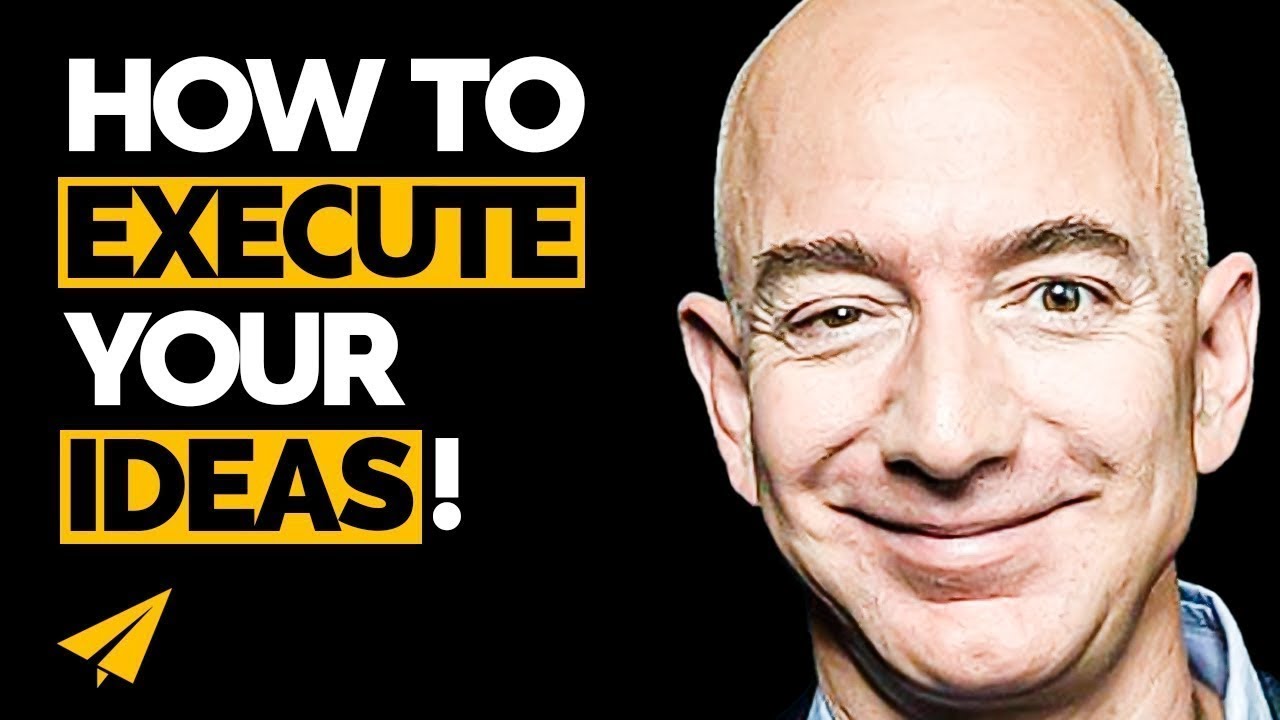 Today's message is execute your idea.  Good morning, Believe Nation, it's Evan. My one word is believe, and I believe in people more than they believe in themselves, and my sincere hope is that if you see in yourself, what I see in you, you'll be able to change the planet.
Execute your Idea – Jeff Bezos
So, it's easy to have ideas. It's very hard to turn an idea into a successful product. There are a lot of steps in between and it takes persistence, relentlessness. So I always tell people who are, you know, who think they want to be entrepreneurs, it's, you need a combination of stubborn relentlessness and flexibility.
And you have to know when to be which. And basically, you need to be stubborn on your vision because otherwise it will be too easy to give up. But, you need to be very flexible on the details, because as you go along pursuing your vision, you'll find that some of your preconceptions were wrong.
And you're going to need to be able to change those things. So, I think, taking an idea successfully all the way to the market, and turning it into a real product that people care about and that really improves people's lives, is a lot of hard work.
My thought about Execute your Idea
I love this message. It's one of my favorite messages. I 100% agree with Jeff on this one, and I think you need to be insanely stubborn about the mission, insanely stubborn about the why you're doing things, but really flexible about the how.
And I think you need to have that stubbornness, especially as an entrepreneur, because when you're getting started, you're going to get so much pushback. What you create, your product, your service, won't be really great at the start, and so, it will be hard to get people to buy from you.
You'll have people around you, friends, family, co-workers, people in your community telling you that it's not going to work out. You're telling yourself that sometimes this is crazy and it's not going to work out.
And so everything around you is saying that this is crazy, and that maybe it's not the smartest thing to do, right? Being an entrepreneur is really the smart thing to do. It might be the best thing to do, but what we do is we create a world that does not exist.
The best entrepreneurs have a vision for a world that they want to create that doesn't exist yet. So, from a practical perspective, it doesn't make sense. We're doing something that has never been done before.
"You need to be insanely stubborn about the mission, insanely stubborn about the why you're doing things, but really flexible about the how." – Evan Carmichael
You guys need to be doing something that's never been done before, right? You can model some success, but at some point you have to find your own path. And when you go and create your own path, that's not practical, that's not logical because it doesn't exist yet.
You have to go and create it. And so you need to have that stubbornness for the mission, for the vision, for what end objective you're trying to create, because of all the pushback and negativity and zero progress you're going to make at the beginning.
If you don't have that stubbornness, if you aren't willing to say, "no, this is going to work out", to yourself and to the people around you who are naysayers, then you're going to quit. Which most entrepreneurs end up doing.
They quit, they don't have enough stubbornness for where they want to go. The flexibility though, is about how go out and accomplish it. I want to make this world better. Here is how I want it to look like.
Here's what I want to change in the industry. But how you go out and do it should be flexible. And this is where, I think, too many entrepreneurs are too stubborn. It has to be this specific way and this way only.
So you spend all this time making this perfect plan, the perfectionist, you want to make this perfect plan, and all your time is working on this plan, and this is exactly how it's going to play out. No matter how much planning you do, it's never going to go according to that plan.
Every successful business, look at how they started, it's not how they started that led them to their ultimate success. Sometimes it's a radical shift in their plan, sometimes it's a minor shift in their plan.
But it always has to change. Just look at any company. Look at how they started, look at Starbucks. They started selling just beans. You couldn't get coffee going into a Starbucks. They would only sell you the beans. BMW started selling airplanes.
It's why their logo is an airplane propeller. Wrigley's, the gum company, started selling other household products, and gum was was just used as a giveaway. That if you buy X packs of this other product, we'll give you some gum.
And they eventually became the gum company. It changes so often, and too many entrepreneurs are stuck on that it has to be this specific way. And if you're not listening to the market, if you're not combining what you love with what the market wants, you're never going to get to the success that you're after.
And so that insane stubbornness for the vision but total flexibility for how you accomplish it, that's what's really important as an entrepreneur. If I look at my mission, what I'm trying to do here, I want to help a billion entrepreneurs.
I feel I have the potential to do it. I want to do it because, on a one on one level it's just fulfilling to know that what I do is meaningful, that I have an impact, that I wake up daily and I get to do something that impacts somebody else's life.
That means something to me. Seeing your comments come in every day fills up my soul, knowing that I put work out there, and it's being received well and it's having an impact on your lives. That means a lot to me.
On a big scale, I think entrepreneurs are going to solve all the problems of the world. It's not companies, it's not corporations, it's not government, it's us. We're going to solve it. And if I can help a billion entrepreneurs do something greater in their companies to help solve real problems, that's a major impact I've had.
And so having half a percent impact on your life, makes me feel like I'm having a huge impact on the world. And that's what I set out to do. A lot of you guys see me as YouTuber, and I've said many times, I'm not addicted to YouTube.
"Every successful business, look at how they started, it's not how they started that led them to their ultimate success. Sometimes it's a radical shift in their plan, sometimes it's a minor shift in their plan." – Evan Carmichael
I see YouTube as the best platform right now, for someone like me, to spread my message to someone like you. So it's the best path for me on my mission to achieve my big goal. But that may change. And I anticipate that it will change.
YouTube will not be the big player probably in ten years. So what's the thing that's going to come along that will replace YouTube that I have to jump in on, because I'm going to hit my goal. I want to have that impact.
And so even the types of videos, so that's on a macro of the main strategy. The main strategy is YouTube, endbook, and website, and that will change in the future, but even the micro strategy within YouTube, okay, so YouTube is one of the main strategies, micro strategy, Believe Life series, Top Ten series, Meant to Me series, Entspresso series, Seven Way series, those are constantly in flux.
What's working, what's having an impact, what's helping us achieve our mission, and which ones are hurting the channel, or just stagnating, that we know that we need to eliminate and bring something else in. So not being so attached, and say, this is a series, that even if it doesn't work, I still have to do it.
This is the only series that's going to work. If I was like that, then we wouldn't be having the impact that we have right now. It doesn't help me further my mission. And so I think, too often, entrepreneurs who start businesses are not stubborn enough about where they want to go, about the mission vision, and they end up quitting too soon.
And they're too stubborn about how they go out and execute their plan, and they're not open enough to other feedback to say, hey, I want to help you get that mission to happen, here's another way way to be able to go out and do it.
---
So the question of the day today is, I'm curious, what is something that you've had to change about your plan, since getting started. You went out with this plan, and you realized that something didn't work, and you had to make an adjustment that then ended up working for you. What was that change? What changing your plan, that little tweak that you made, how did it work.
I also want to give a quick shout out to Mike Lamothe from ChartYourTrade.com. Mike, thank you so much for picking up a copy of my book, Your One Word. It really, really means a lot to me, man, and I hope you enjoyed the read. Thank you guys. I believe in you. I hope you continue to believe in yourself and whatever Your One Word is, much love, and I'll see you again.
---
BONUS
Execute your Idea
Gary Vaynerchuk
My assistant's got a great thing now on this. Once in every four months, somebody sends an email saying, "I've got a huge startup that I want you to invest in, but you've got to sign this NDA". Which literally, every time, gets an email back that says  you, right?
And the reason is, I'm a humongous believer that ideas are , and that execution's the game. We've all got ideas. Everybody's got ideas. Do you know how many  ideas we all have here? We could probably sit here for the next two hours, draw them all out, record 'em, and predict the next 78 great startups over the next nine years.
And? So, I think the thing that is another theme in entrepreneurship is there is way too much fodder brought to the idea. Uber was Magic Cab, three years earlier. Uber is not an idea. Uber existed, it's called Magic Cab.
But the guys that execute it, sucked. So they lost. So I think, you know, if there's any level of romance left in this room about your idea, I'd like to suffocate it. Because I think the actual situation is what you actually do with it.
Robin Sharma
I mean the reality is, reading a book or going to a conference, or having a great conversation where you get this golden information, that's all fantastic. But what makes mastery is execution on the ideas, not the ideas.
And so no idea works unless you're willing to roll up your sleeves, do the practice, invest the time, put in the effort, do the work. I think we've all observed a lot of people who, they love reading the books, they love showing up at the courses, they do all the online training, and nothing ever changes.
And they say, well, you know, I don't know why it doesn't change, why my life doesn't change, why my thinking doesn't change, why my performance doesn't change, why my relationships don't change.
Well, it's because ideas don't work if you don't execute on them. So if you look at the great business builders, you look at any great performer, one thing that makes them great, is their grit. One thing that makes them great, is their hunger to practice.
One thing that makes them great, is their willing to sacrifice. I mean, yes, they're passionate, but did you know the root of the word passion, is suffering. You've got to be willing to suffer for your vision.
You've got to be willing to suffer to reach BIW . You've got to be willing to suffer the ridicule and laughter of your critics and your cynics to get to a place called world-class.
Arnold Schwarzenegger
Interviewer: I mean not a lot of people know that you are a fantastic direct response marketer, with your mail-order business. Can you talk to us about that dollar-into-two concept?
Well, you know, we all pay taxes. And we all hate the idea that we're losing that money. But there's a difference between hating that you lose that money, and hating to pay taxes. I love paying taxes.
If it is the fair amount, and if it is used wisely, I think we all have to contribute it, because it's how you set up social programs, it's how you build infrastructure, it's how you have a military and all of this kind of thing.
So, that's great, but I always had the belief that the money that I pay in taxes, I want to make up through wise investments. So this is why I got into real estate right away in the '70's, and I started buying raw land and developing that.
I started buying apartment buildings and you know, just think about it, I remember in 1974 I bought my first apartment building, and we bought it for $215,000, that was then a lot of money.
And I put only down like maybe $35 – $37,000, but within two years, the apartment building was worth, instead of the $215, $350,000, and I sold it. So imagine now how much gain there was.
I mean, so we made hundreds of percent on my initial investment, so that's what I'm talking about. See it takes thoughts and ideas can make much more money than actual physical labor.
And physical labor is always part of the action because I always say you've got to work your ass off no matter what you do, because now you have a great idea, but then you still have to implement it, and you have to hassle, you have to go the bank, get their financial statement, do this and that, and raise money sometimes, and you go to look at a thousand apartment buildings to find the right one and all of these kind of things.
So you still have to work. But normally if it's just physical labor, you can never make the money that you can make when you have ideas. This is where it's important, I always tell people, I say, "the secret is, there are certain times, don't think."
Like when you get up in the morning, don't think. Just roll out of bed, go on your Lifecycle, or go on a bicycle ride, or go to the gym, workout, you know that's what you have to do. And then read something and learn something. So don't even thing about it.
But there's other times when you have to really think and you really have to get creative and have a clear vision of where you want to go and what you want to do. And that's what I always had, and that's what I always believed in.
I always believed in making money so that then you can do something with that. You invest in it in orders, eventually you create a family, you give some of it to your kids and all that stuff. But also for charity. Look, I have the Schwarzenegger Institute at USC.
So we have to raise money all the time and big money to pay for that and to support that. We have the R20, the environmental organization, or any organization of any idea's great, but if you don't have the money, you can't implement anything.
And so, this is why it is important that if it is an environmental organization or if it is my afterschool programs, that are nationwide, where we raise millions and millions of dollars every year.
Or if it just, you know, living in a great mansion or driving a nice Bentley in the Bulgari. You know, this, the kind of things, it takes money to do all of this kind of stuff. So therefore, I believe in making one dollar into two, and having a good time when I pay my taxes.
So when someone says, "yes, yes, Arnold, I say, we have bad news". "You owe 50 million dollars in taxes". I say, "wow, yes!" And then they look at me and says, "why are you happy about that?"
Because that means you must have made a lot of money. You have to pay that much money in taxes. And they say, "yeah, that's a way to look at it". So that's the way I look at it.
---
You might also like
---
More from Arnold Schwarzenegger
---
Today we're going to learn how to expand your mind. Hello, Believe Nation! It's Evan. My one word is believe, and …
Embrace PAIN! Check out what Eric Thomas, C.T. Fletcher, and Joe Rogan have to say about pain, and how it …