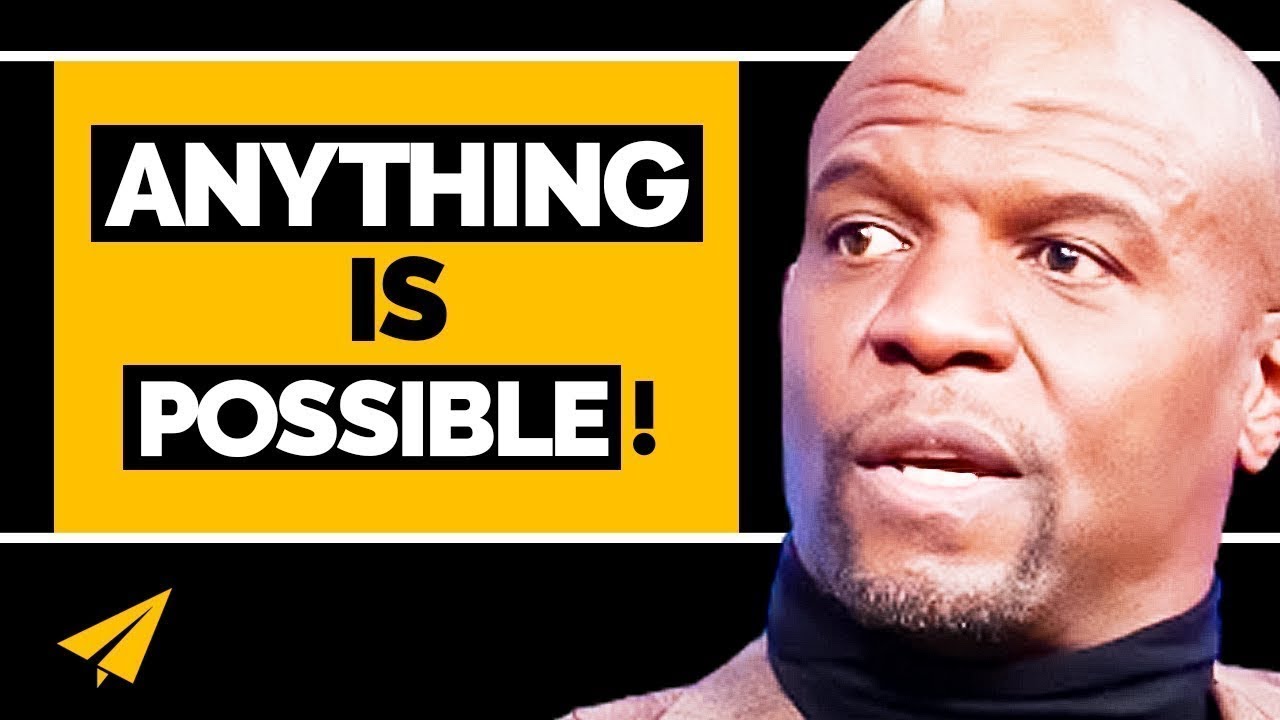 Whatever you're thinking about it, you will not get it until you take action. Make that move.
I exist to show people what's possible. I really do.
You need to change. Everybody. Everybody out there needs to change.
Life is, you can't predict what you're supposed to do. And I tell people, never kill yourself. Never. Because you don't know what your future is.
Terry Crews' Top 10 Rules for Success
Evan: Hello Believe Nation. I'm Evan Carmichael. My one word is believe and I believe that entrepreneurs are going to solve all of the major problems of the world, so to help you on your journey, today we're going to learn from actor Terry Crews and my take on his top ten rules for success.
Rule number one is my personal favorite and I'd love to know which one you guys like the best. And as always, guys, as you're watching, if you hear something that really resonates with you, please leave it down in the comments below, put quotes around it so other people can be inspired and when you write it down, it's much more likely to stick for yourself as well. Enjoy.
---
Terry Crews' Rules
Never let anyone talk you out of your dreams
Take action
Enjoy the process
Just try it
Keep getting better
Have self-discipline
Explore
Always give your all
Get rid of the #LittleMan in your mind
Share positive energy
BONUS
Find your purpose
Go BIG
Keep going
Rule #1. Never Let Anyone Talk You Out Of Your Dreams
When you're young and you a kid, you have so many, I go up in the hood, man. Flint, Michigan, where I'm from and they said Terry Crews, you can do anything you want to do.
You can do anything you want to do. And then as soon as you go to class, you tell them what you want to do and then they, "Man, what make you think "you going to do something like that, man. "You crazy?" And I say, "Okay, wait, which one is it? "Now can I do it or can't I do it?"
Interviewer: Right, right.
So I started to call people on that. I started to call people on that. I say, you know what, I'm going to go for it. I'm going to just try something that I never done before. I want to design furniture. I want to be a part of this thing. I said I'm going. And you know what happened?
The stuff worked. People started doing, it started happening.  We took the furniture to Milan. We went in front of all the best people in the whole world and it got accepted and people were saying how great it was and how beautiful it was and I said, man, don't never let anybody talk you out of something like that again.
Interviewer: Never, man.
Never.
Interviewer: I'm a dreamer.
Rule #2. Take Action
Take action. Whatever you want to do, whatever you're thinking about it. You will not get it until you take action. Make that move. Make it a small step. If you want a house, go get a rug. You know what I mean? If you want a new car, go get some car freshener. Take action.
Make this thing happen for you and it will happen. Action, action, action. You know, one thing that, you know, I can really attribute to every failure in my life, whether it be personal, financial, any kind of way, business, whatever, it's because of a lack of my attempt to take action. I did not take action and it kind of changed, once I got the fact that action is the key, it changed my life in many, many ways.
Rule #3. Enjoy The Process
This is where trainers mess people up. I've had trainers who totally just want to prove that you could never do what they do. And they have you paying.
I know what you mean.
Just to say like oh, this poor guy. And they go to blast you, like they want you, unless you're in pain and you feel like you're sick and you're throwing up, they're like, yeah, that's a workout now. Yeah, look at you, you hurt, you can't walk, great. And the whole point is, what I tell people is treat the gym like a spa.
The first time you ever go, just go in there and walk around, touch the weights, get a drink of water, walk around and then leave. And I mean, literally do that for like a week, two weeks until you just get to the habit of getting in that door, because what's going to happen is eventually you're going to start lifting because you're there.
And you're going to do something and then you stop. Don't ever get to the point where you're like I can't feel my arms! It doesn't work. People want, they want my body and all this stuff, but I've been working out consistently since I was 14 years old and I'm 44.
30 years.
30 years.
Of hardcore, two hour workouts. 30 years. So it doesn't happen overnight. You just have to enjoy the process. Learn to enjoy it because I'm sure there was a point where you started to enjoy losing 113 pounds.
Yep, yep.
And that's the only way you're going to keep going.
Rule #4. Just Try It
I tell people all the time, and I really believe this, is I exist to show people what's possible. I really do. It's like go for it, try it because another thing, I am no different than anyone else out there. I am not here to say I have a super power and it was all this. It was just try it, go, let's see what happens.
And all of a sudden when you get rid of judgment, now you can be creative, but any bit of judgment kills creativity. Any time you start to go well, maybe I shouldn't, and it's funny because you look at a lip sync or you look at any kind of dancing or anything like that, as soon as people see you being inhibited, you're done, they're like oh, this guy, what is this. But all they want is for you to give all you got.
Interviewer: Just put it out there.
And then everybody's with you. Let me tell you, Terry Crews is going to give you 150% no matter what. That's my whole career.
Rule #5. Keep Getting Better
How many times have you ever heard the phrase, you are perfect just as you are? Have you heard that a lot? You know what? You are perfect just as you are. You are so perfect just as you are. Well, you know what? You are not. You are not perfect just as you are.
You are perfect, but you're not complete. This is the thing. And this is what I mean by this. And a lot of people are going to go, aw, what do you mean? What are you trying to say? I got to change? I got to change somebody else? Yes, yes. You need to change. Everybody. Everybody out there needs to change. We are designed for change. Nothing in this world stays the same.
You are either getting better or you are getting worse. Let me describe something to you. When I say you are perfect, but you are not complete, let's say this building I'm in. If I looked at the blueprints for this building, the blueprints for this building before it was built were perfect. Everything was in its right place. Everything was great, but could I walk in it? Could I do anything? Did I have a building? No. Why? It wasn't complete.
When they framed up this building and put wood and metal and all this stuff, but they didn't do the floor or the electrical, was it perfect? Yes, it was perfect, but it wasn't complete. You are like this building. You are perfect in every way, but you're just not done.
You're not done and you know what? Anybody who's trying to tell you, don't try to change me. Now, no one should try to change you, but you have to change yourself. You owe it to everyone to change yourself into a better person, into a better human being. That's what you have to do.
You are perfect, but you're just not complete. So, when you look at yourself, look at yourself like that building and it's framed up and everything is in its right place, but you just not done. I want to tell you that. So, anybody who's trying to tell you that I'm perfect just the way I am is not trying to change and guess what? You're not and it's not working. You're a half done building.
Who wants to live in a building with no roof? Nobody and I'm just trying to break it down to you that you hear these catchphrases. You hear this stuff all the time, but then everybody just takes it and says, oh, yeah, I'm perfect just the way I am.
And you don't change and your life doesn't change and nothing gets better for you and you wonder what's happening and everything is crumbling around you. Hey, I'm guilty. Terry Crews is guilty, then I realize, wait a minute, wait a minute. I'm not perfect just the way I am. I have to be perfected. I am perfect, but I am not complete.
Rule #6. Have Self-Discipline
The thing about self-discipline is that it is necessary for everything you do in your life. You have to be self-disciplined. If discipline comes from somewhere else, it's very, very hard to remain consistent because you tend to resist.
It's wild because I see trainers and they're in the gym with people and, you know, the guy or girl that they're working out hates their workout, hates it, because the discipline is coming from somewhere else.
It's something that you dread every time you go in, you don't really want to do it, it's like unh, but oh, no, my trainer's here, he's about to beat me up and make me feel crazy. Well, the truth is every trainer should work his way out of your life. Anybody who's working you out, your teachers, your trainers, your people, they have to train you to get out of your life, so you can go ahead, do your own workout, do your own thing, practice self-discipline.
Now one thing I want to straighten out big time, discipline is not punishment, it's not. Discipline is training. That's all it is. I was talking to my son one time and I asked him, it was weird because I was trying to see if he really knew what it was all about and I said, "Hey, man, you know I have to discipline you.
"What is discipline?" He goes, "Punishment, punishment, when I do "something wrong and you punish me." I was like, "No, no." Discipline is training. If you change your mind, your mindset and really focus it on what discipline really is, you start to welcome discipline. You welcome self-discipline into your life.
Rule #7. Explore
If you talk to me and I was into football and I was a football player and you would have told me I would be doing what I was doing, I would have said no, you're crazy, leave me alone, get out of here. This is why life is, you can't predict what you're supposed to do.
And I tell people, never kill yourself, never. Because you don't know what your future is. You just don't and that's the thing is, it's like for me, I never would have thought I would be doing this, but I decided to try things. I just decided that I didn't have to do what everyone else said I needed to do.
It's like, you know, when you're a football player, everyone tells you this would be the best route to do after you're done. Well, I decided to go another way. And people thought I would fail. I remember when I moved to LA and everybody said what are you doing?
You're an old football player. You know what, they don't care. And it was hard. I was actually doing security for a little while and, you know, we went broke for a little while, but it was an amazing thing, though, is that as I kept trying new things, new doors kept opening and I never thought I would be an actor, but here I am, I'm acting.
I've been acting for 15 years. You never know what's going to happen. You never know what the future holds for you and it may be acting, it may be business, it may be performing, it may be homemaking, but whatever it is, you have to explore it. You have to go for it.
Rule #8. Always Give Your All
One thing I did is I wrote down my goals. I wrote my top ten things I wanted to do in life and if it fit in there, I would do it, even if it was for free, even if it was for free because the thing is if it fits my goals, then it's going to work out somehow.
Exactly.
You know what I'm saying? I've done a lot of things for free. And they always came and paid me later, now if you use money as the only way to go, you going to miss the right thing. You going to miss the right thing you need to do. So that's my whole mentality is just to go out all the time.
I got one speed. I'm all in or I'm asleep. You know there's no such thing as overnight success because it took a long, long time, I mean, I've been acting for about 11 years, but to look at from when I started to looking at the billboard in Times Square and seeing The Expendables sitting there, that's tremendously fast, you know what I mean?
And I've never been in a hurry because I enjoy doing this so much. I just enjoy being around guys like Stallone, you know, Mickey Rourke, Randy Coutour, just learning how to be a better actor, how to be a better person. These guys have done major, major things in athletics, in life in all kind of ways.
It kind of took a sports mentality to my acting and that focus. It's not about the parties, it's about the performance, you know what I mean? My goal was if I was going to be funny, go all out, like go to a point where they're like wait a minute, I can't even air that.
Rule #9. Get Rid Of The #Littleman In Your Mind
You got to get rid of those haters in your mind.
Right, it's all in your mind.
It's totally it and then the judgments that you hear and you accept, you start putting that on other people.
Totally.
So true.
When a hater tells you oh, man, you can't do that, that's because he's hearing that in his head.
Yep.
You know what I mean? Or you can't lose all that weight. That's because he hasn't lost weight.
And he doesn't want to. He's afraid of the work that it will take for him to do it, totally.
It's all fear, it's all, it's a wild, wild mix and I just when I'm talking about that, it's like in your own brain. There are times when I do something so idiotic in front of a group of people just so I can get used to getting away from.
The norm.
Like fitting in or whatever. I do some stupid stuff. I'll just say something dumb, deflect the chicken and it's like who cares, who cares. If I wear something dumb, who cares? If I walk around with a wig on, who cares? You can't judge me. I have no shame, it's not going to happen. And that is where I started to go like now I can go and be free.
Because there's nothing holding you back.
There's nothing holding me back.
Rule #10. Share Positive Energy
What'd you do in high school.
Listen, I went from football to basketball to track to break dancing, that's what I did. I was, I mean, it was the middle of the break dance phenomenon and I practiced like a fool.
Did you have a crew?
Oh, yeah, I had a crew, it was all good. We were called the Big Man Breakers.  Real original.
The Big Man Breakers.
We were real original. We were all pretty big.
What years was this?
Oh, this was 86, 84, I mean this is at the height.
Jimmy: Electric Boogaloo.
Electric Boogaloo was out, you know what I mean.
Jimmy: Beat Street.
Beat Street, it was hot. Yeah, it was hot.
Really and did you just throw cardboard down and lay it down.
We had cardboard in the basement, man, and I would practice spinning on my head for hours. I mean, no girlfriends, nobody would even get near us because they're like they're spinning, could they stop spinning. You know, we want to listen to some Prince right now. Can you please stop spinning.
Did you have a go to move?
I had the go to move, which was the robot. I have the best robot of all time. Play something.
That's how you do it.  that was a great one.
As I get older, the moves get more subtle, because you're like I'm hurting. But you see, just a little, little touches, that's all you got to do.
You're just so much energy and so positive. How do you stay so positive?
You know what, the key to energy, I get that asked a lot, they ask me a lot, but the key to energy is gratitude. It's truly, truly gratitude.  it's real. The more thankful you are, the more energy you get.
Have you ever, I've been where I was ungrateful and you literally feel the energy being sapped from you, you know what I mean? But once you find one thing to be grateful for, all of a sudden you get the energy to do things. I'm from Flint, Michigan.
I am a statistic that didn't go by the statistics. Because a lot of my friends are in jail, a lot of my friends have died. A lot of my friends are no longer here and I look, here I am, in front of the whole world, all the time, doing what I love, which is amazing. You just feel the energy. I feel happy, I feel joy and that's for you, too. Anybody in the world can find that.
I love this guy, come on. Terry Crews.
Thank You!
Thank you guys so much for watching. I made this video because Saketh asked me to, so if there's someone you'd like me to cover in the next top ten check out the link in the description so you can go and cast your vote. I also want to give you a quick shout out to Jane Cassell. Jane thank you so much for picking up a copy of my book, Your One Word, and posting that picture online. I really appreciate it and I hope you're enjoying the read. So thank you guys again for watching. I believe in you. I hope you continue to believe in yourself and whatever your one word is, much love, I'll see you soon.
---
BONUS
Find your purpose
People have heard the term purpose a lot. They always say, you know, you've heard the term purpose driven life and what's my purpose and you know, I have to be purposeful. And the truth is, you know, you do. But a lot of people get confused about what that really, really means.
When people think about purpose, they think, you know, what's the purpose of my life. My purpose is to be a good person. It's to be a good person. And I understand it and you're right. You are not wrong about your purpose in being a good person.
But you are not focused enough. Let me tell you something. When I was young, the whole thing about being purposeful or having a purpose, it's one of those things where if you don't know exactly what you do on your job, you know, I had a job one time, it was really hilarious, I actually worked at a liquor store and I was in college and I remember just not really knowing why I was there.
It was just about getting my money, you know, my purpose was to restock some things and kind of do some stuff and I remember actually applying for another job in the middle of it and I told my boss like, yeah, you know, I went for another job, but I'm just going to be here until that other job calls.
You know she fired me on the spot and I was shocked. I was like, man, why can't this woman understand that I need some more money. But what I didn't understand was my purpose for being there. My purpose for being there was to help her.
Not be there until I get another job and keep my mind all on other things because my job was to carry those big crates of soda, to restock the cabinet, restock whatever I needed to do and really, you know, do the cash register, do whatever I needed to do, but my purpose was messed up, it was whack and that's why I got fired.
Purpose is really about finding out what it is you do. What is your role. A lot of people get this mixed up, because let me tell you something. You don't get paid for what you know, you get paid for what you do. That's what you get paid for, that's all.
People will tell me, oh, I know all that, I know this and I know that, but what you know doesn't get you your money. Only what you do and to know exactly what to do you have to know your purpose. If you don't know your purpose, you are probably confused and you'll be out and if you don't do what you're supposed to do, the world is going to miss what you're supposed to bring.
They're going to miss what you have. You must find your purpose. You must find what it is you were always, always meant to do. That is the biggest fight ever and once you find it, it's the key to your success, it's the key to you being who you're supposed to be.
Go BIG
I am the best over actor ever. Like if you give me something and you tell me to do it big, I do it really big, but I love that because it's kind of my personality. I'm a very big personality. I like doing thing loud, I like being explosive and I like attention, so it all works together.
Keep going
You're going to mess up. You're going to see something that you didn't mean to see, you're going to eat something you didn't mean to eat, you're going to overdo it, you're going to binge, you're going to mess up. You're going to fail. You are. Remember what that feels like, remember.
Because failure really is only temporary if you don't take it as a loss. If you take is as a learning opportunity, it's only temporary, but it can only be permanent if you say you lose and you give up. That's the only way things can be permanent.
Forgive yourself and move on. Move on. Practice forgetting any of the other junk that you did, a mistake you did. Let me tell you. The day is short and let me tell you, it's not a thing that you even have to remember, just go on and keep continuing on the right path.
When you mess up, start over. Start over right away and I'm trying to tell you you do that enough, you eventually don't mess up. You eventually, it's kind of like a child who falls down every time he gets up to walk. Well, you know, he will fall down.
That's just the nature of the beast. But let me tell you as time goes on, he learns not to fall and you will too. You will too, but imagine if you were a kid, if you fell down once and you just laid there and you laid there forever. Well, guess what, it doesn't work.
That is the same way you work. That's the same way even adults do. Sometimes we fall down, you miss the mark and you just stay down there, but you can do it.
---
You might also like
---
More from Terry Crews
---
Today's message is, enjoy the journey.  Good morning Believe Nation. It's Evan, my one word is believe, and I believe in …
Today we're going to learn how to expand your mind. Hello, Believe Nation! It's Evan. My one word is believe, and …
Good morning, BelieveNation. My name is Evan Carmichael. My one word is believe and I believe that entrepreneurs will solve …