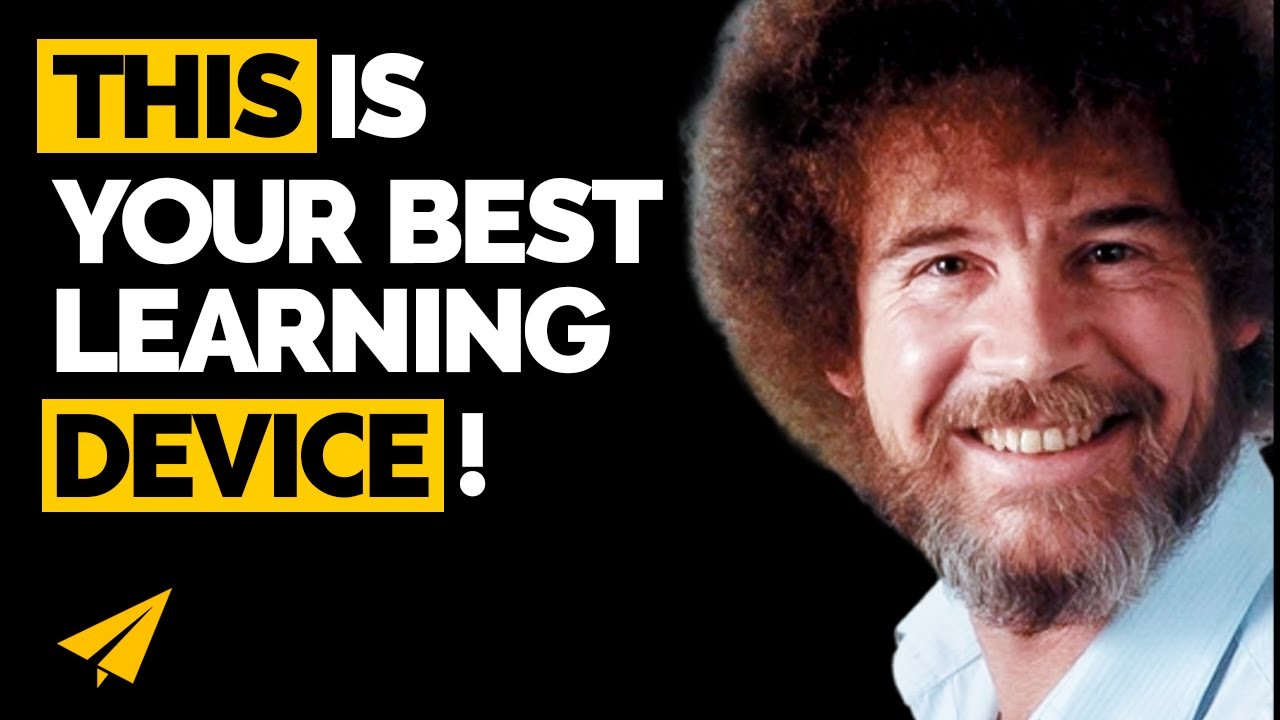 Good morning Believe Nation today's message is experiment. Over to you Bob Ross.
Hardly nothing will teach you more than just experimenting. Do as many different things as you have the nerve to do. Sure just go for it, there. Sometimes you learn more from mistakes than you do from trying so hard. So any time you make a mistake, before you get upset with it, look at it. Sometimes those mistakes those mistakes turn out to be the best learning devices we have.
There we are. I mentioned on one of the other shows, maybe even a different series I don't remember, I get letters from people who say they're just not satisfied with what they're doing, that their painting is just, they're just not coming out the way they wanted. I think if there's a secret to human nature it's the fact that we aren't satisfied. We're never satisfied, I hope you're absolutely plagued with dissatisfaction through your whole life.
"Hardly nothing will teach you more than just experimenting. " – Bob Ross
Because if you are, you'll always strive to do better. And over and over I tell my students if you ever do a painting you're completely satisfied with, you might as well quit. 'Cause you have nowhere else to go.
***
Evan: If you stop experimenting your business that's when it's going to fail. If you just stay in the safe zone of what has always worked and you stopped trying new things out, your business is going to fail. If you look at anybody who's had tremendous success in their life, in their career, as an entrepreneur, you'll find that the people who have the most success are the ones who experiment the most too.
They try more stuff, they fail at a lot more stuff, and they eventually hit on things that work. This is why I tell you guys that you need to be prolific. And that whatever you are doing, whatever you want to learn, you need to be prolific at it to practice, to experiment, to get better, to fail, to learn how to add more value. If you're doing something once a week, then you're not going to really get good at it quickly. If you want to learn a language, you want to pick up a new skill, doing that once a week is not going to be enough.
"If you stop experimenting your business that's when it's going to fail. " – Evan Carmichael
You'll slowly incrementally get better at it probably but if it's important to you, if this is a really important goal for you then you need to be prolific. You want to learn marketing, that's a thing that you really want to do, marketing's going to be really important to your company, you have a passion for it, you need to immerse yourself into it.You need to practice, you need to be prolific, you need to try a whole bunch of different things, you need to experiment and you'll get really good at it.
But if you're not creating enough, if you're not doing enough tests, if you're not trying enough, you're not going to get good at it, you're just going to be mediocre and slowly start getting better and better and better. And so if it's important for you, then you need to practice and you need to experiment. I would also encourage you not to worry so much about getting the perfect thing out.
Perfectionism stops you from making any kind of progress. It's holding you where you are. The attempt to try and make the perfect thing is an unattainable goal, it will never be perfect. It will always be better. There's always a way to make things better. It's never perfect. Making this video is not perfect. As much as I've done 4,000 videos that have led me to this point to make this video for you guys, I could still get way better.
The Evan from 2020 is going to look back on this video and say man, I was so bad, what a bad video. Look at what I was doing, look at how I was acting, look at what I was saying, I'm so much better now. I can't believe that video is up. And that's fine. Because when you are prolific in your content creation or whatever you're trying to do. When you're creating so much and you continue to practice, the one video that you make doesn't matter. If I'm trying to practice learning Italian, the one conversation I have with somebody doesn't matter.
"Perfectionism stops you from making any kind of progress." – Evan Carmichael
It's part of a bigger picture, it's part of my entire growth. The individual piece that you're creating, you're investing time, you're investing energy, you're investing your heart, you're trying to make it the best that you can make it with the skills and resources that you have right now. That's it. That's the most important thing. I realized that tomorrow's going to be a little bit better and the next day a little bit better. If you continue to hustle, then in 12, 24, 36 months, you're going to be way better.
And then you're still going to drive, you're going to still continue, there is no end point. You want to continue to get better because this is an important goal for you.And you do it by continuing to experiment.
***
So the question of the day today is, I'm curious what new experiment are you going to try today in your business or your life that you've been putting off, you're a little bit scared of, you feel you may not be good enough, or ready for it yet, how can you start it, some small experiment, leave it down in the comments below, super curious to find out what that is and by sharing it publicly hopefully that gives you the push to actually go and do it.
I also want to give a quick shout out to Raphael Moore. Raphael thank you so much for picking up a copy of my book, Your One Word, it really really really means a lot to me and I hope you're enjoying it. So thank you guys again for watching, I believe in you, I hope you continue to believe in yourself and whatever your one word is, much love and I'll see you again tomorrow morning for another shot of espresso.
---
BONUS
Evan: Hey Believe Nation for those of you looking for a little more inspiration to experiment, here are some bonus clips that I think you'll enjoy.
Anna Wintour
I don't make notes, I don't, I react very instinctively to everything, I'm a great believer in traveling a great deal. I don't believe meetings, more than two people in a meeting is too many, really it's true. Do you know about stand-ups? No okay, so in Silicon Valley now, when you have a meeting everyone stands in a circle like they're meditating and that's how, maybe I should try that.
I think that the more you go out, the more you see, the more you experience life, the more you bring back to your day job so as I was trying to say in my remarks, I think the problem about big corporations is you get a lot of people my age trying to hold on to their jobs and you know, clinging onto their pensions and their retirement and they're not experiencing new things and they don't like change and they don't like disruption so they're, either they don't make a decision or they say no and as a result they stagnate.
So it's terribly important to bring people in from the outside and not to remain too insular. And also to hire as many young bright people like all of you as you can just to teach you how to think about things completely differently.
Conan O'Brien
I think the secret to my career is I don't know what I can't do. So, you know, there were times when I should probably sit and think, do I really want to jump out there with Phillip Seymour, I mean with John C. Reilly and sing The Night Chicago Died or do I really want to play the blues with Little Ed and you know, you just do it, you just do these things.
Charlie: And you become, the audience wants you to do these things.
Conan: Yeah I think what's, I don't know what it is, but I think over the years people have gotten comfortable with the notion that I try things.
Charlie: It's almost krypton-esque.
Conan: And they're not worried about me. Do you know what I mean? I think that's the key. People aren't worried about me getting hurt because I can you know, I'll give it 100 percent and then if it completely falls on its face, I'll laugh about it and move on. And I think there's a little bit of a sense after all these years, people say you know, alright he tried it, maybe it worked, maybe it didn't work, but he had a good time.
Charlie: And for you, you can come back the next night and the next night and the next night.
Conan: Yeah, I mean that's you know, I don't know, over the years I've realized there are a lot of comedians that are very worried about keeping their dignity intact.
Charlie: Yeah.
Conan: And keeping their personal space and keeping their sense of authority. And for better or worse, and it might be worse, I don't have that, you know what I mean? I'm not, the people that I've always liked growing up and I'm not just talking about late night comedians, I'm talking about anybody in movies, in film, and the people I liked Peter Sellers-
Charlie: They would let it all hang out.
Conan: He'd just go, if you look at a lot of those old classic Carson clips, he's jumping into hot tubs with Don Rickles.
Charlie: Right.
Conan: He's jumping through fake walls, he's falling on his ass, he's dressed as Floyd Turbo. And sometimes I look back to that and I remember well, Johnny just went for it, so for better or worse, I'll try, I'll get out there and I'm very physical and my wife is always horrified, I'm always coming out of the shower just covered in bruises and she'll say, what was that? And I'll say oh, I did a bit, we had Jeff Garland on the show and he and I rolled down a flight a steps and I hit a fire hydrant.
You might also like
---
More from Anna Wintour
---
Good morning Believe Nation. My name is Evan Carmichael. My one word is "#Believe" and I believe that entrepreneurs will …
I don't think of myself as a boss. I think of myself as someone who's giving direction. I think it's healthy …
"Failure's not a bad thing."  "Failure is the mother of all success."  "You should seek failures."  "No consideration of failure."  "You have to be …