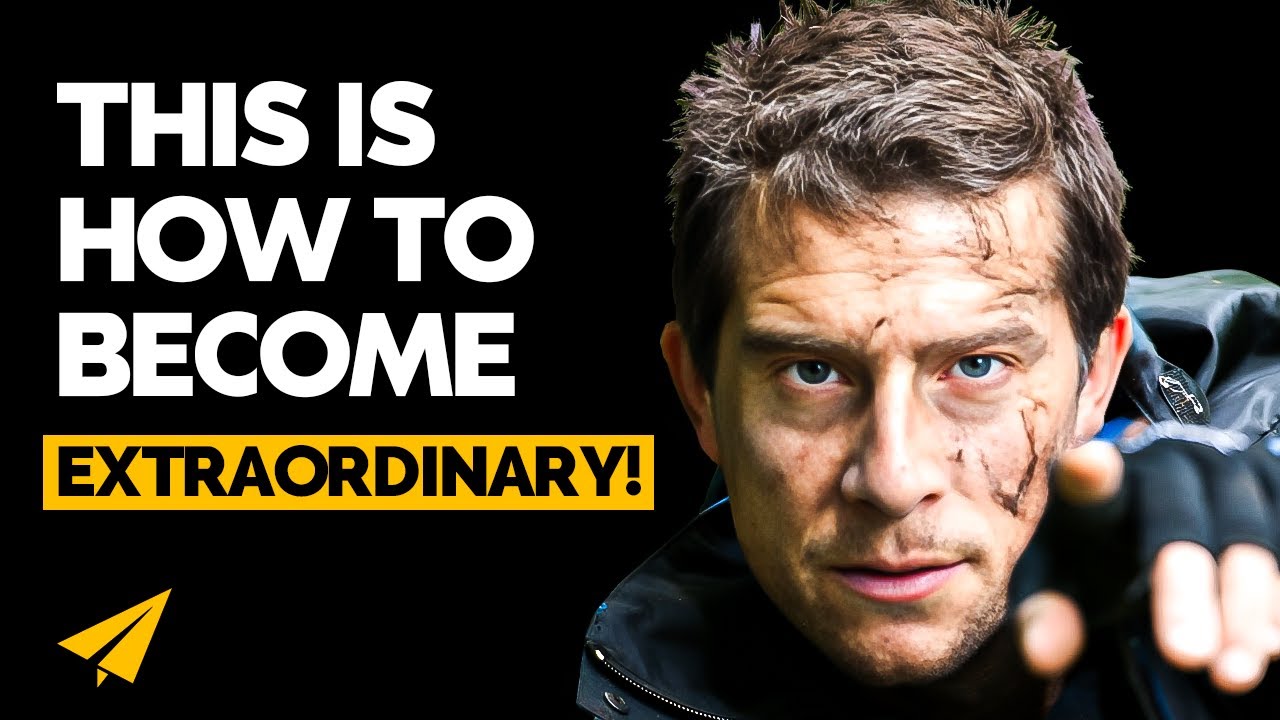 Good morning Believe Nation!
Today's message is Do Extraordinary. Over to you, Bear Grylls.
Bear Grylls
And it was something I was told on the first day of ever joining the Special Forces, and I remember at the end of this, long selection process, where 180 of us had been whittled down to four of us.
And this guy who I'd never seen before, came in, stood in front of us, and said this "The difference between ordinary and extraordinary, is often just that little word, extra.
And the work I'm going to now ask you to do is not going to be ordinary, it's going to be extraordinary. But what's going to make the difference, is when not one ounce of you thinks you can.
You're the people who over this last year have shown me you can turn around, and give me that little bit extra. And it's that, that's going to make your work here extraordinary."
Evan Carmichael
To me extraordinary is do you settle for good enough or not? I think generally in life, we tend to settle for good. There's a book Good to Great that talks about the enemy of great, is good. The enemy of great isn't terrible. Because if something is really terrible, you're going to fix it. But if something is good, then you let it slide, you let it go through.
You know it would be better but you're like Eh, just it's good. It's good enough. Lets put it through. And that's how too many people live their lives, they've settled for a good life, instead of going for a great one. Instead of going for an extraordinary one. And so, you can apply it to the work you're doing, today you can apply it to the videos you're making.
You can apply it to your relationship at home, with your wife, with your husband, with your kids, with your friends, with your parents, with your customers you're going to call tomorrow. You can apply it to everything that you do. Do you settle for good? Or do you go that little bit extra, to make it extraordinary?
He saw something extraordinary
I think about the example, the 50 Cent video that we made, and I told this story a couple times but I think it really resinates here. Where my team spent a lot of time making a video, 50 Cent's Top Rules for Success and I watched it, and it was good, it was a good video. I liked it.
"Look at what is on the schedule for today. And don't go to sleep tonight, until you can say you did something that was extraordinary" – Evan Carmihcael
But I felt it could be better. I felt 50 had more in him, that we hadn't uncovered, that we should be able to find and share. So then I spent extra hours of my time, putting together the research to make it happen.
I was doing the job of somebody on my team because I thought it could be better. I didn't want to settle for having just a good enough video. And so, it took a ton of man hours to put this video together. And when we launched it, it had success. And some how it go to 50 Cent.
I don't know 50 Cent. But he saw it, he liked it, he shared it. He wrote a blog post about it, and tweeted it, and I think he put it on his Facebok. He shared it. Now would the first video have gotten to him, and would he have shared it? Maybe. The one that was just good enough? Maybe. But he saw something extraordinary, that he loved, and he wanted to share it.
You did something that was extraordinary
And that often, is what makes a difference. And you know, you know when the thing you made was just good enough. You know when you're just skating by. And you know when you put everything you had into making the next thing you're doing amazing.
I want you to be proud of the work that you're doing. I want you to be able to show something, that you made, every day, to want to give it to your grandkids.
I want my grandkids to watch these videos, and first say how young I looked. And then say, "Man you really poured a lot of energy and love into it, we're proud of you."
And I want them to be inspired and learn from it. And it doesn't mean that, I'm not still going to get better. What's extraordinary for me now, won't be in a couple years. My best thing two years ago, pales in comparison to what I can do now.
Because I've worked harder, I've learned, I've built my muscles, I'm better. And I still strive to get better, and better, and better. There's is no perfection. It's only something that we strive for.
So to encourage you, to stop settling for good enough. Look at what you've done today, depending on what time you're watching this video. Look at what is on the schedule for today. And don't go to sleep tonight, until you can say you did something that was extraordinary.
Question of the day
So the question today is, I'm curious. What have you done today that's extraordinary? Or what are you going to do that's extraordinary? Where you will not settle for just being good enough. Leave it down on the comments below. Super curious to find out what you have to say.
Also, I want to give a quick should out to William Young. William thank you so much for picking up a copy of my book Your One Word. It really, really, really means a lot to me. And I hope you're enjoying the read. So thank you guys again for watching, I believe in you.
I hope you continue to believe in yourself! And whatever your one word is! Much love, and I'll see you guys again tomorrow morning for another shot of an espresso.
---
BONUS
Do Extraordinary
Connor McGregor
You know, when you're chasing a dream, I mean, when you're working hard, chasing something you love, and, um, completely dedicated. It just happens.
You don't, you can't really notice it. Even still to this day, I'm in an amazing position in my life. But I'm still working like I'm not in this position.
Interviewer: Absolutely.
I'm still working like none of this, you know what I mean?
Interviewer: Yeah, yeah.
It's just something I love to do, I just keep pushing, I keep working hard. I can't pin point an exact moment for you, if anything I always felt like it was happening way back then. And now it is happening. But now I almost feel like it's not happening. I want to push to something else.
Interviewer: Absolutely.
I'm always striving to push forward.
Russell Simmons
The idea of being super rich, the idea of operating from abundance, the idea of going out and making the world your prey. The idea of building something that no one else can believe in. You can believe in. God gives you this vision.
He gave it to you, and you alone. You have to carry a cross, for a little bit. On your own. People will watch you. First they'll cheer. Then they'll be upset with you, Then they'll get real mad.
You'll be on their couch and you get off their couch, and you'll be this hero. It's impossible, if God gave you that vision for you to fail at it. Unless you quit.
So that's a very important lesson. Because it seems like in every business, everybody quits all the time. The success stories are the ones that went the extra mile.
Mel Robbins
You can be asking for assignments that are above your level. So there's work that you do at your level, and there's work you do above your level. And the only way you're going to be promoted to do work above your level is, a, if you can demonstrate that you're capable of doing the work at your level.
And b, if you are proactive in seeking out opportunities that expand your capability. And give you a chance to work above the level that you're at. Nothing is going to happen unless you take that initial action. Nothing's going to happen. Nothing's going to change.
Unless you put down that pen, in the meeting, and you sit up, and you pay attention. And you listen for your opportunity to speak. Nothing's going to happen. Unless you push yourself to go in, and make that ask for that assignment that scares you to death.
---
You might also like
---