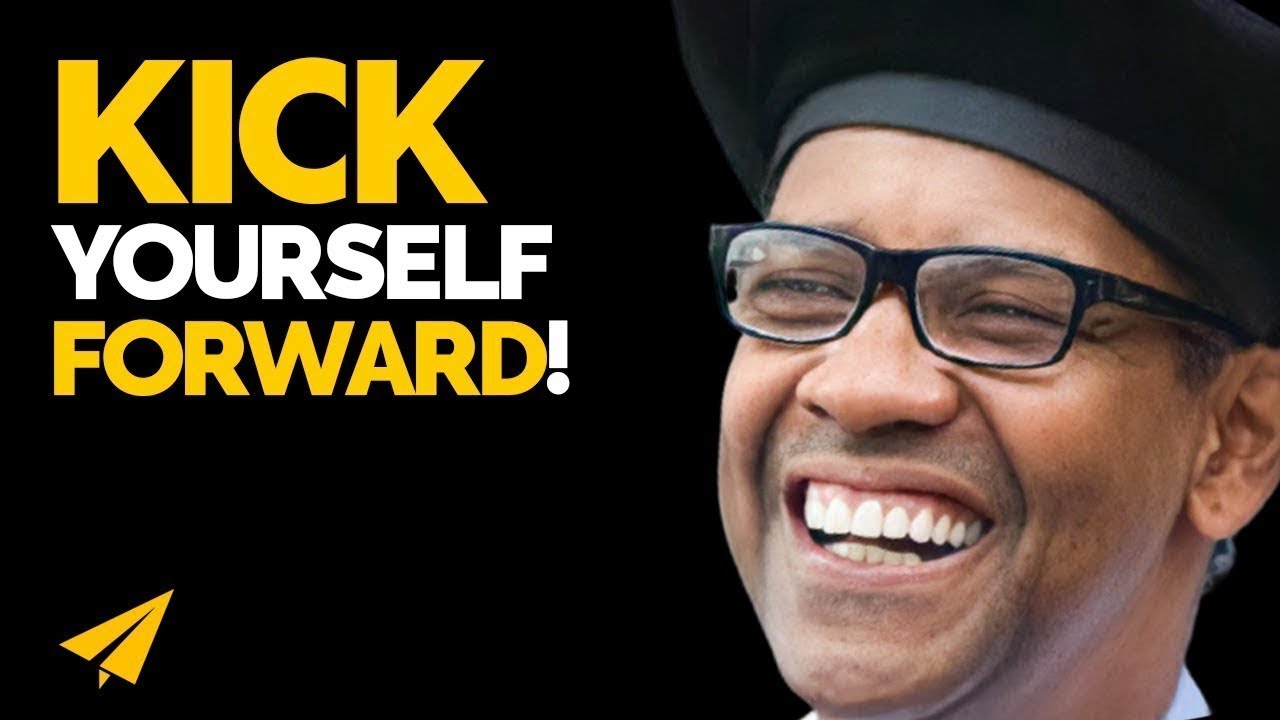 Good Morning, Believe Nation, my name is Evan Carmichael. My one word is believe, and I believe that entrepreneurs will solve all of the world's major problems. So to help you on your journey, today's message is fall forward. Over to you, Denzel Washington.
Fall Forward – Denzel Washington
I've found that nothing in life is worthwhile unless you take risks. Nothing. Nelson Mandela said, "There is no passion to be found "playing small and settling for a life that's "less than the one you're capable of living."
Now, I'm sure in your experiences in school and applying to college and picking your major and deciding what you want to do with life, I'm sure people have told you to make sure you have something to fall back on, make sure you got something to fall back on, honey.
But I never understood that concept, having something to fall back on. If I'm going to fall, I don't want to fall back on anything except my faith. I want to fall forward. I figure at least this way I'll see what I'm going to hit. Fall forward.
This is what I mean. Reggie Jackson struck out 2,600 times in his career, the most in the history of baseball, but you don't hear about the strike outs. People remember the home runs. Fall forward. Thomas Edison conducted 1,000 failed experiments. Did you know that? I didn't know that. Because the one thousand and first was the light bulb. Fall forward. Every failed experiment is one step closer to success.
Evan Carmichael
So I love the concept of falling forward and seeing failures not as true failures but as opportunities to learn and grow and get better. I think it also applies to how we see ourselves in our daily lives and the decisions we make and how hard we are on ourselves. I believe that you need to kick yourself forward instead of kicking yourself down.
I once got asked in an interview by the reporter who was saying, "How hard should you be on yourself? "Can you be too hard on yourself?" And at first I was confused by the question. Too hard on yourself, how can you be too hard on yourself? No, you can't be too hard on yourself. And after going home and thinking about it, I was actually frustrated with my answer because I'm so in on the hard on myself forward and kicking myself forward that the part that I missed was most people kick themselves down.
Most people are so hard on themselves that then they don't take any action, that they tell themselves they can't do something, that they suck and they'll never amount to anything, and they have no value, and they should quit and go off and do something else.
Those people just kick themselves down, where what you want is the ability to kick yourself forward, to say, "This sucked, I know I can do better. "What I just created is not my best work. "Here are the 20 areas that I need to improve on, "and I'm going to go and work on that right now."
To see the failure and the negativity and the holes in what you're making and use that as motivation to go off and do better. That's how I default to, I think it's how most entrepreneurs will default to, you kind of have to.
"I love the concept of falling forward and seeing failures not as true failures but as opportunities to learn and grow and get better" – Evan Carmichael
If you just live in negativity land of how much you suck and how you're never going to get anywhere, you're just kicking yourself down, it's really hard to build a successful business. If you are that hard on yourself and you never take any action, you're never going to get anywhere.
But entrepreneurs who are hard on themselves, that kick themselves forward, they could be harder on themselves than anybody else around them but in a positive way that pushes them to action, those are the people who win. So, I encourage you to think about you being hard on yourself. Is it helping you? Are you just beating yourself up or are you using it as motivation and fuel to do a better job? So I'm going to make that the question of the day.
Question Of The Day
Question of the day: Do you kick yourself down, or do you kick yourself forward? Super curious, leave it in the comments below. I also want to give a quick shout out to Jean from 3rdeye Brand. Jean, thank you so much for picking up a copy of my book, Your One Word, and posting that picture on Instagram.
I really, really, really appreciate it, and I hope you're enjoying the read. Thank you guys again for watching. I believe in you, I hope you continue to believe in yourself and whatever your one word is. Much love, and I'll see you guys again tomorrow morning for another shot of Entspresso.
---
BONUS
Fall Forward
Les Brown
And as you begin to challenge yourself, you'll discover some things about yourself that you don't know right now. The other thing is you begin to look at yourself, look at your dreams and begin again to experiment and stepping into your greatness. One of the things that's very important, whatever goals and dreams that you have, repeat after me please: Make your move before you're ready.
Audience: Make your move before you're ready.
Yeah, Price Pritchett, who's a great great motivator and trainer, he said, "Make your move before you're ready." We're instructed in life to walk by faith and not by sight. See, you want to really begin to stretch yourself. You want to become a risk taker. You want to raise the bar on yourself. Most people won't do that. See, most people engage in low-life living, low-risk living.
This God said, "If you're not willing to risk, "you cannot grow, and if you cannot grow, "you cannot become your best, "and if you cannot become your best, you can't be happy, "and if you can't be happy, then what else is there?" I like what Helen Keller said, "Life is short and unpredictable, eat the dessert first."
And so you want to begin to take some chances. You want to begin to challenge yourself and make it okay to fail and learn from your failures. Don't allow fear of failure and the allure, the attractiveness, of playing it safe in life to draw you in. You can't get out of life alive, you got to die to leave here.
Will Smith
The movies that I made while I was making The Fresh Prince, so it was The Fresh Prince during the winter, and then the summers were Bad Boys, Independence Day, Men in Black, you know. So it really captured a time. So it's very difficult. I wouldn't have it any other way, I love being able to make people smile and cheer over that, but I also am going to boldly go to new creation.
Even something like the decision, I had the two screen plays in front of me for the Independence Day 2, and for Suicide Squad, so I had to choose between the two of those. And even the choice of going to Suicide Squad, nothing about the qualities of the movies, but the choice of trying to go forward versus clinging and clawing backwards. I do want to aggressively go forward and do new things and create, and hopefully be able to stumble upon a new heyday.
Ray Dalio
Failure is a part of the learning process, right? What's the risk of failure? What, you'll be embarrassed or risk of failure? How do you distinguish failure from learning in your whole life? Failure implies that it's stopped, that the game stops. If it's part of your failing and then you learn, then that learning is part of the moving forward, right? So that is what the process is like: fail, learn, move forward. And constantly do that, because you're cutting edge, you're going where people haven't been before, and inventiveness, that's exciting.
---
You might also like
---
More from Denzel Washington
---
Good morning Believe Nation! My name is Evan Carmichael. My one word is believe and I believe that entrepreneurs are …
Dreams without goals are just dreams. I just can't live my life based upon what other people think about me. Something you …