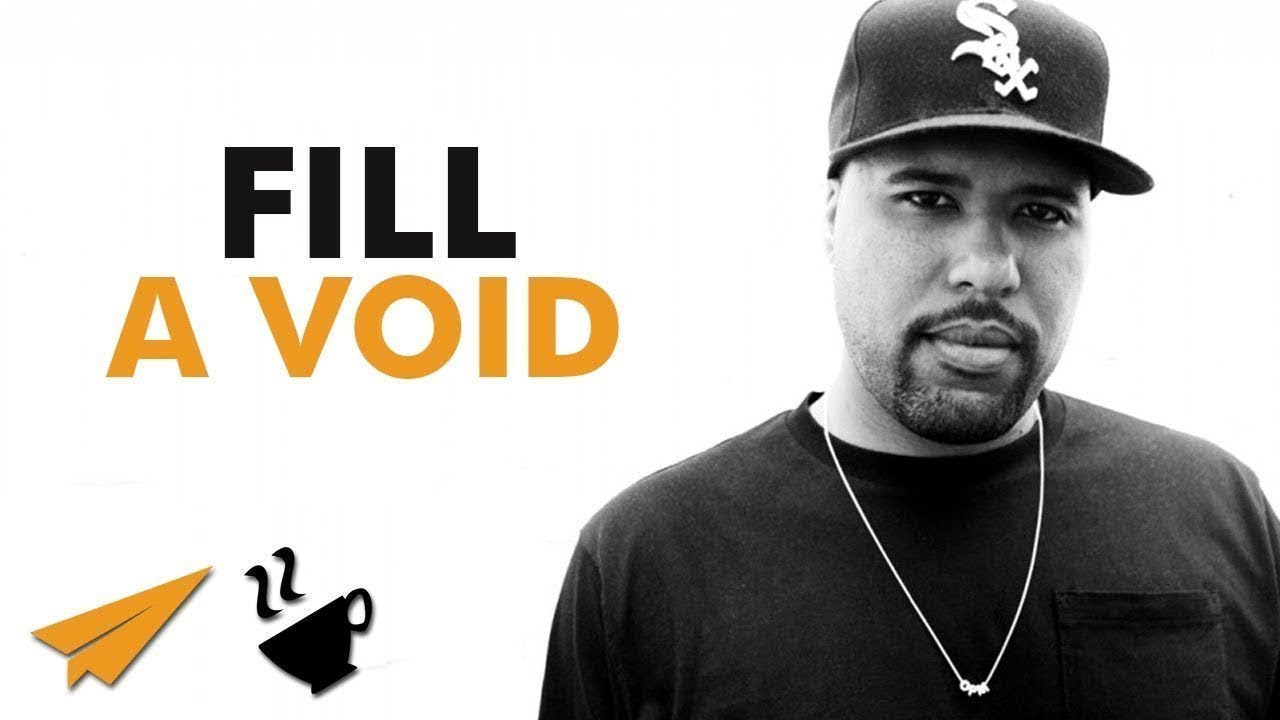 Good morning believe nation!
Today's message is fill a void. Over to you, Dom Kennedy.
Dom Kennedy
Fill a void, you know Fill a void. There's jobs out here, figure out what, whatchu can make better. That's better than any job. Like you can go get a job doin something, whatever you don't want to but figure out where you can really fit in and be happy.
And then worry about, the money's going to come. That's not going to be a problem, cause if you fillin' a void and you addin' to you know whatever, you might be like you know what, they don't have good food at Venues. You know what I'm sayin'?
And you might just be the person the next billionaire to just have bomb food at concerts. Like straight up though. Straight up though. Or just figure out a way to involve like media in concerts. Like where people could be there and you could like, you know whatever.
Some type of web, but just figure out something that people is not doing, know what I'm saying? That you feel like people could utilize. And do that.
Evan Carmichael
So a lot of the most successful businesses that were ever founded were by people that were scratching their own itch. You see a problem, you see something out there that you don't like, you want to solve it, and so you go out and do it. This is what makes entrepreneurs successful. This is what separates us from everyone else. Most people see a problem and what do they do? They complain. Most people just complain.
They complain about the government, they complain about the transportation system and they complain about all the negative things that are happening in their life. And they advocate responsibility by complaining.
Where entrepreneurs, we're the ones who do something about it. We're the ones who see that negative and we turn it into an opportunity for ourselves. And so if you see yourself complaining, see yourself wishing that something else had been created to solve this problem, go out and solve the problem. And then you can sell the solution to other people.
So when I look at my first software company, it was a BioTech software company. It was stared by two researchers who were at a university, and they wanted software that could help them do their experiments more simply.
To reduce the number of steps, to improve the efficiency and to create a more visual product that people could understand. And nothing existed. Everything was super scientific and super technical, and they didn't understand how to use it.
And so they built a better version for themselves, and they shared it. And that was the genesis of the first product. If I look at this YouTube channel, a lot of the videos that we end up doing are requests.
I get inspired, I learn something, and I wanted to be consistent.
It's like, what do you guys want to hear? And my requests as well to create this. I wanted to be surrounded by successful people on a daily basis. That's the thesis of this channel. I wanted to be surrounded by success and use that to push me into a more powerful direction forward. Nobody had done it the way I wanted it done. Nobody was profiling the famous entrepreneurs in the way that I needed.
"If you see yourself complaining, see yourself wishing that something else had been created to solve this problem, go out and solve the problem." Evan Carmichael
And so I was consuming all of these videos and content and hours and hours and hours of footage, to get little hits. You know consume eight hours of Elon Musk interviews to get like five minutes of gold. I wanted that process to be simpler.
I wanted to just turn on YouTube and there's a video. I click play, I get inspired, I learn something, and I wanted to be consistent. I don't watch the same video 100 times because the impact would wear out.
So this channel was designed for me, and I'm happy to share it with you guys. And we have this relationship where it's for both of us and that's amazing. And so if you see a void in the market, if you see a problem that exists, that's quite often your next best business idea. That's where so many of the best businesses have been built. And where your next big opportunity may be coming from.
Question of the day
So the question of the day today is what is the void that you see and are trying to fix right now in the market?
Leave it down in the comments below, super curious to find out. I also wanted to give a quick shout out to Gary Freeman. Gary thank you so much for picking up a copy of my book, your one word, really really means a lot to me, Gary. And I appreciate your support and I hope you're enjoying the read.
So thank you guys again for watching. I believe in you, I hope you continue to believe in yourself and whatever your one word is. Much love and I'll see you guys again tomorrow morning for another shot of Entspresso.
---
BONUS
Fill The Void
Oprah Winfrey
Steadman and I were in a hotel watching some bad television. And I was complaining about the state of television, talk shows in particular. And he said "why don't you change it?" Why don't you just get your own network? and I thought that that was a ridiculous idea.
And then he started to talk about it, and he wrote some things down. And I saw the word own and I thought own, ow, oh that's my, those are my initials. And I said, wouldn't it be something if I could create a network, that was really about mindful, and I underlined the word mindful, television.
Interviewer: 15 years later, those scribblings came closer to a reality when she was approached by David Zaslav, the president of the Discovery network.
My view was, if we want to do this, you have to be all in. She paused, and then she said to me "yeah, it's meant to be." And we shook hands, and that's how our journey began.
At first I thought well great the network, oh gee this is the dream I had. And I actually showed him the piece of paper where I had written it down in segments. And as that started to settle in with me, I thought whoa what is this I've gotten myself into? This is a lot more work than I ever imagined.
Interviewer: Are you scared?
Very scared. I was very scared. And I would wake up in the middle of the night, and I would literally  like clutching my chest, like what have I done. What have I done?
Interviewer: What if you fail?
That's what I was afraid of. That's what I was afraid of. The reason why I made the decision to go forward, is because I believe that people deserve to have value centered inspirational programming for themselves. I believe that television has become in many ways, a null. It has become  and not all of it, but I think that I have something to offer.
Evan Spiegel
Interviewer: What circumstances were present that made this idea catch fire.
Sure so I think there were sort of two components. And the first component is probably that social media was starting to feel a little stale. There's only so many beautiful, attractive, cool pictures that you can take and when you see all of them, day after day after day, it just kind of gets boring.
So I think there was that aspect of it. And I think the other thing is that we really identified that this femoral thing was core to conversation. And so, if you wanted to have a conversation, one of the best parts about it was that you were left with the memory but not necessarily a transcript.
And I think that that really drove the great feeling that you have when you share snaps with friends and they're silly and you know, not exactly perfect. You know there was obviously a place for all of these great photos that you wanted to save and keep.
And there wasn't so much a place to have a conversation. And I think you know, there's a nice balance with both. And so I think we sort of filled a void, the conversation void that was missing.
G-Eazy
I just think music is changing in terms of the gate keepers and the power that be, the powers that be. And I feel like it's in a more democratic time. The power is in the musician's hands and in the fan's hands. I mean they choose what matters, what's relevant, what sells, what you know. It's not so much the old powers, the old gate keepers who could just shove something down your throat.
You see less and less superstars and more and more organically grown artists like myself, just doing something a little different, know what I mean. Bending genres and don't necessarily fit within this like format or walls of you know, whatever. Just kind of doing their own thing and finding an audience and growing it organically and just making it happen.
---
You might also like
---
More from Dom Kennedy
---
When I first started rapping, I just wanted to make $2,000 a month. People that's big or that you perceive to …