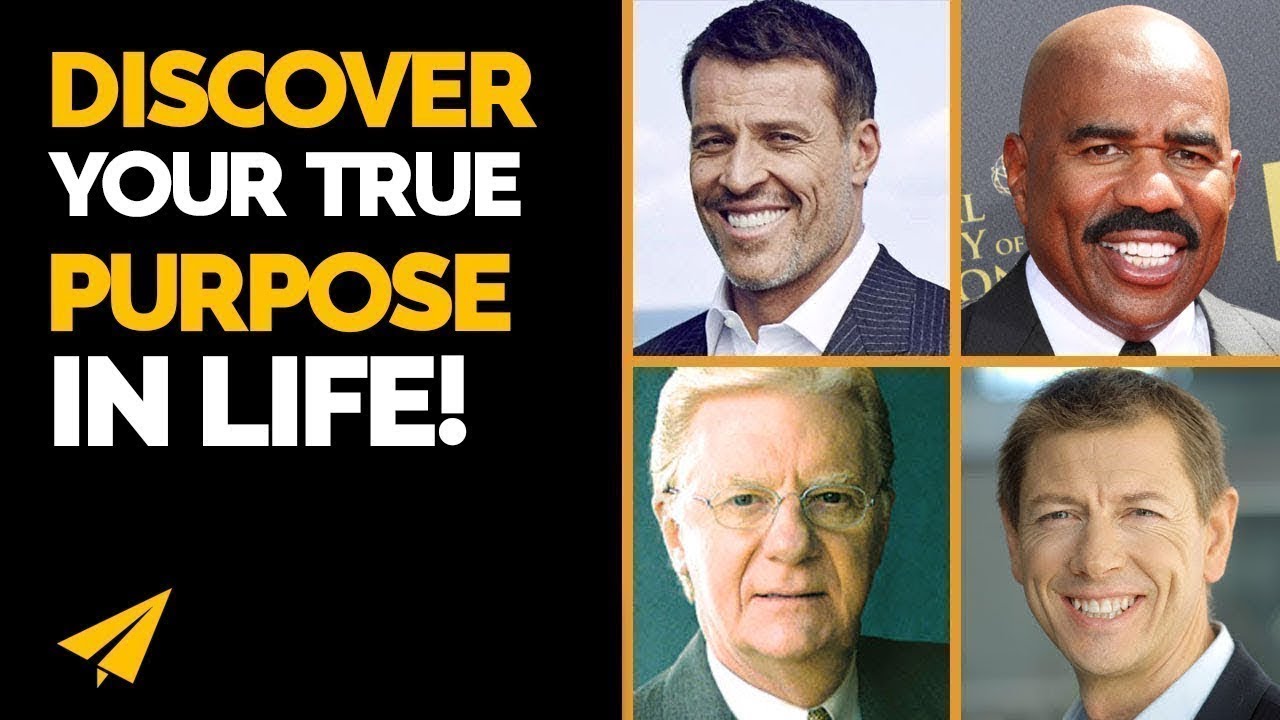 Good morning, Believe Nation. My name is Evan Carmichael, my one word is believe, and I believe that entrepreneurs will solve all of the major problems in the world. So, to help you on your journey, today we're going to talk about how you can find your purpose. And as always as you're watching, if you hear something that really resonates with you, please leave it down in the comments below, put quotes around it so other people can be inspired, you might win a prize, too. And also, when you write it down, it's much more likely to stick for yourself, as well. Enjoy.
How to FIND Your PURPOSE
Tony Robbins
Interviewer: If I said to you that you can have any one thing, you can have good health, you can have money, you can have the fame that allows you to inspire people. What would you choose as a one thing?
Certainly, I think without health, you're not around to do anything. But I think it's a life of meaning. I don't think, I know it is. Feeling like your life matters, because you've had the experience. You and I both have lots of friends who've achieved everything they could ever have dreamed of, and they're miserable. I get the phone call to help turn them around.
They're missing a meaningful life and meaning comes from two things. I always tell people happiness comes from progress. If you can do something where you're growing and because you've grown you have something to give to other people that's meaningful, insight, love, caring, something, then life is rich. Because happiness comes and goes.
Happiness is not here every moment and happiness isn't all it's cracked up to be. Meaning is. There are people that have gone through horrible times. I met a woman who is 109 years old and she was in the concentration camps, and is the oldest-living Holocaust survivor.
And that woman's life is so rich because of all the pain, because she's used that to help other people, still at 109. She's strong, you know, she shares her music. She does the things that make her feel like she's got a contribution. So 109, she's fully alive.
Be A Giver
Robin Sharma
Who did you help? I mean, I really believe that what life is truly about is making other people happier. And I know that sounds very obvious, but this does apply to you as an entrepreneur, or as a leader, or as a high-performer, or as someone who wants to play at world-class. I mean, I really believe in this concept of servant leadership.
And as I've studied the great entrepreneurs and the great business builders and the great humanitarians, here's what I've realized. Inside, sometimes it was very private, on this second point of the purpose of life, they had this acute obsession with delivering value and helping as many people as possible. And I really do believe that's the secondary purpose of life. It's about helping others.
Being radically helpful to as many people as possible. And here's the thing. If you've done the interior work, so you are so full there's no holes within you, then you're not going to be a taker from the world, you're going to be a giver. And I'm going to repeat that again. If you look at the greatest among us, they were not takers, they were givers. And here's why I think they were givers.
They didn't have any needs from within. They had so fallen in love with their greatness and their peace and their joy and their potential that they didn't need to take from the world, they didn't need to take from other people. Their well of wisdom and compassion and self-worth was so full that they walked out into their workplace, they walked out into their industries, they walked out into their communities, and they were giving.
And this applies to you as a business builder because the more value you give, the more money you'll make, the more your brand will fly, the more customers will beat a path to your doorstep. And for you as a humanitarian, and you might not think of yourself as a humanitarian, but a humanitarian is simply someone that cares about humanity. And as a humanitarian, the more you give, the more you will open up the doorways to receive from the rest of the world.
Live Your Gift
Steve Harvey
If you live in your gift, you find your purpose. The two greatest days of your life is the day you were born and the day you discover why. And it ain't too old to discover why. See, Kentucky Fried Chicken. You ever notice the picture of that man up there on that wall? He old. You know, that ain't the picture of him when he was 20. That's the picture of him when he hit.
See, Kentucky Colonel been frying that chicken all his life. It ain't hit 'til he was 68-years-old. So, what you trippin' for? 'Cause you 50, you 55? You don't know when God going to flip the script for you. But you can't give up. But you got to be doing your gift. Don't quit going to work, man, without doing your gift.
And some of you all fry chicken better than anybody, some of you all bake pie, some of you all do hair, some of you do makeup, some of you all work with your hands, some of you all cut grass, some of you all teach better, some of you all network better.
That's your gift, go do that. Go do that, what you driving to work for everyday and you ain't happy with yourself? Why, 'cause you got bills? You going to have bills, I don't care what you do. What you going to mess your credit up? Then you can't buy nothing no how.
Love
Brendon Burchard
That you know while we are all unique, we all share similarities. All human cultures across the span of time have been found to truly value very simple, basic things. You know, love, truth, fairness, freedom, unity, respect, responsibility, and tolerance. And as we recognize those, now not all of them exuded it great, but as a part of their culture, there was the operating norm that valued those types of things.
Something connects us. It's a human fabric of values and of beliefs that usually center around caring and compassion and love and truth with one another because that's what keeps us all together. And that is what not only helped us survive at one point, but more importantly, it made us feel spiritually fulfilled. Love is a purpose. Love has been argued to be the purpose by a whole lot more smart and intelligent persons than the guy you're listening to right now, I can tell you that.
But if that's true, if connection, love is so vital, how are we doing in those categories? Are we living purposefully with the people around us? Or are we even sensing and seeing them so that we can connect with them and live out that purpose and sense that purpose by really connecting with the people that we truly love and adore? A lot of people are so distracted today, they can barely even look at somebody in the eye when they walk down the street.
You know, they're looking, I don't like this. They can't even pay attention to their spouse or their lover when they walk into the house. I mean, they're distracted, they are detached, and they are dissipating in life energy because they are not giving and receiving that incredible energy that can only happen between two human beings. And so we have to ask how are we doing in our relationships and could we give more purpose to those relationships so they can sense more purpose in life?
Discover Your Purpose
Bob Proctor
I don't think you determine what your purpose is, I think you discover what your purpose is. There's a difference. Determining indicates deciding. And I don't think you decide. I think if you go about it the right way, you discover it. Like, there's some people that should be painting all day. They're great artists. Like Michelangelo was obviously a great artist, a great sculptor. I mean, that was his purpose in his life.
Well, I believe my purpose is doing what I'm doing. Your purpose is why you get out of bed in the morning. Do you know why you get up? Well, most people say, "Well, it's to go to work." Well, that'd be a good reason to stay in bed. You say, "Well, everybody's doing it." That'd be another reason to stay in bed. If you're ever doing what everybody's doing, you're probably going in the wrong direction.
Your purpose is your reason for living. What you want to do is sit down and maybe take a pen and a pad and then ask yourself, "What do I really love doing?" Now, you may have to spend a while at this. You might get up an hour early every morning and go sit under a tree somewhere if you're in a nice climate or pick a favorite chair, some place where you're not going to be disturbed.
And totally relax and say, "If I could spend my life doing something, "what do I really love doing?" Now, since you don't ask yourself that question everyday, it might take a while for this answer to come to the surface, but it comes to your consciousness. And it may take a while. You may have to do this every morning for three months, but it would be well-invested, the time.
Get A Big Enough Why
Peter Sage
What lights you up in the morning? What would get you up early and keep you up late? Ask questions like, "If I could only spend my life "doing one thing, what would it be? "If I had to actually pay to do something as a job, "what would it be?" And start getting in touch with that part of you that is compelled to do things that align with your truth, rather than fit somebody else's pictures or run after somebody else's dreams and help them achieve their goals, which, unfortunately, most people do.
So, once you've found out what your passion is, the next step to deepen that is to get a big enough why. Not a what, a why. Why is it you're doing this? Because, again, if it's to get approval, if it's to get significance, if it's to be liked or loved, that's very shallow and very short-term. And it's a hamster wheel to nowhere for most people. Instead, the people who are the most passionate, the people that have the biggest why's usually focus on something that is beyond themselves.
Do you have somebody you love that you want to provide a future for that you can share together that comes from abundance nor scarcity? Do you want to be able to provide opportunities for your children that you never had? Do you want to create a mark and leave a legacy in your community or your country that most people will never be able to do?
That takes a level of commitment and courage that serves beyond our own ego. You get in touch with that part of you, the dream, the truth that you were born to do and be, and I guarantee you, passion will not be far behind.
Thank You!
Thank you guys so much for watching. I'd love to know what did you think of this video, what did you take from it, if you're going to immediately apply it to your life or to your business somehow. Please share, leave it down in the comments below. I'm really excited to see what you have to say.
I also want to give a quick shout out to Brandon Hood from on2purpose. What's up, Purpose Nation? Thank you so much, Brandon, for picking up a copy of my book, Your One Word, and doing the review on your YouTube channel. I really appreciate it. I really appreciate your support, too. Thank you so much and I'm glad you enjoyed the book.
This book does a great job explaining why it's important to discover your one word.
Thank you guys so much for watching. I believe in you. I hope you continue to believe in yourself and whatever your one word is. Much love, have an amazing day and I'll see you soon.
---
BONUS
Lisa Nichols
So when you talk about making your dash dance. Point one, you got to be willing to do it afraid. See you might be waiting for the fear to stop, "Lisa, I heard this so many times. "Lisa, I'm afraid, what do I do?" Do it anyway. "Lisa, I'm afraid I don't quite know if I should move." Move anyway. "I don't know if I should leap." Leap afraid. And then gather your courage on the way down. And if you don't get it before you hit, you was going to hit anyway. I'd rather die leaping than on the edge figuring out how to get the courage to leap. Yes, yes?
Audience: Yes, yes.
Yes, yes?
Audience: Yes, yes.
So many times, we're waiting. We're waiting, I'm waiting. I'm waiting to get something right. I see your hands going up, you guys know. If it's your truth, you can raise your hand just like we did on day zero. You're just kind of waiting. You're waiting to get everything in order.
You're waiting, you're waiting so that everything that's in you is together. You're waiting to not be afraid. You're waiting to have the courage. You're waiting to have all the money. You're waiting to lose weight. See, if I waited to release my unwanted pounds before I got in front of you, Lisa Nichols would be the secret.  Yes, yes?
Audience: Yes, yes.
I thought, how about I just leap with my imperfection and then find my form of perfecting my imperfection while I'm soaring? How about I do that? How about you not wait to get it right? You figure out how does it look doing it wrong. How does that look? Because your 80% of right is somebody else's 159% of what they needed. Yes, yes?
Audience: Yes, yes.
And when you want to do it right, and you want to wait 'til you're not afraid, and you want to wait 'til you have it all together, oh, you made it about you. Again. See, Nelson Mandela did it. He just did it not knowing if it were right. Mahatma Gandhi just did it not knowing if it were right. Mother Teresa just did it not looking for affirmation or confirmation, is this right?
Martin Luther King did it not even knowing if it would happen before his life ended. I mean, what are you waiting on? Are you willing to do it afraid? Are you willing to do it knowing that you got so much work to do to get it better, to get it more perfect, but are you willing to do it inside your imperfection? Do you realize that in your imperfection, you're perfect for the job?
Robin Sharma
Who did you become? I mean, did you use your days as platforms for further greatness? Did you use your days to transcend fear towards fearlessness? Did you use your days, even the hard times, so that you leveraged suffering into wisdom? Did you use the moments of your life to develop wisdom, compassion, to become more creative, to release potential? Who did you become? That's really the first purpose of life, I believe.
---
You might also like
---
More from Believe Life
---
Today we're going to learn how to communicate effectively.  Good morning, Believe Nation. It's Evan. My one word is believe, …
Today, we're going to talk about how you can create a massive action plan. Good morning, believe nation. My name …
Today we're helping you to stay motivated, and to learn how to motivate yourself! How to MOTIVATE Yourself - #BelieveLife Why MotivationGrid We're all …