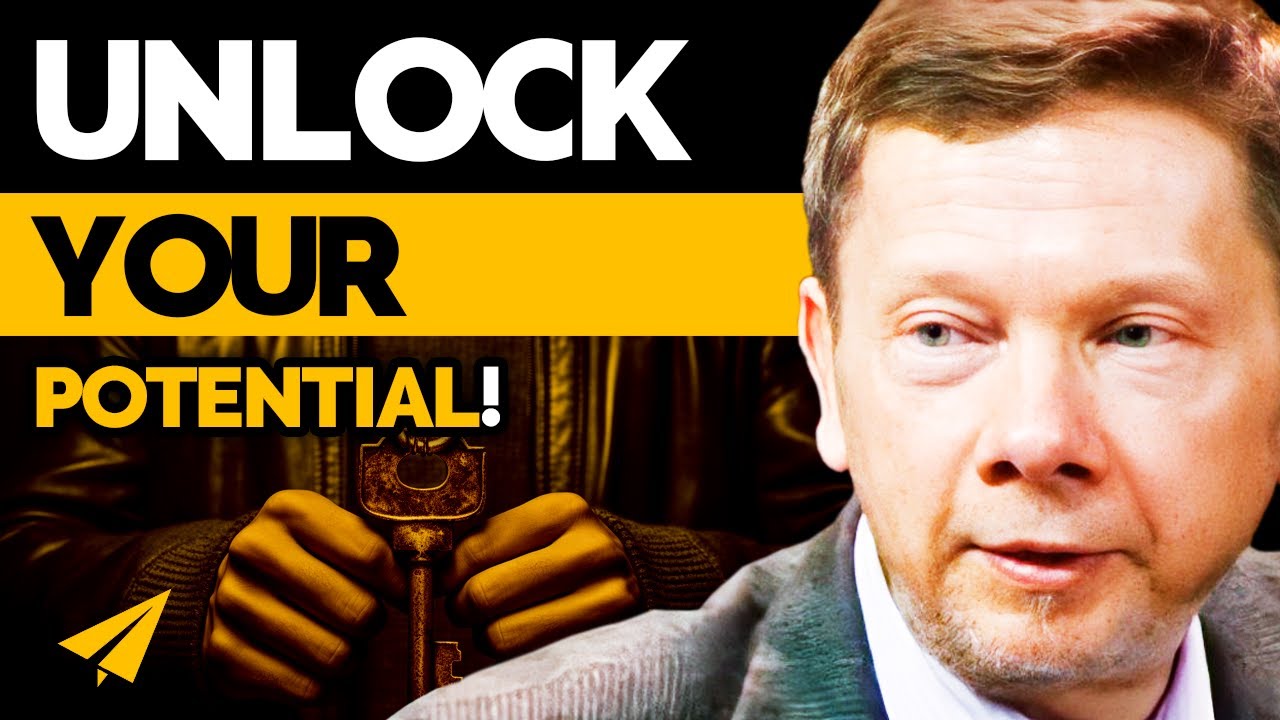 Good morning, Believe Nation. My name is Evan Carmichael. My one word is believe and I believe that entrepreneurs will solve all of the world's major problems. So to help you on your journey, today's message is it doesn't matter what your mom thinks. Over to you Eckhart Tolle.
Find Satisfaction In Your Work –  Eckhart Tolle
You get unhappy, if you. For many years, before I wrote The Power of Now and it became successful. I was basically a failure in the eyes of the world. So he's already almost 50. And what has he achieved? My mom said, you have thrown away your life. You had so many possibilities in your life. You walked out of graduate school in Cambridge. Why did you walk out of there? My mom, and many other people said this person has failed in life. He has no job, he has no insurance policies. Nothing. No pension plan. Just, almost nothing in the bank. Failure And then a few years later, people bought The Power of Now and became a best seller. Now, a big success.
Okay if I had derived my identity at that time from what the world was telling me. Or my mind would have told me if I had been listening to my mind, I would have been very unhappy. I didn't though. I was fine. Because my identity wasn't derived from that anymore. And fortunately even when in the eyes of the world, I suddenly became a success. I don't want to derive my from identity from that. It's just a cheap substitute for who I really am.
The satisfaction that comes is the satisfaction that the work that's happening. The teaching that's happening is transforming people's lives. That's very satisfying. But I don't get any personal satisfaction though. Because I don't feel that as this separate me produced it.
Evan Carmichael
It would be great to have the support of your mom, of your parents, of your friends, of your family, of your community. To do whatever it is that you want to do. But their support shouldn't be reflective of whether you should go up and do it or not. Like, if your mom says this is a bad idea that means you're not going to do it? You know. When you're growing up, when you're five years old okay. Listen to your mom, do what she says.
You get in trouble, right. But how old are you now? Like at some point you decide, this is my life. And I would love to have the support of my parents. And I had the support of my parents while what I was doing. It was great. But if you don't have the support, at what point do you decide that you're an adult. You're going to do the thing that you want to do. Are you going to be 40 years old and still listening to your parents and what they see for you? And a lot of times, especially your parents, it's out of love. Right? They want you to be successful.
They want you to have a great life. They just want you to do it on their terms. The way that they see success may not be lined up with how you see success. And so they may not be the ones telling you that you suck and you'll never be anything. Though some parents are like that too. Which that's a whole nother story. But most of the time it's out of love. It's out of them wanting to see you be successful. You just have different views of what that looks like.
And at some point you have to decide that this is my life. I'm going to do things that I want to do. And if you judge your self worth based only off of the results, then you're never going to be happy. You're never going to feel valuable. Right? And so, I look at my Youtube videos. I look at this channel. Look at what I'm making for you guys. I love everything that I do. I love the process. This is why it's so important that you love the process of the work and not just the results.
It's not just about hittin a million subscribers right? That's my goal for the new year. Have one million subscribers let's see if we hit it. It's not just about hitting a billion entrepreneurs. That's my lifetime goal. I want to have a big impact. I want to reach a billion entrepreneurs. If I can do that and even have a half a percent impact on their life, all the things that they're going to go off and make is going to be insane. And I'm honored to play a small tiny piece in your success.
But it's not just about hitting that number. Because you can have a goal, you can have a target. And say I really want to reach this thing. I'll do anything to get there. But you won't do anything. And you shouldn't do anything. You can only force yourself to do something you don't like for so long. You've got to do the work. That Jerry Seinfeld calls the torture you can endure. The work that you love. The torture that you love. The process is more important than hitting the goal.
"At some point you have to decide that this is my life. I'm going to do things that I want to do. And if you judge your self worth based only off of the results, then you're never going to be happy." – Evan Carmichael
I was asked if I'm going to do a big party for hitting a million subscribers. And I don't know. Like, I do it more for you guys. Than for me. Right, we did one, we did a livestream at half a million. And I haven't done any other ones since. We crossed a hundred million views on the channel. Which is awesome. But once we've hit the milestone, it's a great target to go and reach. But then it's in the past. I don't want to live in the past. I want to keep moving forward we got more work to do. We got more lives to change. It's the process.
It's not just hitting a million subscribers. I could do that a lot faster and a lot easier doing other things. You know, if I was bashing entrepreneurs. Bashing celebrities. Saying all the negative things about them. That would actually draw a lot more attention. I would get a lot more subscribers. That's the sad state of humans. We'd rather attack somebody then embrace them and learn from them. We'd rather escape from a life that we don't like as opposed to try and build a life that we do like. And that's fine. But I don't want to do that.
I would never be great at that. I don't like bashing people. I don't want to show the negative sides of everybody. 'Cause everybody has a negative side. It's not what I want to put up to the world. And so my only goal is I want to hit a million subscribers and I'll do anything I can to get there. Those are the kind of things I would be doing but I'd never be great at them. And I could never get to that goal. Because that's not who I am. It's cause I don't enjoy the process. And so not everything is going to be amazing.
There's a lot of crap that you have to deal with as an entrepreneur. But if you just make it about the goal and just hitting that mark then you're never going to get there and you'll really have to focus on whether you're a writer, whether you're a singer, whether you're a dancer, whether you're a Youtuber. Whatever it is. You're a software developer, you have to enjoy writing code. You have to enjoy the process of figuring things out and solving the problems. And not just hitting a revenue target. I think when you can do that.
When you can tie your self worth into the work. And say I'm proud of this thing that I made. Even if nobody else likes it. This has been a lot of videos that I put up that you guys haven't liked. That we've killed. I'm still proud of them. I still love them. I was still like I am so happy that I made that video. I think it's great, it's genius. But it didn't work. So it's great, so it's good for a certain amount of people. It's good for me and a select few.
I can't build a business around it. But I don't feel bad about creating a series that was a sinker, it was a loser. Like that's a great piece of content. I'm insanely proud of it. And I think that as long as you are insanely proud daily of the work that you are creating. And some of them are going to hit. And some of them are going to miss. In fact most of them are going to miss. You're going to fail way more then you're going to be a success. But if you're proud of the work and the hustle that you're putting in daily.
Then you're not just getting more self worth for yourself and feel better about what you're doing every day. But eventually if you stick with it, you'll get a career and amazing business that'll have a big impact on the rest of the world.
Question Of The Day
So the question of the day today is, I'm curious, does or did your mom support you in what you're doing right now? Leave it down in the comments below. I'm really curious to find out.
I just want to give a quick shout out to Shahrukh Hasan. Shahruhk thank you so much for picking up a copy of my book, Your One Word, and taking that awesome, exciting picture and posting it to your Twitter. I love the joy on your face. Thank you so much for the support and for enjoying my book.
So thank you guys so much for watching. I believe in you. I hope you continue to believe in yourself and whatever your one word is. Much love and I'll see you again tomorrow morning for another shot of Entspresso.
---
BONUS
Find Satisfaction In Your Work
Elizabeth Gilbert
Every pursuit, no matter how glamorous it may seem, no matter how exciting it feels to you, no matter how much you were born to do it, comes with a shit sandwich. And so the question is not what do I love. The question is what do I love so much that I don't mind eating the shit sandwich that comes along with that thing. So for me and my life, writing is the thing that I love. And the shit sandwich was the seven years that I was not getting published.
And that I was coming home from my job as a diner waitress, as a bartender, as an au pair, as somebody who worked in flea markets, as a cook. And I was coming home tired and smelling like other people's french fries. And sitting down and doing my real job. Which was to write. And then to go to the mail box the next day and get another rejection letter. And then say, do I still want to do this? 'Cause this shit sandwich sucks.
Interviewer: Am I ready to take another bite?
And I did still want to do it. And now even as somebody who makes their living as a writer. There's no end to the shit sandwiches. It's like, oh hello horrible review in prominent newspaper. That's your shit sandwich today Liz. You still want to do this work? Yeah I still do, still worth it. Like hello awful comment on social media from somebody who thinks you're a pile of dog shit.  You know and just like chosen every possible way, that they just cannot get it out of their system fast enough how much disregard they have for your entire life.
Still want to do this thing? Yeah I still want to do it. So that's the question. Because if the first time you encounter the shit sandwich you're like, well this isn't worth it. Then that's not the thing you're supposed to be doing. And there are plenty of things in life that I have run into the shit sandwich and been like so not worth it.  So not worth it, like this is not, I don't want to do this. Like whatever the alleged benefits of this thing might be. No, this whole cycle, no.
You know, like I know it's probably really good for me but I feel like throwing up right now cause this is too hard. You'll not be seeing me here again. You know, and I love my sisters at Soul Cycle. I just don't like feeling like I'm going to throw up. When I exercise. So it's not for me. And so that's the question. So if you go into this thing thinking, if I follow my bliss, and I live my dream, and I stand in my truth, that everything will be great.
It doesn't mean everything will be great. It just means at the end of the day when you check in with yourself and you go, in the end, on the balance, is this still better than not doing it? And the answer is still yeah this thing's still better than not doing it, then you're on the right path.
Tony Hawk
I knew I wanted to be in the skate industry. I loved skating too much. I wanted to be in it. I didn't know if I would make a living as a professional, but I was going to be, I was devoted to skateboarding so. I refinanced my house and took all the money and started a skateboard company. Which seems like the stupidest thing in the world to do when skating's dying but, it was exactly what I wanted to do. I wanted to be a company owner, be behind the scenes. I quit my sponsor and started and for about three years struggled very hard. With, my partner and I we had pooled our money together. He was an ex pro skater as well. And we just did Birdhouse.
Did whatever we could to get by and all the team was staying on my couch. Literally like while I'm changing diapers, I'm like driving guys to these spots that they're going to get arrested at. Because there's no skate parks so they're going to go ride school yards and  it was such a strange existence. But I loved it, because it was skateboarding and it was exactly what I wanted to do. And so, we really hunkered down you know. I was living on Taco Bell and peanut butter jelly. And Top Ramen.
Interviewer: Mmm.
For probably three years for sure. But I didn't care 'cause it was like I still got to do what I love. That's the thing is that people think, was it a struggle? Well no, because I loved it too much. I still got to go skate. And I had time to skate. I didn't have to go sit behind a computer for eight hours and then hope I get time to skate.
Chris Guillebeau
I've never been interested in living a balanced life. I think that balanced people don't change the world, first of all. I think balanced people don't really follow a dream. This doesn't mean that you don't have responsibilities. Like just go to the other part of this question, how can you have a family. Well sure you can have a family. But balance is kind of like, I feel like balance is like a made up word, it's like invented by corporations. You know to make their employees think that they're happy. It's like you've got this balance. Like you could work at Microsoft you know or something here in Seattle.
Interviewer: There's like 10 Microsoft people in the audience here.
No disrespect to Microsoft. Let's pick another company, Microsoft's a great company.
Interviewer: One out of every five people in Seattle works at Microsoft.
That's right you know, and it's like you got this thing. And maybe you love your job. And if you love your job that's great. But I hear from a lot of dissatisfied people at these big companies and they write in and they're like I'm reading your blog from my cubicle and I have this good job, I have my health insurance, I've got free yoga every Thursday. But I'm not really, you know,
Interviewer: Fulfilled.
Right, I'm not really fulfilled. So for me I guess I'm much more interested in that word fulfilled. How can you live a fulfilled life? You can live a fulfilled life and still pay your bills. Lots of creative people do it. Lots of unconventional people do it. I would say if anything it's actually much more common now than it used to be. When I first started working online 15 years ago, I didn't know a lot of other people who were doing that. My friends thought I was selling drugs or something.
Interviewer: Well you were .
Well I was, you know, but, or like online gambling. Or you know whatever, like parents have no idea how the internet works. But now it's much more common. So I don't really like the word balance myself.
Interviewer: So what we'd like to do is we'd like to replace the word. Like living a balanced life is not the goal. The goal is living a fulfilled life.
---
You might also like
---
More from Chris Guillebeau
---
Watch Be Truly FULFILLED - Tony Robbins Entspresso video. Good morning, Believe Nation. My name is Evan Carmichael. My one …
Good morning, Believe Nation, I'm Evan Carmichael, my One Word is Believe, and I believe that entrepreneurs are going to …
Hello, Believe Nation! Today we're going to look at how you can have more joy. And as always, guys, if you hear …