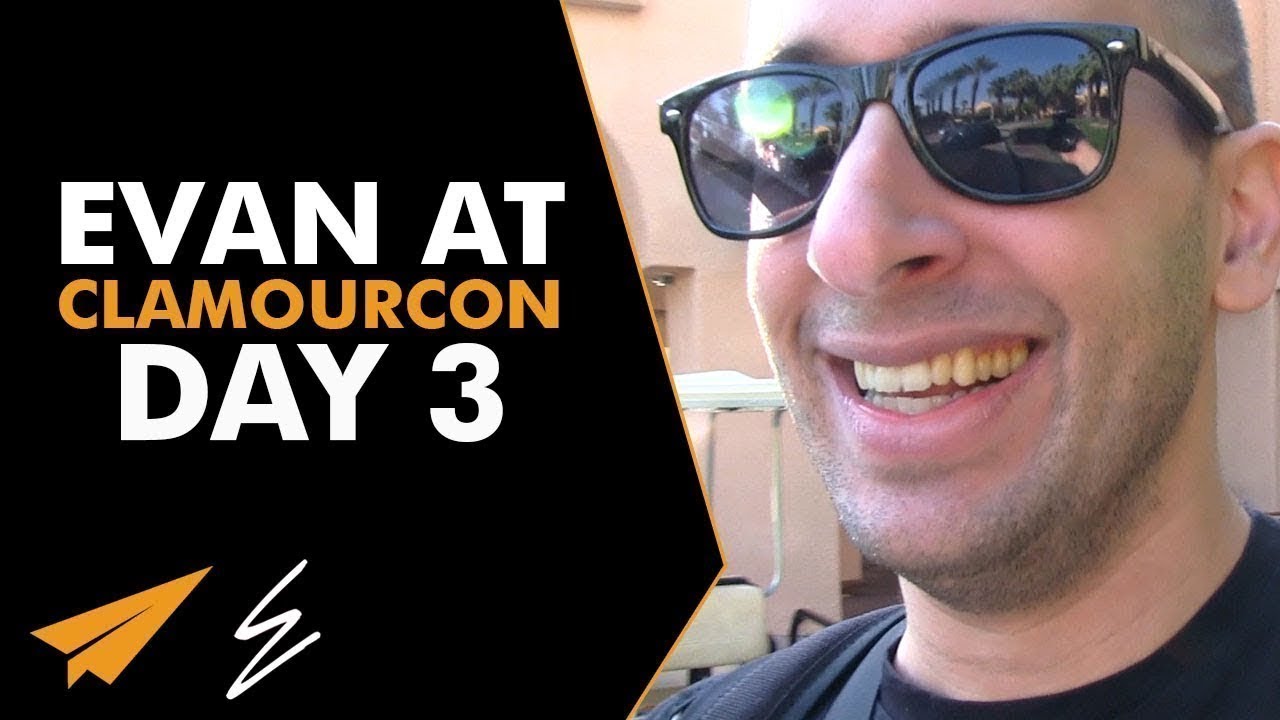 So I'm lost. Hope you have an amazing weekend.  Good morning everybody, I had a early sleep last night and then an early morning this morning. I'm feeling great. Another beautiful, sunny day here in Palm Springs. Pretty productive morning, started off by messaging Nina. You got to message the wife first thing, it's important guys, message your wife when you go away. Then worked on an exciting thing that I'm planning for my YouTube channel. Two exciting things, so we'll see.
They're in development, can't drop any hints yet but messaged some people on my team this morning as well as some outside partners that I'm working with that I'm pretty pumped to see how things turn out. Working on another potential book talking about the top 10 rules, condensing them into the 50 top 10 rules from 50 different people. Buy that book, you want to see that book? We're getting some requests for that book, it's taken 50 of the most popular entrepreneurs that I have on the channel, condensing down their top 10 rules into a book.
Where am I going, got to go to breakfast. What else, hiring somebody new for trying to dance salsa, so just going through applicants and talking with Alex about who we're going to hire. So it's a fun process, and just checking in with my team and catching up on things. It's amazing what you can do when you wake up early and you're willing to be productive before anybody else is awake. So I'm lost, where am I going?
Oh it's over there, breakfast is over there. That's it, another exciting day here at Climber Con. I'm going to breakfast and then a couple other sessions that are happening. I managed to upgrade my ticket on American, at least a second flight from Dallas back to Toronto. So I'm pretty pumped about that. Last leg, I'm excited, get to see Nina tomorrow, get to see Temo, got a hair cut, I'm pumped for that, and let's go eat!
Hope you guys are having an amazing day. I guess when you watch this it'll be weekend. I hope you have an amazing weekend.  I'm the first one for breakfast, alright. I get the best seat and the best food. Got decisions to make, where am I going to sit?  so breakfast got filled up as you can see. But I forgot my badge, got to go back to my room, get my badge, and then head off to the first session.
So the first session today is about how to continue finding the love in your channel, something like that. I got here early. So I can get the plug so I can bring my laptop, plug in, charge up my devices and stuff. I am the first one here. It's a day of being the first of everything. That's what happens when you get up early, go crush it, guys.  They're handing out emoji gumballs. Nina's going to love these, got to save them for her. It's sweet. I missed ice cream again today, Charlie!
What's up every body?
Charisma on Command, Charisma on Command, go check out his channel. We got ice cream, the toppings, but I missed ice cream. I'm very sad. He's into big escape rooms, we might do that tonight, Seven o'clock?
Seven o'clock.
Might do that, go check out his Kevin Hart video on Charisma, what's it called, Kevin Hart?
Kevin Hart, three story telling secrets, or something like that, story telling.
It's really good, check it out. So I forget where I left off with you guys, it's been crazy, it's been meeting after meeting after meeting. And going to go back to the room to chill for a bit and then at seven we're going to do escape room. Charlie apparently is a huge escape room buff and they have one here. So we booked a time at seven, so we're going to meet up and head off over to there. Got to get back and say hi to Nina, spend a little time with the wife, super important. And then tomorrow morning, take off for Toronto. I'm meeting up with a new friend, we're going to share an Uber, do some chatting, he does kids programming, how to learn Spanish. And then fly home. I managed to upgrade my ticket on the second flight but on the first one I'm flying coach. Hopefully not a middle seat, we'll see. Alright we got Nina, woo! I called Nina first but she wasn't home, she was cleaning the carpet, so I hopped in the shower.
I was not available, I was just cleaning, just washing the carpets.
Vlogger: The carpets are more important than me, but the carpets are clean and now she can talk to me, woo! So we're just chatting while I pack up and I'm going to head off soon to get to the escape room with Charlie. What do you want to say Nina?
Have fun, be good!
Vlogger: Be good, don't get trapped in the escape room.  Make it out in time to leave at 4:45 tomorrow morning to get to the airport.
And to see me!
Vlogger: To come home to see Nina.
And believe!
Vlogger: And believe!  Alright we made it, escape room, Palm Springs. First challenge, we'll see hwo we do, Charlie the escape room master, we'll see how it is. I'm not allowed to film so I'm going to stop right here. Alright we made it, we won the hardest room. Had like a 19% success rate. I did not contribute much to the team, but we still won. We had eight minutes left and made it out. It's scary, it's very scary.
It is kind of scary.
Thomas looks decent though, but look at the eyes.
Decent if I'm like the next serial killer horror movie person.
Vlogger: That's scary.
Charlie look at yourself in this.
Vlogger: Jessica and Charile Hart carried the team. You want these guys on your team. The next Amazing Race power couple right here.
There we go.
We're going to grab some dinner, deciding on where to go. Going to grab a bite to eat with the new fam. Probably going to get a pizza, we'll see. Buffalo mozarella pizza, what do you got Jessica? You got food in your mouth.
That was a trick question, you had food in your mouth.
Vlogger: Charlie's got some salmon.
Salmon, salmon and green beans.
Vlogger: And Thomas has some, what do you got?
Caviar pizza, $10,000. Hashtag Lil Bow Wow.
So that went way later than expected, it's almost 12:30 am, I got to wake up at 4:45 to catch my flight, but we had a really good conversation, I guess that's what happens when you get engrossed in good conversations. So I'm excited to catch a couple hours sleep, get on the plane, go home, see the wife, and it's been a blast. I might do this again, maybe a different conference, we'll see. I was on the fence, but I'm glad I came. Got some good results from it, good conversations, good people, ate dinner, might just do it again. We'll see, have a good night everyone.  Good morning, good morning, good morning. It is morning. Looks the same as how I shot last night on my way to bed, huh? Just past five o'clock, I'm going to head to the airport, coming back to Toronto, I'm supposed to meet up with another fellow YouTuber, Basho, who does kids' Spanish, French and Chinese lessons I think, teaching kids those languages. So he's leaving at the same time so we'd share an Uber, have a chat in the car, and head out. I think there he is, hey, it's Basho!
What's up man?
You ready to go? Alright, let's do it.  I'm in the airport, I'm in the airport, I got my ticket. I'm excited for my coffee, and maybe a little sleep, but getting there. Two all gates, yeah. I love this airport. It's tiny, people are friendly, get in and out quickly. And it's all open air outdoor, it's beautiful. Something's in Palm Springs, coming back. This looks new, toasted coconut, I think I'm going to try one of those.
So I asked the barista if the iced coconut cold brew was sweet or not, I didn't know if I needed to add sugar or not, and she's like "it's not very good." Alright, "it's not very good," I don't trust a barista to make my drink who thinks that this drink is not very good, so instead caramel machiato, Nina would approve, it's her favorite. Yummy, got like 20 minutes before my flight. So head to the bathroom, see if we can get online, just Instagram, answer some emails, check in with Nina, and fly home!  So looks like my flight there, Toronto, American 1:10 got delayed to 1:45. Got to get to gate C4.
Alright so it got delayed, only by like 35 minutes, 25 minutes, 35 minutes, it's not the end of the world. I'm in Dallas and never been to Dallas. I have a lot of fans from Dallas, a lot of people bought the book from Dallas. A lot of people I know are in Dallas, my agent's in Dallas, I got to make a stop in Dallas. If you're from Dallas and want me to come by, spend longer than two and a half hours, let me know.
I have to find my gate and let Nina know that I'm going to be late.  So I'm pretty sure I'm going to get some food on the plane. Boarding in about 45 minutes, but decided to stop off and get a bold kale green smoothie. Mm, not bad. It was green kale smoothie or McDonald's or pizza. I'm like you know what, I've had enough junk this weekend, got to get back to being healthy. Not that this is insanely healthy, but better than McDonald's.
Alright I landed, decent flight, little bit late to get off. And I haven't got put in a circle before landing here, it's always something on the way back, I feel. But it was nice to get the upgrade and going to meet Nina out side and go get Hayden, relax and get some sleep tonight after that four hours. And that's it, thank you guys… Thank you guys for joining me, let me know what you think. Let me know where I should go next.
Do you do conferences, I want to know. If you do conferences, what strategies did you learn from conferences, put in the comments below. I'm curious to find out. Hope you guys had a great weekend. Continue to believe and I'll see you soon.
---
You might also like
---
More from Evan Carmichael
---
What's up, Believe Nation? Greetings from London, England. It's Evan. My one word is believe and I believe in people, …
Watch Evan Carmichael's Top 10 Rules For Success video. Famous Entrepreneur Quotes Evan Carmichael's Quotes "Changing my environment had a dramatic impact …
Today we're going to look at seven different ways that you can make business alliances. What's up Believe Nation? It's Evan. …