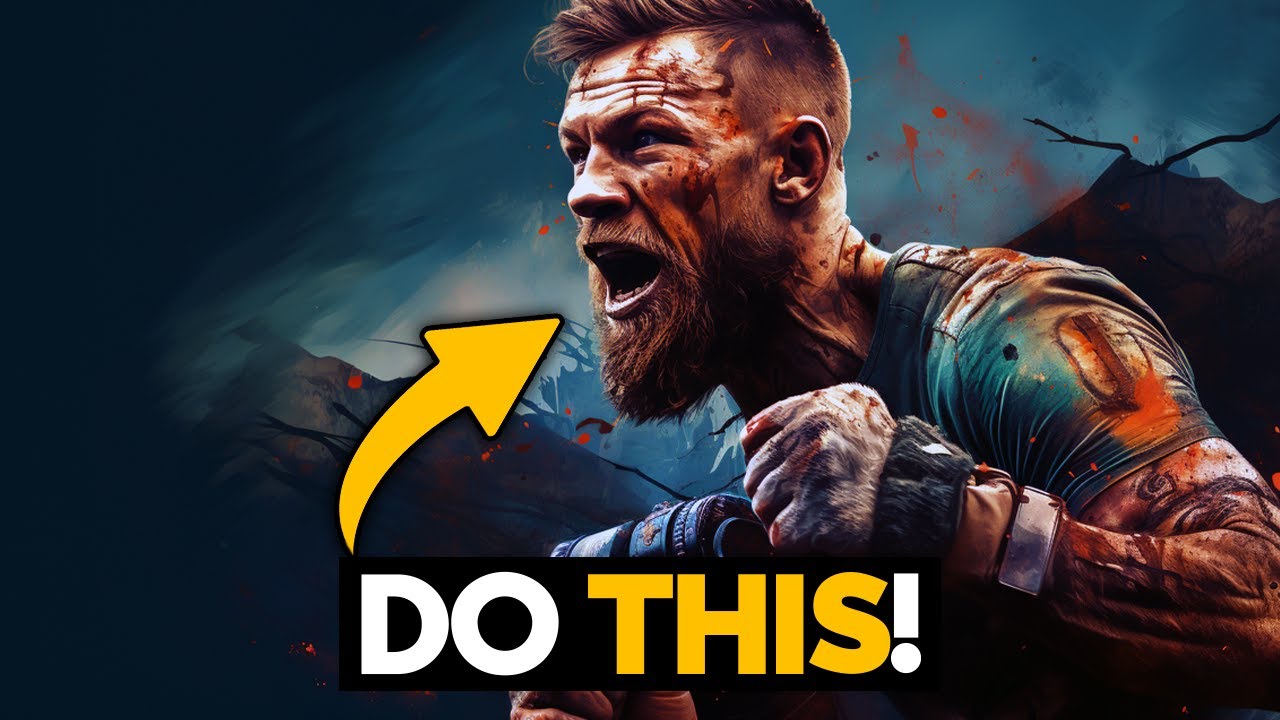 Today we're going to learn from Floyd Mayweather and Conor McGregor and their motivation.
What's up believe nation? It's Evan, my one word is believe and I believe in people more than they believe in themselves and my sincere hope is that if you see in you what I see in you, you'll be able to change the planet.
I started the Mentor Me series with the goal to try to learn from people who have done a lot more than us, to try to hang out with people who've had more success than us and hopefully some of their beliefs, some of their mindset, some of their way of working seeps into us, to help us become the best version of ourselves.
So  Also as you're watching, if you hear something that really resonates with you, please leave it down in the comments below and put quotes around it so other people can be inspired by it as well.
Floyd Mayweather & Conor McGregor MOTIVATION
#1: Seize Opportunities
Interviewer: Do you remember the first time that the thought of fighting Floyd Mayweather crossed your mind? 
Conor McGregor: Its been on my radar for a long, long time. As a young man coming up in the game, in the sport of MMA, I was listening to him in a similar weight class, similar weight category speaking ill of the sport, speaking ill of the discipline, and as a young kid I'm looking at him at such a high level, saying these things about the sport that I'm dedicating my entire life to, and I'm thinking, "I'll see you for that one day."
Interviewer: Why are we getting ready to watch Floyd "Money" Mayweather in the ring against Conor McGregor August 26th?
Floyd Mayweather: Man, it's what the world demanded. I put myself in the right position to make it happen. So I put myself in the right position, to make it happen, it's all about chess. And its not really about being on the chess board anymore, it's about controlling the chess board. And that's what I was able to do.
Interviewer: Did you want this fight, or did you respond to somebody who wanted you?
Floyd Mayweather: Actually, I asked for the fight. I think it was kind of mutual. I think I wanted the fight. Pretty sure he wanted the fight. I don't think in the beginning Dana White thought the fight could happen. But, we're here now.
Interviewer: You wanted the fight. Why? Not just because its what the people wanted, I know, I got that answer, but what else?
Floyd Mayweather:  Of course. I can put myself in the position to make nine figures, why not? Why not? So I put myself in the position.
#2: Be On A Next Level
Floyd Mayweather: Once again, there will never be a fighter that's on my level. Because you have to be able to go where I go mentally. You've got to be on my level mentally. And it's hard for anyone to be on my level mentally. Because I think outside the box.
That's why I'm always doing record breaking numbers. That's why I'm always doing record breaking things. That's why I was able to go on Dancing With the Stars and take chances, and go on WWE and still fans from the WWE are still fans from Dancing with the Stars and take chances, to become a household name. To become a pay-per-view star, to become a mega-superstar, to have the biggest deal in sports history. I roll the dice. I take chances.
#3: Ignore the Critics
Interviewer: When you hear boxing aficionados like Max Kellerman say you're not going to land a punch how do you react to that. Like today, we posted videos of you hitting the bag, and its all people saying, "Look how slow he is he doesn't know what he's doing. Look at this movement stuff." Do you enjoy that? Is that better for you?
Conor McGregor: It happens to all greats, training methods. Everything is criticized. Originally Floyd, way back, his method of hitting the pads and hitting the bag was ridiculed. During the Hatten buildup, what I started seeing about Floyd, they ridiculed his methods.
And all of a sudden everyone starts trying to follow his methods. You know what I mean? When there's success, it's been the same with me when I started incorporating movement training, I started incorporating certain attacks, and certain approaches in the mixed martial arts game. Ridiculed, it's a joke, a joker. How many times have I been called a joke or a joker? And then, everyone starts following, and trying to study, it's no different here.
The boxing game, oh look he doesn't move this way, what's he doing, this that and the other. They just don't understand, they don't understand, they just try and discard it. But thankfully, August 26th, there can be no running from it. The same thing will happen that always happens.
They will try and push it away, it will be put in front of them. Floyd will be slapped, and then they'll begin the studying process, and then the implementing process, and then I'm on to the next. I'm on to my next wave of preparation. So they're here, and I'm here again. And then I'm here, and then I'm here. Do you understand what I'm saying? So that's life.
#4: Be Brilliant
Interviewer: A man that has never been in the boxing ring is in the ring with the best ever. That's what you describe yourself as being.
Floyd Mayweather: I don't describe myself, we must realize men lie, women lie, numbers don't lie. Not just 49 and 0, let's really talk about Mayweather who didn't broke every record in boxing. When we get to talk about highest gate, even right now they're saying, "Oh, a Mayweather fight didn't sell out."
You know, when they do sell out, I think I reached the one, live gate it reached like, 80 something million for this fight, already we're at 60 something million though they're saying that Mayweather is not doing numbers anymore.
As far as taking the less punishment, I've took less punishment than any fighter. Not just best defense, let's talk about offense. The most accurate fighter of all time. On the outside of the ring, it's not just about being inside of the ring.
I've already conquered that. I'm even smarter on the outside. I have to be a genius to even make a fight like this happen, so what does that say about me, for making this fight happen?
Interviewer: It says that you're a brilliant businessman, not just a great boxer.
Floyd Mayweather: And that's what I always spoke about, that's what I always spoke about. I get my credit by what I do in the ring. But I don't get my credit about what I do on the outside.
#5: Have A Champion Mindset
Interviewer: You're enjoying great riches and success now, but can you put yourself in the mindset of the guy who is waiting in line with other people. Do you remember what that guy was thinking?
Conor McGregor: Always.
Interviewer: Were you daydreaming of this? Was that even possible to daydream?
Conor McGregor: Every second of every day I was daydreaming it. But of course I can go back and think there. I lived there in my head and I'll always be there. I show up and walk every single day like I'm not in the position I'm in. I'm not me, that's the mindset I'm having. It's walking.
#6: Keep Your Eyes On The Prize
Floyd Mayweather: You've got fighters that may be faster than me. You've got fighters that may hit harder than me. You've got fighters that's very athletic. But you don't have no fighter that can make adjustments like me. You don't have fighters that can be on my level mentally. It's never personal for me. It's always business.
Every other fighter fights for certain things. Everybody fights for what they fight for. My thing is this: I keep my eyes on the prize. I never focus on things outside the ring. My focus is the guy that's in front of me.
You get to where you're trying to get to by staying focused, staying on a parallel path. I always had a dream, and my dream was to be the best. No matter what happens Saturday, when it comes down to boxing, I'm the best at this.
#7: Create A Legacy
Interviewer: What do you think they'll say about you in 50 years?
Conor McGregor: You know, I'm not quite sure what they'll say about me. They'll probably just say I'm a young kid who showed up when he said he was going to show up. And that's it. I don't know. I don't really think about that.
What I do know is, I just know that it will live on. That's what I do know. I cannot control what people say about me now, or in the future. But I certainly know what I am doing, and the stuff that I am doing and achieved will live on long after I am gone.
#8: Don't Be Defeated
Interviewer: As you've been away from the game and you reflect on your life and your career right now, where are you? Just looking at the life of Floyd Mayweather.
Floyd Mayweather: Just looking at my life, I don't think most people could handle being in my shoes. I don't think, as of right now, I don't think no one could handle my situation.
Interviewer: Why not?
They just can't.
Interviewer: What's your situation that can't be handled?
Floyd Mayweather: I'm just saying that it's like, they feel like it's pressure on me. They try to defeat me in many different ways. They try to bring up the tax thing, they try to bring up he's been locked up, he's arrogant, he's unappreciative.
Years and years and years they've been trying their best to defeat me mentally. I can't be defeated. I'm a strong individual. Nothing can throw me off, nothing can throw me off throw me off key. I'm always focused on what I've got to do.
Interviewer: And that's going to be the case August 26th?
Floyd Mayweather: August 26th is going to be real interesting. And I'm not backing up. Remember, I told you that.
Interviewer: You're not backing up?
Floyd Mayweather: I'm not backing up.
#9: Rise To Greatness
Conor McGregor: When I was a kid I always visualized stadiums. And even when I was playing football I'd kick the ball against the wall and pretend I'd scored a goal and I'd run off and I'd be raising my hand, and visualizing an arena full of fans. And that was something I'd done as a kid out on my own, just running around kicking the ball. I'd always had these visions of something. I just didn't know what it was. And I suppose when I came to these events and started training and came to an event, I was like, okay, This is is, this is what I'm going to do. And now I'm doing it.
Interviewer: But did you ever have, let's call it a normal job, Conor, a 9 to 5?
Conor McGregor: Yeah, the Irish thing is to get into a trade straight away, I was no different. As soon as I finished school, I was always getting pestered. What are you doing with your life? And this deal and that. They didn't know what it was. They didn't know what MMA was. They didn't know none of this. They didn't know I could make a career out of it. As far as they were concerned, my ma and da I'm talking about, as far as they were concerned, I was just getting into a cage and fighting with some other guy. They didn't know nothing about it. No one did, really. But I knew. You know what I mean, I knew. I ended up getting a trade, just to keep them quiet. I always used to have a lot of fights with my dad.
Interviewer: What trade did you get?
Conor McGregor: I ended up getting a trade as a plumber. It was in industrial, so I'd be like, building this, it'd be like the plumbing that would be needed in a place like this. 6 o'clock in the morning.
I used to have to walk for about an hour to get there on motorway. And then I'd stand on the edge of the motorway and wait for a bloke to drive by so he'd give me a lift. And then the motorway was getting renovation at the time, so it would take me 2 hours, 2 and a half hours to get to the place, it was out in the country and I'd be there for ten hours, working.
And I was a first year, so I was the worst of the worst, I was only a beginner. Then two hours to get back in the traffic again. Which is a horrible, horrible time. And I was like, you know what, I don't want to do this, and then I just left. I lasted 18 months doing it.
It was tough and it wasn't the life for me. And then John said, 'cause I was training with John as well at the time, and then John got on Twitch and says, "I have a show, I'm in a show and I'd like you to fight in it." And then that was it.
I just packed it in, didn't show up. My da used to come in and punch the hell out of me, try and drag me out of bed, and I just wouldn't go. Had an hoopla for a good few years with him over it. And that was it, I just packed it in, quit, and then focused on training.
I knew what was going to happen. I knew I was going to get here, they didn't. It was a lot of stressful years. A lot of tough times. But I proved them wrong, I proved myself right. Everything I do in my life is related to this. I don't do nothing else if it's not got to do with fighting, know what I mean? That is why All you've got to do is show up.
Is that unhealthy? I don't know, do I look unhealthy? Take a look at this physique. I'm in phenomenal shape, in body and mind. To me what's unhealthy is living an unhealthy life.
To me what's unhealthy is getting up and going through the same day, every day of your life 9 to 5 in an office, that's unhealthy. That beats your mind. I don't work, I love what I do. And that's why I'm doing what I love. That's why it's become a career for me because I love it, I love what I do.
---
Thank you guys. I hope you enjoyed. I'd love to know what did you learn from this article, what part spoke the most to you, and how are you going to apply it immediately, somehow in your life, or in your business. Please leave it down in the comments below.
I also want to give a quick shout out to Louis Lopez from The Better Men Project, Louis, thank you so much for picking up a copy of my book, "Your One Word" and doing the review on your YouTube channel. I really, really appreciate the support, man, and I'm so glad you enjoyed my book.
Thank you guys again. I believe in you. I hope you continue to believe in yourself, and whatever your one word is. Much love, I'll see you soon.
---
You might also like
---
More from Conor McGregor
---
Today, we're going to learn how to prove people wrong. Hello, Believe Nation, it's Evan. My one word is believe and …
Today's message is live in the moment. Good morning, Believe Nation! It's Evan. My one word is believe. And I …
Hello, Believe Nation, my name is Evan Carmichael. My one word is believe, and I believe that entrepreneurs will solve …