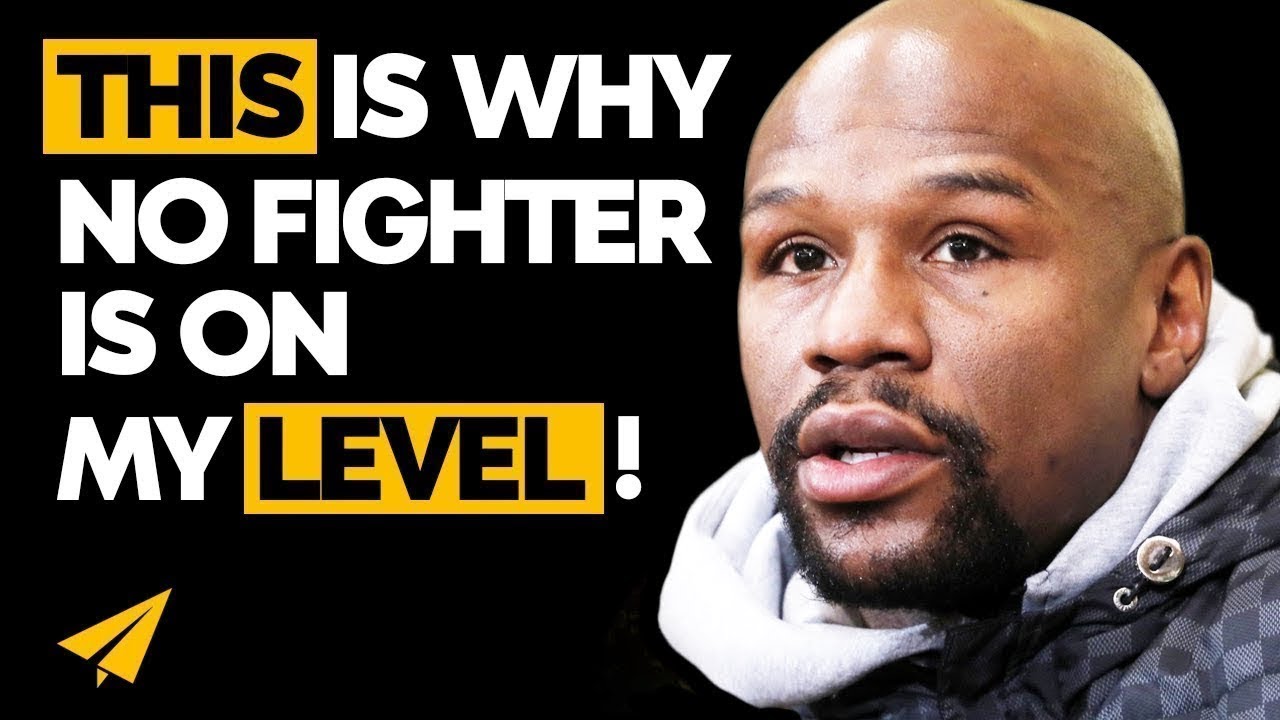 Evan: He's an American boxer widely regarded as the best fighter of his generation and listed as one of the greatest boxers of all time.
He's undefeated as a professional boxer and has won 12 world titles.
Forbes magazine listed him as the highest paid athlete in the world.
He's Floyd Mayweather and here are his top 10 rules for success.
---
Floyd Mayweather's Rules
Take one day at a time
Always be at your best
Have a game plan
Keep your eyes on the prize
Dedicate yourself to your craft
To become great, you have to follow greatness
You can never overlook anyone
#Believe you are the best
Appreciate people that support you
Always have a backup plan
Rule #1. Take One Day At A Time
The only thing we could is take one day at a time. You know, it's all we can do. No one is perfect. Every day we strive to be perfectionist, but no one is perfect. I make mistakes. I make mistakes. You know, I've said things that I shouldn't have said. When I was younger, I done things that I shouldn't have done when I was younger. I'm not perfect. But we live and we learn and that's a part of growing.
MC: Mayweather, with a right over the top, stones Manfredy. Manfredy in trouble. As Mayweather pounds away, Manfredy almost went down. He won't take a knee, but he isn't throwing back. Mayweather pounding, pounding and this one's going to be stopped. And Floyd Mayweather, Jr. has another big stunning victory to cap off his rise to stardom.
Rule #2. Always Be At Your Best
Jealousy. People jealous of you 'cause we're success. So, any time you're successful, people going to be jealous of you. People not always going to like you. Sometime when you in class, some people don't like you when you in school, right? But that don't stop you from going, right? And you still go there and be your best, right? So, same thing like my job. I still go there and be at my best.
MC: Right hand is solid. Combinations by Mayweather. Too much speed. Maybe too much power too. There's a vicious right hand over the top. He promised he would humiliate Arturo Gatti before his fans. It's getting brutal in there as Mayweather fires at will.
Announcer: Mayweather captured the title with a technical knockout in the sixth round.
Rule #3. Have A Game Plan
I mean I think it was a I just had a game plan. I had a brilliant game plan. The game plan was to be very outspoken, you know. I was born with personality. I was born with charisma. Speak my mind. Speak from the heart.
You know, I don't hate or dislike anyone, but I wanted to go out there, you know, and just do what I have to do inside that square circle, choose a tremendous team on the outside that's going to help me take things to the next level and that's what I did.
MC: Good quick left hook inside by Mayweather and a big right hand upstairs by Floyd. Biggest shot of the night for Mayweather and Mayweather is trying to knock Oscar out with a right hand. Mayweather beginning to operate like a surgeon. Fighting Floyd Mayweather is a dose of cold reality. And where does Mayweather go from this pinnacle after claiming that he's going to retire? They fight to the finish and please the crowd. To the dismay of the almost unanimously pro-De La Hoyan crowd, Mayweather was awarded the split-decision victory.
Rule #4. Keep Your Eyes On The Prize
You got fighters that may be faster than me. You got fighters that may hit harder than me. You got fighters that's very athletic. But you don't have no fighter than can make adjustments like me. You don't have fighters that can be on my level mentally. It's never personal for me. It's always business.
Every other fighter fight for certain things. Everybody fight for what they fight for. My thing is this. I keep my eyes on the prize. I never focus on things outside the ring. My focus is the guy that's in front of me. You get to where you're trying to get to by staying focused, staying on a parallel path. I always had a dream, and my dream was to be the best. No matter what happens Saturday. When it comes down to boxing, I'm the best at this.
MC: Good quick left hook by Mayweather as Hatton came in. Sometimes it's the right hand, sometimes it's the left hook. Huge round for Mayweather here in the eighth. Mayweather believes he's got Hatton in big trouble. Hatton continued to come forward and allowed Mayweather to close in emphatic fashion.
MC: What a left hook. What a perfect shot.  This fight is over. Floyd Mayweather has a knockout victory.
Rule #5. Dedicate Yourself To Your Craft
I feel if I work hard, I can play hard. This is me. Didn't nobody get in there and put the gloves on for me. Didn't nobody go out there on that road and run miles and miles for me. Nobody took the broken ribs. Nobody took the bloody nose. I did it all. I dedicated myself to my craft and I bust my ass. I'm going to continue to keep believing in my skills, keep listening to my father, keep listening to my uncle, and sit on this throne for 30 months.
MC: Round by round, it became clear that smaller Marquez could not deal with the speed and power of Mayweather's punches. And he is quantity Juan Manuel Marquez in this round. Brilliant combination by Mayweather. If that didn't hurt Marquez, I'm not sure what would. This is the kind of performance that will convince many that Floyd is still the best fighter in the world. What a return to the sport. Twenty-one months old and he's better than ever. In dominant fashion, Mayweather rolled to the unanimous decision victory.
Rule #6. To Become Great, You Have To Follow Greatness
To become great, you have to follow greatness. But to become a great leader, you have to be a great follower. To be successful, you got to want to follow success. And I want every fighter to just stay focused, stay on the parallel path.
MC: But from round three onward, Mayweather got into his rhythm controlling the pace, attacking with precision.
MC: That was a stunning shot from Mayweather right on the button. Another stunning right hand by Mayweather and a big left hook. He's landing shots cleanly inside. Floyd is very much more compact and more powerful. With each passing round, Mayweather's advantages and quickness in timing became more pronounced. Shane can't handle the speed and the coordination of Mayweather. It's that simple. Floyd Mayweather's skill level, Floyd Mayweather's conditioning, Floyd Mayweather's application to the sport is, at this moment, unique and he stands alone.
Rule #7. You Can Never Overlook Anyone
Nineteen years, and I reflect back over my career. I can't just say I'm going out 49 and 0. You can never overlook anyone. In this camp did I push myself? Absolutely. Every fight played a major key. All 48 fights played a major key. It's not just the intelligence. It's the sharp mind. It's the good chin. It's the tremendous heart. I never overlooked no opponent. I trained for every fighter the same way. I pushed myself. I believe in my skills and I believe in my talent.
MC: Protect yourself at all times. It was legal. It was legal and it's officially a KO. Ortiz is apologizing and Mayweather was punching. We can all say he was exciting in the ring as he has been outside the ring.
Rule #8. #Believe You Are The Best
There's no blueprint on how to beat me. I can crack any Da Vinci code when I'm in that ring. I'm the best.
Stephen A. Smith: Right now, do you believe you're the best in the world?
I feel I'm the best ever. I broke everybody record. Tell me who record I haven't broke? It's not bragging or boasting. The proof is in the pudding. Men lie, women lie. Numbers don't lie.
Doesn't matter who it is. Doesn't matter if it's Sugar Ray Leonard, Sugar Ray Robinson, Muhammad Ali, it doesn't matter.
I respect them. I take my hat off to them, but you think I gave this sport my whole life to say there's another fighter that's better than me? Absolutely not.
MC: The good part is in due with the punches. So he can get back in the fight with one punch. That's it.
MC: I don't think Floyd's worried about his punches any more. That's it. Looks like three of four straight right hands. Rick Duran is going to throw in the towel. Rick Duran is showing Endo the towel and Endo saying, "No, don't throw it in." Endo is shaking his head at Duran saying, "No, no, don't throw the towel in." And now the referee does it for him.
Rule #9. Appreciate People That Support You
I want to thank my team because without my team, all this wouldn't be possible. It's been a long road. It's been a long journey, but, you know, hard work and dedication paid off. It's always been one of my dreams to come back to the motherland. And I'm here now.
It took 36 years, but I'm here and I want to thank all you guys for the support. I mean, every time I go our there and fight, I just don't represent the red, white and blue. Floyd Mayweather represents the world. And I had a lot of support and, once again, I didn't do it by myself.
I had a tremendous team and a lot of people supporting me. And for all those that flew over to Las Vegas to see me or wherever I was fighting at, I'm very, very thankful for everybody that bought Pay-Per-View and for my team, working with guys to get me over here. It's truly a dream come true.
MC: Bobby Giepert as Mayweather looks for another opportunity to land a right hand. Bangs a left to the body. Giepert now fiddling with the nose as he tries to get the blood flow to stop. And Mayweather comes back with rights, and Giepert goes down and Joe Cortez says, "That'll do." One minute, 28 seconds of the first round, or about a minute and a half of the first round, something like that, and Floyd Mayweather has yet another quick KO victory.
Rule #10. Always Have A Backup Plan
Some guy's game plan, we going to rush him. We're going to rush him. Okay. What's your second game plan? That's plan A. What's plan B? Pack, yo, he can set the trap for other fighters, but you can't set the trap for Floyd Mayweather. Because you've got to have plan A, you have to plan B, and if you don't have a plan B, you go to plan C. I've never beat a fighter with my A game.
MC: He's got shaky legs. He's got to buy time here. He's not the type of fighter who knows how to do that. Every situation for Hatton This fight is over. Floyd Mayweather has a knockout victory over Ricky Hatton.
MC: Mayweather dealt with a situation he's never, or a fighter who he's never been confronted with before.
Thank You!
Evan: Thank you guys so much for watching. I made this video because Anton Turner asked me to.
So, if there's a famous entrepreneur that you want me to profile next, leave it in the comments below and I'll see what I can do.
I'd also love to know which of Floyd Mayweather's top 10 rules had the biggest impact on you. Leave it in the comments. I'm going to join in the discussion.
Thank you so much for watching. Continue to believe and I'll see you soon.
---
You might also like
---
More from Floyd Mayweather
---
Watch Floyd Mayweather's Top 10 Rules For Success video. Famous Entrepreneur Quotes Floyd Mayweather's Quotes "I always said this for many, many …
Today we're going to learn from Floyd Mayweather and Conor McGregor and their motivation. What's up believe nation? It's Evan, my …