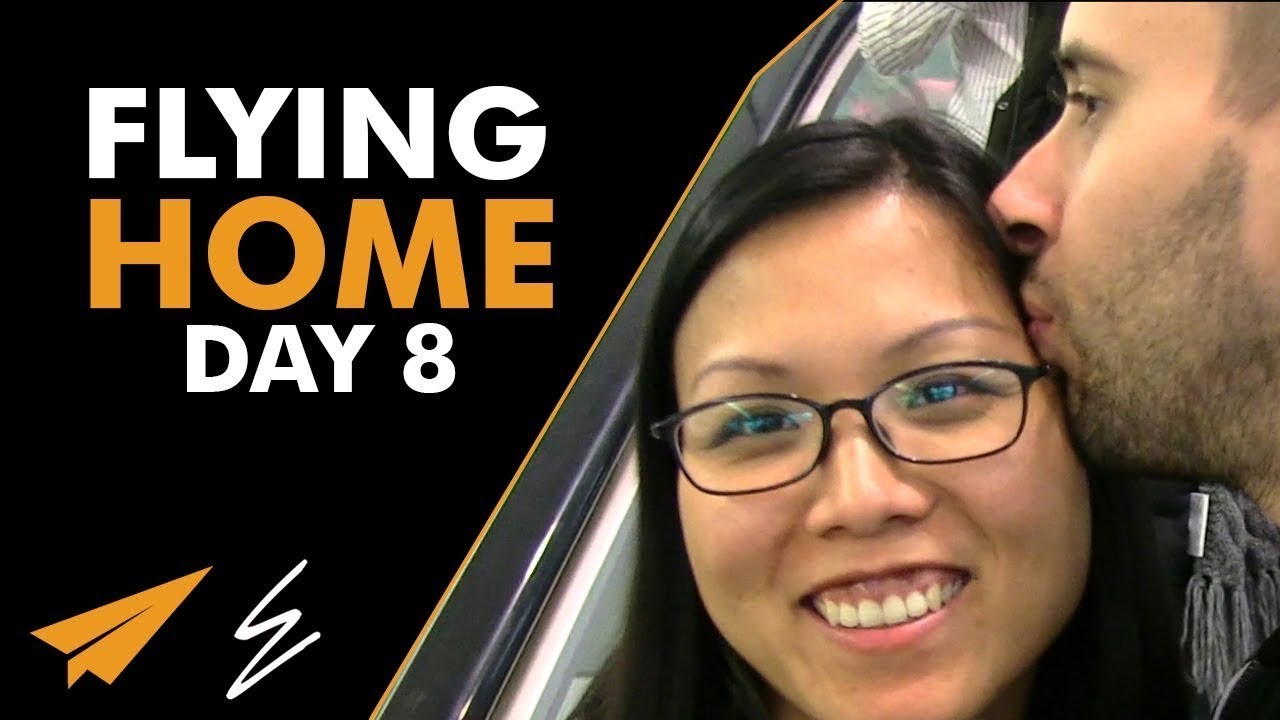 I'm so happy to go home.
Evan: Why are you so happy?
Because I miss home.
Good morning Believe Nation. Today is the day we're going home.
Evan: Day 8.
Day 8, yae!  I miss home. I want to go home actually.
Has it been a good week guys?
That doesn't sound exciting.
We are rushing to the airport behind schedule, so here we go, excited. It's been a good week. We learned a lot of things. We grew as human beings. Learned some life lessons. Right kids? Right, yeah, tons of life lessons, that was amazing. And got to get to the airport, got to get some gas, get Nina coffee.
Nina: Hustle.
Hustle and head home.  Starbucks, hiring more people, everywhere we go. The Starbucks line is crazy. Hire more people. But I'm going to have to stand in that line because I love my wife, she wants a coffee, so I need to support her, hurray.  Look at that smile. Someone is excited to have some coffee. Where's mine?
Oh.
Oh, I'm filming. You look like a giant because I'm filming you up-
I got a caramel frappe.
It's good. We probably should go now.
Oh yeah, that's good. All right, it's time to get ready.
We're here. I'm so happy to go home.
Evan: Why are you so happy?
Because I miss home.
Evan: You miss home? How come?
Because I miss home.
Evan: To eat healthy?
Yeah.
Evan: Being without three kids?
Yeah.
Evan: Relaxing.
Yes.
Evan: All right, well here we go.
Hello, we're back.
Evan: How do you feel?
In Toronto.
Evan: Happy?
Umm-mmm.
All right, we made it. I'm a little bit nauseous. I've been trying to watch a movie on the phone, and it being turbulent, but it's good to be back. Going to lose this T-shirt weather soon. Step outside to, we saw a little snow on the ground, so we'll see what it's like, but it feels good to be home. Wife is happy to be home. We're going to hop in the car. We're going to hop in the car and go home. What's the first thing you're going to do when you get home?
Shower.
Evan: Shower. Yeah, I didn't want to say anything, Nina, but-
Yeah, whatever. I can't even get close to you because I can't stand it.
Nina smells great. I'm just causing problems.  Back in Toronto guys. We made it.
Home sweet home.
We're all matching. Look at the airplanes. We made it.
Home sweet home.
Nina's very excited.
Yeah.
Nina's plants didn't die while we were away. Nina!
Nina: What? The plants. They look good.
Nina: They're all dead?
Evan: No, they look better than alive. They look great.
That's what I said, they'd be fine. I water a lot before I went.
Look at this one; it's great. Almost ready to go outside. I was really worried that Nina's plants would die, and it would make me very sad because Nina would be very said, but these look great. So it's good to be back. Shaking off my headache. Wanted to share one final parenting tip that we've picked up that helped. The first one I talked about in a previous video, we did one present per person, and they knew. And actually they all knew they wanted the Harry Potter wand before even going, so they didn't even ask.
Nina: Yeah, they didn't ask.
The whole time, right? The whole time they didn't say I want this and I want this and I want this. That was really good. I made that up, kind of four years ago, and I think every year we just made it more and more clear earlier and earlier, and that part was fantastic. We didn't get bothered at all about wanting different gifts so that's amazing, like we got to start preparing for that for next year, one gift.
The other thing that we did that was new that we made up on the spot this year was time-outs. So what I did was, so in our family we don't do spanking. We do time-outs, so you get time-outs for misbehaving. Any time they misbehaved or complained, we gave them a minute time-out.
To get rid of a minute, they had to do a good deed for somebody else. It was a good, like we started that like midway through the vacation, I feel like we're going to start it sooner next year and maybe ratchet up the points a little faster, but I think it worked out well. They hated getting the time-outs, and then they were looking ways for trying-
Trying to do good deeds.
To do good deeds for people.
Even before this time-out started.
Yeah, so if they had a good deed before they had minutes, they got negative one minute. I think that worked out well. We got to try that next time. Anyway, parenting tips from Evan and Nina . So that's it for us. Hayden … Well, this is our last video.
Yep.
Hayden was a little bit sad about hearing this is the last video we are going to make. But thank you guys for joining us on our Florida adventure. What was your favorite part guys? What was your favorite part?
My favorite part. Universal Studios.
Evan: Universal Studios, okay.
Nina: Universal Studios pretty good.
Hayden: I also liked the Simpsons ride.
I got sick on that one.
What do you call those, the graphics, was really good, the 3D graphics, the 4D.
I liked being able to have humongous Starbucks drinks every day. I'm going to miss that. Sometimes twice, going to miss that. And spending time with my family, yeah!
Yes!
Well thank you guys for joining. We believe in you. We hope you to continue to believe in yourself.
And whatever your one word is.
We'll see you soon.
Much love guys.
Much love, bye.
---
You might also like
---
More from Life With Evan
---
Hello everyone, this is Evan, this is Nina. Wow. What's up, Believe Nation? Nina and I are heading on a vacation …
Happy weekend everybody, today I'm taking you to the Canadian National Exhibition with Nina, she just wanted to get in. …
What's up Believe Nation? Happy weekend, it's Evan. I'm thinkin of launching a new potential t-shirt and I need your …