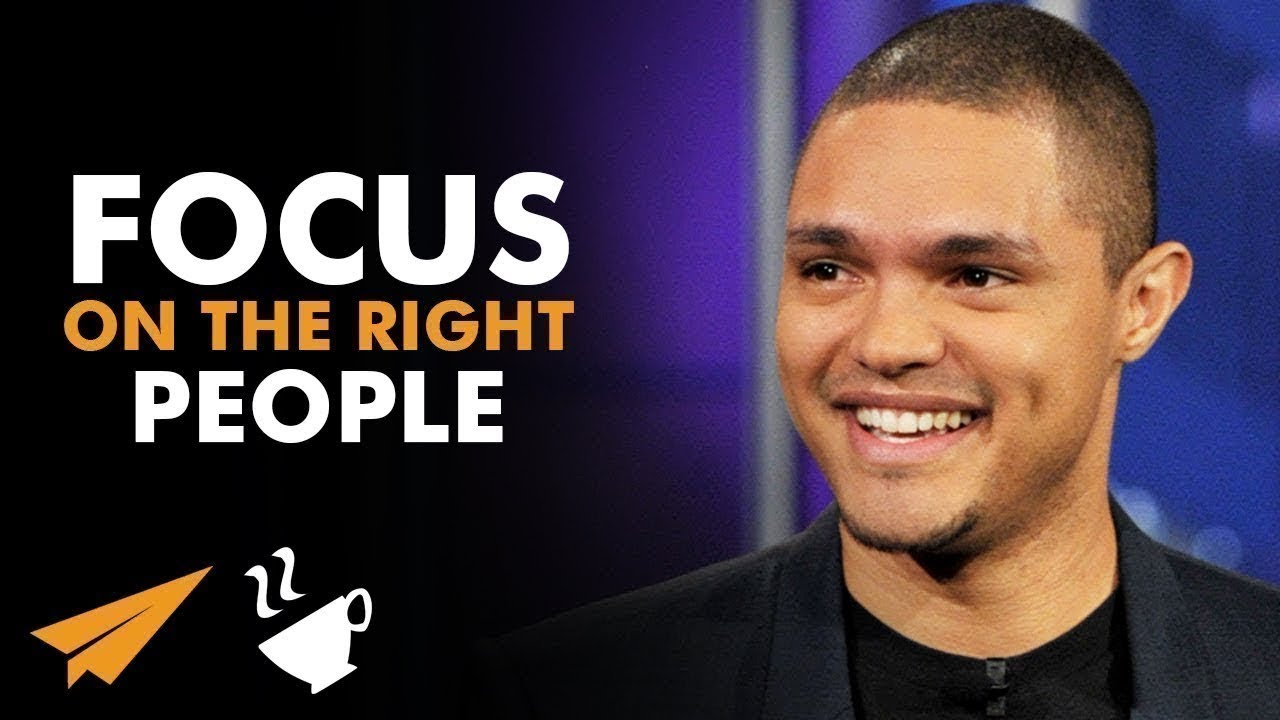 Good morning, Believe Nation, my name is Evan Carmichael, my one word is Believe and I believe that entrepreneurs are going to solve all of the world's major problems. So to help you on your journey today, we're going to learn how you can focus on the right people. Over to you, Trevor Noah.
Focus on the RIGHT People – Trevor Noah
Trevor Noah
Well, you have to find the people, that are for you, you have to understand whenever you're creating a product, whether it's music, whether it's comedy, whether it's TV, you're not trying to make it for everyone, you're trying to find the people, that you're trying to make it for.
You've got to stick to your truth and then you find those people and you believe in it, so you go, "Is it good?" and then I understand, I go, "So, your lady and her Mom are watching?" and then even if you're hating on me, then I go, "Fine, then it's not for you," I know you're not, but I go, "Yeah, you're not, but I have to focus "on the people who are watching me 10 times "and I'm going to keep on building on those people." So at the end of the day, if you focus on the people, that are trying to block you, you don't spend enough time enjoying the people, that are celebrating you.
Evan Carmichael
If you want to have success, then you need to pay careful attention to the environment, that you have around for yourself. If you are surrounded by people, who are telling you that you can't do it, that you suck, that it's never going to work, that you don't have the skills or the education or the money or whatever reason, you will never be a success, because of all these logical, practical things. If you're surrounded by those people, then guess what happens?
Nothing happens. You don't go off and do the big thing, because you're constantly surrounded by negativity. It's why so many people just are the average of their five friends, right, so look at who your five friends are and do you want to be like that or not? Now, it doesn't mean that you have to completely cut them off, it doesn't mean that you need to, you know, shun your family, but you need to start creating a more supportive environment for yourself.
You may be saying, "But Evan, I don't know "any more successful people, "I don't know how to break free, "I'm in a crappy area "and everybody around me tells me that I suck "and I don't know who else to go and turn to." This is the first of your many challenges, that you will come across as an entrepreneur. It's always going to be about creatively solving problems. It's about how resourceful you can be, instead of how many resources you have.
So here's the first challenge, "I don't know any successful people, "what am I going to go out and do? "Who am I going to turn to for advice?" The first person I turned to to advise in my business was my banker. I didn't know anybody, I had no connections, nobody in my family was an entrepreneur, I didn't know who to talk to, so I went to my banker and I said, "Hi, I'm Evan, I have a business bank account with you.
"I'd love to know how you might be able "to help my business. "Any ideas you have would be fantastic." He said, "Well, do you need a loan "or do you need financing?" I was like, "I dunno, maybe, I don't know," "I'm trying to figure it out. "I'm just starting, "trying to figure out what I'm doing with my company, "I'd love your advice and input." He's like, "Well, that's not what we do, as a bank. "You know, we give out loans."
"If you want to have success, then you need to pay careful attention to the environment, that you have around for yourself." – Evan Carmichael
I thought banks were, you know, the friends of entrepreneurs. So this is how naive I was, right and this is how little knowledge I had and how few connections I had, that I went to my banker, you know, but one conversation leads to another conversation leads to another conversation and another conversation. You're not going to get the supportive environment by just sitting on your couch, right, you've got to go out and start talking to people and connecting and understanding, asking for help.
People love to help, but the risk is you're not going to do any work. If you come to me and you ask me for help, I'm jaded, because of all the people, who've asked me for help and I gave them advice, that they did nothing with. So you're immediately lumped in with those people. So what you want to do is ask for just a tiny bit of time. Ask for one little bit of advice and promise and show your hustle, promise that you're going to do the work on it and then when you get the advice, do the work and then come back and say, "Listen, I took that advice."
Don't go and ask for a mentor. They don't want to commit to a relationship with you. One bit of advice, I used two fingers there, one bit of advice , one on each hand, and then go and do the work and come back and say, "Listen, I did this work and it worked!" or, "didn't work, I tried, I did hours and hours and hours "and it didn't work out. "How do I make it better?" If they see that you're taking the initiative and actually executing, now you're starting to ascend up.
There's other ways to be surrounded by people though too, it's not just mentorship, join a Meet Up group, connect with online communities, we have an awesome online community here on Believe Nation, where people are supporting each other and try to help each other with their business, join other online groups, learn from virtual mentors.
One of the things that helped me the most and me thinking bigger and wanted to play on a different level and thinking I could do more and really feeling like I could have a big impact on this world, one of the things, that helped me most was my own YouTube channel. It's selfish for me that I'm sharing it with you, it's a selfish endeavor for me, that I share with you guys and I'm so grateful and so happy, that you enjoy it too.
When I'm around constantly Elon Musk and Steve Jobs and Oprah Winfrey and all these people, who have done amazing things and are still pushing to try to be better, when I'm in that environment, I want to do bigger things, I want to have a much bigger impact. So the more I'm around that, the more it shifts my focus, it shifts my attention and makes me feel like I can contribute more and it builds a new environment for myself. If you want to do great things, you need to create an environment of greatness, otherwise it's never going to work.
Question Of The Day
So the question today is, I'm curious, what kind of people do you have in your life and are they the right people to help you get to where you need to go. What changes are you going to make, after watching this video? I'm curious, leave it down in the Comments below, I'm super curious to find out.
I also want to give a quick shout out to Dave Gardner from thedavegardner.com. Dave, thank you so much for picking up a copy of my book, Your One Word, doing a review, taking a picture, I really, really appreciate it, man and I'm so glad that you enjoyed the book.
So thank you guys again for watching. I believe in you, I hope you continue to believe in yourself and whatever Your One Word is, much love and I'll see you again tomorrow morning for another shot of Entspresso.
---
BONUS
Focus on the RIGHT People
Chris Rock
Interviewer: You're happy with it though?
I'm real happy with it.
When I see this thing play in front of an audience, people go crazy.
Interviewer: Oh yeah. What's your, what is one of those Inside the Actors Studio for us, like so what's your process, once you do this, you want to watch it with all the audience here, you don't want to see it, you study this, what's your process, once you, once they say, "Cut! That's a wrap."
You know what, you cut it up, you know, you've got to watch it with an audience, it's not drama.
Interviewer: Right.
Drama is whatever you want it to be. When you make drama, you are like Picasso you're just like, "OK, whatever." When you make comedy, you're not that kind of painter, you're like a painter down at the promenade, painting portraits of people, you know what I'm saying, "Oh, you want more blue in your eyes? "I'm going to put more blue in your eyes.  "You want to be taller? "Okay, you're taller." You know, I'm one of those guys.
Interviewer: Right.
So that's, when you make comedy, you make it for the people and I, you know, you try to have as many screenings and as many tests and you do focus groups and you read the card, so you try to give the people what they want and that's comedy, man.
Interviewer: Right.
Quentin Tarantino
People ask me from time to time, "Do you make a movie with an audience in mind?"
Interviewer: Yeah.
and my answer is, "Yes, I do." alright, but the audience I have in mind isn't some faceless blobs, that I'm trying to second guess,  alright,
Interviewer: Yeah.
It's me.
Interviewer: You sound like a focus group.
Yeah, it's me, I'm the audience, I'm the guy that goes out and pays seven dollars or eight dollars in New York,  you know, to go and see a movie, alright. I go so, if I'm excited about seeing a movie, I see it on opening day, alright, I am the audience, alright, and I know what I want to see, you know, and I was betting and I was a little surprised at how many there were, I was betting that there were other people like me out there, alright. Now true, I'm making specific films and if you make a specific film, that's not everything for everybody, you're going to turn some people off, alright, but you're going to turn some people on too.
Jackie Chan
In the old day, when I start the action movies, I just make audience laughing, you know, do all the funny things, you know, ah, like, ohh, like this and kick their ball in . So that's a?
Interviewer: It is really, yeah.
Oh, really?
Interviewer: Yeah, yeah.
You know, but slowly, slowly, from the audience, from the audience,  from the media,
Interviewer: Yeah.
Especially from the fans, they write the letter, "Oh, now I have a baby, so sad I cannot see the movie, "because the dirty word, but because the dirty action, "because this," all those years, I change, change, change, change, change, but without all the dirty things, still can make the audience laughing, that's the difficult. It's the audience, all the fans, all the media, teach me becoming a good filmmaker.
---
You might also like
---
More from Chris Rock
---
Watch Chris Rock's Top 10 Rules For Success video. Famous Entrepreneur Quotes Chris Rock's Quotes "If it's the right person telling me …
Good morning Believe Nation. My name is Lily Ma and my one word is extraordinary. I believe that people are …