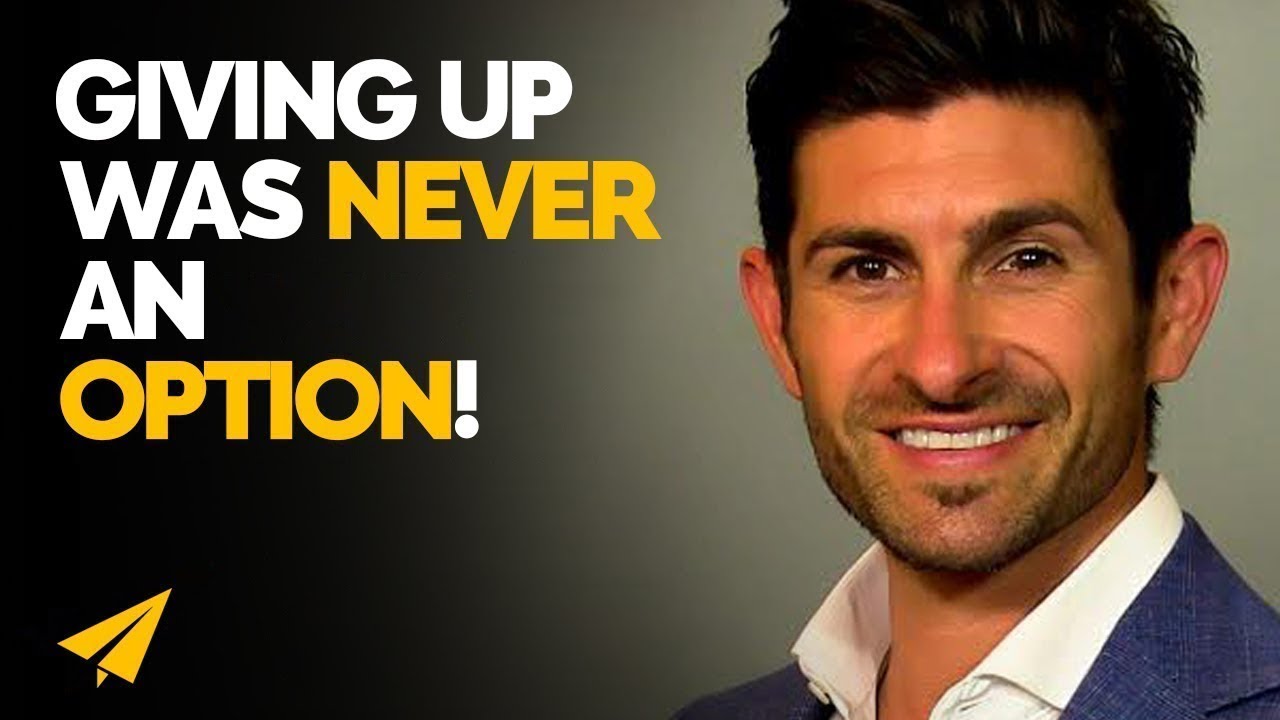 Good morning Believe Nation! My name is Evan Carmichael, my one word is Believe, and I believe that entrepreneurs are going to solve all of the world's major problems. So to help you on your journey, we're going to today how to follow your dreams. Over to you, Aaron Marino.
Follow Your DREAMS – Aaron Marino
Aaron Marino
I met a woman that I helped lose 100 pounds. And she came to me and said, "Hey, I want to start a fitness center!" And this, for me, was my dream. And it was tough, I didn't make much money, it didn't matter because I was happy, I was doing something I loved. We took some loans, and got some investors. There was a big issue with one our investors and my business partner, and it ultimately ended up in lots of legal fights and battles. We had to end up shutting down this business. I was dead broke, I was bankrupt. In order to make ends meet, I was driving a beer cart at a country club. And I'm sitting there with tears rushing down my face, because I don't know where to go. I was at the lowest point that I ever have been. Giving up was never an option. The problem was that I didn't know what success looked like anymore. But what I do have is a dream and a desire to help people. At the time, there really wasn't anything, any resources out there for regular guys to get some solid, basic advice on how to look good and feel great. I decided that I was going to help men feel better and amazing about themselves. So, I have a video camera. I was the least tech-savvy person you'd ever meet. But I picked it up and I decided that I was going to try and film a video and put it on YouTube. Everything changed for me. I found that new vision, I found that new passion. All of a sudden, I had a voice, I had an audience. And I was doing something that made me feel incredible because I realized I was doing something to help other people.
Evan Carmichael
Most people quit on their dreams too soon. They just quit too soon. You don't realize that to have success, you have to try and try and try and try, keep improving and keep trying to find another way, until you eventually hit it, and that's the story of any successful person.
They tried so many different ways until they had the thing that helped them break through. And too many quit way too quickly. And you need to explore, and say yes, and try things until you find that thing that makes you come alive. And so for Aaron, it was YouTube.
He tried all this other stuff, and nothing was working and he knew he had something bigger in them, and he didn't want to play the safe life, right? He didn't want to take that failure and then say, "Okay. That's just not going to work." "I'm going to go and work at a retail store."
Right, he didn't give up on doing something bigger, even if he didn't quite even know what that bigger thing was he didn't give up. Most people quit right there. You need to continue to explore. He stumbled into YouTube, and that became the thing that he then exploded with.
For me, it was going to the YMCA. And delivering a speech that was I was super proud of to go and help entrepreneurs when they invited me in, and only three people showed up. You know, three people showed up to a free event. How was I ever going to turn this into a business, and make money from it?
But because I went, and because I loved it, and because I enjoyed it, I had to find a way to keep going. Even if I never made money from it, I had to find a way to keep doing it because I loved it, because it became my dream, because the feeling that I got when I was doing it was intoxicating.
I couldn't wait to go and do it again. I just found this thing that helping entrepreneurs was something I found so satisfying. And so I had to find the way to continue. And that's the thing with dreams.
"Most people quit on their dreams too soon. They just quit too soon. You don't realize that to have success, you have to try and try and try and try, keep improving and keep trying to find another way, until you eventually hit it, and that's the story of any successful person." – Evan Carmichael
A lot of times they don't make sense at the beginning. You don't quite know how it's going to work out. You don't necessarily have that final end goal yet, because it's brand new, because you haven't done anything yet. And so you've got to figure it out.
You won't get to that success by sitting on the couch and thinking and thinking and thinking and thinking and seeing other people make a lot of money and other people going off and chasing their dreams. You have to get up off the couch and do something.
People often ask me, "When do you quit?" And I'm not the guy that says never, never quit. Really the answer comes down to, is it still your dream or not? Are you still passionate about this thing or not? If it's still your dream, and you just haven't figured out a way to make it happen yet, then you have to keep going, you have to keep doing it.
Like Aaron and his transition to YouTube, you have to find different options and keep testing, until you find the thing that's right for you. The alternative is, you're going to live the rest of your life in regret. You're going to think, "I wish I just gave a little bit more." "I wish I tried a little bit harder." "I wish I pushed more on this thing to make it work."
And you settled for an average life. But if you don't have the passion anymore, if it just feels like work to you, that's when you quit. If it's not your dream anymore, then you quit and you move on to the next thing that is your dream.
Question Of The Day
So the question of the day today is, I'm curious: what is your dream? Leave it down in the comments below, I'm really curious to find out. Write it with some passion, with emotion, with feelings so that when you read it back you're like, "Yeah! That's what I'm doing. I'm pumped about it!" Let me see what you got. Leave it in the comments.
I also want to give a quick shout out to Eric Seuret from 3smobile, Eric, thank you so much for picking up a copy of my book Your One Word, I really, really, really appreciate it man, and I hope you're enjoying the read.
So thank you guys again for watching, I believe in you. I hope you continue to believe in yourself, and whatever Your One Word is. Much love, and I'll see you again tomorrow morning for another shot of Entspresso.
---
BONUS
Follow Your Dream
Sylvester Stallone
I, I truly believe, and people throw the word around, dreams, it's all about dreams. And by the way, dreams cost nothing. They're free. Uh, the hard part is just keeping them going, and please, keep them going.
Because we're here for one simple reason. He believed in the dream, I believed in the dream, and our dreams come true, and there's no reason every one of yours can't either. Thank you very much.
Martin Garrix
It sounds so cheesy, but follow your dreams. Like for me, I have 100 percent belief in that if somebody really wants something and really has the, and really is eager to work hard for it, you can make it happen or you can at least be very very close, you know.
So, yeah. It sounds cheesy but follow your dreams, and spend as much time as you can trying to improve, get better, learn new things, and it's never too late to learn new things. For me still, every day I get to learn new things and that's the fun thing. You never know everything.
Mel Robbins
Every single morning, Monday through Fridays at 9:00 AM, I host a live call-in radio show on Sirius satellite radio. It's called Make it Happen with Mel Robbins. And the thing that's been so crazy about that show is, every single person that calls me on that show, they call in because they're feeling stuck in their lives, and they're resigned about their ability to change their lives.
And I'm not talking about people that are nuts. I'm talking about successful people like you and me, that just somehow got stuck in their lives. And I'm not talking about people that are looking for cheesy self-help, I'm talking about people that really want to figure out how to move themselves forward. And I find that so many of us think that our dreams are unreachable, or unrealistic, and it's just so sad.
I mean, people think that their dreams disappear. And if that's what you think, congratulations, you're officially stuck. And the truth is that our dreams are always there, and they don't ever give up on us, we give up on them. But here's the secret.
If you just force yourself, and I mean force, because I know damn well none of you want to do anything about this. And I also know you're sitting there like, "Yeah, this self help crap, this isn't for me." But if you just force yourself to take a couple small steps there's always a surprise.
---
You might also like
---
More from Aaron Marino
---
Today we're going to learn how to communicate effectively.  Good morning, Believe Nation. It's Evan. My one word is believe, …
Today we're going to learn how to gain confidence.What's up believe nation, my one word is believe and I believe …
Embrace PAIN! Check out what Eric Thomas, C.T. Fletcher, and Joe Rogan have to say about pain, and how it …