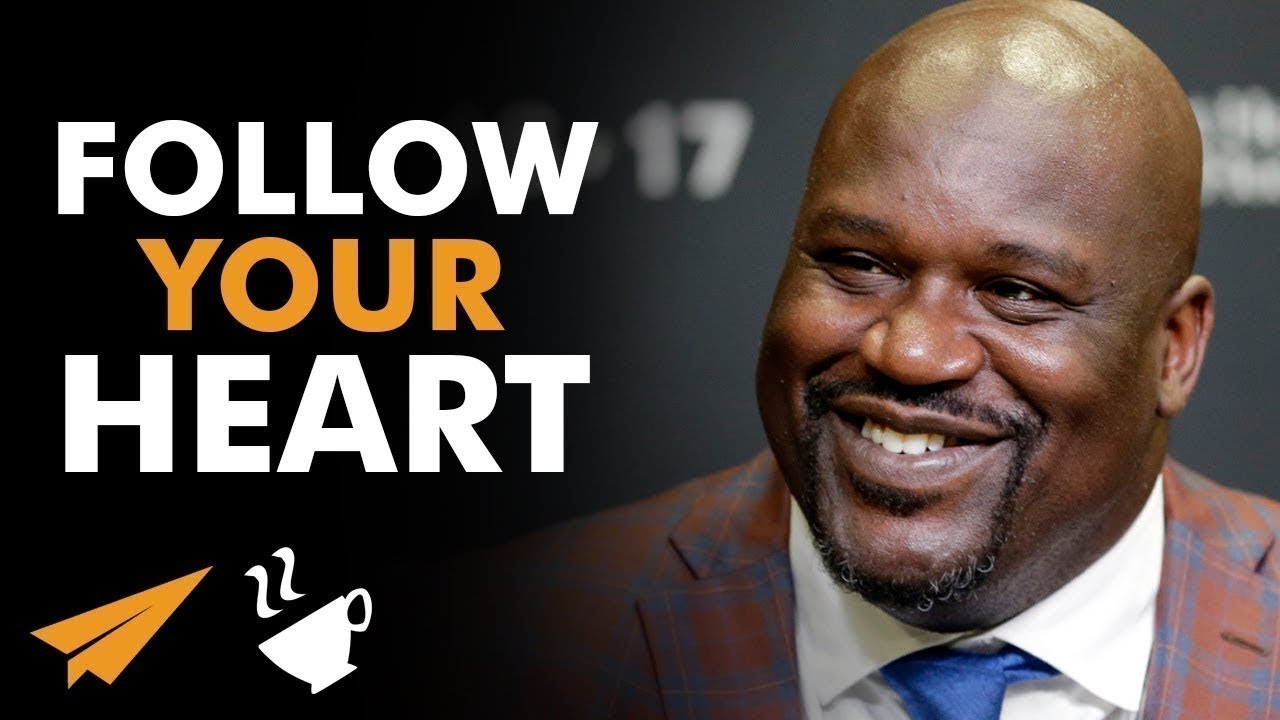 Good morning Believe Nation!
Today's message is follow your heart. Over to you, Shaquille O'Neal.
Shaquille O'Neal
Interviewer: What is it about investment and entrepreneurship that sort of has bitten you?
I never look at it as investments, believe it or not. I just look at it as partnerships, help changing the world, and just being part of something that's inspiring. My business people, all the time, whenever they talk about money, you can ask them, I'm like, ah, I don't want to hear it.
But if they bring an idea to me that I think is going to go to the next level, most of the time if I follow my heart, then everything else will fall into place. I've never ever done a deal, eh, we've got this suit company, we throw some pinstripes in the suit, you give me 100,000, we sell 20 of them, we make.
I've never did a deal where it was always based on money. I always did my business deals based on how I felt it was going to go in the future, how I felt it was going to help and inspire somebody.
---
Evan Carmichael
If you are starting a business just trying to make money, you're going to lose. This is how so many people go out of business. They read the magazine of the 100 hottest startups to start this year, and they try them and they fail. You lose.
I don't know how many times you need to hear this message. I don't know how many times we have profiled different successful people. I think this channel, we've profiled more successful people than maybe anybody else, maybe any other YouTube channel, maybe any other publication, period. Maybe.
If we're not there, we're in the top. From athletes to musicians to entrepreneurs to politicians to inventors to artists all over the world, people from different countries, different cultures, different races, different genders, and the single most consistent thing that everybody says is you have to follow your heart.
You have to have passion for the work that you're doing. I don't know how many times you need to hear it. I don't know that, we're making another video on it. A lot of you guys are going to get it. A lot of you guys still won't get it.
Hopefully by hearing it from Shaquille O'Neal this time and different entrepreneurs, at some point it's going to sink in. If the only reason that you're doing something is just for the money, you will always live paycheck to paycheck 'cause there's nothing deeper driving you forward.
Decide to do the thing that you're passionate about
As soon as you get enough money to pay your bills, you're going to ease up the throttle and you won't have any success, where if you're driven by something more than just making money and making money is important. Listen, we're running a business. You got to make money. Money provides for a lot of amazing things. It's not that money is evil. There just has to be something above money, something driving you.
"If you are starting a business just trying to make money, you're going to lose." – Evan Carmichael
Look at whoever you look up to most. Whoever has the most success in your industry, they wanted to change the way something was done. They had this thing inside them that they had to get out, and they made a lot of money in the process of doing it.
But money was never the number one goal. It never is. And so, I hope that by hearing the message again, for some of you, it's going to sink in, and this is going to be the time that you actually decide to do the thing that you're passionate about because I don't want you wasting time.
I don't want you just wanting to be an entrepreneur 'cause you want the entrepreneur lifestyle. I want you to do something important. And it's only going to come by leaning in heavily on the thing that you are most passionate about.
Question of the Day
So, the question of the day today is I'm curious, who is the most successful person that you look up to that really exemplifies that characteristic of just loving what they do and put in the hustle, hard work, and effort?
Who is that person for you? Super curious to find out. Leave it down in the comments below. I also want to give a quick shout out to Michael Brown. Michael, thank you so much for picking up a copy of my book, Your One Word. It really means a lot to me, man, and I hope you're enjoying the read.
Thank you guys again for watching. I hope you have an amazing day. I believe in you and hope you continue to believe in yourself. And I'll see you again tomorrow morning for another shot of Entspresso.
---
BONUS
Follow Your Heart
Ryan Coogler
Interviewer: The last Rocky movie before Creed, the final scene, was it your way of saying goodbye to the character, goodbye to that?
Sylvester: Yeah, goodbye to everything, goodbye to the best chapters of my life, at least professional life. It really was. Then, along comes this young guy to Oakland and I'm going, what?
Interviewer: Ryan Coogler.
Sylvester: Ryan Coogler.
Robin: When director Ryan Coogler first met with Stallone, he was untested as a feature filmmaker, but he had an intensely personal idea for reviving the Rocky franchise. Coogler's father had fallen gravely ill a few years earlier. With Ryan by his side, there was only one thing the elder Coogler wanted to watch.
Sylvester: The father is a very soulful powerful man, and now, he's being reduced to a shell of his former self. But oddly, he watches Rocky again and again and again. This son, who loves his father, sitting right beside him, and he's watching his father disintegrate before his very eyes, the traumatic impact was so imprinted on this young man that he never got over it.
So, he comes to me and he goes, "Hey, look at this great idea. "I'm going to revive Rocky." I go, "How?" And when he told me his story, I said, "This is insane, wrong." You're a young kid. You haven't done anything yet, but I appreciate the thought.
He goes, "Okay, see you around." And he goes out and he does a masterpiece, Fruitvale Station, wins the Cannes Film Festival. Every studio wants him. What's he want to do? Creed. I went, now, either this guy here is just trying my patience or he reminds me of a guy I used to know.
Robin: I was going to say, that was you 40 years ago.
Sylvester: Yeah, it was. Absolutely. Then, I realized this is not a movie for him. It's for his father. This is all about a love letter to his father.
Ryan Coogler: Now, if you really dug down deep and ask a real Rocky fan why he likes the movies, it's usually because they watched them with someone that they loved. What's so great about them is they're so personal to people. People just associate them with their family.
Kendrick Lamar
Narrator: This young, dedicated artist can't help but reflect on those who once doubted him.
They never said I wasn't talented enough. They'll say something like, "The industry is shady. "You don't need to be doing this." I respect their opinions, but at the end of the day, I had to follow my heart and that's what I wanted to do. It was a passion. I couldn't shake it. And I'd be hurt now if I didn't stick with it 'cause it'd always be in my head.
Paul Walker
Interviewer: And Paul, when you first signed up for the first one, which was back in '99, 2000, did you think you'd be sitting here in 2013, talking about number six?
No, not a chance. No screenplay, nothing, when I signed on. It was just an idea. And it was funny because I wanted to do it, working with my friends 'cause I'd already worked with these people before. And they're like, "You can't do it." My representatives were telling me, "You can't do it." There's no script. There's nothing.
Interviewer: That's really funny.  You didn't listen to their advice? You were right.
I got lucky. But it was just following your heart kind of thing, and it wasn't even about down the road. It was about living in the moment and got lucky.
---
You might also like
---
More from Entspresso
---
Today's message is be confident. Good morning believe nation, it's Evan. My one word is believe and I believe that …