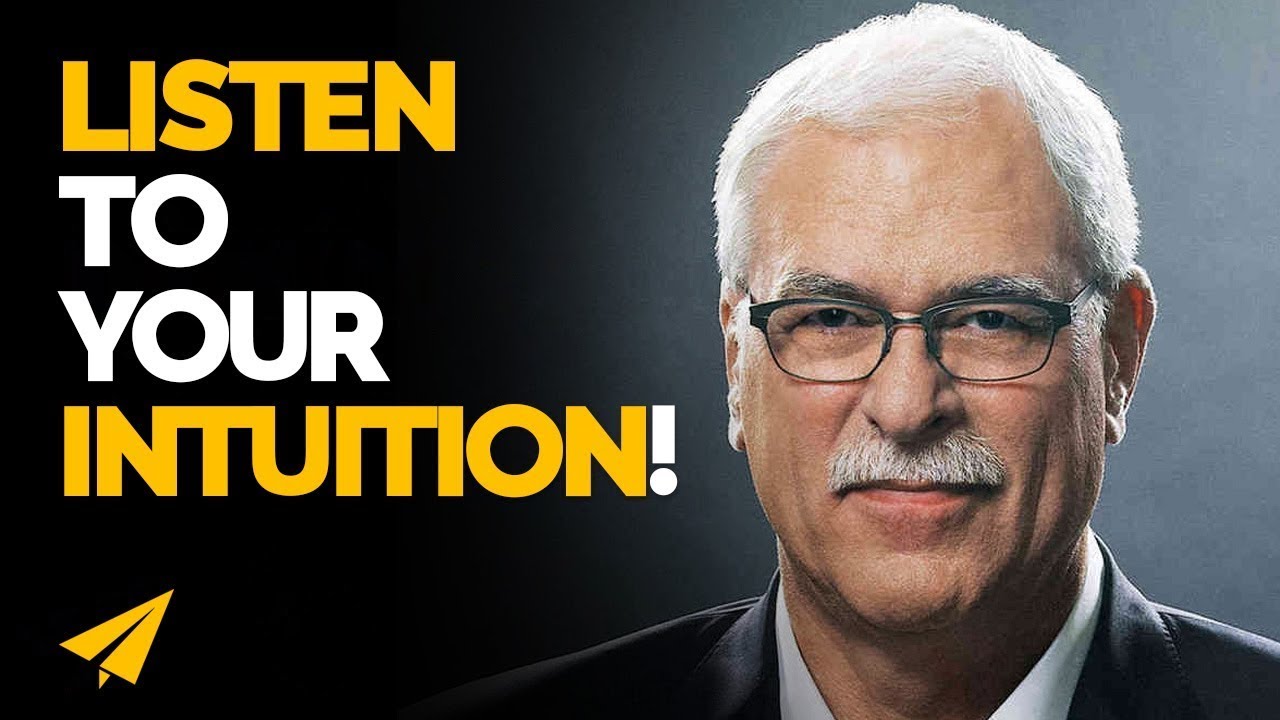 Good morning, Believe Nation!
Today's message is follow your intuitive nature. Over to you, Phil Jackson.
Phil Jackson
Who was it, Indy Jones? Who's in one of his Indiana Jones, one of his films, Steven Spielberg was asked, "What are we going to do next?" And he says, " I don't know, I'm just going by feel here." And that's kind of the way it is at times that you have to follow your intuitive nature.
You don't learn leadership skills, I think, from other people. I've gotten a lot of books sent to me about leadership. I think management has loads of books about leadership that people read. And they can pick up ideas from those. But if you're not authentic or who you really are. People see through that pretty quickly.
Evan Carmichael
You never have the perfect information to make a decision. This is one of the challenges of leadership. You will never have complete, 100% information to make an important decision. Because by the time you get 100%, the opportunity will have passed.
The solution would've already come and likely from somebody else. Somebody else is chasing down that opportunity and proved that it works. Where if you don't jump on it and prove it yourself, you're going to lose every time. How do you make that decision when you're only 65, 75, 85 percent confident? It's by listening to your intuition. You already know what is the right thing to do.
Both from a human prospective of what's right for you so that you don't live with regret. That this is something that has to come up. And with more experience and more practice of following your intuition. You realize what is right for the market, what people want, what is likely to work out or not. When I make a new video, for this channel, I have an intuitive sense of if it's going to be really good or not.
If I really, really deep down feel like this is insanely amazing, I haven't had many of those videos flop. And it comes from experience. And the more you hone in on listening to your intuition, the better you're going to get as a leader and as an entrepreneur. Let me tell you a quick story about Alex, who helps me run Toronto Dance Salsa. He desperately wanted to be a better leader.
When he first joined me last year, one of the things he had to work through was he was afraid of confrontation. Any time there was a difficult decision, potential confrontation, he would run away. He would delay. He wouldn't write back to you. He would avoid the situation. And by recognizing that this was something that he wanted to get better at and that he was holding himself back, subconsciously, we slowly worked on getting better.
When there was an issue that came up, he had to convince himself by thinking it through that the behavior I'm doing is not rational. It's not what I want to do. It's not in my own self interest. It's not in the interest of the other people, for sure. But it's not what I want to be doing. And so, after thinking it through for an hour, he would get to the point where he would take action on it.
Recognizing it was just a fear that he had and he slowly got better at it. And that one hour became 45 minutes, became half an hour, became 15 minutes, and slowly got to the point where when there was a difficult situation, he would want to deal with it. He would still be afraid but he would want to deal with it. But it wasn't instinctive yet. His instinct was to run away. And we all have these things, right?
We all have these fears, these insecurities, where the instinct is to run away, to not address it, to not deal with it. That was his instinct. But because he built a muscle and it was in his own best interest of what he wanted to do, how he saw himself as a leader, it got more and more and more intuitive and more instinctive for him. To the point where last week, at his condo, there was a fight that happened downstairs.
"You never have the perfect information to make a decision. This is one of the challenges of leadership. You will never have complete, 100% information to make an important decision. Because by the time you get 100%, the opportunity will have passed." – Evan Carmichael
Two guys broke out into a fight and nobody was doing anything. And now it's not on him to do anything. Security guards, right there, they're not doing anything. Nobody wanted to be a leader and step up. And the test of a real leader is when there is a vacuum of leadership. When there is no leadership, a leader steps in and fills the void. And so Alex, didn't take an hour to think about it, he jumped in and he stopped the fight.
He did what the best version of himself would do. And it was an instinct. He managed to take the thing that he was not good at, it was the opposite of, he would run away from every situation that was potentially having conflict in it. To the point where it came something that he thought about and slowly fixed. To the point where now it's his instinct and his habit to jump in and solve the problem.
With experience of understanding where you are limiting yourself, what behaviors you are doing that are holding yourself back, and with repeated effort and practice to build the muscle, through practice, through dedication, through continuance, you can get to the point where that behavior that you wanted to change, that you would run away from, now becomes an instinctive reaction to do the right thing.
The more you follow your intuition and lean in on it, the more you practice doing the thing that the best version of you wants to do, then the closer you will close the gap for yourself and make the right decisions and have the biggest impact that you can.
Question of the day
So the question day today is that I'm curious what was the last instinctive decision that you made that turned out really well for you?
Where you didn't have complete information but you made a gut check and it worked. Let me know. Leave it down in the comments below.
I'm super curious to find out. I also want to give a quick shout out to Lim Kee Sitt. Thank you so much for picking up a copy of my book, Your One Word. I really, really appreciate the support. I hope you're learning from the book and you're applying it to your life and to your business.
Thank you, guys, again, for watching. I hope you have an amazing day. I believe in you and hope you continue to believe in yourself. And I'll see you again tomorrow morning for another shot of Inspesso.
---
BONUS
Follow Your Intuitive Nature
Steven Spielberg
Well I left college because I knew exactly what I wanted to do and some of you know, too. But some of you don't. Or maybe you thought you knew but are now questioning that choice. Maybe you're sitting there trying to figure out how to tell your parents that you want to be a doctor and not a comedy writer.  Well, what you choose to do next is what we call, in the movies, the character defining moment.
Now these are moments you're very familiar with. Like, in the last Star Wars: The Force Awakens, when Rey realizes the Force is with her, or Indiana Jones choosing mission over fear by jumping into a pile of snakes. Now in a two hour movie, you get a handful of character defining moments. But in real life, you face them every day. Life is one strong, long string of character defining moments.
And I was lucky that, at 18, I knew what I exactly wanted to do. But I didn't know who I was. How could I? And how could any of us? Because for the first 25 years of our lives, we are trained to listen to voices that are not our own. Parents and professors fill up our heads with wisdom and information and then employers and mentors take their place and explain how this world really works.
And usually these voices of authority make sense but sometimes, doubt starts to creep in our heads and into our hearts and even when we think, that's not quite how I see the world, it's kind of easier just to nod and agree and go along. And for a while I let that going along define my character. Because I was repressing my own point of view because like in that Nillson song, everybody was talking at me so I couldn't hear the echoes of my mind.
And, at first, the internal voice I needed to listen to was hardly audible and it was hardly noticeable. Kind of like me in high school. But then I started paying more attention and my intuition kicked in. And I want to be clear that your intuition is different from your conscience.
They work in tandem, but here's the distinction. Your conscience shouts, "Here's what you should do!" While your intuition whispers, "Here's what you could do." Listen to that voice that tells you what you could do. Nothing will define your character more than that. Because once I turned to my intuition and I tuned into it, certain projects began to pull me into them and others I turned away from.
Katy Perry
Now why did you decide to come out with Roar? There was that big countdown and then Roar came out and it was huge for you. I mean, you broke your own records there. Why wasn't Roar the first single?
Um, you know, it was up for debate. A couple of singles, it was going to be Roar or another one and we decided to go with Roar because of the reaction I was getting from my friends. I kind of use my friends as Guinea pigs. As test Guinea pigs. And I have a very eclectic group of friends ranging from DJs, to artists, to just moms. And they all really agreed that Roar was the best one. And it has that bouncy feel, that eighth note feel, but it also has this message of finding your inner strength again and letting that, kind of, come out as a roar. And people related to it.
Yeah, well they really did.
And there's something, yeah, there's something, like there's an intuitive thing that happens inside of me. And I always trust my intuition when it comes to writing songs and picking which songs should come out as singles.
Paul Orfalea
You fall in love with somebody here, you don't love them here, what happens? You get a stomach ache here. Where do you fall in love? With your stomach.  Are you cultivating your intuition? And I would say, if you're not drinking enough beer at The Oasis, you're not taking advantage of your education.  Because what you're going to do in life, is you're always going to be gaging people, if they're BSers or not.
And if you're not cultivating your human skills, They're going to snow ya. You know what I mean? Drinking beer is not your enemy. Drinking beer and socializing, having coffee, you're learning that those are very constructive moments. You're learning, is that a person a BSer? Or can I trust them? What is the behavior that I really want from my workers?
---
You might also like
---
More from Entspresso
---
Today's message is be confident. Good morning believe nation, it's Evan. My one word is believe and I believe that …