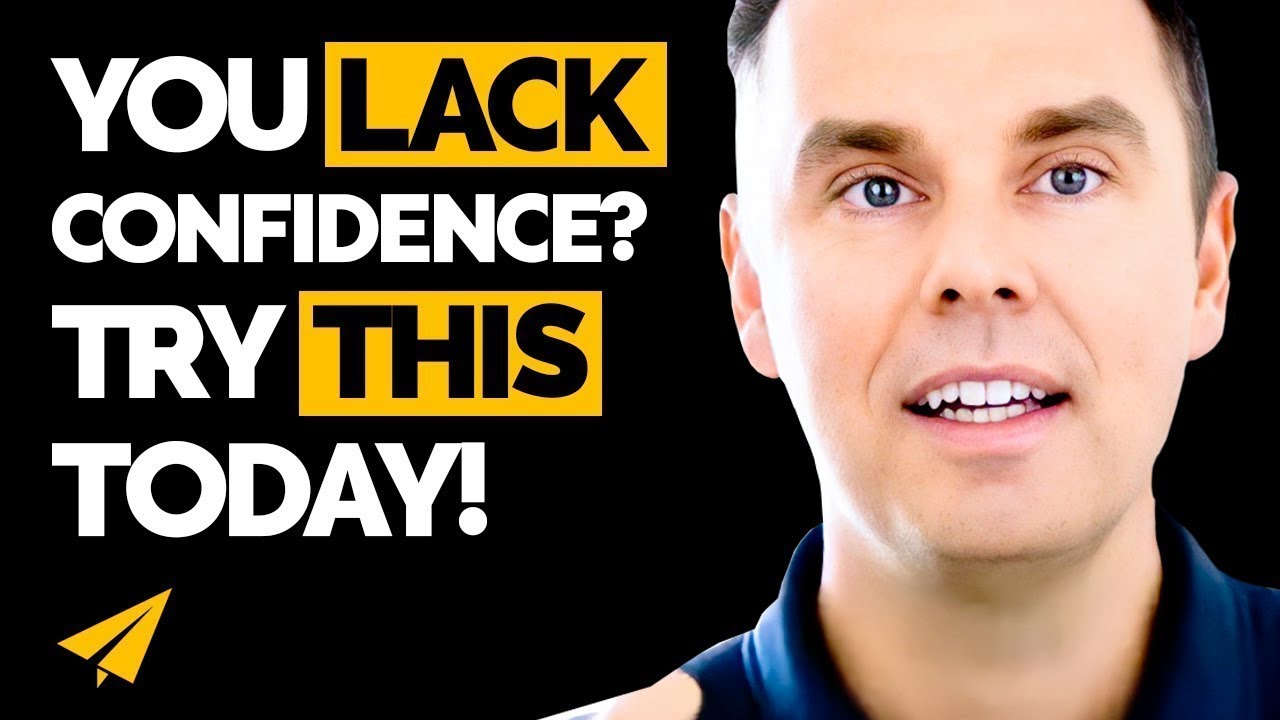 Today we're going to learn how to gain confidence.What's up believe nation, my one word is believe and I believe in people more than they believe in themselves and my sincere hope is that you see in yourself what I see in you, you'll be able to change the planet.
I started the believe life series to help us learn a little bit more about ourselves, grow personally and ideally, bring some of what we learn about ourselves to our business to have more success.
How to Gain CONFIDENCE
Why
Robin Sharma
I don't know if you'd agree with me on this, but in many ways, one of the key factors to legendary success isn't your natural ability.
It's not whether you have the right product.
It's not whether you're in the right field.
It's not whether you've had a blessed background.
It's not whether you have the right IQ.
I want you to really think about and deconstruct and play with, maybe later tonight in your journal, I want you to deconstruct this idea of confidence.
And it seems like a very simple word, but just think about it in your own life.
When you have confidence, or we could even call it fire, when you have that fire within you, that confidence, that interior bravery, you almost have this power to do whatever it takes to get your brave vision done.
You see, in this world it's not about, in many ways your strategy in your business, or your ability in your life. It's about this thing called confidence.
And we've all had these times in our lives when we are full of confidence, and what other people see as a problem, we do see as an opportunity.
Other people see it as a stumbling block or a wall, and we see it as a stepping stone or this solution. And so confidence is something that you really want to wire in.
Confidence is something you really want to develop. Confidence is a practice.
Confidence is a muscle, and like any muscle, the more you focus on it and practice it and train it, the stronger your confidence is going to grow.
And I just have to say it again. When you are at a place in your life when there is an ongoing, steady stream of confidence moving through your mindset, moving through your heartset, you do the heroic in your business and you achieve the remarkable in your life.
How
Eliminate Negative People
Aaron Marino
Confidence secret number one is eliminate negative people from your life.
Negativity is more contagious than crabs.
When you surround yourself or have negative little cancerous people in your life, they directly impact your confidence in a negative way. Negative nasty people.
Nasty. Not like good nasty, bad nasty. As in get the freak away from me, I want nothing to do with you. Now, here's the issue, when I say, hey, you just get rid of negative people.
It's like poof, they're gone, right? Wrong. Because a lot of times, we have these negative people, or these energy vampires all around us. They might be at work, they might be at school, they might actually be related to us.
Does this mean that you may need to find a new job? Yeah. Maybe a new relationship? Mm, quite possibly. Is it going to suck for a little while now? Yes. In the long run is it going to pay off big time in terms of your confidence? Yes.
"When you surround yourself or have negative little cancerous people in your life, they directly impact your confidence in a negative way." – Aaron Marino
Develop Competency
Brendon Burchard
Psychologists often call it the confidence competence loop and as you become more competent in something, you learn how to do it, you're more confident in doing it.
As you learn how to ride a bike and you've rode the bike more and more and more, you became more skilled at it, you developed more confidence in your ability to ride the bike.
Any area of your life, you're going to go into for the first time, be okay with being uncertain. Be okay with being uncomfortable. Be okay with not knowing how it's going to turn out.
'Cause it's your first time. But stumble into it anyway. Because if you stumble into it, you develop skill.
You develop comfort with it, and then something, one day, you wake up and say, I'm pretty confident doing this.
Nothing changed in who you are. What changed is your level of competency, knowledge, skill, and ability.
That's what competence is, knowledge, skill, ability and talent, And so when we finally realize, oh, wow, I just need to learn a little bit more here, I'll be more confident.
I just need to apply this a little bit more here, I'll be more confident. As you develop skills and abilities in your life in your unique areas, you become more confident.
"As you become more competent in something, you learn how to do it, you're more confident in doing it." – Brendon Burchard
Study The Alchemy
Robin Sharma
Study the alchemy. Now here's what I mean by that.
What happens to most people in life, especially the victims, is they reach a part of their life, a difficult time, and they call it failure.
I mean even just labeling a setback as a failure triggers something into your mindset to release cortisol, the fear hormone, which blocks your best performance.
And so you want to see yourself and you want to study the alchemy, which is where other people are seeing a failure or setback or even a little problem you want to look for the gold.
You want to train your brain so you have a dominant belief that just becomes automatic because you've practiced it so much, where when someone says there's a problem, or there's a wall, or there's a failure, you literally see the alchemy to turn the lead into gold.
Maybe you're going through a divorce, maybe you're going through an illness, a lot of people who watch this podcast are going through difficulties or outright tragedies, but you want to practice seeing the setback or the dark time as fuel to leverage your growth.
And so on this first point about study the alchemy, no matter what you're going through in your life, whether it's a large difficulty or a small setback, you want to ask yourself, how can I use what I'm going through as fuel for my growth?
You want to ask yourself, what is the gorgeous opportunity hidden inside this so-called problem? I mean and if you look at the mass of humanity, they really train their brains to focus on problems.
Right, they hit a wall, and they just, because of their belief system, they don't know it, because most people are really not that aware of their belief systems, so they blame it on the world.
They blame it on the supplier. They blame it on the teammate. They blame it on their husband or wife.
They blame it on their childhood. Versus understanding our daily performance reflects our deepest beliefs.
And so if you are experiencing some kind of setback, whether it's large or tiny, you want to train your brain to see the treasure within the lead.
"Labeling a setback as a failure triggers something into your mindset to release cortisol, the fear hormone, which blocks your best performance." – Robin Sharma
Stay Rooted In Your Frame
Charlie Houpert
But if you want to convey honest confidence that inspires people, make sure you can back it up. As much confidence as Ali had, and as much as he showed he was just as good in the ring, but that wasn't everything that Ali had. He was also a dominant force in every interaction. Watch here how he completely ignores the reporter telling him that he isn't pretty and delivers one of his most iconic lines.
I'm the king of the world.
Hold it, hold it, hold it.
I'm pretty.
Hold it, you're not that pretty.
I'm a bad man. I shook up the world. I shook up the world.
This kind of interaction might look insignificant, but it happens all the time and it is very important. It is a clash of frames. We've talked about this before in different videos on tearing, if you want to check that out, but right here, Ali's frame says that he should be doing the talking.
The reporter's frame says that Ali should listen because he's asking questions. Those two frames collide and Ali, as always, comes out on top.
The winner of any frame collision is going to be the person who believes their frame more, but watch here to see the subtleties of how that is communicated, and I want you to pay attention to three things.
First, how Ali doesn't look at the reporter, but the reporter looks at him. Second, how Ali doesn't respond to what the reporter says, but the reporter responds to him. And third, how the reporter tries to physically pull Ali towards him, but Ali doesn't budge.
I'm the king of the world.
Hold it, hold it, hold it.
I'm pretty.
Hold it, you're not that pretty.
I'm a bad man. I shook up the world. I shook up the world.
That took about eight seconds, which is as long as it takes for there to be a winner in a frame game. These short little frame collisions happen all the time throughout your day, in tons of different ways.
And what's remarkable is that from what I can tell, Muhammad Ali always stayed firmly rooted in his own frame. When we see that kind of conviction, we can't help but be drawn to it.
Here's just another little example that you might relate to. When two people go to give different styles of handshakes, watch how Ali maintains his frame.
Ali isn't trying to be a jerk. In fact, he was very playful throughout this interview. But he has grown accustomed to setting the tone of the interaction.
Pay attention in your own life in subtle little ways. Who do you make adjustments for, and who do you stick to your guns with? That's a pretty clear indication of who the leader is in any sort of relationship.
Now, there is no problem with taking a follower role sometimes, but in certain situations, like sales pitches, interviews, even dates, you are usually going to benefit from being the leader.
So those frame games become very important. Ali was so confident, had such a strong frame, that he seemingly had no fear of being honest. That might not seem like a big deal, but most people are extremely afraid of what others would think of them, if they were totally real.
"Pay attention in your own life in subtle little ways." – Charlie Houpert
Fake It 'til You Become It
Amy Cuddy
I'm a social psychologist. I study prejudice, and I teach at a competitive business school.
So it was inevitable that I would become interested in power dynamics.
I became especially interested in non-verbal expressions of power and dominance.
And what are non-verbal expressions of power and dominance?
Well, this is what they are.
So in the animal kingdom, they are about expanding, so you make yourself big, you stretch out, you take up space, you're basically opening up. It's about opening up.
And this is true across the animal kingdom. It's not just limited to primates.
And humans do the same thing.
So they do this both when they have power, sort of chronically, and also when they're feeling powerful in the moment.
And this one is especially interesting, because it really shows us how universal and old these expressions of power are.
Expressions of power
This expression, which is known as pride, Jessica Tracy has studied. She shows that people who are born with sight and people who are born congenitally blind do this when they win at a physical competition.
So when they cross the finish line and they've won, it doesn't matter if they've never seen anyone do it, they do this.
So the arms up in the V, the chin is slightly lifted. What do we do when we feel powerless? We do exactly the opposite.
We close up. We wrap ourselves up. We make ourselves small. We don't want to bump into the person next to us.
So again, both animals and humans do the same thing. And this is what happens when you put together high and low power.
So what we tend to do when it comes to power is that we complement the others' nonverbals.
So if someone is being really powerful with us, We tend to make ourselves smaller.
We don't mirror them, we do the opposite of them.
So we know that our non-verbals govern how other people think and feel about us.
There's a lot of evidence, but our question really was do our non-verbals govern how we think and feel about ourselves?
There's some evidence that they do.
For example, when we, we smile when we feel happy, but also when we're forced to smile by holding a pen in our teeth like this. It makes us feel happy.
So it goes both ways. When it comes to power, it also goes both ways.
Concept of power.
So when you feel powerful, you're more likely to do this, but it's also possible that when you pretend to be powerful you are more likely to actually feel powerful.
We decided to bring people into the lab and run a little experiment, and these people adopted for two minutes either high power poses or low power poses and I'm just going to show you five of the poses, although they took on only two.
So here's one. Couple more. This one has been dubbed the Wonder Woman by the media. Here are a couple more.
So you can be standing or you can be sitting and here are the low power poses. So you're folding up, you're making yourself small.
This one is very low power, when you're touching your neck, you're really kind of protecting yourself.
So this is what happens. They come in, they spit into a vial.
We, for two minutes say, you need to do this or this. They don't look at pictures of the poses, we don't want to prime them with a concept of power.
We want them to be feeling power, right, so two minutes they do this. We then ask them how powerful do you feel on a series of items, and then we give them an opportunity to gamble, and then we take another saliva sample.
That's it, that's the whole experiment. So this is what we find.
Risk tolerance, which is the gambling, what we find is that when you're in the high power pose condition, 86% of you will gamble.
Our bodies change our minds.
When you're in the low power pose position, only 60%, and that's a pretty whopping significant difference.
Here's what we find on testosterone. From their baseline when they come in, high power people experience about a 20% increase and low power people experience about a 10% decrease. So again, two minutes and you get these changes.
Here's what you get on cortisol. High power people experience about a 25% decrease, and low people experience about a 15% increase.
So two minutes lead to these hormonal changes that configure your brain to basically be either assertive, confident, and comfortable, or really stress reactive.
And feeling sort of shut down, and we've all had that feeling, right?
So it seems that our non-verbals do govern how we think and feel about ourselves.
So it's not just others, but it's also ourselves.
Also, our bodies change our minds.
But the next question, of course, is can power posing for a few minutes really change your life in meaningful ways?
So this is in the lab, it's this little task, it's just a couple of minutes, where can you actually apply this, which we cared about, of course.
And so we think, it's really, what matters, where you want to use this is evaluative situations, like social threat situations.
Where are you being evaluated, either by your friends, like for teenagers, at the lunchroom table.
It could be for some people speaking at a school board meeting.
It might be giving a pitch or giving a talk like this or doing a job interview.
We decided that the one that most people could relate to, because most people had been through was the job interview.
Social quicksand.
So we published these findings and the media are all over it, and they say, okay, so this is what you do when you go in for the job interview, right?
So we were, of course, horrified, and said, oh my god, no, no, no, no, that's not what we meant at all, for numerous reasons, no, no, no, don't do that.
Again, this is not about you talking to other people, it's you talking to yourself.
What do you do before you go into a job interview?
You do this. Right, you're sitting down, you're looking at your iPhone, or your Android, not trying to leave anyone out.
You are looking at your notes, you're hunching up, making yourself small, when really what you should be doing maybe, is this, like the bathroom, right?
Do that, find two minutes.
So that's what we want to test, okay? So we bring people into a lab, and they do either high power or low power poses again, they go through a very stressful job interview.
It's five minutes long, they are being recorded, they're being judged also, and the judges are trained to give no nonverbal feedback.
So they look like this. Imagine this is the person interviewing you. So for five minutes, nothing.
And this is worse than being heckled. People hate this. It's what Mary Ann La France calls standing in social quicksand.
So this really spikes your cortisol. So this is the job interview we put them through, 'cause we really wanted to see what happened.
We then have these coders look at these tapes, four of them. They're blind to the hypothesis, they're blind to the conditions, they have no idea who's been posing in what pose.
And they end up looking at these sets of tapes and they say, oh, we want to hire these people, all the high power posers.
We don't want to hire these people. We also evaluate these people much more positively overall.
Mediating the effect.
But what's driving it?
It's not about the content of the speech, it's about the presence that they're bringing to the speech.
We also, because we rate them on all these variables related to competence, like how well structured is the speech, how good is it, what other qualifications, no effect on those things.
This is what's affected. These kinds of things. People are bringing their true selves.
They're bringing themselves. They're bringing their ideas, but as themselves, with no residue over them.
So this is what's driving the effect or mediating the effect.
So when I tell people about this, that our bodies change our minds and our minds can change our behavior and our behavior can change our outcomes, they say to me, I don't, it feels fake, right?
So I said, fake it 'til you make it, like I don't, it's not me, like I don't want to get there and then still feel like a fraud.
I don't want to feel like an impostor. I don't want to get there, only to feel like I'm not supposed to be here.
And that really resonated with me because I want to tell you a little story about being an impostor and feeling like I'm not supposed to be here. When I was 19, I was in a really bad car accident.
I was thrown out of a car, rolled several times, I was thrown from the car, and I woke up in a head injury rehab ward, and I had been withdrawn from college.
And I learned that my IQ had dropped by two standard deviations. Which was very traumatic, I knew my IQ because I had identified with being smart, and I had been called gifted as a child.
I'm doing it, I have become this.
So taken out of college, I keep trying to go back, they say you're not going to finish college. Like, just there are other things for you to do, but that's not going to work out for you.
So I really struggled with this, and I have to say, having your identity taken from you, your core identity, and for me it was being smart, having that taken from you, there's nothing that leaves you feeling more powerless than that.
So I felt entirely powerless, I worked and worked and worked and I got lucky and worked and got lucky and worked. Eventually I graduated from college.
Took me four years longer than my peers. And I convinced someone, my angel advisor, Susan Fisk, to take me on, and so I ended up at Princeton, and I was like, I am not supposed to be here. I am an impostor.
And the night before my first year talk, and the first year talk at Princeton is a 20 minute talk to 20 people, that's it.
I was so afraid of being found out the next day that I called her and said, I'm quitting.
She was like, you are not quitting. Because I took a gamble on you and you're staying. You're going to stay and this is what you're going to do. You are going to fake it.
You're going to take, you're going to do every talk that you ever get asked to do.
You're just going to do it and do it and do it, even if you're terrified, and just paralyzed and having an out of body experience, until you have this moment where you say, oh my gosh, I'm doing it, I have become this.
I am actually doing this. So that's what I did. Five years in grad school.
Few years, I'm at Northwestern, I moved to Harvard, I'm at Harvard, I'm not really thinking about it anymore but for a long time I had been thinking, not supposed to be here, I'm not supposed to be here.
Fake It
So the end of my first year at Harvard, a student who had not talked in class the entire semester, who I had said, look, you got to participate or else you're going to fail, came into my office, I really didn't know her at all, and she said, she came in, totally defeated, and she said, I'm not supposed to be here, and that was the moment for me, because two things happened.
One was that I realized oh my gosh, I don't feel like that anymore.
You know, I don't feel that anymore, but she does, and I get that feeling and the second was, she is supposed to be here.
Like she can fake it, she can become it. So I was like, yes, you are.
You are supposed to be here, and tomorrow you're going to fake it, you're going to make yourself powerful, and you know.
And you're going to go into the classroom and you are going to give the best comment ever.
And she gave the best comment ever and people turned around and they were like, oh my god, I didn't even notice her sitting there.
She comes back to me months later, and I realize that she had not just faked it till she made it, she'd actually faked it till she became it.
So she had changed. And so I want to say to you don't fake it till you make it.
Fake it till you become it. It's not, do it enough until you actually become it and internalize. The last thing I want to leave you with is this. Tiny tweaks can lead to big changes. So this is two minutes.
Two minutes, two minutes, two minutes. Before you go into the next stressful evaluative situation, for two minutes, try doing this in the elevator in a bathroom stall, at your desk behind closed doors.
That's what you want to do. Get, configure your brain to cope the best in that situation.
Get your testosterone up, get your cortisol down. Don't leave that situation feeling like, oh, I didn't show them who I am.
Leave that situation feeling like, oh, I really feel like I got to say who I am and show who I am.
So I want to ask you first, both to try power posing and also I want to ask you to share this science, 'cause this is simple. I don't have ego involved in this.
Give it away, like share it with people, because the people who can use it the most are the ones with no resources and no technology. And no status and no power.
Give it to them, because they can do it in private. They need their bodies, privacy, and two minutes. And they can significantly change the outcomes of their life.
---
Thank you guys so much!
I love to know what did you think, what did you learn from this article that you're going to apply immediately, somehow to your life or to your business? Leave it down in the comments below. I'm really excited to hear from you.
I also want to give a quick shout out to Kevin Lee. Kevin, thank you so much for picking up a copy of my book, Your One Word, and stopping by the studio and taking a picture and getting it signed, and sharing it on Facebook. I really, really appreciate the support, man, and I'm so glad that you enjoyed the book.
Thank you guys so much for watching. I believe in you. I hope you continue to believe in yourself, and whatever your one word is. Much love. I'll see you soon.
---
BONUS
Robins Sharma
And our weaker selves think that success in life is being happy, happy, happy.
Always being in the sunshine. Always being successful.
And society has sold us a bill of goods that if we're not successful and we're not on our games and if we're not waking up happy and if we're not full of joy and if we're not feeling all this confidence there is something that is wrong.
And with deep love and respect, this could be one of the most important things I share with you in this podcast. That is just your ego screaming. And that's why I say flow with the seasons.
A life beautifully lived is a series of seasons. A legendary producer is not always at the top of the mountain. And so stop resisting, I encourage you, stop resisting the natural flow of epic performance.
Stop resisting the natural seasons of life. You see, and so what happens is that when you stop struggling and you learn, again, it's a muscle, but you just learn to relax with life.
And you simply understand part of living a legendary business life and part of living a rare air personal life means you're going to have seasons of so-called success in society, maybe it's making a lot of money, being really productive, being at the top of your game, receiving the accolades of peers, feeling you are nailing your goals and your ambitions and your KPIs, your key performance indicators, and you're going to have seasons where you're confused.
Seasons where you feel heartbroken. Seasons where you feel depleted. Seasons where you are struggling. And the more you learn to relax into every season, the more you will generate this internal power which I call confidence.
Aaron Marino
Secret number two, complement others. How does it feel getting a compliment? Exactly. It feels incredible. It also feels incredible giving them. Here's the interesting thing about compliments.
When somebody gives you a compliment, you automatically like them more, right? You're like, I thought he was a, but he said I had nice shoes, he's not so bad. Follow along.
The person getting the compliment feels incredible. You feel great for making them feel incredible and they actually like you more. The other up side to giving compliments is that it helps you develop your people skills, leading to confidence and increased social prowess.
Brendon Burchard
Human develops in its psyche. We develop a real sense of competence or confidence coming from a sense of integrity for ourselves, you know? Integrity is I know who I am and I am being that consistently.
I know what I want and I am chasing that consistently. Integrity being aligned with who you are, your values, your beliefs, and your dreams, having integrity, that gives us confidence in self, right, that our self can stand on its own and be itself and do what it desires, that gives us a sense of confidence, so how have you been doing in that department?
Have you been really demonstrating who you are to the world?
Have you allowed yourself to do that, 'cause if you do that over a period of time, this self and I would argue, the soul, senses a coherence, you know, there's a cohesive sense of identity that comes from being consistent to the best of who we are.
Confidence comes from that. And that, too, is will. It is decision. It is a desire to want to be a person of integrity and confidence, and that's where it stems from.
---
You might also like
---
More from Aaron Marino
---
Today we're going to learn how to communicate effectively.  Good morning, Believe Nation. It's Evan. My one word is believe, …
Embrace PAIN! Check out what Eric Thomas, C.T. Fletcher, and Joe Rogan have to say about pain, and how it …
"Guys, here's the deal. Entrepreneurship, you're going to have highs. You're going to have lows, I promise. But as long …