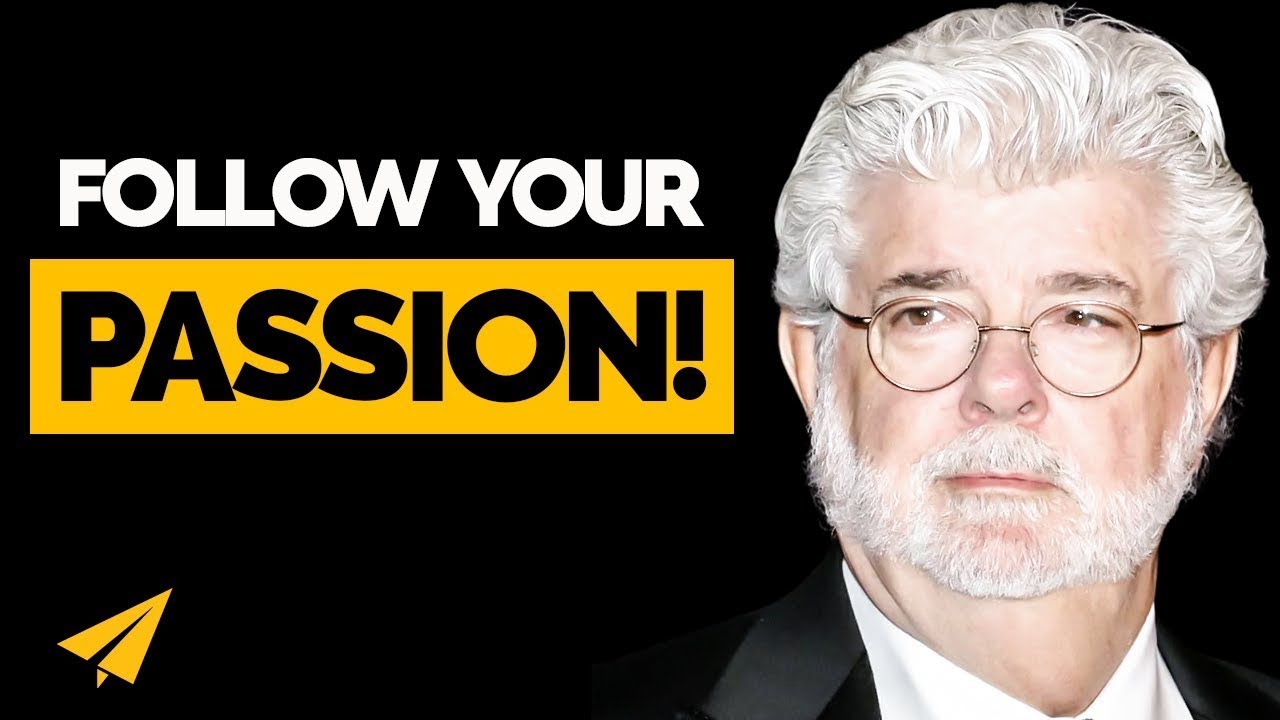 Famous Entrepreneur Quotes
George Lucas's Quotes
"Everything I did, I was following something I really cared about."
"Everybody said it was a crazy thing to do 'cause in those days, nobody made it into the film business."
"Everybody has talent, and it's just a matter of moving around until you discovered what it is."
George Lucas's Top 10 Entrepreneurship Rules For Business and Success
He's an American filmmaker and entrepreneur. He's best known as the creator of the Star Wars and Indiana Jones franchises, as well as being the founder of Lucasfilm. As of March 2015, George Lucas' net worth was estimated to be $5.1 billion by Forbes magazine. He's George Lucas, and here are his top 10 rules for success.
Rule #1: Follow Your Passion
Everything I did, I was following something I really cared about. Something that I loved, something I was passionate about. And I kept following that passion. Whether it was cars, whether it was anthropology. Whether it was art, photography. And eventually, it led me to my huge passion, my real passion, which was making movies, which combined all of those things.
And I realized that, had I gone on to get my degree in anthropology, I would've probably made anthropological movies in New Guinea or some place and eventually been on National Geographic and you know, the history channel, and been making features and I'd have done Star Wars just the same.
If I'd have gone to art center and become an illustrator, I would've probably started doing animation and doing animated films and making animated things, and then ultimately, I would've gone on and been right where I was. So no matter which route I took, because I cared about all of them, they all led to the same place.
Had I done what my father had wished me to do, which was to go into the office equipment business with him, which I knew I wasn't going to do, I knew I hated that. My life would've been unpleasant. So I think it's very important not to do what your peers think you should do, not do what your parents think you should do or your teachers, but to do what you inside, or even your culture thinks, but do what's inside you.
Rule #2: Don't Make Excuses
I decided to go to film school because I loved the idea of making films, I love photography. And everybody said it was a crazy thing to do, 'cause in those days, nobody made it into the film business. I mean just, unless you were related to somebody, there was no way in. So I was, you know, I was silly. You're never going to get a job. But I wasn't moved by that, I set the goal of getting through film school.
And just focused on getting to that level. 'Cause I didn't know where I was going to go after that. I wanted to make documentary films. And eventually, I got into the goal of, once I got to school, of making a film. One of the most telling things about film school is you got a lot of students, in those days especially, it's not quite so much today, but wandering around saying, "Oh, I wish I could make a movie, "I wish I could make a movie."
You know, I can't get in this class, I can't get into, you know, the first class I had was I had an animation class, it wasn't a production class. I had a history class and an animation class. And in the animation class, they gave us one minute of film to put onto the animation camera, to operate it, to see how you could move left, move right, make it go up and down.
And it was a test to see, you know, and the teacher would add certain requirements that you had to do. You had to make it go up and make it go down, and then the teacher would look at it and say, "Oh yes, you maneuvered this machine to do these things." And I took that one minute of film and made it into a movie.
And it was a movie that won like, you know, 20, 25 awards, you know, in every film festival in the world. And kind of changed the whole animation department. Meanwhile, all the other guys were running around saying, "Oh, I wish I could make a movie, "I wish I was in the production class."
And so then I got into another class, and it wasn't really a production class, but I managed to get some film and I made a movie, and I made lots of movies while I was in school while everybody else was running around saying, "Oh, I wish I could make a movie."
Rule #3: Discover Your Talent
Everybody has talent, and it's just a matter of moving around until you've discovered what it is. A talent is a combination of something you love a great deal, something you can lose yourself in, something that you start at nine o'clock. Look up from your work and it's 10 o'clock at night. And also, something that you have a talent, not a talent for but skills, that you have a natural ability to do very well. And usually, those two things go together.
Rule #4: Be True To Yourself
I really don't read too much about what, you know, I don't read the reviews and I don't read what people think too much, 'cause I've got to really make my movies the way I see them and the way I want them to be, and then people can take them for what they really are, they can like them or not like them, it's their privilege.
But I can't really, you know, I can't make my movies for all the influences that people around me, for better or worse, want. You know, I can't make the movies to make money, I just make the movies to make them good, and if they make money, fine. You know, I can't make them to make toys. You know, if they find that they can make a toy out of the movie, fine.
I can't make them to be entertaining in the way that certain critics like them to be entertaining. You know, there's these, Star Wars especially has been created in a very particular style. And I've tried to be faithful to that style. If somebody doesn't like that style, it's fine, it's funny that… The one thing I did hear on the last film that came out was something they discovered, that it was a film for young people.
And that was the big complaint. Why did he make a children's film? I said, well, they've all been that. Have you ever saw the other ones? It's been that way forever, but everybody grew up and they thought that they were going to now see Terminator 5. And I'm not making that kind of movie.
Rule #5: Get Feedback
I think one of the reasons that Steven and I have been as successful as we have is 'cause we like the movies. We like to go to the movies, we enjoy movies. And we want to make movies like the ones we enjoy. We want to be able to entertain the audience, we want to be able to startle the audience, we want to be able to blow the audience away and say, have them walk out of the theater saying, "Whoa, that was fantastic, "I was really moved by that."
That's what's part of the fun of it. You want people to think, you want people to be emotionally moved. And there's a theory behind that. In terms of storytelling, it's been around for thousands of years. And that's where something like live theater or live performance is something that is very valuable. Because you get instant feedback from your audience, and you kind of know the things that work and the things that don't work.
That's the advantage that, you know, the Greek storytellers had and Shakespeare had that us in the film industry are, it's harder to come by. Which is, you know, to be able to see an audience reaction and then adjust to what works. So you have to use your experience of sitting through a lot of movies.
I don't ever see movies by myself, I always see them with other people. Because I want to know what works, I want to know where they laugh, I want to know where they don't laugh, I want to know what they think about it afterwards. 'Cause in the end, that's the art that I'm working with is, you know, trying to communicate it in a way that is effective and people react to.
Rule #6: Don't Give Up Hope
No matter how easy it looks on the outside, it is a very very difficult struggle. Most people, you know, you don't see the struggle part of a person's life, you only see the success they have. But I haven't met anybody here at the academy or anywhere else that hasn't been able to describe years and years and years of very very difficult struggle through the whole process of, you know, achieving anything whatsoever.
And there's no way to get around that. The secret is just not to give up hope. It's very hard not to because, if you're really doing something worthwhile, I think, I think you will be pushed to the brink of hopelessness before you come through to the other side. And you just have to hang in through that.
Rule #7: Don't Be Mean
Well, I think ultimately, we don't have to be mean. You know, we're not really that competitive, I came out of film school with a lot of friends and we all helped each other, we helped each others in our careers.
And we just never were competitive about anything, we were always competitive in a friendly way to say, you know, like playing cards or, you know, dunking baskets, to say okay, you're so smart, try this. You know. And so it was that kind of competition, not the, you know, you must be destroyed and you must fail so I can win and all that sort of thing.
Rule #8: Pursue Joy,Not Pleasure
Happiness is pleasure and happiness is joy. You know, it can be either one. You add them up and it sort of falls under the uber category of happiness. Pleasure is short lived. It lasts an hour, lasts a minute, lasts a month. And it peaks and then goes down, it peaks very high.
But the next time you want to get that same peak, you have to do it twice as much. You know, it's like drugs, you know, you have to keep doing it 'cause it insulates itself. No matter what it is, whether you're shopping, whether you're, you know, engaged in any other kind of pleasure.
That all has the same quality about it. On the other hand is joy. And joy is the thing that doesn't go as high as pleasure in terms of your emotional reaction. But it says with you. Joy is something you can recall. Pleasure you can't.
The secret is that even though it's not as intense as the pleasure, the joy will last you a lot longer. And people who get the pleasure, they keep saying, well, if I can just get richer and get more cars, you know, you'll never relive the moment you got your first car.
That's it, that's the highest peak. Yes, you can get three Ferraris and a new Gulfstream jet and maybe you'll get close. But you have to keep going and eventually you run out. I mean, you just can't do it, doesn't work. So if you're trying to sustain that level of peak pleasure, you're doomed.
It's a very American idea, but it just can't happen, you just let it go. Peak, great, pleasure is fun, it's great. But you can't keep it going forever. Just accept the fact that it's here and it's gone. And maybe again it'll come back and then we get to do it again. Joy lasts forever.
Pleasure is purely self-centered. It's all about your pleasure, it's about you. It's about, it's a selfish, self-centered emotion that's created by a self-centered motive of greed. Joy is compassion. Joy is giving yourself to somebody else or something else.
And it's a kind of thing that is, in its subtlety and lowness much more powerful than pleasure. If you get hung up on pleasure, you're doomed, if you pursue joy, you will find everlasting happiness.
Rule #9: Be Compassionate
Children teach the most important thing of all, which is compassion. And compassion is really the secret to happiness and the secret to a good life. And it's a hard thing to learn. It's hard to learn not to think about yourself and to think about somebody else.
But when you have a little baby, it becomes pretty easy if you're open to it. And any parent that is reasonably normal and open to these sort of things really does learn compassion, caring about another person through having kids. And putting that other person first.
Rule #10: Help Others
I guess the advantage that my generation has, when we were in film school and we were starting the film business, the door was absolute locked. And it was a very very high wall. And nobody got in.
Therefore, all of us beggars and scroungers down at the front gate decided that, if we didn't sort of band together, we wouldn't survive. And that, if one could make it, that one would help all the others make it, and we will continue to help each other.
So we banded together. I mean, that's how cavemen figured it out. Any society starts that way, any society begins by realizing that together, by helping each other, you can survive better than if you fight each other and compete with each other.
If I got a job, I would help somebody else get a job, if somebody got more successful than me, it was partly my success. I wasn't, my success wasn't based on how I could push down everybody that was around me. My success was based on how much I could push everybody up.
And eventually, their success was the same way, and in the process, they pushed me up and I pushed them up. And we kept doing that. And we still do that. And even though we all have, in essence, competing companies, we see it as if everybody succeeds or my friend succeeds, then everybody succeeds.
And that's the key to it, is to have everybody succeed, not to gloat over somebody else's failure. One of the basic motifs of fairly tales is that you find the poor unfortunate alongside the road. And when they beg for help, if you give it to them, you end up succeeding.
If you don't give it to them, you end up being turned into a frog or something. So it's something that's been around for thousands of years, a concept that's been around for thousands of years. And it is even more necessary today when people are much more into their own aggrandizement than they are in helping other people, I mean, the one thing that you hear at the academy here is constantly about public service, about helping others.
I don't think there's anybody who's become successful that doesn't understand how important it is to be part of a larger community, to help other people in the larger community, to give back to the community. And it's not something you do, you start doing when you've made it.
Now I'm on the top, I can sort of enhance my joy and self-esteem by helping the poor underlings. It's when you are at the very lowest level and you're struggling, when we were in film school, we were all very very poor, we were all very very struggling, we all need jobs very desperately.
And if one of us couldn't get a particular job, we'd send another friend in on the interview. Because we were hoping that one of us would get the job. So you do it right from the very beginning. You can start every single day. You know, whether it's helping your brother or sister or helping your peers at school or helping in the community, but it's not just, it's not just a kind of public service thing, it's a way of life.
If America is the pursuit of happiness, the best way to pursue happiness is to help other people 'cause there's nothing else that'll make you happy. You can be as rich and famous and powerful as you want to be and it will not bring you happiness.
And that's said over and over and over again and it's such a cliche that this hardly goes, it hardly needs to be said, but people don't understand that it's actually true. You can find people rich, powerful and famous. And they aren't happy. And you can find people who have discovered the fact that it's really helping people, it's really being compassionate toward other human beings that makes you happy.
---
Thank you so much, I made this  because Kevlar Blast Shield asked me to.
So if there's a famous entrepreneur that you want me to profile next, leave in the comments below and I'll see what I can do.
I'd also love to know which of George Lucas' top 10 rules meant the most to you. Leave in the comments, I'll join in the discussion. Continue to believe, and I'll see you soon.
---
BONUS
Think About Your Legacy
Interviewer: If there's one thing that you would like to be remembered for, one project that you have done or that you have yet to do, what would it be?
Raising my kids.
Interviewer: There you go. That's a human being right there, folks. 
Learn About Life
Learning to make films is very easy. Learning what to make films about is very hard. And what you really got to do is focus on learning as much about life and about the various aspects of it first, and then learn just the techniques of making a movie.
Because that stuff you can pick up pretty quickly. But having a really good understanding of history, literature, psychology, sciences are very very important to actually being able to make movies.
Make What You Want To See
For all of my friends who are successful, all the same age, all had school together, all had fun. The secret ingredient which everyone goes, "Why are you guys so successful?" We all love movies. We aren't doing it to get rich, we never thought we were ever going to get rich.
Or be successful, or anybody would even like it. But we love movies, and we make the kind of movies that we'd love to see. Oh, I'd like to see that. And we have the advantage of being able to actually make the movie. You know, we'll say, "Okay, well, it's not coming out, "so let's just make it. "Then we'll bring it out."
Summary
George Lucas's Rules
BONUS
I hope you enjoyed this article, make sure to check my George Lucas video on his Top 10 Rules For Success as well.
Related George Lucas links
---
You might also like
---
More from George Lucas
---
What's up, Believe Nation? My name is Evan Carmichael, my one word is believe, and I believe in people more …
Good morning, Believe Nation. My name is Aleks, and my one word is belong, and I believe the world would …
Hello, Believe Nation! Today we're going to look at how you can have more joy. And as always, guys, if you hear …