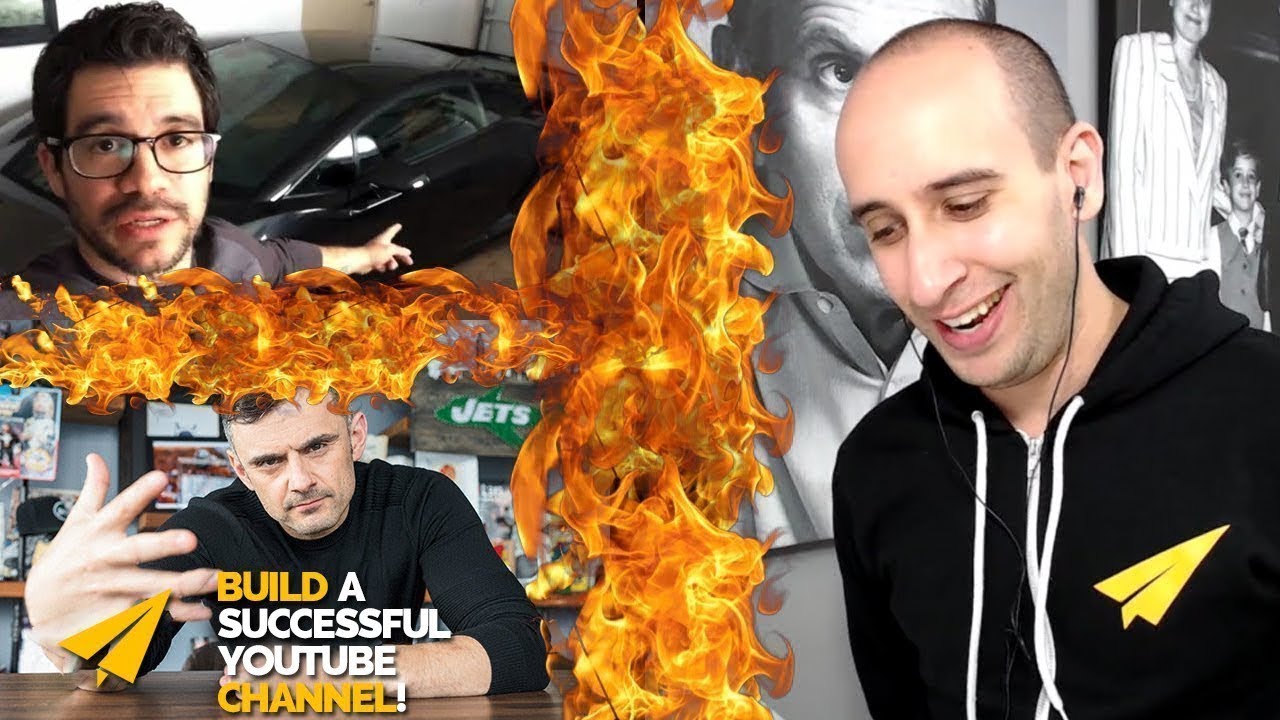 I have revised my prediction. I'm going to beat Gary Vaynerchuk to one million subscribers and maybe even Tai Lopez too.
What's up Believe Nation? It's Evan, my one word is believe and I believe in people more than they believe in themselves and my sincere hope is that if you see in you what I see in you, you'll be able to change the planet.
How to GET 1 MILLION YouTube Subscribers
Now, I'm a little bit sick today. Just recovering from a really bad stretch of constant fever. So I'm excited to be back.
And I started this series about how to get one million subscribers to document my journey along the way. I think I started this series when I had about 550,000 subscribers. Last video, I had 775 subscribers and now we're well over 800.
And the goal was really to kind of show you what I'm doing to build my channel. How to get 40 to 50,000 subscribers a month and grow and try to build a million subscriber channel.
And you guys could hopefully learn through that process as well if your goal is to build a successful YouTube channel. So today I'm going to compare my channel again to Gary Vaynerchuk and now, also to Tai Lopez.
A little bit of background, Gary's friend of the channel. He's interviewed on the channel. I've collaborated with him for a number of years way back before I even had a YouTube channel. I'm sure Gary doesn't really care about who hits one million subscribers first.
It's just a fun little competition. It's nice having someone to go ahead to head with. Tai, I don't really know. We did a top 10 on him. I'm not super familiar with his channel but I'm going to to dive into some of the details today and we'll see what we can uncover.
Okay, so back in April, I made a video saying that Gary Vaynerchuk was going to pass me on YouTube and I'd have to make a video in a few months to say, Gary Vee passed me.
And now he's going to pass me. You look at the curve, he's catching up and he's on the path to beat me. And so, I'm going to be making a video in a couple months saying, Gary's ahead of me and I'm now not the number one channel for entrepreneurs out there in the world.
And I got off my game, it's great. Well, fast forward to August, he hasn't passed me yet and I don't think it's going to happen anytime soon.
Let me show you why. Okay, so here's a comparison of my channel versus Gary Vaynerchuk on Social Blade and if we go down to look at the head by head comparison, as you can see at the very start, so I'm the red line, he's the blue line.
If this goes leaving before, Gary had a bigger audience than I did and then I passed by him and then there's this huge gap that started to open up, right? Huge gap of, what? About a hundred thousand or so? What do we add here? Let's look at this.
I was 424 used 334, so you know 90,000 subscribers, huge gap, big gap, big gap and then, he starts to post two videos a day, three videos a day and he starts catching up.
He starts closing that gap. Closing that gap, closing that gap to the point here which is what? June. So I said in April that in a couple months, that he would pass me, it's pretty close.
In June, he's 6,000 behind, 5,000 behind, 6,000 behind. He's really narrowing that gap to 5,000 behind. He got within 5,000 and now look what's happening.
The gap is getting bigger again to the point where now, as we're recording this video, he's at 791 I'm at 817 so that's what? 26,000 gap and getting bigger. More important is like he's kind of leveling off and I'm going up.
So there's two main reasons why this is happening and a short term thing that's negatively impacting Gary's channel that I want to talk to you about.
Frequency of Upload
So the first thing I look at is the frequency of upload on Gary's channel. One of the main reasons why he was able to catch up to me was because he was making two to three videos a day and he slowed down.
He slowed down and is what YouTube wants. YouTube wants people who are making consistent content.
Now, we've slowed down to one a day which isn't that bad but it's not two a day and there's a big gap between going a couple times a week to once a day but there's still a gap between one and two a day and Gary is falling down right now.
Maybe it's a summer thing, maybe that's another reason for doing it, maybe there's people on his team that are shuffling around but if we look at how many videos are a week old, one, two, three, four, five, six, seven.
Seven videos last week. One, two, three, four, five, six, seven. Seven videos a week before. One, two, three, four, five, six, seven, eight videos the week before.
He's down to a video day and that's still really, really good with you to dug rhythm but it's not two a day and so it's going to slow his growth compared to someone who's making more consistent content.
Up my game
Reason number two is what I said back in April about me needing to up my game. It's really, really important to look at your YouTube channel and every individual series and if they are performing for you or not.
So as an example if I pull up Gary's channel, he's got a lot of different series, right? He's got his AskGaryVee calling show or however he's doing it.
Episode 259, episode 261, episode 260. He's got his DailyVee's. That happened on a consistent basis. This is a daily vlog show so, I know it was five times a week typically. He has this fireside chats, he's got random interviews that happened.
And so, he's got this mishmash of different series and what's really important to look at are these series performing for you or not?
I want to show you something I've never shown people before. This is how I run my YouTube channel. This is real data with the names of the series removed. And so what's really important here is looking for us at two key metrics, watch time and subscribers.
Every series that we put out is measured according to watch time and subscribers. Watch time because that's what YouTube really cares about.
If you are generally a lot of watch time on your videos, you're going to get more attention from YouTube and subscribers because I want my series to benefit the channel. Not that my channel has lots a watch time but I want subscribers to be coming to it.
So this is one series, this is another series, this is another series, this is another series, this is another series and every month we look at the data to see how it's going. And I only look at the data for that month because a video that did well really a long time ago, our Steve Jobs Top 10 Rule For Success, four million views, I don't want that corrupting kind of my new data.
I want to know that my top 10 series is still performing well, that if I put up a new top 10, it's still performing well and that we're not just relying on the old stuff.
And so as an example, this is a series that we're looking at today here. This is it. This is the path to one million. In our first video against Eric Thomas, it generated 13,000 minutes of watch time and eight subscribers in the month.
Now, since that month is probably generated a little bit more for us. But again, in that one month, the second was Gary Vee, that one did better, 55,000 watch time, 59 new subscribers. The next one was Grant Cardone.
27,000 watch time, 13 new subscribers and then the most recent one that we did before this, we don't have full data on yet so it's not in here. But that's how well the series does.
So I know if I'm putting out a video, okay it's going to generate between 13 and 55,000 minutes of watch time so that's going to give me between eight and 59 new subscribers and I want to think, okay, if that's going to be a daily series, if I was doing this more than once a month, I'd have to optimize that 'cause these numbers are not good compared to some of these other numbers, right? If a series here is generating 285 minutes of watch time and this one only is 27,000, I'm thinking, I don't want to keep this anymore or I need to make this better.
And so the things that's really helped my channel recently is one, looking at underperforming series and canceling them. So you see blank spots here because those are canceled series that we destroyed. All of these blank spots were canceled series that we destroyed. So we have lots of data for all these ones as we kept them and this one was a relatively new one and all these are the ones have been canceled.
So it's underperforming, it goes. Some of these are new tests. So these are bubble series. When I say on the video that I'm not sure if we're going to keep this series or not, it's legit, it's true. We may not keep it or not. Right now, whatever series this is to generate 37,000 minutes of watch time and only to new subscribers, that's not cutting it for us.
So, in our test series, we'll do three, I'll do three versions of something. We'll see we get enough data on it. See if we can move that number up and if we can, we keep it and if we don't, we kill it. So why has my channel grown recently? What is attribute to the new spike? Let me show you on this site here.
So one was killing off the bad series, two, this, when it's purple like that, that represents the best series for subscriber growth in the month. So you can see the dates here. So from June to July as an example, this series, this series and these three series all have the highest subscriber growth. Look at this series here.
This series had a history of underperforming. 8,000, 12,000, 9,000, 9,000, buh-buh-buh-buh-buh-buh, highest is 22, not bad Boom! 77,000 minutes of watch time. Subscribers, two, three, two, two, one, 36 subscribers. This is per video.
So 36 new subscribers for every video in this series that I'm doing. Now, if this is a once a month series, that's not that big a deal. If that's a once a day series, that's a much bigger deal. Like our Top 10 series comes out five times a week.
If I could do fives times, 36, that's a good number. Right? So this series did really well and so what we're doing is look at this series, okay, how do we tweak it? How do we make it better? How do we improve it?
Because we're looking at watch time and subscriber growth. Will mean a few changes, bam! A big growth. Same thing with this series here. 55,000 minutes of watch time. That's a decent series.
Nine subscribers per video in the first month, decent series but look what happened. We made some tweaks and changes. From 55 to 448, from 9 subscribers to 378 per video that we put up in that series. This one also had a big jump. 95,000 to 190,000, average, doubling the watch minutes per video and and more than doubling the subscribers.
So it might be kind of a confusing graph to look at and I don't blame you and YouTube doesn't really give you those tools built-in. We have to kind of make custom reports and sift through the data. But that's what my team and I look at every single month. We want to make sure that every single series is performing and if it's not, then there's a reason. Right?
And I've talked about this on previous series as before. If there's a reason to have a video that is going to underperform, that's okay but you know that there's a reason for it, right? So an example, if you're going to make a sales pitch.
If I'm going to come on in sell my book, right? Buy this book, it's the greatest book ever, right? Some of you guys will love that but it won't be the highest video on my channel and may even lead to negative subscriber growth.
That's okay because it's serving a different purpose, right? I'm serving a business purpose. So whenever you do a sales pitch kind of video, you can expect your numbers to tank and feeling you lose some subscribers. That's okay because you're generating some revenue from it, right?
But it's the the other ones are the killer. It's the ones that you think are helping you grow your channel but are actually hurting you but if you can find ways to either adjust or tweak that series or kill them off, your channel really start to take off. Now the third thing is going to hurt Gary in this race that he doesn't know about is that he's going away.
He is away right now. He is not making videos and well-deserved family vacation. You'll need to time off and I applaud that. It becomes a challenge especially for a vlogger to go away.
For you guys who are vloggers, unless you're vlogging your vacation and then it might be some amusing content, some new content out of your city but in general, it's hard to get time off because the content is so dependent on you and showing your life.
The other stuff you could have done in advance. It could have lined up. AskGaryVee, five shows, film them all in one day and then release them over time.
What happened last year and what's probably going to happen this year was just his team did a mishmash of some old stuff, couple minute clips, put them together that weren't very good and as a fan of the channel, a fan of Gary's channel, I was like, okay when's Gary coming back? I want some new stuff, I want the real deal.
And maybe his team is much better this year, who knows? He's put a lot more time into building his team and so we'll see what happens. I just going to take a look on his channel 'cause he just recently ran away.
Let's see. So this is Gary's channel. So here it is, signing off for a month then they show some ad tech conference he did. Great, a Keynote, perfect and then, see, this is the stuff that will kill your channel.
This two-minute, two-minute, at least he's posting consistently, at least it's still going on but YouTube right now, from an algorithm perspective, does not want to see these short videos.
This will kill the channel, these will get some decent views but will have terrible watch time and will start to drag down the channel and it's going to make it harder for Gary when it does come back to make it awesome.
Now, a lot of people say so what? August is a slow time, people go away. It's okay for your chance to drop down. August doesn't have to be a slow month. August has been a great month for me so far and was last year too. Let's look at the data.
So this is the Social Blade for my account. If I go down to see August, you know August last year was better than my July and better than my June and was the same as my September and the same as my October almost.
Fast forward to August now, oh, we can't see 'cause it's not done yet but look, like July was my best month ever. July was my best month ever with growth, with subscriber growth, with views and August, I'm recording this August 15th? Look at the August numbers already. Last 30 days, so 46,000 subscribers last 30 days and July was 44 so it's already, it's a record month.
It's a record month already in August and June is a record month. So it doesn't have to be a slowdown. Remember what happened in July. July was a record month for me, despite almost all the videos having terrible sound.
You guys killed me for the sound on the videos. Good morning Believe Nation. My name is Evan Carmichael. My one word is believe and I believe that entrepreneurs will solve all of the world's major problems.
You killed me on the sound and rightfully so. Like I have standards, I want to produce good quality stuff for you. That's not acceptable to have really bad sound but despite having really poor sound, right? Which you think make a worse video but consistently keeping to what the YouTube algorithm wants and making the three videos a day, we had our best month ever.
We had the worst sound ever and we had our best month ever. Now we fixed the sound, I'm on track for an even better month ever and it's August. And so it's a tip not just for YouTube but in business.
While your competition is away on vacation and sleeping and taking time off and it's a slow time, that's the time when you hustle. That's the time when you can get to work and do amazing things.
I used to hate August and December in general in my business because people wouldn't return phone calls, you couldn't get business done and I realized this is my time to plan.
This is my time to really hustle and grind so that when September does come around, I'm going to be firing on all cylinders. I'm going to be way ahead of everybody else. Now, luckily with YouTube, you can still have an amazing August.
Not have to wait for anything. So whenever you see your competition going to sleep, that's your chance to attack and get ahead. So that's what happened with me versus Gary Vee. Our graphs are certainly go apart. It's going to get even bigger.
He's going to be away for the next little bit. Gary's going to have to come back and just absolutely destroy and get back to really making two videos a day here if you want to win, if you want to get to that million first. Two videos of amazing Gary Vee content every single day.
When I come back in September, we're going to come with some real fire on YouTube so you do get ready. I'm going to spend this time, me and that team, we're going to spend some time to really come back with a 4.0 version of what we're doing here.
Alright, let's get to Tai Lopez now. People has been asking about Tai. They wanted my thoughts on his channel. Any breakdown and advice I could offer. So let's look at Tai's channel.
Now at the top of the show, I said I might beat Tai Lopez to one million subscribers. You go to the Social Blade and you see that he's at 989,000 subscribers. You think, well how are you going to beat Tai to one million when he's already at 989.
Tai runs his YouTube channel a lot differently than most people and so this is why. Let's look down, you look at his Social Blade, he is not really growing. Right, the past week it's been all negative except for today where he had a little bit of growth. And if you look at the growth history here, this is his views and this is his subs. Tai doesn't get his subscribers from his content.
Tai gets his subscribers from his advertising. And so when Tai decides to just produce content, he actually loses subscribers. When Tai decides to advertise a lot, he gain subscribers and so he obviously has a way to be able to make money from his channel, right?
It funnels to his various courses and programs and I don't know anything about those programs so I can't recommend them or not but it's working.
It's making money from it and it's working so he's going to continue doing it. So let's look at the history of his channel. So he's fooling around here, he's got a million views a month, a million views a month and then boom!
What month is this? September 2015, 95.73 million views. This, ladies and gentlemen, is the here in my garage campaign, right? If you look at the here in my garage ad, this is when it was launched and so he went from one to 95 million views that he bought.
So he basically bought 95 million views. Now if we go down to his subscribers, you see that it led to a nice chunk of new subscribers, right? It said 59,000, 64,000 subscribers. So he bought a chunk of subscribers but he wasn't getting that many more subscribers from that video compared to what he had before. To go from 59, 64, down to 20,000.
So he spent how much money to buy 95 million views to get an extra 35, 40,000 subscribers? But I guess it worked out for him, right? Everybody has seen that commercial and he was able to funnel them into different advertising courses for himself. What's really interesting is as we fast forward down to here, you look at January 2017, he had this huge surge in subscribers.
He jumps two hundred and 15,000 new subscribers with almost no huge growth here on his views. He wasn't spending the money on his views up here anymore. So he spend in different ways.
Either it's off platform, spending on Instagram or Facebook ads or is looking at pre-roll ads that don't count towards the view count of the video. So it's not really leading to a lot of new views on his channel that's lead into a lot of new subscribers for him.
And so you can see the once he shuts off his advertising, it just falls back down. So it's really hard to predict what's going to happen. How do you go from a channel that have a 115,000 new subscribers in January down to having 400 new subscribers six months later? How do you have a channel that is losing subscribers on most days, just from organic video? It's really up to Tai.
When Tai want to spend money in advertising, his channel's going to explode and when he doesn't then the channel is going to sure to sink. And so it's just a different model than what most YouTubers do.
We typically grow to the content that we create and Tai has found his own unique place of stand that through advertising, can build his own little empire off of it. So those are my quick thoughts.
Me versus Gary Vee vs Tai Lopez. We'll see who hits one million first between the three of us, I'm excited. It's all fun anyway, there's no real stakes on the line but it's nice to see have a little bit of competition as we all grow together to try to help the entrepreneur community.
Now let me hand up some questions and see what you got from last episode.
The most liked comment from last month's video from C.MD.AMEEN SOHAIL. You don't have million subscribes.
Triple exclamation point. That's a fantastic point. I'm glad that that's what you took at the last video. It's really interesting to see what people take away from content.
Like are you the kind of person who finds the truth and things or just finds one little kind of detail to pick out and just be a naysayer all the time.
I acknowledge in every series that this is about the path to getting to a million subscribers. And also, the meaning of the point of that last video, how's that 775,000 subscribers?
What are you at C.MD.AMEEN SOHAIL? Zero, zero subscribers. So someone who is 77.5% along the way that hitting a pretty big goal, maybe there's still something you can learn from them and not just shut down.
Next, zGhostBlood_. Not being a hater but Grant Cardone say don't get advice for someone who never get it yet.
It's the same thing, I think it's the same comment, right? Well first of all, go watch the Grant Cardone video because Grant Cardone said that everybody should listen his advice.
Grant Cardone said, thanks Evan, great job and great content. Let's do a podcast on this. This is how you add value, folks. Watch what Evan is doing here. All caps, smart.
So zGhostBlood_, up to you man. You could focus on the fact that I'm not had a million subscribers yet or you can actually listen to Grant Cardone 'cause Grant gets it that there's good advice in the videos because it's way ahead of where you're at if this is your goal or not.
Alright, moving on. SouLoveLee, thank you for not putting any background music on this video.
You're welcome. Mihlovil, my prediction for Evan's channel, one million subscribers on the 25th of October, 2017, bam!
That's fast, that's fast. Social blade has me, let me see. So if you go to future projections here to show you when they think you're going to hit it, you go subscriber milestones. Social Blade thinks I'm going to hit a million in 118 days. December 12th, December 11th. December 11th would be an early Christmas present for me. But I would love it to be October 25th Mihlovil. Let's make that happen, that'd be great.
Next up, Practical Psychology. Hey Evan, something I've been thinking about. Instead of two to three videos a week or even 1 video a week, I've been thinking about stockpiling some videos and posting them all in November, December for 50 for 60 videos in a row, your thoughts? The algorithm could change by then, and I also wouldn't get instant feedback but daily videos for 60 days on an animation channel with high viewer retention would be some amazing data.
I like it. I would only say like, don't stop doing what you're doing right now and and don't stop it in December. Build the machine. Just think about what do I need to do to make an animation video every single day.
I can't make a video myself. When I was doing everything myself, I could do one a week. Just the editing took way too long and the research took way too long. Get in front of the camera and talking, I could do kind of this kind of video every day but the videos that I wanted to make, I couldn't do every day.
So I built a team. So if you're making animation videos, we're thinking, what's your key role in it? Are you animating? Are you doing the story behind you? Are you're doing the researching? Are you doing the titling? Maybe right now, you're doing everything and start to think, what is the most time-consuming thing that is involved in your channel that you don't want to do?
And then find someone to help you do that. As soon as I found an editor for my channel, I was able to go to one video a day. It made a world of difference. So that's what you need to find.
Next up, Simarchy. Can uploading daily or even twice daily actually hurt you? Sometimes I wonder if I'm pumping out too much content that my subscribers can't keep up. I currently post one times a day and livestream one to three times a week. For the record, I'm a gaming channel centered around one franchise, The Sims. I'm debating whether I should take it down a notch, but from your advice, you're saying I should double it. Just curious if can hurt some channels or if it's always better to post more?
So, it's always better to post more if it's good. That's the tough part.
Anybody can just throw up two videos a day or three videos a day. Even when I was posting the videos with poor sound back in July.
They were still good but when I showed you my series, right? In that Excel chart or Google Docs, we kill series all the time.
The ones that aren't performing well, we kill. And so we're paying really close attention to is this series that I'm putting out working or not?
Other things to keep in mind. Don't expect your audience to keep up.
Stop worrying about your audience watching every single video.
It's not going to happen. I don't care if you guys watch every video on my channel.
I don't need you to watch every video on my channel. I don't want you to watch every video on my channel.
I want you to watch a video, watch the ones that mean something to you and then go do something about it.
And so we'll be looking at, okay it does not matter to me if my subscribers watch every video that I have as long as every video is leading to growth and is successful.
The other thing live stream is its own algorithm. Live stream is a whole different beast. And so what really happens in the live stream is you get a lot of live attention right away but the replay value is really low.
You'll find that the live videos are not watched much after the fact.
Unless you're really promoting them somehow, they don't live for very long.
And so, if you're doing one post a day and live streaming one to three times a week, I wouldn't count the live streams, really as posts, as videos.
I'd be looking at making sure that you're posting one quality video a day and if you have a live stream, that's a great extra piece of content.
I'd make sure the live streams aren't hurting you because the live streams are hurting my channel. If I have a big name that came on my channel then it would help the channel.
But if I had someone who's never been on camera before. I had somebody that people had no idea who they were.
It would actually lead to negative subscribers and this is why I started a second channel, Evan Carmichael Live for any of the live stuff that isn't with a well-known personality.
So I'm just again, look in your data. Look at analytics. Use the same metrics that I gave you.
Watch time per series, subscriber growth per series.
If you can look at those videos a day, are they all the exact same video each time? Can you have different themes?
And then within each theme, which themes are forming well with watch time and subscriber growth and which things aren't.
Kill off the ones that aren't doing well and the live streams too. Is it leading to watch time for your channel? Is a leading subscriber growth? So the two most important metrics.
I'd be looking at more content that is quality. I would make five videos a day if I could. I just can't. I can't make it quality.
I could throw up five videos a day. I would lose a bunch of people because the three videos I'm making are really good but the fourth wouldn't be as good and the fifth wouldn't be as good.
So that's a challenge but if I could find a way to make five really good videos a day, I'll do it.
Jay Her, I found out about your channel because of Charisma On Command. Subscribed because your videos are inspiring for my mind towards increasing my clientele. I really like your attitude about business.
Thank you for that Jay Her. Charlie is awesome from Charisma On Command and I'm glad you're here. Welcome to Believe Nation.
ChartYourTrade, in one of your videos you debunked that no video should be greater than six minutes long. My question is what do you think the minimum length of a video should be?
Right now, if you want to do well with YouTube's algorithm, you want to be looking at 10 to 12 minutes long video at least. That's what they want.
That's I want to go to Gary's channel and see what it's doing for his strategy when he's away and they're posting these two, three minute videos. It's going to hurt his channel.
Even if it's good stuff. Like, it has to be, it's not that no two-minute video can do well. You can go to the trending time and see one really short video but it used to be fill.
Like, YouTube trending used to always be this short little bloopers, little fails, cute cat videos, 30-second recording, 59-second recording to trying to get it under one minute as much as possible because people have short attention spans.
This has changed. It's not what YouTube wants to promote. They want to promote watch time.
And so, if a video, even my six-minute video that was too long, now, I would want to make it 10 minutes.
The video that's done two million views plus for me now did well in an environment where shorter videos were rewarded more.
Now, you want to be in the 10 to 12 minute range per video, ideally.
You can win again if it's shorter but you're just playing against the algorithm.
It has to be so insanely overwhelmingly good that it busts through the algorithm.
You could still win a race barefoot but why not wear running shoes, right?
So I'd be looking at 10 to 12 minutes.
Next up, Christ Centered Ironworks. Hey Evan, I've been watching your videos for a while now, ever since hearing about you from Roberto Blake. Awesome, welcome aboard. Between the two of you, your advice has helped me grow my channel from 2,500 subs to 4600 subs in the last two months by applying your teachings, specifically we started posting two times a day. Hmm, imagine that. So you he almost doubled this channel in two months by posting twice a day. And my views went from 2,500 a day to 6,500 a day. At first glance this might not seem like huge growth for some channels but I am an artist blacksmith. I have a very small niche channel so it is huge to me. Thank you for all you're doing on YouTube. Hope this finds you well, God bless.
So this is the difference, guys. So many of you are not even trying it.
There's a chunk of you who just say, oh this guy hasn't hit a million subscribers so I'm just going to discount everything that he's saying. Perfect.
There's a whole other chunk who'll find out some other reason to discount everything I'm saying. Great.
Then there's going to be a chunk of you who will say, well I can't do that. Find all the reasons why this strategy stupid, it's not going to work, it's not for me, I can't do it, buh-buh-buh-bah.
Excuses, excuses, reasons, buh-buh-buh-bah, great. Then you're going to have the small few and these are the guys I actually making this video for.
The small few to say, huh, that's interesting. How about I give it a shot? You get this guy who doubles his channel, almost triples the views in two months just by trying.
Just by going to two a day. So many people are so quick to discount an idea without even trying it.
I'm telling you, this is helping that will work for you even if you are less talented than the people above you.
My channel continued to grow despite all those sound issues with our best month ever because we're playing to YouTube's algorithm.
This is what YouTube's wants right now. Again, 2018 may be different, probably will be.
This is what's working right now and it behooves you to actually just give it a shot.
Just how about you try it before you start hating on it or just rejecting it flat out.
Next up, Ryan Bishop. Hey, Evan, quick question. Celebrity endorsements and collaborations. How did you make contact? Did you message 50 Cent and he replied? Or you made the video and you just hoped he would see it?
So for most of these, it's starting to change a little now but for most of them, I never make contact. But it also didn't surprise me that they would share it.
I would always make something that I'm proud of and that if they saw it, they would be proud of it. So when we made the 50 Cent video, before we press publish, it's if 50 saw this, would he be proud of it? Would he want to show it off?
'Cause we're always trying to put people, not necessarily just put them in a positive light but we want to share their best knowledge, the best things that they got to say.
We've sifted through hours and hours and hours of research, of interviews that they've done that pulled together the 10 nuggets that they've said over the course of their career.
And so it's a tribute to them and their advice and their wisdom. And so I never reached out to 50 Cent to say, hey, can you share this?
But it didn't surprise me, never surprise me ever when any of these people share their videos because it was made that way, with intention that if they saw it, they would want to share it.
Next up, Valerie. Wow, Evan, thank you for confirming what I knew to be true. Great quality content daily. Easier said than done. That's true. What hacks, if any, can you offer about how to accomplish two great quality videos daily. I've heard about using batching. What other tips, tricks, tools of the trade work creating daily quality content? Also, do a lot of live streams on my channel and shocked to find out from you here that is not the best. Thank you again and I'm one to take action on what you shared here.
I love it Valerie, yes! I love it. Okay so, tricks to creating content daily. Batching is definitely important.
So batching is basically taking the tasks that you're doing repeatedly and crunching them into one. So for me, I used to film every Wednesday and now I film once a week for the most part.
Sorry, once a month for the most part on a Wednesday. That's why when my sound went out, it impacted so many videos because the sound was out for pretty much the entire recording day and so, every Entpresso, every top 10, every mentor me is the same issue with the sound and then when I filmed it again the next month, everything was fixed.
So now the new ones coming out have better audio. So I definitely be looking at batching the recording time, batching the researching.
So, think about your typical process. If it's like research and then record and then edit. If I wanted to make two videos a day, I'd be trying to think about how do I record those 14 videos in one day.
So I've been looking at recording in one day. To get that done, how much research do I need to do before? So do you need one day research? You need to two days of research? Three days of research? Do you need to have somebody help you with the research?
Then in the post, in editing, this is what it becomes insanity. The editing is just a crazy long process. How much time you need? And I'd be looking at how do I bring on somebody to help me.
So batching first then building a team underneath is going to help me. Whether that is somebody who you hire, whether you go to some place like Upwork and hire a part-time editor to assist you.
Whether that's a friend who volunteers and contributes, a family member, a client we can maybe exchange services with if they do the editing for your channel and you help them with whatever product or service that you're selling.
Building a team becomes paramount. I could not do this without my team. We have eight people who work on the YouTube side of things for me. That's how I make three videos a day.
I've two and a half editors on my team. I have a person whose sole job is to go out and do research. People in the comments, a cameraman obviously.
So building a team is going to be super important to your process and then I've been thinking about new series.
What kind of consistent new content can you come up with on a regular basis that doesn't require in the moment thinking?
Because you're thinking, oh, what's my video going to be about? I have to record it today.
It's probably not going to be super high quality stuff. But if you're in advance thinking, okay, I need to come up with three new series for the next month.
That's going to come out, what am I going to do?
What's am I series going to be? What am I interested in?
How I'm I going to document that?
And then paying attention to each series and see if it's working. Like this is just about how to create the content then you got to make sure the content is working, right? It's got to be delivering and performing for you.
The comment about the live streams, it's just unfortunate, I love live streaming. I love live streaming because it's so great to interact with the fans, with you guys, with the audience.
It's just how YouTube works, they give you a big boost but the replay value isn't great and so if you're really good, like if you really wanted to go twice a day and you can pull this off and you're great in front of the camera and you need minimal editing, I would even use the YouTube Live tool.
This is what I'm doing actually right now. I'm recording this using the YouTube Live tool but it's not being broadcast live to you.
It's being broadcast as an unlisted video and then my editor is going to pull this, save it, mash it up, pull out all the uhms and ahs and I've been coughing like crazy, if you guys haven't it 'cause I'm sick and you don't want to hear that stuff but (coughs), there's another one.
She's going to cut out all that stuff and then put together a final video. But you could do it as a live video to unlisted and then release that as a video and it would do better than if you released it as a live video itself.
It sucks, it's just the way YouTube's algorithm works. I wish they change it. I've been trying to figure out a better live strategy for myself and talk to all the YouTube guys and unless you're in gaming, there's no real major application yet for live. And that really sucks but I'm working on trying to figure something up.
Next up, Michael Jordan. Michael Jordan, ladies and gentlemen. Why you say this could apply to other social media platforms?
Every social media platform has an algorithm and you just need to understand how the algorithm works.
The posting three times a day may not work everywhere. I'm not saying posting three times a day works to Twitter or to Instagram or to Facebook or to Snapchat.
You probably need to post a lot more to be honest if you look in the other platforms but it's understanding the platform's algorithm so we will win within it 'cause you can win on on your talent and you can win on your looks and you can win on your message as you can win in a whole bunch of different things but you can also win by being worse at all of that stuff and just understanding how the algorithm works for that social media network.
So, I know YouTube best. I'm trying to share the advice that's helping me quickly build my YouTube channel but you can use the same metrics to figure out and deconstruct how other social media networks work.
Facebook isn't a great example because it's a paid platform right now to try to get organic reach. It's not the game in Facebook.
So let's go to Instagram. Look at Instagram and I don't have a major presence on Instagram. I haven't really focused a lot of attention on Instagram. So I've been looking at what hashtags that I want to be a part of?
It's #culture on Instagram. You have to pay really important attention to the hashtags. I'd be looking at how many times should I be posting pictures.
Now I might posting a picture once a day, twice a day, 10 times a day.
You could start by deconstructing who are the people that you look up to and respect on Instagram and then see how often they're doing it and then try.
And if someone's at five a day, you start by matching that and you say, hm, what happens if I go to six a day?
What if I go to two a day and then you look at a different series. Okay, so I have one series of motivational quotes, another series that's pictures and other series that's selfies, whatever and then you see, this series getting lots of attention, this series is not, let's kill that one.
Okay we're going to kill that one, let's put in a new one, what's it going to be? Hmm, we've got a brainstorm.
It's all the same stuff, you're a content producer. You're just playing a slightly different algorithm so each social media platform functions on its own but the methodology can be applied to all of them.
I think the most important part is just understanding what are the key metrics that we're chasing and then optimize for that.
So for YouTube, all I care about is looking at the watch time and looking at the subscriber growth. And again, this is all within my mission.
I want to help a billion entrepreneurs. I want to do it the right way. It's all about believe, right? I could get to a million way faster by posting the top 10 stupidest things Steve Jobs ever did in his life. Right?
The the top 10 arguments between entrepreneurs, right? That's not me, right?
It's not my one word. It's not what I'm all about. So within your value system, right? Then you figure out the most important metrics for that social media structure and you just attack.
Next up, Tubitus. I was uploading one video per day for like two months straight and my views went from 10 per day to a hundred views per day. Imagine that. Then I stopped for three weeks because I had a test and it started and I started again three weeks ago and now I'm on 80 views per day and growing. So it really works a lot.
Congratulations. Keep going, keep doing it. Now make those videos better.
Sara Makes Art. I wish I could do daily videos but I'm barely managing with two and three edited videos a week. I started to live stream on most days that I don't upload so at least I would have activity on my channel most days of the week.
Yeah, again I pay attention to, are the live streams helping your channel or hurting?
Look at the watch time on them, look at the subscriber growth on them. Are they leading to growth to your channel or not?
The only danger is sometimes the live streams, as I did on my channel, a lot of them were leading to flat or negative subscriber growth and so it's why I killed them and move them to a different series. Sorry, different channel.
This is important. Three videos a week that are good is better than five videos a week or seven videos a week where half of them are bad. Right?
Like again, I said I wish I could be at five video a day. I'm not because I can't produce five quality videos a day.
I keep testing these series with you guys and a lot of them just don't pass the mustard. It's just not good enough, you don't like them enough.
So, if you'd liked all my new series and I could be at four videos a day, five videos a day. You don't like my new series as much and so I'm constantly testing new stuff to see if you like this one.
How about this one? You guys liked this series? How about this series? And so, you want to be at at least a video a day but good. It's got to be good stuff so don't just throw crap at the screen.
You Are Leaders. What I'd like to know is what exactly is the payoff for having a million or high number of subscribers after busting ones but to create that much content for YouTube, what will one actually get in dollars and cents? A thousand dollars bi-weekly? 750 a week? 250 a day? A hundred dollars an hour? What are the analytics on that? I wonder.
Compensation depends on how much you do, kind of outside of YouTube. If you're only focused on AdSense, it's not a great business model and you can really ramp up the numbers.
If you look at whatever you're making now, whatever your CPM is. I think for most channels it's a dollar, 50 to 250, something like that.
So you just ramp up the numbers and that's what you're going to make.
It really depends on the niche again. I met some people at ClamorCon who had million subscriber plus channels and they're still trying to make a full-time living and haven't hired anybody in their team.
And in my business, we've got eight people on the YouTube side and I'm not a million yet, right? So it depends on, some markets are easier to sell, some have more interest from from brands and have more advertising dollars flowing into it and some people are just better entrepreneurs.
I started this from the beginning as a business. It's why I want all the comments responded to. You know these are our customers. This is the people that we care about. It's not just a hobby for me. It would never was just the hobby. It was okay, if we're going to do this, it's this part of my business. It's part of me making an impact to help entrepreneurs.
So there's a lot of factors that go into it. Much more than just how many subscribers that a YouTube channel has.
Next up, twominutetips. Great analysis and thanks for sharing. When you have a niche that's fairly focused, you do get to the end of what there is to share. I've seen a number of providers in my category come to brick wall. My challenge now to expand my content while still making it relevant to the niche.
There's got to always be ways to grow, always there ways to learn.
At the beginning for any channel, you're audience is going to be mostly beginners, right? For most businesses, you're audience is going to be beginners who want to learn something. And they might learn the basics really quickly.
You can do a couple things. You can not just show them to how to's.
You can bring on questions from an audience, right? So somebody has a question down below, you can always encourage it from your audience and then go and answer that question.
You could do a review of how somebody is doing your thing. I don't know what it is that you do but you can do a review how somebody is doing it and get feedback and tips and advice.
You can try to tie it to some local news story that's happening or an international news story that's happening.
You could try to bring in, if you see a famous entrepreneur or something that you look up to. How they might do it, what do you what do you think that, how Steve Jobs would knit a sweater?
I don't know exactly what you're doing again. You could take requests like if there's anything art-related, make it like this.
Like can you make a portrait of this person? There's always room for creativity.
There is always, always, always in any field, any industry room for creativity.
As soon as you say you hit a brick wall, that's your opportunity. It's your opportunity to be more creative and find another way and that's going to be your chance to bust through.
Next up, Eclectic Alu. So refreshing. This really makes sense. I don't think I can upload once a day but I appreciate honest advice and having this as a goal is helpful. Also thank you for telling these sub for sub guys to go make good content, haha.
Listen, this an honest approach. I appreciate that. Not everybody can go and make one quality video a day and that's fine.
You don't necessarily need to go out and do it right now. There's a lot of people who want to start a business which they could be in it full time but you can't right now because you have bills to pay and you have a full-time job and you're doing this in the evenings and weekends.
That's understandable. And it is realities of life. It's just having it as the goal. Like this is where I want to get to and trying to work towards it.
If you see it as an impossibility or you just reject it out of hand then you're never going to get there, right? But if you see it as, okay, that's where I want to be.
This is a new standard that I have for myself. This is what I'm going to work towards. I'm going to get better at it. You can.
When I made my first videos, it took me two days to make one video. Take a camera and I record it and it would suck and record it again and it would suck and just two days to make that one video just recording.
And now in front of a camera, I just talk because of the repetition you get better at anything.
Through the repetition you get better and so what might seem crazy to make one video a day now, if you have that as your goal, you'll find ways to make it happen.
Doesn't mean you need to quit your full-time job or make drastic life changes. You'll find ways to get better.
You'll find hacks to help you improve. As you do it more and more and more, you will just get faster and more efficient at it.
And so I love the openness and the approach Eclectic Alu. And if you can't do it right now then it's fantastic to have that as your goal for the future.
Alright guys, going to end it there. Don't know how long it's been. It's been a while. My throat is burning. Thank you for the love on the series. If you have a question you like me to answer in the future version of the How To Get To One Million series, leave it down below in the comments. Thank you guys again for watching. I believe in you. I hope you continue to believe in yourself and whatever your one word is. Much love. See you soon.
---
You might also like
---
More from Evan Carmichael
---
What's up, Believe Nation? Greetings from London, England. It's Evan. My one word is believe and I believe in people, …
Watch Evan Carmichael's Top 10 Rules For Success video. Famous Entrepreneur Quotes Evan Carmichael's Quotes "Changing my environment had a dramatic impact …
Today we're going to look at seven different ways that you can make business alliances. What's up Believe Nation? It's Evan. …