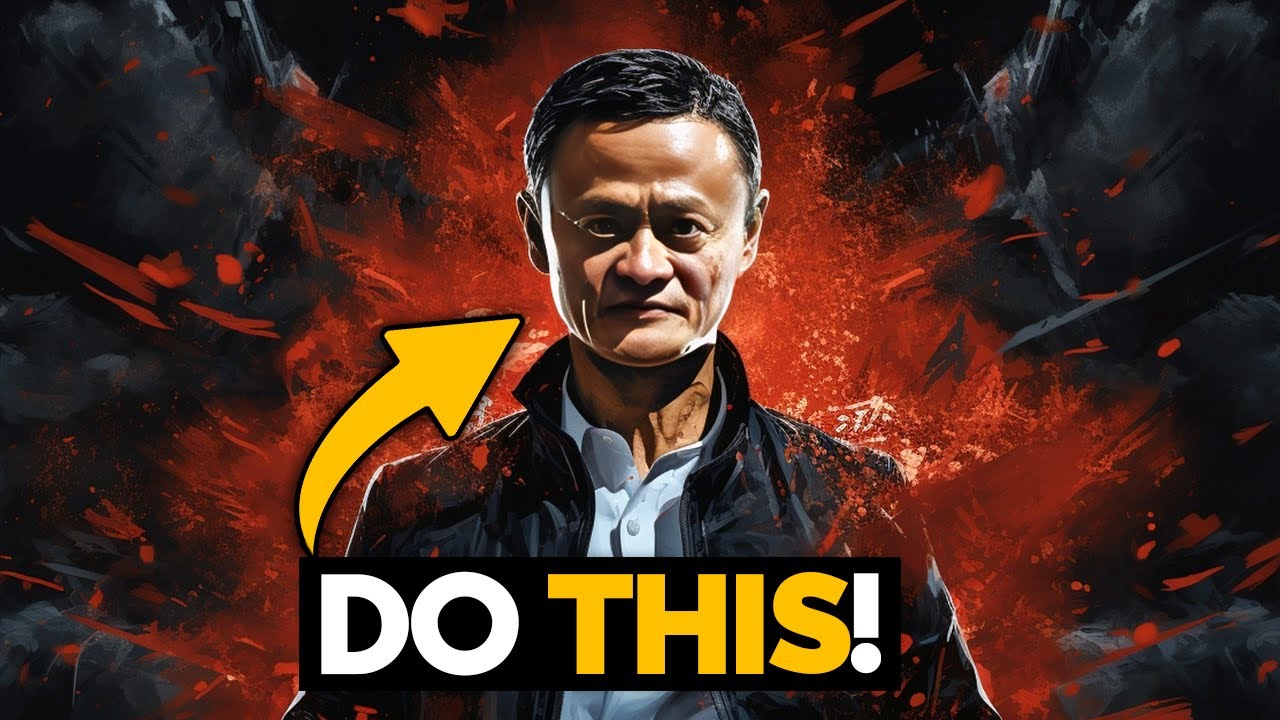 Good morning, Believe Nation! My name is Evan Carmichael. My one word, is believe. And I believe that entrepreneurs will solve all of the major problems, of the world. So, today's message is, get used to rejection! Over to you, Jack Ma.
Get Used to REJECTION – Jack Ma
When I, before I graduate from universities, and before, for three years, I tried to fill in the universities. So, I applied jobs, for 30 times, got rejected. I went for police. They said no, you're not good. I went to, even the KFC. When KFC come to China, come to my city…
Interviewer: You tried.
24 people went for the job. 23 people accepted. I was the only guy.  And we went for police! Five people, four of them accepted! I was the only the guy, that did not receive it. So, to me, being turned down, rejected, oh, by the way, I told you that I applied for Harvard, for ten times. Rejected.  I know, how to be rejected!
Interviewer: They're sorry now. Ten times, you wrote them, and said, I'd like to come to Harvard.
Yeah.  And then, I told myself, someday, I should go teach there.
Evan Carmichael
So, I never applied to KFC, or Harvard, or got rejected from those places. But, I think rejection is part of life, as an entrepreneur. You are going to get rejected over, and over, and over, and over again. It's just part of being an entrepreneur, and being in business. The first thing you put out, won't be very good. People will hate on it. People will give some constructive criticism as well.
People will say no, because they don't know you, trust you, like you. And so, you won't get those first deals. It takes a lot of time, to build up a business, and make is successful. And even when you've gotten to that point, where you're feeling happy, and you're bringing on a team, and building the business, you're still going to get rejected, constantly. It's just part of life, as an entrepreneur.
And so, if you can't handle that, it's going to be a really hard road, for you to be an entrepreneur. I think, the way to get through rejection, there's two ways to do it. One, is to use rejection as fuel, kind of like what Jack Ma did. I got rejected, ten times, by Harvard. One day, I'm going to go teach there, right? One day, I'm going to go speak there. To use that as fuel, that you turned me down, I'm going to show you! I'm going to beat it! I'm going to come back, and be the teacher there, right?
You turn me down, for this deal, I'm going to get a deal ten times as big! Right, so that's one. You can use rejection, as fuel, to help you go off and do something bigger, and motivation to, I'm going to prove them wrong. The second way, is just to forget about it, just get used to it. That's more what I do. I don't really use rejection as fuel.
"Rejection is part of life, as an entrepreneur. You are going to get rejected over, and over, and over, and over again." – Evan Carmichael
It doesn't really bother me, when somebody turns me down, or when a new series doesn't work. I was tryin' to think, when I was preparin' for this video, what's a recent rejection that I have? 'Cause, there's been so many, but none really stick out, as being super memorable. The one that I came up with, was I tried a new series on the weekend, a while ago, about the Best of Kickstarter, and it was a new series that I was testing, of showing different Kickstarter ideas, that I thought, might be helpful for you.
And that video didn't do as well as I would've liked, didn't do as well as other videos, and will probably going to kill that series. But, that's okay. I've killed tons of series. It happens all the time, on the channel, and I couldn't even tell you all the series that I've killed, because they didn't perform. You guys rejected them. It's okay. I just moved passed it. And so, either one. You have two strategies, to go for.
Use the rejection, as fuel, to say, I'm going to show you, how wrong you are, and prove it to them! Or, just forget about it, get used to it, it's going to happen, just part of the game. And you move on. Just think about the next thing that you can go off and build. Use either one of those strategies, but don't get stuck in the rejection. I think that's the most important part. If you get stuck, and you're sitting at home, or in your office, like, this is never going to work! You said, no! And you just sit there, and you don't take any kind of action, that's where it really hurts you.
Question Of The Day
So, the question of the day, today, is I'm curious, how do you deal with rejection? Do you use it as fuel? Do you just forget about it, and move on? Do you do somethin' else, that I haven't heard of yet? Let me know! Leave it down, in the comments! I'm really excited to find out.
I also want to give a quick shout out, to Kaleb Autman! Kaleb, thank you so much, for pickin' up a copy of my book, Your One Word. It really, really means a lot to me, and I hope you're enjoying the read. So, thank you guys, again, for watching.
I believe in you! I hope you continue to believe in yourself, and whatever your one word is! And I'll see you again, tomorrow morning, for another shot of #Entspresso.
---
BONUS
Get Used to REJECTION
Barbara Corcoran
Let me tell you, rejection is the big kahuna, in all entrepreneurship. Show me somebody, who can take a hit, and I'll show you a good entrepreneur. I don't know if I made that up, but I think I did. But, it's all in how well you get back up. And you know what I have found, by the way? Because, if you think about it, great salespeople make a couple million dollars a year, selling apartments, in New York City, which my great salespeople do.
Great entrepreneurs. All business comes from them. They manage their own business. They hire staff. They're entrepreneurs. And you know what I found, is the only difference, between the superstars, making the millions a year, and the person, who's barely getting by? The only difference, not contacts, not how hard they work. Some people work just as hard, and don't make any money. It's how long they feel sorry for themselves, once they get hit.
Some people could take a hit, and milk it for two weeks. They're at their desks. They look like they're working, but they're not working. Mentally, they're not there. The great salespeople take the hit, and then, they jump right back up, as though, they've been hurt, just as much as the next guy. But, they work right through it, and keep goin'. Let me tell ya, if you have that skill, you should be an entrepreneur, 'cause you'll be paid well for it.
The single best thing I do, more than anything else, I can do, in building businesses, for myself, and these other people, while just speaking for myself, is I fail well. If I fall on my face, let me tell you, nobody's better, at pretending I'm not thinking of a quick cover up, tryin' to keep movin', and you want to know, in that act itself, of getting back up fast, you always stumble onto something good.
And you want to know, one other thing, this is, I'm not a religious person, 'cause I was raised so goddamned, really, just, I don't want to ever think about it again. But, I do believe, once you put your mind, and going forward on anything, there's almost like a battle cry, that goes out in the universe, and the world rallies 'round you.
You're right.
Just comes to you for, again and again. So, to have that kind of good faith, that I'm just gettin' back up, even if I'm going to get slammed, life is fair, in its own weird way, in that way, in building businesses. You will be swept up, by some lucky chance. It happened to me, every time I got back up.
Stephen King
A little while later, I wrote a book called, The Shining. And it was my third book. And I got contractual rights, to write the first draft screenplay, for that, and I did do that. And I found out later, that Stanley Kubrick, who had got the rights, through Warner Brothers, had already determined that he, and a lady, named Diane Johnson, were going to do the screenplay, for The Shining.
So, they basically, my screenplay went in, and they said, "No, this won't do." And then, they went on, to what they really wanted to do, which was fine. I wasn't angry, or upset. You're not, after a while. You get thousands of rejection slips, before you break through. You kind of get used to that. And it's just part of the game. But, the thing is, you learn. You learn, little by little.
Lin-Manuel Miranda
You know, yes. The answer, is yes. You always get a lot of rejection, any time you're going to put something new into the world. There's a million people, who will tell you, how they'd done it better before, or how that's already been done, or how it's not going to work. And you have to look at those, as motivators, just like, if you're going into acting, you can't look at auditioning, as a way of getting a job.
You have to look at auditioning, as the job, because that's what you're going to spend the majority of your time doing. And if you love it, getting the job is gravy. So, sure! The trickiest thing, is continuing to work. And I was very lucky, with Heights, that I had Tommy Kail, because I had someone, who wasn't me, saying, "Bring in something Friday. "Bring in something, on Friday. "This is good. "This part feels weird. "Bring in another song, on Friday. "Every week, for a year."
---
You might also like
---
More from Barbara Corcoran
---
Today, we're going to learn how to prove people wrong. Hello, Believe Nation, it's Evan. My one word is believe and …
Watch Barbara Corcoran's Top 10 Rules For Success video. Famous Entrepreneur Quotes Barbara Corcoran's Quotes "If you can be yourself and all …