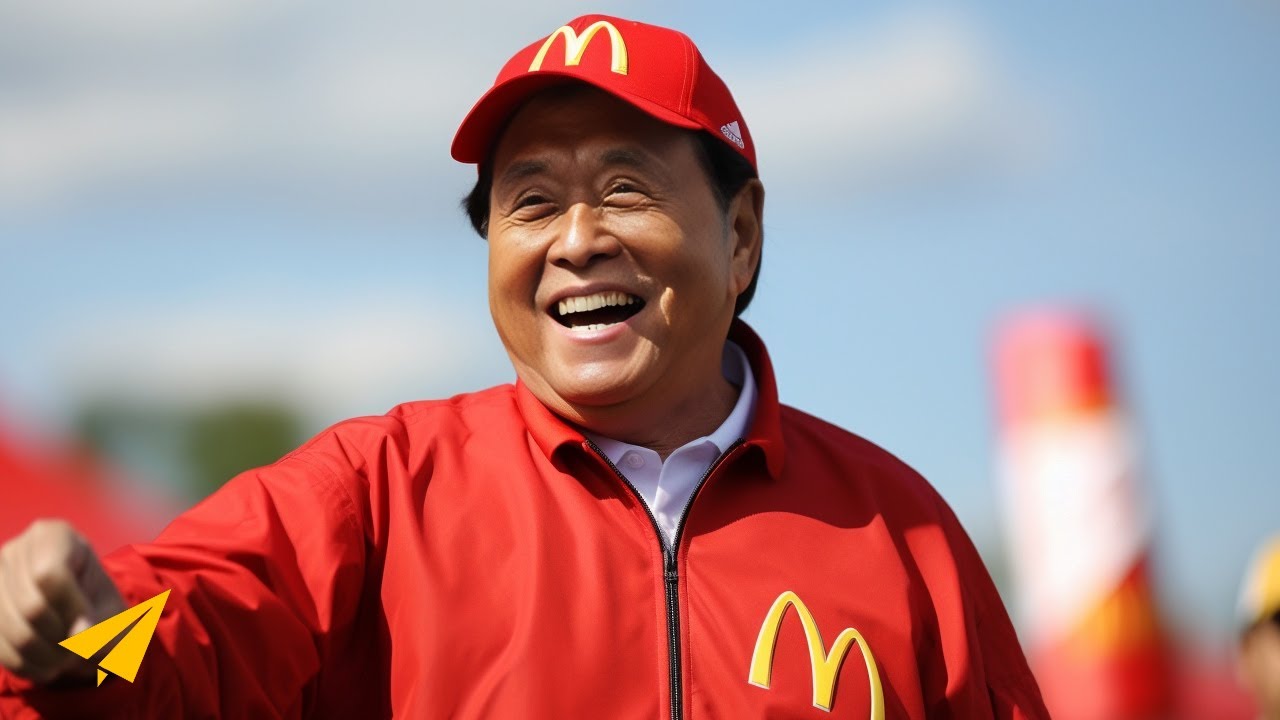 Good morning Believe Nation. My name is Evan Carmichael. My one word is 'believe' and I believe that entrepreneurs will solve all of the world's major problems. So to help you on your journey today's message is, "Go work at McDonald's". Over to you Robert Kiyosaki.
Go Work at McDonald's – Robert Kiyosaki
Interviewer: You wake up tomorrow morning and you're on the street and you have nothing. You don't have a single contact in your network. All you have is the knowledge and experience that you've had throughout your career. How do you build up from there?
Well, I've been there, many times. So, it's no big deal. You just figure out what's needed and wanted and you go do it. People always kind of dump on, what do you call it? Fast food industry. If I had to do it again, I'd go work for McDonald's.
The reason I'd go work for McDonald's, whether it's seven bucks an hour or 50, I don't really care; I don't really like McDonald's food but they have the best business systems in the world. How else can a company take virtually non-college educated people and build a fast food industry across the world? And they have the best system, so right inside that little McDonald's you can learn everything you need to learn about business except for the management side of it.
So, I'd just go work at McDonald's so I could learn even more. I look at life as learning. I'm constantly learning. You know, I'm reading constantly, studying constantly. I spend most of my time with entrepreneurs. I don't spend my time with people who complain about the economy, you know. So, nothing would really change. I'd just go back to being an entrepreneur.
Evan Carmichael
If you want to learn how to do something, the fastest way to do it is to go work for somebody who's already done it. Now, I'm not as huge a fan about working for a giant corporation because often you are assigned a really specific task and you don't really get to explore quickly but if you work for somebody who's got a much smaller company, an entrepreneur, then you get to take on a lot more responsibilities.
My idea is I would suggest to go work for somebody who has 10 employees or less, who's doing exactly what you want to do, and get as close to the entrepreneur founder as possible. You get hired to whatever job it is that you want to learn. Right?
But then you get as close to the entrepreneur as possible, take on more work, work overtime, work extra hours because this isn't work; this is your education. You're getting paid to learn instead of paying to go to a university you are getting paid to make mistakes, to learn how things are done, to understanding if this is even an industry that you want to get into. You're getting paid to learn.
And that's the best way to go out and do it. So, when I sold my first business, as an example, I wanted to learn about raising capital. I wanted to learn that process. I wanted to learn from people who'd gone through it. I didn't have to raise money for my business; we thought about it, we almost did it but we got bought before we needed to go and do it. So after I sold my company, I went to go work at a venture capital company and I connected with these VCs. There were four of them in their 60s or 70s.
"If you want to learn how to do something, the fastest way to do it is to go work for somebody who's already done it." – Evan Carmichael
They knew the street, they had a wealth of experience and education, and I helped them bring in new leads. In that process, I learned not just about the raising capital industry, the game, how it works, what people look for, what it all looks like because I had zero concept, I never needed it from my business; but I also got to see how they operated, how they thought about business, the advice that they gave the entrepreneur.
One of my favorite experiences was we got hired to basically be a temporary chairman for a company, to go in and advise the CEO of what to do. Every month we'd go in and look at the numbers and have conversations and guide the CEO to make better decisions in her business. It was awesome. It was awesome to see how these guys thought. A lot of what they learned and taught I picked up, right as the guys were doing what I wanted to learn.
So it's the fastest way to learn. Whatever it is that you want to do, if you're uncertain, if you need more education, if you haven't committed to getting going yet; go work for somebody who's done it. Model their success. Again, first they'll teach you if this is even an industry you want to get into.
Sometimes you get into something and you realize, "you know what, I don't really like that, I don't really want to do that" and better to figure it out while working for somebody else than to invest your own time, money, and resources into it. And two, they'll shake out your path. Instead of you failing and struggling over and over and over and over again, they'll teach you how to do it a lot more quickly.
And then I'd also start my thing on the side. I'd be moonlighting, I'd be working part-time, I'd be finding a way to get my own business up on the side. But learning from somebody who's already done exactly what you want to do, I believe, is one of the fastest ways to get to where you want to go.
Question Of The Day
So the question made today is I'm curious what is one of the greatest lessons that you have learned from somebody else that you've applied to your life or to your business recently, like in the past year? The greatest lesson you've learned in the past year from somebody that's had a big impact in your life or your business leave it down in the comments below. I'm really curious to find out.
I also want to give a quick shout out to June Thomas. June, thank you so much for picking up a copy of my book "Your One Word". I really really appreciate the support and I hope you enjoyed the read. So thank you guys so much for watching.
I believe in you. I hope you continue to believe in yourself and remember; your one word is? Much love and I'll see you again tomorrow morning for another shot of Entspresso.
---
BONUS
KEEP LEARNING
Charles Stanley
Charles: When you cease to learn, you cease to grow. When you cease to learn, you sort of begin to decay a little bit. You are to learn how to stay healthy. And you say, "Well, how do I do that?" Well, the proper diet, and exercise, and rest. That's part of it. In other words, we're not healthy by accident. It's by learning some key things in life that really make a difference.
When we keep learning something happens in our life. For example, you and I are living in an age when we've had to keep learning. Because when I was born there were no computers that I knew of in 1932. We go back and you look at your life and think about all the things that you've had to learn that your predecessors and your parents didn't have to learn because they didn't even exist.
If you're going to be useful all the days of your life, you've got to be willing to keep learning. I would simply say that a lazy brain is an aging brain. You don't want to learn? What happens; you start decaying. There's something interesting and exciting about learning things in life. No matter who you are and no matter what your age might be.
Marc Ecko
Sometimes when it's all about you, like I said, never get high on your own supply, right? When it's all about you, you know like Biggie says actually, or actually Scarface, we'll go back all the way to the original reference, but, you can't think that you're the only game in town. That's a really dangerous thought process, man.
Collaboration's good and it's healthy. Working with young cats that are coming up and have their own revenge fantasies? Yeah, you could learn from that. I'm not too old to learn, man. I've been going to school since; I might not have been in the classroom but school has come to me. Like when you want to learn, school comes to you.
Ryan Holiday
Interviewer: What is like the number one thing to take from the "Ego is the Enemy" and a piece of advice you would give to a young Ryan Holiday who's now 19, 20 years old that's watching this right now?
Yeah so one of my favorite sections of the book is this idea that you can never stop being a student. Because students are humble because they understand that there's someone above them who can teach them. So you never stop being a student. There's a quote from Epictetus that says, "One cannot learn that which they think they already know."
And so, if you think you already know everything, you've stopped being a student and you're not going to learn anymore. In some ways it's over for you. I was forced to look at the world the way he looks at the world. Like how I researched books I learned from Robert's system, because as his research assistant he wasn't like, "Oh, go make up your own system;" he was like, "This is how I do it, you need to do it this way so you can be of service to me."
And so you're sort of learning how to do that thing rather than like sitting down and reading a book about it or trying to learn a song by ear. It's like no, somebody showed you how to do each step.
---
You might also like
---
More from Charles Stanley
---
Today, we're going to learn how you can stretch your limits. Hello, Believe Nation, my one word is believe and I …
"Our mind is the control tower of our life. Whatever happens in our life starts right here." "And I don't think …