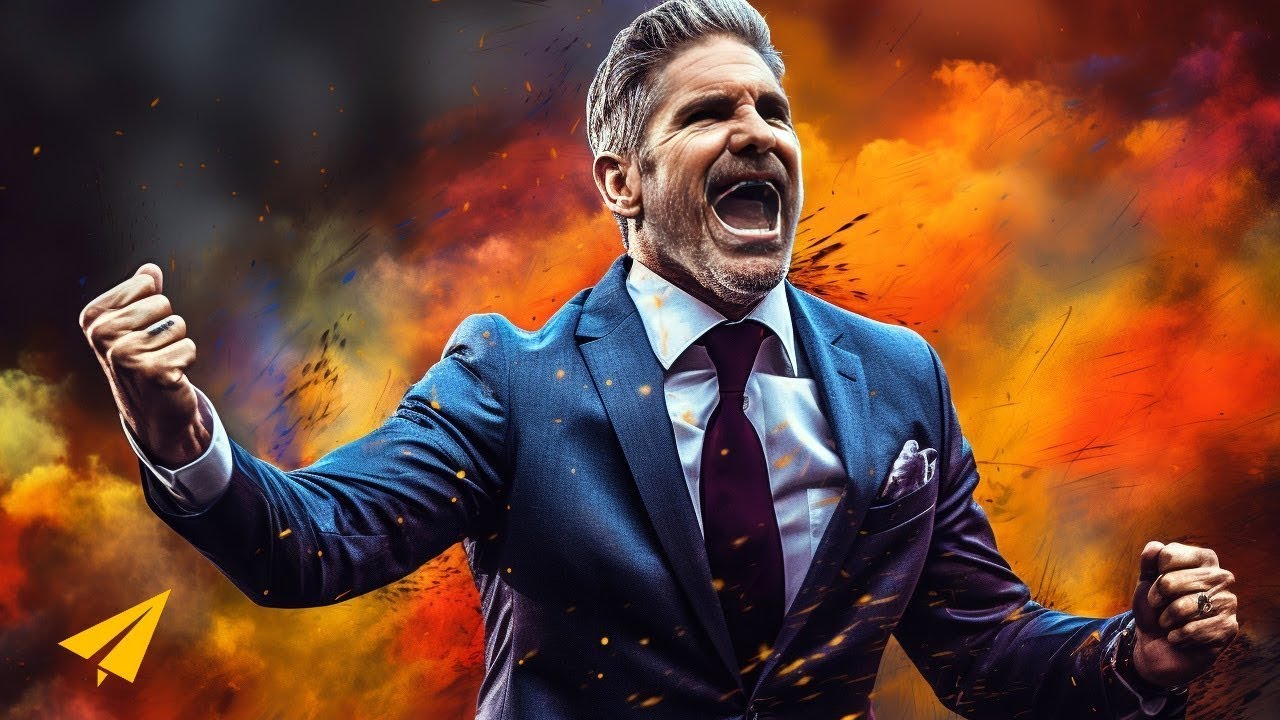 Hello Believe Nation!
I started the Mentor Me series to try to hang around people who've done a lot more than us.
And hopefully by spending a little bit more time with them some of how they think, their values their beliefs, their mindsets, their attitudes seeps into us to help us become the best versions of ourselves. So today we're going to learn from Grant Cardone and some of his best motivation. Mentor me Grant.
Rule number nine is my personal favorite. And I'd love to know which one you guys liked the best. And as always guys as you're watching if you hear something that really resonates with you please leave it down in the comments below and put quotes around it so other people can be inspired as well.
And when you write it down it's much more likely to stick with yourself as well. Enjoy.
Grant Cardone MOTIVATION
#1: Don't Be Lazy!
Dude that's not a normal state, that's lazy okay? That's not normal to be putting your head down on a table and not be moving, snap, and pop. To not be adding wood to your fire. Look, lazy as I wrote in this recent article that was read by almost four million people with I think as of today, 14 thousand likes and just as many dislikes even people rageful and angry. Maybe you're getting like that right now about my article.
That lazy is the new entitlement. Look, just see if this describes you or anyone you know. I only do enough. I make as little as possible. I save as little as possible. I invest as little as possible. I learn as little as possible. And hey, I work as little as possible. And when my five days are over with each week I have to, I must take Saturdays and Sundays off. I'm entitled to it. These are the policies of the lazy. And they're ruining our country.
They're ruining anyone that operates with them okay? Normal, a normal state is not lazy. A lazy person is actually educated encouraged, acknowledged, and it's allowed. Lazy is an allowed state in organizations. So if you see anybody in your group in your organization, in your family that's lazy. Hey! Knock it off man! It don't work. You end up with too little money not enough love, not enough work and not enough customers. Lazy is a failed policy. And I'm here to wake you up about it.
#2: Learn To Dominate
Look, if you want to be in business for yourself and free you must learn to dominate. You cannot compete okay? How many were trained this? Competition is a healthy thing. That message was not being delivered to entrepreneurs. That message was being delivered to consumers. There was somebody saying, "Look the more oil companies "We have, the better because it's good for the customer."
Right? That the more technology companies we have it's not just Microsoft, the better for the customer. And inventions and you know, improvements in products comes from competition. But if you're the one playing the game you want to dominate the field. So look, here's the deal. I might be wrong in what I say okay? I might be wrong in the things I do in my life and the business that I started. My family's told me not to start every business that I've been involved in.
Every one of them. Every one of them was a risk. Every one of them I had to take a chance. I remember my mom used to tell me "I wouldn't do that if I were you. "I wouldn't do that if I were you. "I wouldn't do that if I were you." I'm like, "Mom, you wouldn't do anything."  You wouldn't do anything except be the mother. A great mother to five children. My mother wasn't an entrepreneur. She didn't have my dreams. Just because she's my mom doesn't mean she dreams like me. Would you agree? Okay, my mom was wrong about everything she told me not to do. I love my mom to death.
Because they're doing it right
Okay, unbelievable friend of mine. She was wrong. I needed to do those things okay? Steve Jobs needed to build this phone. Would you agree? Did he help a lot of people? Did he make some money while he was doing it? 119 billion dollars in five years.
In the bank, cash. I'm not talking about profit, I'm talking about done. In the bank, sitting there. Okay, brings a great product to the market place. Domination or competition? Total domination. Coca Cola, competition or domination? Total domination okay? Exxon, total domination. You see what I'm saying? You want to be in a dominating point okay?
So what we've got to do is we've got to get you thinking. We've got to get you thinking like the dominators think. How do they act? How does Warren Buffet act? What does Warren Buffet do with his time all the time? Those are the people I study today. I don't study the people that I went to school with. The teachers I went to school with. I don't even study my own family members. Okay, I'm looking for people that are way up here that I can say, hey what are they doing? Because they're doing it right.
#3: Get Busy
If you know what day it is. You are not busy enough. I recently heard this week "Oh it's Monday man, it's so hard to get started "On a Monday." I'm like, "Dude, how do you even know it's Monday?" I don't know what day it is. On Wednesday we hear, "It's humpback day. "We're halfway there." So it's Friday and it's like Oh, thank God it's Friday or follow Friday or like, dude how do you people know what day it is?
You're not busy enough. You need to be so freaking busy that you don't know what time it is. You don't know if it's before lunch after lunch, before dinner, after dinner. Come on, you've had those productive days. Remember the day when you were so productive you literally worked through lunch and dinner and you looked up at seven o'clock. You should have been home an hour ago and you're like, dude I haven't had lunch or dinner.
You know why? Because that day you were eating the marketplace. You were consuming the marketplace because you were active, productive. Hitting it, slamming, creative and completely committed. Look, that's where you need to be today. Look, I don't know what Monday, Wednesday, or Friday are. I don't know about Saturdays and Sundays. I know this. Create tremendous amounts of activity.
So much activity that you lose track of time. Your success is not going to come from watching TV. Or looking at a calendar. Your success is going to come from activity. From being busy, from being obsessed. From being like, so into it that you don't know about, oh my gosh it's the Monday morning blues. Or Wednesday humpback or Friday what? I don't know, Friday what, whatever! Okay, get busy.
"Watching other people get successful and then wondering why I wasn't. Success is your duty. It is your responsibility. I'm sorry, your obligation and your responsibility. It's important." – Grant Cardone
#4: Ignore The #Littleman
The biggest struggle man was just getting around other people that would say I could do it. I mean, that's the biggest struggle. Just you get around one guy that says "Yeah you can do it." And then you talk to him tomorrow and he's like, "No dude, it's freaking. "You can't do this ." You know, there's so few people telling you to do it. You know what there is a lot of? Save your money, protect yourself, conserve.
Don't spend, don't take risks. Taking risk is the new way to be risk adverse. So, the biggest struggle for me was my family man. The people closest to me was the biggest struggle. Every time I went out to do another deal everybody told me, "You don't need to do that man."
They won't even let you in the gates
The only person that was encouraging me was my twin brother. Because I would see how he was doing it. Dude, he was making his swings. And so every time I would get around other people. So I'll tell you a little trick I did. On weekends, I would always go see homes I couldn't afford. That has always inspired me. I would go look, I would go drive neighborhoods.
Literally, I've done this my entire life until I finally got to the point where they wouldn't even let me in the neighborhood. There's neighborhoods in Miami you can't even go see. They won't even let you in the gates. Most of them you can get in if you know some of my tricks.  So the point that Shovida's writing on the board right now is you've got fuel in your tank. It wants to be accelerated on. And then you got somebody in the backseat saying, "Hey be careful!" Nobody likes a backseat driver okay? So they're sitting there, they're putting mental pressure on the breaks when you're trying to accelerate.
5: Decide To Make The News
I use every one of the news channels. You'll see me on TV doing news one day okay? I don't watch news, I make news. See the shift? You see the slight shift? Don't watch the news. Decide when you leave here today to make the news. Right? You don't read the newspaper. You write newspaper articles. You don't read books, yeah read them but learn to write them. And you know, you don't need to take forever.
You don't need to spend a lifetime writing a book. This was three hours. Okay, we sold 40,000 copies of this one book and it was self published. It's never, ever, ever been in a book store. A guy writes me and he says "Man, you've got misspelled words all in that book."
I'm like, "Yeah, so what? So where are they?" "123, 128, 134, 165, 120." I'm like, "Yeah, yeah." "And bad grammar too." I'm like, "Yeah, what's your point dude?"  "What's your point? Why do you keep telling me that?" He's like, "Because man you've got misspelled words "In a book." It's a best seller .  Okay, so it aint best written okay?
You know what and this word,  just so nobody understands, I don't want you to think that that's a cuss word.  The word  look it up in the dictionary means a complainer, a whiner, and excuse maker. I wear a little band on my pen here. On my wrist here, it's a little black band and it says, "Champions dominate." And on the other side "Don't be a little ".  That's right. Because I don't need it. I need to get rid of the whiners, the excuse makers. "Oh my God it's the market."
You're full, you're busy and you don't have this stuff sticking to you
It's the market oh my God! Prices, oh inventory! Okay, now how much you got there? It's too much inventory, now too little inventory. Human beings have so many excuses it's unbelievable. You know why? Because you watch the news too much. Because you've agreed to receive news not make news.
The thing is not to just be positive. Not even to offer this no negativity policy that I talk about. The way to avoid negative and distracting people is to vibrate at a rate so fast okay? That you're out in front of them. Once I got a speeding ticket. Actually here in Miami, and the police officer says "Why you speeding? Why you in such a hurry?" I'm like, "Dude I'm trying to stay away from the crazies."
Okay, if I can just get ahead of everybody else I'm not distracted by anybody but guys like you. And your job is to stop me but the truth is, their job it to stop me, distract me and cause me to turn around and stop my mission. See, so I got my ticket and moved on and went to the head of the pack again.
See, this is what I'm telling you man. Look, if you want to not be bogged down by negative distractive people you need to take responsibility that you're slowing down enough to get caught up by this magnetic charge of distractive and negative people.
Dude, you need to vibrate so fast that these people are distracting other people, not you. Get way ahead of the crowd. Get so busy that nobody's going to jack with you man because you're filling up your pipeline. You're full, you're busy and you don't have this stuff sticking to you.
"If you want to be in business for yourself and free you must learn to dominate." – Grant Cardone
#7: Don't Settle
Over and over, almost every seminar I go to somebody will walk up to me and say "Dude, how do you handle burnout?" And my reply is fast and simple. "I don't believe in burnout." That's right, I don't believe in burnout. Now, I know if you're experiencing the exhaustion that is associated with this idea of burnout that nobody can prove by the way. That this seems impossible to you that burnout doesn't exist.
But I'm telling you, listen to me. Burnout is not real, it's made up. Take a step back for just a second while I try to sell you on this idea. And try to remember a time when you were on fire. On fire, lit up, excited about being an entrepreneur. See that's gone right? "Yeah Grant, I'm burnt out. That's what I'm telling you." No, no, no, no. Go back to the time when you were lit up on fire. You couldn't sleep at night.
You didn't need to eat okay? All you needed was the idea of a future you had for this dream, this idea this business, whatever. See at that time you were goal driven. The possibilities were enormous. They fed you. You were mission driven. See, it's when the mission's missing. It's when the mission goes away that a person starts to experience being tapped out. Or burned out. Or exhausted.
Average ideas, average products. Average advertising
At least this is my experience. Look, when I'm not tapped fully into my future. My goals, the potential, the possibilities. I don't care what the job is. Whether it was me when I was working at McDonalds or the Country Club. I was working on a rig down in the Gulf of Mexico or whether I was writing my first book. Look, when your goals aren't big enough. When you're no longer sold on your vision your purpose, your mission.
The symptoms of losing interest, what many call burn out. Burn outs are experienced. Any time you start reaching for massive success the next thing. You start settling in. Getting comfortable. Listen, settle to settle. "Oh I just want to settle down." Dude, why don't you just decide to hate your life every day? See, that's when you start having problems. When you start settling. That's why comfort and complacency are the entrepreneur's worst enemy.
In fact, I would tell you this. The comfort and complacency are everybody's worst enemy. The only time I've ever gotten in trouble in my life was when I was bored, complacent. When I was settling. Who wants average? Who wants average? Nobody wants it okay? Nobody, no matter where you're at in life you don't want average. But we're surrounded by average people every day. Average ideas, average products. Average advertising. Only those that have given up on greatness would settle for average.
#8: Success Is Your duty
Hey I want to talk to you today about success. Success, duty, obligation, responsibility. If you approach it any other way which most people are. Most people think, "Well I'll be successful "If the economy works. "I'll be successful if something happens. "I'll be successful if I win the lottery ticket." Look, you're not going to be successful if you don't demand it. If you literally don't stake a claim to it and say "This is mine, it's important."
You're not going to have it, I promise you. I know, I'm telling you from experience. I spent the first 25 years of my life like a spectator. Watching other people get successful and then wondering why I wasn't. Success is your duty. It is your responsibility. I'm sorry, your obligation and your responsibility. It's important.
#9: #Believe
You know, I mean there's so many mistakes sales people make. I think you need to get down to like, the main ones. But you're not selling the solution. Even before that though, I would say Corrine. It's the biggest mistake, people are not excited. They're not alive. They're not showing interest in the cycle and they lose interest. I was in Barcelona recently and I was looking at a watch and the cycle didn't close. I could have bought the watch.
I was qualified to buy the watch. I'm the one that walked myself in the shop on my vacation to look at the watch. I knew exactly the watch I was looking for. And when I left my wife said "What could he have done to close the sale?" I said well he could have kept life in the cycle. He could have kept the cycle open. So what I mean by that is look, if you're not interested. If you don't believe the cycle can be closed it will not close.
So the number one mistake I think sales people managers and the store makes is they assume a close can't be had that day. I go into every cycle. Every sales cycle with every prospect, every phone call. Every, no matter how complex the sale is or how simple it is with the belief that I can sell that product that day. This time, now.
"If you know what day it is. You are not busy enough." – Grant Cardone
#10: Live Up To Your Potential
My message to you this week. Right now is not the time to stop. You can't stop. I wake up this morning and I'm like my God man what's going on, what's happening to the world? Place is coming, you know it's a scary place to live in.
And I'm like, dude what are you doing? You're stopping right now. Now is not the time to stop or worry or back up or become apathetic. Now is the time to start again. That's right, again. It's like I've got to start over and over. I've got to continue every day like you do to improve yourself. Improve your skills, improve your game. Every day start over. Now is not the time to start or back up or retreat or get lost in all the problems.
Look, you've got to assume right now that you can do way more, way more than you're doing. Ask yourself this question. I ask myself this probably five times a week. Now, what is my potential? Is my potential greater than what I'm delivering now? Regardless of what people think about my achievements or my lack of achievements.
Now is the time to start again
Whatever the case is. I've been on both ends of this thing where people were disappointed with me early on in my life. And also today when people are like "Man, how do you get so much done?" Neither one of those should be where you're living.
It should be what is my potential? What is your potential? Have you fulfilled that potential? Can you do more? Can you make more contacts? This is the model that we need to provide for one another. For our kids, for our parents for everyone in our community. Look, don't look for others to do this. They're not. Look around you and what you see is average everywhere. Average has become an epidemic.
You don't have people living up to their potential. You have people doing almost nothing. People retreating, back up. People that are lazy. People that have checked out. People that are waiting for handouts and crumbs and think that will give them security.
Look, now is the time to start again. Your security, your family's security. Your future is left in your hands. Your destiny is yours. Not someone else's. Nobody else can do for you. Nobody else can do it for me. It's your job and my time. Now is the time, now is the time to start. Now is the time to start again.
Thank You!
Thank you guys so much for watching. I hope you enjoyed. I'd love to know what did you take from this video that you're going to immediately apply to your life or to your business. What was the most important lesson that you learned? Please leave it down in the comments below. I'm super curious to find out.
I also want to give a quick shout out to Simon Stanley. Simon, thank you do much for picking up a copy of my book Your One Word. And making that awesome review on your Youtube channel. I really, really appreciate the support and I'm glad you enjoyed the book.
What's good guys? Simon Stanley here and in this video, I'm doing a video review of Your One Word, by Evan Carmichael.
So thank you guys again for watching. I believe in you, I hope you continue to believe in yourself and whatever your one word is. Much love, I'll see you soon.
---
BONUS
Get Addicted To Good Thing In Life
Well, when I was 16 I started using drugs and when I was 25 I was using drugs 15 times a day. And I tried to quit for nine years. Every day for nine years man. So, then I went to a treatment center. Because my mom's like, "Hey don't even come around."
Everybody gave up on me. Like everybody, this isn't some kind of pulling hearts story. This is like, dude people hated me man. Okay, and the worst part of it is I hated me. So, it wasn't that. I was broke, I didn't have a job, all of that.
All the bad stuff but the feeling that I had about myself you know? Was just awful. So I went to the treatment center you know? And got off the drugs, quit using drugs for 25 days and they told me I had to leave because the insurance was over.
What a scam that is. And the councilor dude, I don't even remember his name but he told me on the way out, he's like "Hey man, let me tell you something." Because see, I don't know if you've ever gone into one of these 12 step kind of deals but you go in and you do like this huge introspection on yourself and then you've got to share with the group all your stuff.
I replaced one addiction with another one
So I'm telling these guys that I want to be rich and I think I'm James Bond and I'm the reincarnation of James Bond and you know.  I'm going to write books dude, I'm going to be famous man and people are going to see me and I'm going to do all this. Well, every time you do that over there they're like, "No, no dude. "Give up on the ego. "Give up on grandiosity. "You're not going to be rich. "If you just don't use drugs one day at a time "Then you need to be happy."
And the guy told me on the way out of the place. He's like, "Look, if you don't give up on all that "You'll never make it." And I walked out of there and said "Dude, I'm going to get rich. "I'm going to get rich, I'm going to get famous." Because dude, I just couldn't live a life of just not doing drugs. Because I don't think drugs was my problem. You know, it was just a symptom of something else that went awry.
And so, when I went back I took that addictive, that you know 15 times a day and not trying to use drugs dude. I took that energy and I threw it in work. And you know how I am at work dude, I'm a maniac you know? So, I took it and I basically, people started telling me "You just replaced one addiction with another addiction." And I'm like, "Yeah, that's exactly what I did." I replaced one addiction with another one. And now I get addicted to the good things in my life.
Don't Be Negative
The negativity is just negative. And there's no money in it, there's no future in being negative. Where's the solution you know? "I can't do that, we can't do that. "That can't happen, this is wrong. "That's wrong, oh my gosh taxes are too high. "Taxes are too." Dude, it's negative. It is negative. It is negative! Look, there's so much abundance of negativity. That by itself tells you why there's no value in it.
Be Obsessed With Dreams
I hear a lot of people talk about one purpose and one thing you know? One thing has never filled me up. Whether it was one friend, one drug, whatever dude. One doesn't work for me. One wife is good, that's all I need. I love my kids, one family you know. But I've always needed something else. You know, I need something else to fill me up you know? And it was, I'm 35 years old and these people are like, "Dude when are you "Ever going to be satisfied?" I heard that a lot. When's enough enough? You know? Whey can't you just enjoy what you have? Like something was wrong with me. And I bought it, I bought those ideas. I talk about this in the book about feeding the beast and starving fear. And I kept hearing about this you know. "Well you're never going to be satisfied." "Nothing fills you up "And that's why you're so disappointed." And people would say things like "Don't have high expectations." You know, Sam Walton said the only way to live a life is with high expectations. The only way to achieve anything is with high expectations. But something happened in America between 1980 and 2000 where everybody started doing this introspection feel your feelings. What's the chick's name over at Steve Carles place? The coach over there?
Evan: Terry?
life that was naturally balanced
No the one that says go inside of, what was her name? And I used her one time and I said dude I can't do this. Because it's just not who I am. Like, I've done so much introspection that I couldn't do anything. I had to come and mobilize my purposes. I mean, what's wrong with somebody that wants to do another thing? You know, look I am not fueled up by one person. My wife cannot fill me up.
Two kids can't make me feel full because I think if people are obsessed with a lot of purposes and that's why people are dissatisfied. And my goal is that this book gives people permission to be. To not be so introspective but to actually become obsessed with dreams again. With possibilities. With the idea that you could be a husband a father, a community leader a church leader, you could actually talk about politics.
You could get rich. You could write books. You could find time to do all that and not even worry about balance. Because the obsession of each one of those things would actually fill you up to have a life that was naturally balanced.
---
You might also like
---
More from Grant Cardone
---
What's up, Believe Nation? Greetings from London, England. It's Evan. My one word is believe and I believe in people, …
Watch Grant Cardone's Top 10 Rules For Success video. Famous Entrepreneur Quotes Grant CardoneQuotes "You're not going to be successful if you …