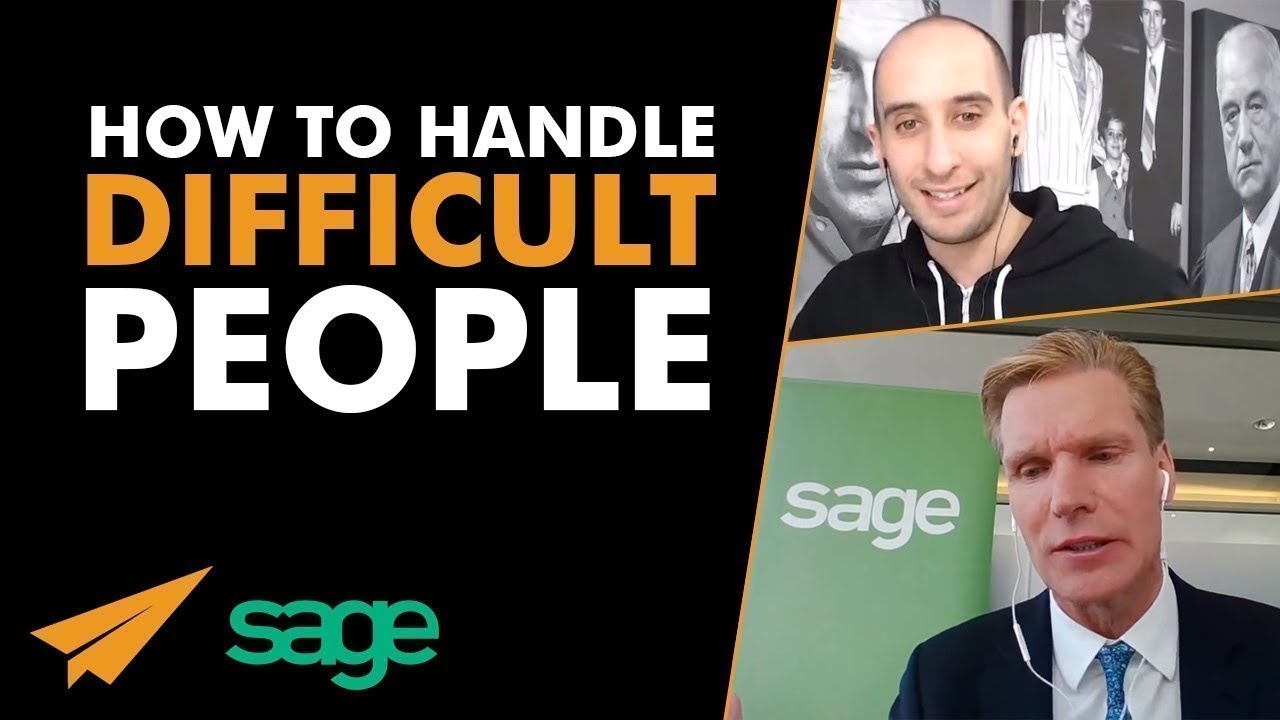 Evan: Amjazzy96, how do we communicate with people who are difficult to work with when we have to?
Stephen: Oh.
Evan: What do you think?
Stephen: Wow, yeah, now, god, there's loads of like behavioral psychology on this, and I guess hey amjazzy it sounds like it's an environment. With customers, I'll be honest, I never find them hard to communicate, especially if we talk about social media. It sounds like when you get in the situation, it might not be for you guys, but if you got a relationship that's a bit prickly with your boss or something like that, then that is a position that can be a bit feisty.
So I think it comes back to some of the basics Evan has touched on, is number one, we kind of have to put ourselves at the center of the conversation, and put ourselves in their shoes, and then ask ourselves what is it they want and why are they behaving the way they are? 'Cause normally things are pretty logical. And then the other thing that I touched on, all the sort of behavioral psychology stuff, is reality is the beauty of the world is everyone's got a different personality. And the reality is different personality types, some get on with each other, some want to go to a Blue Jays game all the time and they want to hang out an drink beer, some people don't want to do that.
Some people want to listen to music. Some people want to read books. And therefore, I just think we've got to accept that one of the beauties in life is we're totally different. And I think the tolerance of that is definitely good. Now if it all gets tough, I think that there's loads of stuff you can do in terms of go to a mentor. Ask someone independent, kind of this is happening, this is the situation.
It could be with a customer. It could be with one of your work colleagues, someone who works for you as an entrepreneur. And particularly if you're an entrepreneur and you're asking someone in the team to do something and it's kind of not landing or it's poor quality, or they're letting customers down, you know I can understand that hurts. And then 'cause what we said before, it's very personal. It's very personal.
"We've got to accept that one of the beauties in life is we're totally different. And I think the tolerance of that is definitely good." – Stephen Kelly
You guys sacrifice a lot, you work long hours, you pursue your dreams, and you want everybody to pull the same level of weight as you do in terms of that idea that you're trying to get to market. So there's other ways to help.
So I'd go first to mentorship, and then ultimately if you work out what is the clock that's ticking within the person that's being challenging, I'd always advocate being honest with people and say you know I don't think there's anything. Someone taught me once, yeah, there's probably no bad people around. It's just sometimes the behaviors really upset us. And I think if you sat down with someone and said look, you're not a bad person.
For whatever reason, we're not getting on. I think broadly we want the same things. I want to build this company. I want to be the next Google. I want everybody in the company to follow this dream. Let's just be honest with each other. What's not clicking, what's not working? 'Cause you know I'm not perfect. I think this is where you can use a bit of self-deprecation and share a bit of vulnerability.
I'm not perfect, but what is it that's getting in the way here 'cause we all want the same things, but we're bumping into each other. So what can we do to just, as they say in Canada, get that moose on the table. Get that moose on the table and then we can break it into a thousand pieces and we can consume it and sort it out and move on. Yeah, I don't know. Evan, any ideas?
Evan: There it is again, that customization to the audience. I love it. I mean I agree with everything Stephen's saying. I almost want to just copy and paste, and I would encourage you guys to watch that clip back again. Those three points he made were really good. The only thing I would add to it is I go into every situation trying to take full responsibility. And I think if you abdicate responsibilities is when you start to lose in all situations.
"There's no bad people, they just have different circumstances, different upbringings, different values." – Evan Carmichael
But here, as an example, as soon as you label somebody difficult, you're saying it's their fault, right, it's their problem. They're the one who's hard to deal with, they're difficult, and that reduces some of the responsibility on you to navigate the situation. Where if you just play back that last piece Stephen was talking about is that look, everybody is a human being. There's no bad people, they just have different circumstances, different upbringings, different values.
And if you take the responsibility to say I want to navigate this, I want to make it a success, put it on yourself to figure it out, then just going in with that different mindset I think could really help you have more success in the conversation. On top of everything else you've been talking about, getting a mentor, trying to understand them, put yourself in their shoes, it was really great. See, I think I might have to watch back that answer too. I'm going to bookmark that one. I like that one, that was real good.
---
You might also like
---
More from Evan Carmichael
---
What's up, Believe Nation? Greetings from London, England. It's Evan. My one word is believe and I believe in people, …
Watch Evan Carmichael's Top 10 Rules For Success video. Famous Entrepreneur Quotes Evan Carmichael's Quotes "Changing my environment had a dramatic impact …
Today we're going to look at seven different ways that you can make business alliances. What's up Believe Nation? It's Evan. …