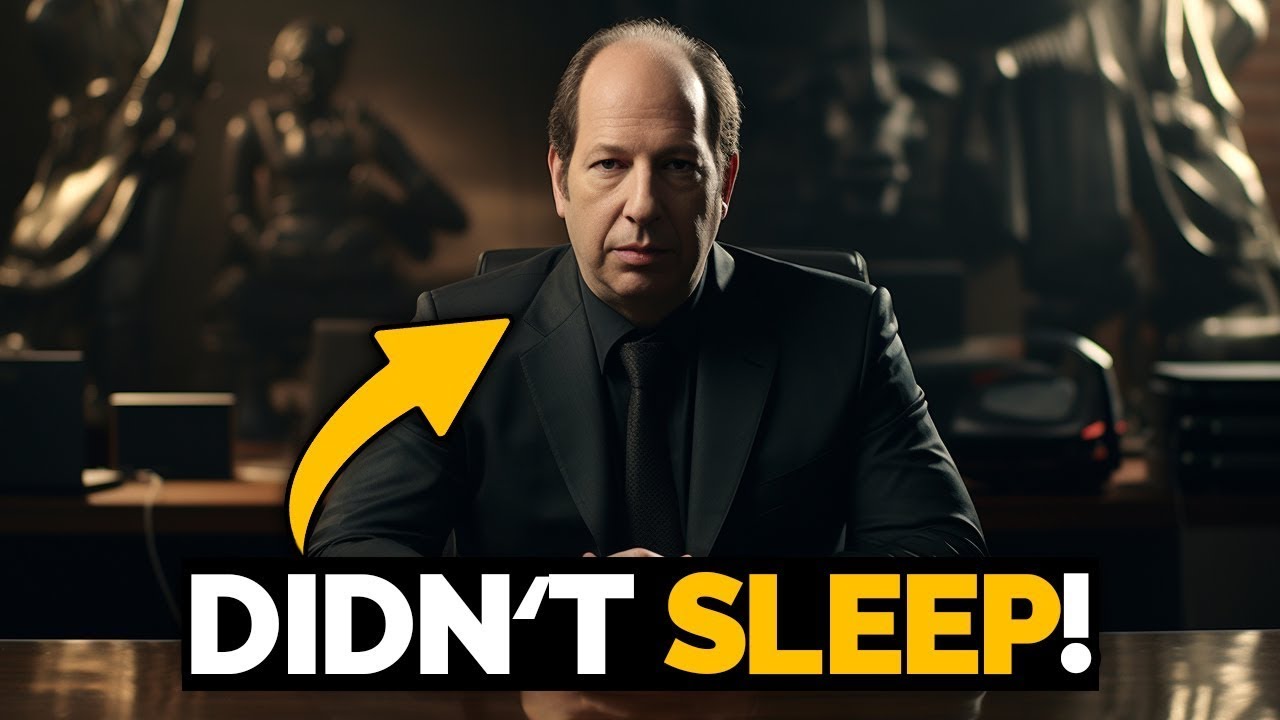 "Never thought about a career. Never written a note of music for money."
"We're experimenting."
"Black Hawk Down I remember being up for 72 hours. Nobody asked me to be up for 72 hours."
"Nobody was throwing anything, you know? It was fine. Thank you to the people of Ghent for not killing me."
"There's something very human about it because it can only make a sound with air and it needs to breathe."
– Hans Zimmer
Hans Zimmer's Top 10 Rules for Success
…
Evan: He's a German composer and record producer.
He's the head of the film music division at Dreamworks, He's composed the music for over 150 films, including Lion King, Gladiator, and Pirates of the Caribbean.
He's Hans Zimmer, and here's my take on his top 10 rules for success.
Rule number eight is my personal favorite. Make sure to stick around all the way to the end for some special bonus clips.
Also, as Hans is talking, if he says something that really, really resonates with you, please leave it in the comments below. Put quotes around it so other people can be inspired as well. Enjoy.
…
Rule #1: Love What You Do
Hans: Guy from Germany who stubbornly just wanted to play music.
Man 1: Hans Zimmer is a crazy genius.
Man 2: He's just one of the nicest people I've ever met and a great film composer.
Hans: Never thought about a career. Never written a note of music for money.
Man 3: I don't think a few words to define Hans the way I know him. Hans is a genius.
Hans: Somebody who's concerned with making sure that we will have orchestras forever and try to support my musician friends and try to discover new people and never growing up.
Man 1: A lot of the producers go, "Oh my God, no, Hans, can you not write the thing that you did so that you get an Oscar," and this and that, And he said, "No, I'm going to do it all differently." And everybody's scared, And in the end it's a hit. And in the end, everybody copies Hans' music.
Man 4: He's this guy that I met 37 years ago that's written some unbelievable music and had an incredible career.
Hans: I play music. That's what I do.
Rule #2: Have The Courage To Fail
After finishing my adventures on Dark Knight, I decided we need to go into a completely different direction.  While I think of the notes for the tune, I try to think of what's the  pour this tune into, and that's what we're doing.
"You have to invite failure if you want to go and experiment and if you want to try to do something original. We have to have a certain amount of privacy to have the courage to fail." – Hans Zimmer
That's what you're supposed to do. You're not supposed to stand still. You don't really want to be observed at your greatest failures. You have to invite failure if you want to go and experiment and if you want to try to do something original. We have to have a certain amount of privacy to have the courage to fail.
Rule #3: Commit Passionately
Black Hawk Down or any of those films we worked on, nobody asked us to… Black Hawk Down, I remember being up for 72 hours. Nobody asked me to be up for 72 hours. I was trying to do something extraordinary. Trying to tell a story in an extraordinary way. Trying to be a band of brothers. Not let anybody else down that was on your team.
Interviewer: Be superhuman.
It's not superhuman. It's human. The unfortunate thing is that you have to put the word super in front of it when it's the ambition. It's what we should all strive for. That commitment to the gesture, to the love, to how we approach the day, how we approach each other, how we approach humanity, how we approach art and beauty and ultimately, in Martin's case, how we approach our instrument. There needs to be respect.
Rule #4: Find Great Players
At the end of the day, I don't think the issue really is about the recording medium, but it is about the players and the whole team. I think you're not going to get quite the same results by having your mate in the flat next door go and bang on a biscuit tin, even though it might be interesting, than if you get the best players in the world to go and know where to hit it. You know what I mean? A drum is this interesting archaic thing, but there are sweet spots when you hit it just right. These guys have been doing it forever. So it's really about the human beings that go and create the sound that ultimately will tell you if it's any good.
Hans Zimmer's Top 10 Rules
Rule #5: Dare To Do Something Different
The Lion King was, of course, it was huge, especially because I did it for all the wrong reasons. I did it for my daughter because I wanted to show off as dad, I was doing all these grown up movies where people were getting killed and I couldn't take her to a premiere.
I wanted to do something to take my kid to a premiere. It was surprisingly emotional doing that movie. It deals with a father's death, so it's got a lot more depth than the surface let me believe. And it shocked me, my own response once I started writing on it because I was thinking this is going to be easy. And it wasn't like it was hard, but the emotional involvement suddenly became profound as opposed to hard.
"Black Rain is so different from Thelma and Louise. It's so different from Gladiator. So different from Hannibal. It's so different from Black Hawk Down. It's so different from Matchstick Men. I'm sure I'm leaving some out. So working with people who are like me that get a little bored doing the same thing and off they go to try to do something completely different, that's a big part of it." – Hans Zimmer
And really it was Lion King that got Terry Malick interested in me, for instance. Terry loved Lion King and wanted me to do Thin Red Line. Working with Ridley Scott, we've done some really good movies together and they're stylistically so different. I mean, Black Rain is so different from Thelma and Louise. It's so different from Gladiator. So different from Hannibal. It's so different from Black Hawk Down. It's so different from Matchstick Men.
I'm sure I'm leaving some out. So working with people who are like me that get a little bored doing the same thing and off they go to try to do something completely different, that's a big part of it.
Rule #6: Put In The Work
When I started, people were cutting on Steenbecks and KEMs and then they got the Avid. The interesting thing about a sound  is because sound is slightly more easy to handle in large quantities of data than images. We've always been ahead of the image guys. I mean of the film guys.
So we've made all those mistakes with digital. The old digital recordings sound bad and it wasn't just the technology. We didn't know how to use it. Part of that is just you have to put your hours in. I'm a real believer in that thing, it's 10,000 hours to get good at something.
Rule #7: Face Your Fears
Interviewer: Is that the big difference because I see you in your basement like a Batman with all machines and stuff. It's really precise, I guess. You know what you put and then you go live. What's the difference? The risk?
Energy. The risk. I have stage fright and I never confronted the risk. I mean, Belgium. Year 2000. You have no idea what it took then to get me to do it. No, no, no, no, I had 1,000 excuses why not to do it, and then finally I did it and it was exquisitely horrifying. That's the only way I can put it.
Interviewer: Complex.
Yes, it was very, very, very, very complex. What was really good was right at the beginning within two seconds, I played just the worst wrong note. I could either stop and cry or I could laugh, right? And it didn't kill me, and nobody else out there. Nobody was throwing anything. It was fine. Thank you to the people of Ghent for not killing me and giving me the courage, and the absurdity. You have to be able to laugh at yourself and you have to learn how to laugh at yourself.
Rule #8: Stretch The Limits
"So my great ambition has always been to go and do just one thing where they go, wow, never done that before." – Hans Zimmer
The greatest compliment I think I've ever gotten, better than an Oscar, better than a Grammy, et cetera, was towards the end of the last Dark Knight Rises. Working with those percussionists that we've just sampled, these guys have played on everything. They are the guys. There's nothing they haven't played.
So my great ambition has always been to go and do just one thing where they go, wow, never done that before. I actually figured something. I'm not going to go into the details, but number one, I got the compliment of going, "Wow, we've never done this before "and it sounds really good."
Rule #9: Find Mentors
I was terrible at school. I never managed to go to university. But I started working for another film composer. What happened literally on day one, I am in the room. My job is to make coffee. But I'm in a room with Nick Roeg, who I adore as a director, and Stanley Myers, who I adored as a composer, and they're talking about the scene.
There's a real live problem. How are we going to score the scene as opposed to what I experienced in school, which is somebody tells you some historical incident that then got solved. So the most important part of the mentorship was not only was I in the room with a problem that had not been solved and I was witnessing how this problem in front of my eyes got solved by Stanley going, "Oh, what about those notes," and Nick going, "That's exactly it," but just being in a room with people who were the best at what they did.
In a funny way I thought everybody should have the right to this. So I try to make this place… This is a big room. When it's not full of Dark Knight synth, there's actually a lot of room in here. I think something really good happens if you can be. You know, it's your first day.
You're here to make coffee, but you're in the room with Chris Nolan and Hans Zimmer and you're seeing them scratching their head. Somehow, even if you don't open your mouth, just by your presence, you're part of the solution, or at least you get to see it.
Rule #10: Create A Masterpiece
This is, of course, where Chris gets tricky. Really about a father and his relationship to his son. It's only later on that I found out that the son wasn't the son at all. It was a daughter.  I sat down and I wrote this piece really about what it feels like to be a father and what it feels like to have a son. I was writing about my son.
Man: When he played me the piece of music, which became the basis for the entire score, I thought it was absolutely perfect and captured the emotional qualities of the film that I wanted. It was at that point that I told him that it was actually a large scale science fiction film. I hadn't given him any clues about that. You know, it's not an action film. It's not about . I think what that did for him is it set him very firmly in a direction related to the heart of the film. I listened to it extensively while I was finishing writing the script and then when we were in production as well.
The organ really is a huge, complicated synthesizer. If you think about it, you have a pipe and air blows through it and that makes a sound, and it makes the sound of one pitch. And then if you want to shift color, you add another pipe to it and you add more pipes. And so it becomes these really very, very complex harmonic structures. There was this endless discovery going on for both Chris and me where Roger would take us through all these different voicings and all these different colors.
You can even go a little darker. Actually, then we should go for this sound. There's something very human about it because it can only make a sound with air and it needs to breathe. On each note, you hear the breath. You hear the exhale.
Man: You feel a human presence in every sound and I think that was very important to keeping the film about not just the space that we're looking at, but the people in that space. There's an intimacy as well as massive scale. Sometimes within a few bars, there's that shift.  Pulling out all the stops. I now know what that expression means for real.
…
Evan: Thank you guys so much for watching. I made this video because David Dumais asked me to.
So if there's a famous entrepreneur that you want me to profile next, leave it in the comments below and I'll see what I can do. I'd also love to know which rule had the biggest impact on you. What did Hans say that is going to have an impact on your life or business somehow? Leave it in the comments below. I'm going to join into the discussion.
Finally, I want to give a quick shout out to Fred McCormack. Fred, thank you so much for picking up a copy of my book, Your One Word. It really, really, really, really means a lot to me. So thank you guys again for watching. I believe in you. I hope you continue to believe in yourself and whatever your one word is. Much love. I'll see you soon.
---
BONUS
Learn To Listen
I think the only thing that can save us at the end of the day as a human race is science. The only thing that inspires science all the time is dreamers. Would we have gotten to the moon without  or Isaac Asimov. I don't know good design that's…
Interviewer: So you're hopeful because we still have art? Heart and art?
I think I'm hopeful. I'm hopeful because I'm a musician. I'm realizing this more and more what happens is it's not that we can play really well. We learn how to listen. We learn how to listen to each other. So we can come from totally different cultures. We might not be able to speak the same words as language. But when we all get together, if I got a bunch of musicians into this room right now, we'd start playing. The first thing we would do is we would listen to each other. There comes respect and empathy. The only way that music can get beautiful is if we listen to each other. I think it's something some politicians can learn a little something from. All politicians should be forced to learn an instrument and have to jam together every weekend.
Interviewer: And listen to each other.
And listen to each other because you got to shut up. You can't be right. It's indefensible music. It's not about being right or wrong. There are no right notes, they're no wrong notes. But it's like, I throw you a note, what are you going to do with it? I'm not trying to be pretentious about it, but the listening part is quite good. It's not unimportant.
Push forward
Sampling isn't the reason that concert halls are empty. What our job is is to drive music forward, to make it interesting, to make it commercial in the best possible sense, to say an orchestra can rock out. You can go and see an orchestral performance and it'll knock your socks off. I'm just interested in seeing how far we can push that. Movies is one way, sampling is another way. Life performance is another way.
It's one of the reasons I love working with  because he does these shows in front of 250,000 people and they go nuts. It's just one man and his synthesizers. He's just written his first symphony which was performed in Amsterdam. Yes, with a full orchestra. So these ideas are not mutually exclusive. Tools are tools. All music relies on technology.
A violin is just a bit of good carpentry and some dead cats. It does involve a certain amount of technology to get you there. At the end of the day, it's the ingenuity of the player and it's the ingenuity of the composer that are going to go and really make something out of this thing.
Feel the nerves
Somebody said to me recently, "When you don't "feel the nerves, you have to go and do something else." I feel the nerves, trust me.
---
You might also like
---
More from Motivation
---
Watch Evan Carmichael's Top 10 Rules For Success video. Famous Entrepreneur Quotes Evan Carmichael's Quotes "Changing my environment had a dramatic impact …
Watch Mark Hamill's Top 10 Rules For Success video. Famous Entrepreneur Quotes Mark Hamill's Quotes "I love the allure, the danger, of …
Watch Brandon Beck's Top 10 Rules For Success video. Famous Entrepreneur Quotes Brandon Beck's Quotes "Whether you think you can do it, …