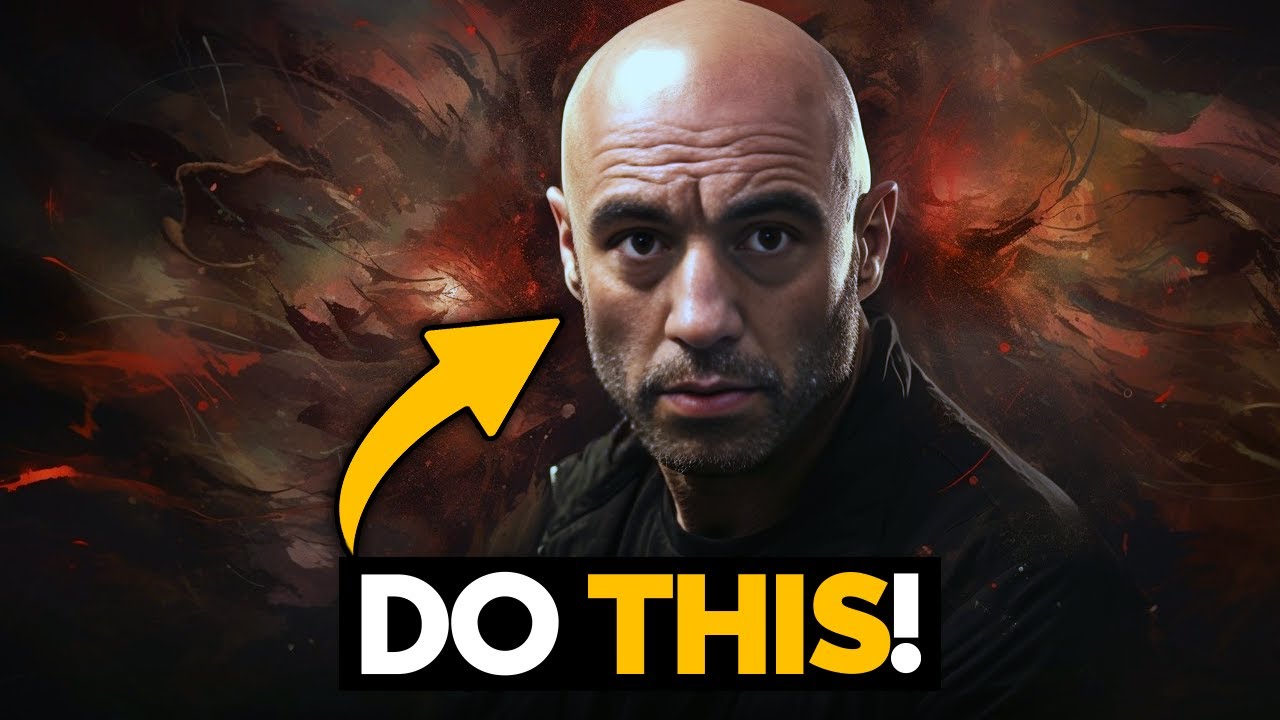 Today's message is "Don't dwell on the past."Good morning, Believe Nation. It's Evan, my one word is believe and I believe in people more than they believe in themselves and my sincere hope is that if you see in yourself, what I see in you, you'll be able to change the planet.
Don't dwell on the past – Joe Rogan
Your life would feel better and richer if you had a goal, you chased that goal, you accomplished some things, and you would get this boost of confidence.
You'd get this boost of self esteem. Whatever it is that you're into doing. Maybe you're into drawing comic books.
Maybe you're into making pottery or sculpture.
But find whatever the ff that is, and pursue that instead of doing nothing. The people that are doing nothing, those are the real… Look, doing something might be as simple as like that Alex Honnold guy. He just climbs rocks, but he's world class climber.
My Thought about Don't dwell on the past
One of the most common questions that I get asked when I do interviews is Evan, if you could go back in a time machine and go talk to your 20 year old self, what message would you give yourself? And it's a question I always have a hard time answering.
I guess it's one of those standard questions that people like to ask you at the end of interviews. I have a hard time with it. One, because I'm so grateful for where I am right now that I wouldn't really change anything. Everything that I went through has lead me to where I am right now, and I'm happy where I am right now, and so thank you for all those experiences, even though some of them may have been crappy.
Two, I don't spend time thinking about what didn't work, and spend time livin' in the past and I think to be an entrepreneur, to be enthusiastic, to be optimistic, to chase these dreams that're goin' forward you can't do it when you're just stuck in the past dwelling on all the mistakes you made and how much you suck and everything that went wrong in your life. I've had a lot of negative things that have happened to me but I don't remember them. I don't focus on them.
"I don't spend time thinking about what didn't work" – Evan Carmichael
One of the hardest exercises I had when I first started workin' with a media coach was coming up with my foundation story and thinkin' about the hard times I had in my startup business when I was making the few hundred dollars a month. I didn't even remember those stories. All the negative things that happened to me just pfft. I don't think about them anymore. I think about what I'm focused on now, where I'm tryin' to go, and I get how those stories can help.
They can help tell the journey. It can help with you guys who are watching. Being able to access those things can help but I don't live there, anywhere close to on a weekly or monthly or definitely not a daily basis. I just don't think about negative things that happened in the past. I think you'll see that consistently with successful people. And then the third answer then becomes okay, I need to say something.
I don't want to just tell them that their question doesn't really touch me. The only think I come up with is I would just tell my younger self to believe more. To believe in myself more. To believe in the mission more. To believe that I'm going to do great things more. To believe that it's going to work out more. But I wouldn't go and change any of those specific things that a time machine might be able to fix.
But the time machine doesn't exist so stop focusing on it, right? If the message is what would I tell a young person today, I love that question. But what would I tell myself from 20 years ago? I can't. I love possibilities.
I love thinkin' about the future and things that are impossible and how to fix that, but this is actually impossible right now, right? There's no way to go back and tell my younger self something so I don't focus on it. I don't care about it, I don't want to go out and do it. If you gave me the option, maybe that's a different choice but just livin' in the hypothetical and dwelling on the past is not interesting to me.
Again, if I look at this YouTube channel, we've had a lot of failed series. I've had a lot of videos where I really sucked, where my message was okay but my delivery was really terrible. I don't have a video that I'm least proud of.
I don't look at that video and say wow, that video's really terrible and it haunts me moving forward. I've had a lot series that didn't work out. We recently canceled the Believe Love series, which I loved and I found really useful but you guys didn't, so I might use that myself personally but not share it with you.
"You don't have to be the accumulation of your history. You can set a new path for yourself." – Evan Carmichael
There's been tons of other series though. We have a spot in our calendar that is just for tests, where we're always testing new series, whether you guys agree to them or not. You guys liked them, you want to share them or not. We had a series on morning routines.
We had series on favorite books from entrepreneurs. We had a series on, I forget what we called it, where we compared two contrasting points of view and said, hey find the line between them. And tons of other series that I don't even remember. Even thinking about the series that we canceled, I don't even care about it. I can't even access it because I've just moved on. I encourage you to do the same.
So many people just live in their past. Because one thing didn't work out once, now nothin' is ever going to work out again. You don't have to be the accumulation of your history. You can set a new path for yourself. I would just try to spend as much time as possible thinkin' about what you're doin' right now and thinkin' about where you want to go.
Everything that happened, happened. Try to see the positive of it. It lead you to where you are right now. Be grateful for those experiences that guided you to be the person you are right now and this vision that you have to move foreword. That's it, move forward. Spend as much as your mental energy as possible living in the present and where you want to go and not dwell in the things that happened to you 'cause you can't change the past.
---
The question today is, I'm curious. Is there something from your past that is haunting you?
An experience, a person, a limiting belief?
Something that is haunting you and you feel is preventing you from moving forward with your life, with your business?
Leave it in the comments below. Release it. Let it free. Let it go, so that you can focus on buildin' something way more positive. I want to see that in the comments.
I also want to give a quick shout out to Lazar Jovanovic. Thank you so much for picking up a copy of my book "Your One Word." It really, really means a lot to me and I hope you're enjoying the read. Thank you guys again. I believe in you. I hope you continue to believe in yourself and whatever your one word is. Much love and I'll see you again tomorrow morning for another shot of Entspresso.
---
BONUS
Have Goal
Dana White
Well, the first time that I really got involved in UFC was everybody had seen UFC 1. I saw UFC 1, but when we got involved in those because we started taking jiu-jitsu. Through jiu-jitsu we fell in love with the sport and we started to meet some of the athletes.
When I say "we," I mean me and the Fertitta brothers. It was really learning about the sport and meeting the athletes that completely got us literally addicted to the sport.
When we went to our first ever UFC event, it was down in New Orleans at the UNO Arena down there and literally, me, Frank, and Lorenzo were sitting in the audience going, "Holy shh. "Imagine if they did this and imagine if they did that? "This thing could be big." Then, once we bought it, our goal was and always has been to make this a global sport.
Charlamagne Tha God
Interviewer: Go ahead, tell me what your vision board looks like. Can you share some of the things that're on there?
I used to have a traditional vision board where you would take things that you want and put 'em up on poster board, whatever, whatever. That's cool, I did that when I did the seeker, but to me, the best vision was the one you write down your long term or short term goals.
Write down everything that you want to accomplish and keep those things in your mind because your mind is what it makes it manifest in the reality. Your thoughts really do become things. I don't have a college degree or anything like that.
All I have is, back in 1998, I said I want to be a super jock. I said I want to be one of the biggest radio personalities on the planet. I said I want to be in that Wendy Williams, Tom Joyner, Doug Banks, Howard Stern, you know, Bill O'Reilly, Rush Limbaugh, I want to be in that number.
When they think of Charlamagne, I want them to think of me like that. I want to be my generation's that, because all of those guys, it's the natural cause that thing, that power eventually fades or weakens.
All of them, it's just like the NBA, or music, it was the Magic Johnson, Larry Bird era. There was Michael Jordan era. Now it's Lebron James era. That's just the way things are in the game. I knew that eventually it would be my time if I wanted that, and so I claimed it. My vision board is a really just a notebook with everything that I want in my life.
Lewis Howes
We always had this goal in sports. I give the credit to my coaches for instilling that in me. It's like always creating this goal, this part of time to achieve something. During that time nothing else mattered. It didn't matter what was happening at school for me.
It didn't happen what was relationships didn't matter. It was just like achieving that goal. And maybe it comes back to like childhood or something where I just wanted to be a great athlete. When I get in that mind frame, I guess I don't know, I just want to achieve the goal more than anything else. That's what I like to do.
---
You might also like
---
More from Charlamagne Tha God
---
Hello believe nation, my name is Evan Charmichael, my one word is Believe, and I believe that entrepreneurs are going …
Good morning Believe Nation! Today's message is create something authentic. Over to you, Bruce Springsteen. Bruce Springsteen Why songs are good is …