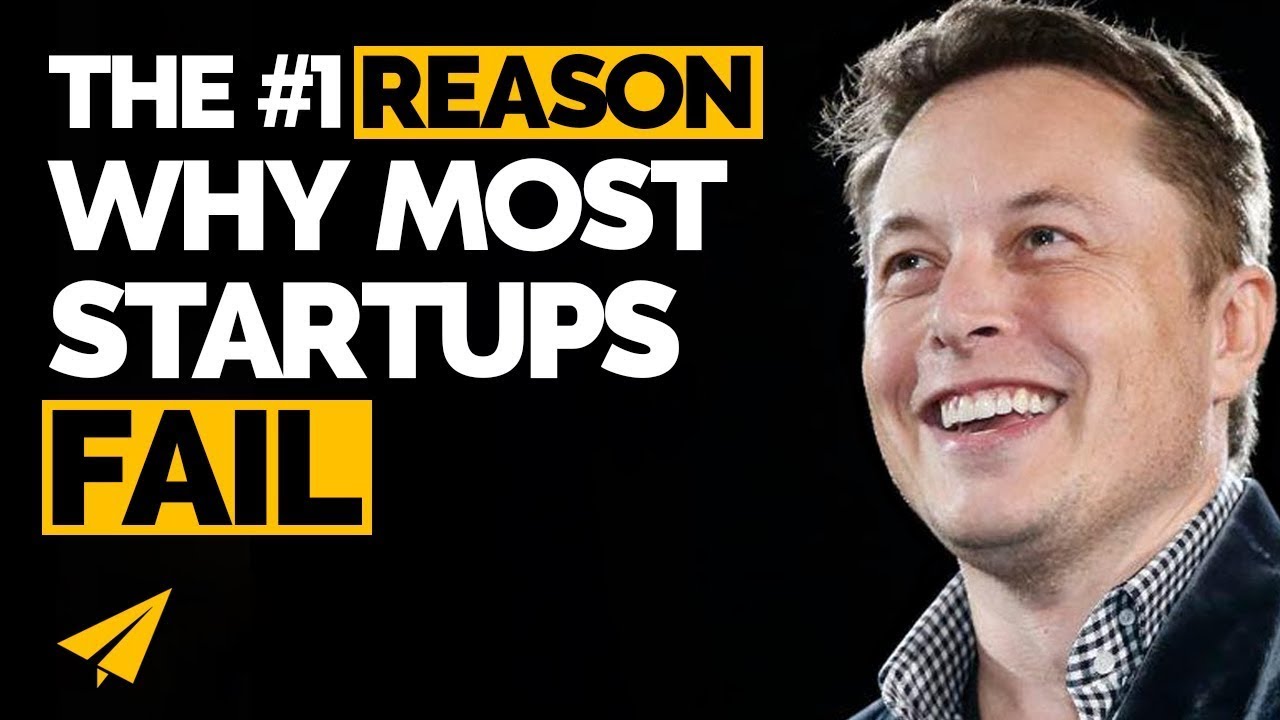 Good morning Believe Nation, my name is Evan Carmichael, my one word is believe, and I believe that entrepreneurs will solve all of the world's major problems. So to help you on your journey today's message is, have a high pain threshold. Over to you Elon Musk.
Have A High Pain Threshold – Elon Musk
Unfortunately I wasn't this happy focused on a short term of money coming in when creating a company, because otherwise the company will die. I think, a lot of times people will think like, creating a company is going to be fun. I would say, it's really not that fun. I mean there are periods of fun. And there are periods of where it's just awful. And particularly if you're CEO of a company, you actually have a distillation of all the worst problems in a company.
There's no point in spending your time on things that are going right, so you only spend on things, your time on things that are going wrong. And they're are things that are going wrong that other people can't take care of, so you have like the worst, you have a filter for the crappest problems in the company. The most pernicious and painful problem, so I wouldn't say it's, I think you have to feel quite compelled to do it, and have a fairly high pain threshold.
And there's a friend of mine, who says like starting a company is like staring into the abyss and eating glass. And there's some truth to that.  The staring into the abyss part is that you're going to be constantly facing the extermination of the company, 'cuz most startups fail. It's like 90%, likely 99% of startups fail. So, so that's the staring into the abyss part, you're constantly saying, okay, if I don't get this right the company will die.
Should be quite stressful. And then, the eating glass part is, you've got to do the problems, you got to work on the problems that the company needs you to work on, not the problems you want to work on. And so that's, you end up working on problems that you really wish you weren't working on, that's the eating glass part. Then that goes on for a long time.
Interviewer: So how do you keep your focus on the big picture when you're constantly faced with, we could be out of business in a month.
Well it's just a very small percentage of mental energy is on the big picture, like you know where you're generally heading for, and the actual path is going to be some sort of zig zaggy thing in that direction. You try not to deviate too far from the path that you want to be on, but you're going to have to do that to some degree. But I don't want to diminish the .. I mean, I think the profit motive is a good one, yet the rules of an industry are properly set up.
So there's something fundamentally wrong with profit, in fact, profit just means that people are paying you more for whatever you're doing, then you're spending to create it. That's a good thing. And if you're not, if that's not the case, then you'll be out of business and rightfully so.
Evan Carmichael
Being an entrepreneur sucks, a good chunk of the time. We have to deal with a lot of crap being entrepreneurs, especially as we are trying to build this amazing thing that's never been done before. And that's the point, you're trying to do something that people have not done before.
Right, we're trying to build something special, if you're just doing the same thing as everybody else, you're going to get less than average results because they've been doing it longer than you, have more track record, more experience, and so you want to be doing something different, and doing something different comes with a lot of pain. Come with a lot of failures, comes with a lot of people judging you, and telling you that you can't do it, comes with a lot of doubt, a lot of it will be self-doubt as well.
And as you build up and you get a team, you're going to have to deal with everybody else's crap. You know I don't want to make this seem like a negative situation, 'cuz I love it, and that's part of what we need to do as an entrepreneur, is love the crap, love the pain, right.
If you are super sensitive to any kind of pain, any kind of discomfort, then it's going to be really hard for you to have ultimate success as an entrepreneur, and what I'd recommend you doing is slowly increasing your tolerance.
Just like anything else, just like, you know, if you are trying to learn snowboarding, you can only do a certain amount and then you fall, and your muscles will get tired and you can't do it. Just like when you start lifting weights, you can lift 10 pounds, and then 20 pounds, and then 30 pounds, you know, as you get the repetitions in, your muscles grow stronger and you can deal with more, more, more, more.
That's what you need to learn as an entrepreneur, so one of the greatest exercises that I think you can do, is you can start to hire somebody part time on your team. I think a lot of entrepreneurs have the wrong notion around hiring, we think we're going to bring on somebody on our team, we're not going to have to manage them or deal with them, it's just going to take away all of our pains, and we're going to get to focus on the things that we love, and that's partially true, you want to hire somebody that you can delegate the stuff you don't enjoy to, and that they are really good at, but there's still a lot of pain, 'cuz you're dealing with a human being, you're dealing with their baggage, their issues, their motivation, their struggles, and all of the crap always comes back to that you have to deal with. A good chunk of your time is dealing with everybody else's problems, right, and helping them, and liking it, and wanting to see them grow.
"Being an entrepreneur sucks, a good chunk of the time. We have to deal with a lot of crap being entrepreneurs, especially as we are trying to build this amazing thing that's never been done before." – Evan Carmichael
If you are trying to operate your business as, I'm going to build up a team of people to help me do something amazing, but I'm not going to be a leader or a manager, I'm not going to really care that much about the people, and they're just going to be on their own, you're not really going to build a great organization. And so you need to learn how to manage, and you need to learn how to lead, it's super, super, super, super important.
And beckon to do it on a part-time basis, so the first person I hired was for one hour a day. One hour a day, that was it. And that freed up more than one hour of my time, 'cuz he was better at doing that job than I was, he'd go off and do other things. But I still had to care for him, I still had to ask him how he was doing, I still had to understand his goals. Still had to understand where his struggles were, what his limited beliefs were, right, that's your job as a leader is to build the people up in your organization to do amazing things, and join you on this crazy adventure journey that you're on.
That's what you have to do, and so I'd strongly encourage you guys, if you don't have anybody on your team, look to hire somebody part-time, one hour a day, couple hours a week, whatever it is, to free up some of your work load, but also get you used to managing people, and dealing with their issues. So that the more you can build that muscle up, dealing with the crap muscle, the stronger it gets, the more crap we'll be able to deal with, and the higher your pain threshold will be so you can build something amazing.
Question Of The Day
So the question of the day today is I'm curious, what's the most painful thing that you ever had to do in your business? Really curious to find out, leave down in the comments below. I'm really looking forward to seeing what you guys have to say.
I also want to give a quick shout out to Antoine Clerc-Renaud, Antoine thank you so much for picking up a copy of my book, Your One Word, taking that selfie with the book and posting to Twitter as well. I really appreciate the support man, and I hope you enjoyed the reading.
So thank you guys so much for watching, I believe in you, I hope you continue to believe in yourself and whatever your one word is. Much love, and I'll see you again tomorrow morning for another shot of Entspresso.
---
BONUS
Have A High Pain Threshold
Arnold Schwarzenegger
Going through this pain barrier, experiencing pain in your muscles and aching, and just think, go on, and go on, and then go on, and this last two or three or four repetitions, that's what makes actually the muscle then grow. And that divides the one from a champion and one from not being a champion. If you can go through this pain barrier, you make it to be a champion. If you can't go through, forget it. And that's what most people lack, is in this having the guts, the guts to go in and just say, it goes through and I don't care what happens. You know it aches and if I fall down, I have no fear of fainting in a gym, because I know it could happen, I threw up many times while I was working out, but it doesn't matter, because it's all worth it.
Damon Dash
Have you ever watched the James Bond movie, where it doesn't look like he's losing at some point, and then he wins, or Batman, or Iron Man, or any super hero. There has to be some diversity for you to, you know overcome, to win. You know, you can't be a champ unless you you know, you are in a place where you look like you're going to lose and then you win. The pain that's going to come with being independent, you have to embrace it, because it's going to happen.
And also know that the more successful you get, the more problems you're going to have, the more knots you're going to have to untie. Being a boss does not mean smooth sailing. It means having the ability to care about other people before yourself, and to untie problems, untie knots, that's all it is. It's not business if there's not problems. There's nothing good without struggle, it just doesn't happen. In all my experiences, there hasn't been one thing that's been successful, without me feeling some pain before it was successful.
So now when there is pain I embrace it. You know I've been embracing it, I'm a G about it because I know that must mean that if I'm cool, that you know, what awaits me is that it's the darkest before the dawn, I don't want to like sound corny but, that's what has to happen.
Elliot Hulse
Pain is a beautiful thing. Challenge is what life is about. A life without challenge, a life without pain, is a life without growth. And where there is no growth, there is stale, stagnant energy. And that's where most people live, because most people's lives are designed around treading a path that is void of challenge. The minute they recognize challenge or pain, they move the other way. This is a primal instinct, and normal and natural, but a weak perspective.
Most people are bored if you ask them, what do you think about your life?  Same old, same old. Every single day, what is the thing, same day, same sh, different day, things of this nature. That's because they're living their lives in a lie, that is shrouded in comfort. It doesn't exist, they're not challenged, they're not growing, they're bored and they're better off dead. Your aliveness is found in your pain. Embrace it, love it, and grow from it.
---
You might also like
---
More from Arnold Schwarzenegger
---
Today's message is execute your idea.  Good morning, Believe Nation, it's Evan. My one word is believe, and I believe …
Today we're going to learn how to expand your mind. Hello, Believe Nation! It's Evan. My one word is believe, and …