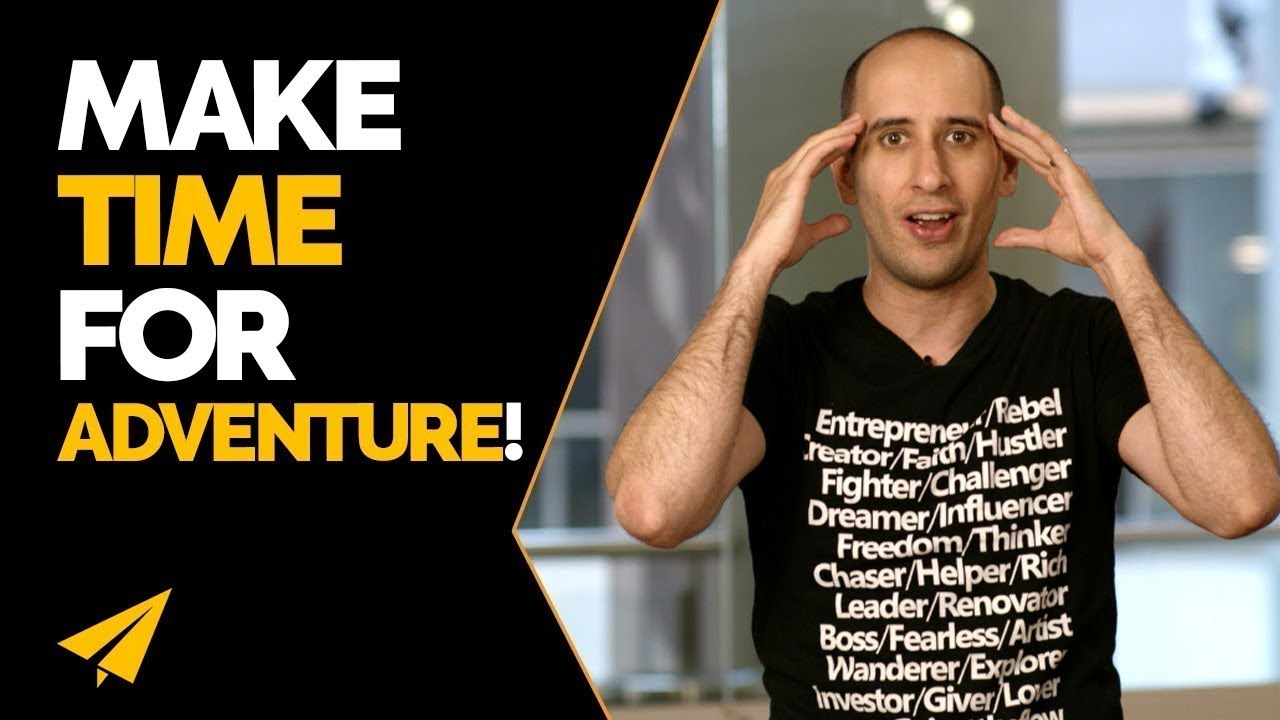 Good morning, Believe Nation, my name is Evan Carmichael, my one word is Believe, and I believe that entrepreneurs are going to solve all the world's major problems. I started the Believe Life series to try to expand beyond just the world of entrepreneurship and try to learn some other skills, resources, ideas, to help us become a more complete human being.
Today we're going to learn some hiking tips for beginners. And as always guys, if you hear something that really resonates with you, please leave it down in the comments below and put quotes around it so other people can be inspired. And when you write it down it's much more likely to stick with yourself as well. Enjoy.
HIKING and BACKPACKING Tips for Beginners
Why
Lance Reis
Do you ever wonder what separates those living an elite life from those who live a mediocre one? Do you think it's their bank account? Guess again. They make time for adventure. Make. Time. For adventure. Don't get me wrong, there's many things that separate an elite life from a mediocre one, but today I want to talk about memories and experiences.
These are things that we all have, right? But at what level and what frequency? Ultimately guys, life, in my opinion is and should be an adventure. Over the past year and a half I've studied countless world-class leaders, and something that I've noticed they all have in common, that they constantly create memorable experiences. In 2015, I made it a point to make time for adventure.
And during the summer of 2015, I probably fit in more adventures than I've probably put in in my entire life. And it was life-changing. Don't get me wrong, I've always loved hiking, but I never found the time to do it until I changed my mindset. I ultimately decided to make time, and I planned a new place to explore every week.
And I planned my life and work around it. Some trips were day hikes, some were half-days. Some were weekends. Some were four days. The point being, no matter what my schedule was, I always found time, whether it be a long or short adventure, and I've honestly never been more fulfilled or happier in my life. I mean really, what's the point of doing anything if you're not having fun and it doesn't elevate you emotionally?
Now, I know we all have things that we must do, day to day, that may not be fun, can get a bit bland, so why not make time to take a mini adventure, a half day or a weekend, every week, every month. This will snap you out of any complacency you may be feeling. Don't let yourself be complacent. Complacency, it's the killer of dreams and ambition. You can start right now by making a list of adventures that you want to take throughout the rest of the year.
General Hiking Tips
#1: Start Light
John Flaherty
Hi, my name's John and today we're going to do a little beginner's intro to hiking. And one of the things that I love about hiking is that it truly is very, very simple. You put one foot in front of the other, you get out into a beautiful natural area like this, and that is the essence of hiking. Of course, there are a few tips and suggestions that will make the beginner's experience a little bit easier, and will avoid some of the common pitfalls that people without experience come across when they go outside.
First things first, I always like to talk about the feet. Make sure that you have appropriate footwear on. These boots that I'm wearing today are more of my heavier-duty hiking boots. It is also appropriate if you're going on easier terrain to use running shoes or lightweight hiking shoes, even Tevas or other hiking-style sandals can be adequate if you know what you're doing and the terrain is more forgiving.
For dress, I always like to dress particularly lightly. Shorts, lightweight long pants, a t-shirt, and maybe a jacket if it's a cooler day that you might store in your pack if you start out and it's warmer but it might be raining later on. As far as carrying some things with you, some very essential or basic things. A day pack is really good for your shorter hiking trips, and in that day pack, or carrying with you, have water. Please bring plenty of water. If you're going to go for an hour or two, one water bottle's sufficient.
Multiple hour hikes will take multiple water bottles. A little bit of food, some snacks. Good old raisins and peanuts, aka gorp, and then just an extra jacket. Always be prepared even if there's no rain in the forecast it might rain on you, I always bring an extra jacket like that. First aid kit, sunblock, those are pretty much the essentials. As far as planning a place to go hiking, almost anybody in this country lives near a beautiful park or a wild natural area. Today we're in Montana de Oro State Park here in California.
As you can see, thousands of acres, wonderful hiking trails here. If you're beginning, I would pick out a trail that might be two or three miles in length, maybe a little bit shorter, pretty moderate terrain. As you get used to it, you can work up and do heavier-duty trails with more up-and-down terrain. Eight or 10 miles with a lot of up-and-down would be a really full hiking day for folks. That's hiking in a nutshell, and I hope that that helps beginners get a feel for it and avoid some of the common problems that happen to folks who don't really know what they're doing out there while they're hiking.
#2: Plan Ahead
Mark Johnson
Have a plan. 99% of the time that I travel in the backcountry, I do so alone. Somethin' I just really enjoy. So it's really important, on the front end of my trips that I have a plan. And so what I do is I do some research online, look at websites at the area I'm going to be in, I look at a map to see where I'm going to park my truck. I look at the various destinations I want to get to, how long, how many miles it's going to take for me to get there, how long it's going to take to hike those miles.
And the other thing I look at is weather so that I can anticipate if there's going to be any precipitation, rain, or snow, and I know the predicted high temperatures and the low temperatures so I can pack accordingly. I always carry a compass and a map when I'm traveling in the backcountry. What I do is I take the National Geographic Trails Illustrated map, it's a big color map, and I'll take photocopies of the sections or the areas I'm going to be hiking in, and I put those in a gallon Ziploc bag.
It allows me to travel lighter, it protects those documents, I can write on the maps and not damage the original map, and it's very lightweight for me to travel in the backcountry that way. And also I carry my iPhone which has a GPS built into it, with a Topo app. And I just run the phone in airplane mode and so it conserves battery power and I pull that out every once in a while if I want to double check where I am at.
But primarily, I use my map and compass. I leave a detailed itinerary with at least two people. One is always my wife, I tell here exactly where I'm going to park my pickup and what my plan is for while I'm in the backcountry, where I'm going to be and so on, and the other person I leave this information with is a good friend of mine who knows the area and has the ability to come and get me if I run into trouble. Most of the time when you read about someone who's experienced a tragedy in the backcountry while traveling solo, it's because they didn't tell anybody where they went.
#3: Pack What You Need
Eric Bourgault 
Day hikes. This portion of the video is going to be for day hikes that are one, two, three miles. If I'm goin' on a day hike that's one, two, or three miles these are the items that I'm going to bring. First thing I focus on, food and water. What I have here today, it's perfect for one, two, three miles, sometimes I'll bring a little more. I just have some granola and some peanuts, simple snack to snack on. Sometimes I'll bring extra granola bars, sometimes even a can of soup, depending on the area that I'm going.
So that's food. Water, usually I'll just bring one canteen, and if I'm going for longer distances, usually I'll bring a bladder pack or if I know the area that I'm goin' in, I'll bring a water filter. This way I can fill up my canteen when I stop near a stream or somethin' like that. So that's food and water covered for a one to three mile hike.
Protection from the elements, usually I'll just bring a poncho, and this will basically keep me dry and all my gear that I have dry. A cheap alternative would be a big trash bag. You can get them fairly cheap, just cut a hole in the top and put your arms in and there you go, you got your own poncho, very lightweight and cheap. I would recommend not buying dollar store ponchos 'cause they tear very easily.
If you're goin' in an area where there's a small footpath and you scrape up against a branch, chances are the poncho's going to tear if you buy the cheap-quality ones. So I'd recommend maybe gettin' one that's a little more high-quality than the dollar store brand. so that's protection from the elements for a one to three mile hike. What I like to call just-in-case items.
Again, fire starting, if for some reason you do get lost. Very simple, bring a lighter, bring two lighters, bring three lighters, keep 'em in different locations, because if for some reason you lose your backpack and all your fire stuff is in the backpack, what are you going to do? So keep a lighter in your pocket, maybe keep a lighter in your jacket, I have another one in my inside pocket here, and keep a couple in your backpack.
Practice usin' a ferro rod of course. But that's the basics of fire, keep somethin' to light a fire on you, and a lighter in my opinion is the best way. Another thing, just-in-case item, bring some flashlights. I have this cheap headlamp here. This actually cost $10. It's rechargeable, I did a test, the battery, I kept it on the highest setting, it lasts for about 11 hours and it still didn't die so I just shut it off at that point, I determined it was very useful. $10 on Amazon, if I can remember where I got it from or the name I'll put it in the description for you guys.
So bring some type of light. I have another light on my keychain here. It's a very small light but it's very effective, it's a high-powered LED light. I'd recommend bringin' multiple lights if you can, small flashlights work fine, you don't need anything hi-tech or expensive. And I actually keep another headlamp in my pocket here just in case, it stays with me at all times in my jacket just in case. This is my better headlamp that I purchased. Just in case you do get lost and you're out longer than expected and it does become night you want to have light to be able to navigate.
And that's basically it for day hikes. Something I usually bring too, just this little foam pad, just for comfort. If I stop to sit down for a second, put it on my bum, sit down, it's nice and cozy so my butt doesn't go numb. So that's somethin' simple there, and I also use this to fan the fire sometimes. So just some comfortable items that I bring. And that's the basics for a one to three mile hike. It's not too extensive, you don't need a lot when you're goin' out hiking. Just focus on the area that you're in, know the area that you're in, and know how to get out, just in case.
For longer hikes I would bring all this stuff that I just explained. I would also bring a water filter, very important, and I would also bring this Mylar top. It's great for protection from the elements, if I had to make an emergency shelter I could put this up in a lean-to fashion, have a fire in front of me, and it should keep me warm the entire night.
I've actually done it before. I highly recommend these Mylar tops. I believe it was like $15 on Amazon. Lightweight, very very versatile item. And they come in a couple of different colors, but this is my favorite piece of kit that I have and I highly recommend it. I bought one, I liked it so much I bought two more. So that says a lot. If you're just getting into hiking I recommend bring more than you need. If you can bear the weight on your back, bring more than you need and then over time you'll get used to the gear that you don't need, and little by little you'll have less and less and less.
That's basically how I decided on what gear I should bring. I went and my pack was a little heavy in the beginning, but over time I was like, "I've never even used this on the last three hikes "so I'm going to take it out of my bag." And then you just go on from there. So that's it. Get a nice comfortable backpack. Over time obviously you don't want to spend $100 on a backpack. If you're goin' out hikin' for the first time, get somethin' cheap and just learn and grow and get out there and experience the woods. And tell me about your adventure.
#4: Respect The Back Country
Mark Johnson
Respect the backcountry. What I mean by this is that when I am in the backcountry traveling alone whether I'm scaling a steep slope to get up a peak or I'm crossing a stream, I keep a slogan in the back of my mind, and that is: Remember where you are. And what that reminds me is that if I were to get hurt right at that moment, I am days away, potentially, from anyone coming to help me.
So it helps me to be vigilant when I'm hiking down the trail or stepping from boulder to boulder. Most times when people have accidents in the backcountry is due to laziness. They're just not paying attention. I mean, I get it. You get fatigued, it's late in the day, and you're just not paying attention when you're puttin' your full weight down on a rock, you just assume that rock is stable, and you can't, when you're traveling alone. You get an injury by yourself and there's nobody there to help you. So remembering where you are just helps you to be vigilant at all times so that you minimize your risks.
#5: Be Prepared For Emergency
Mike Lem
And then last on the list is emergency shelter. We call 'em a bivy. And here's a two-person bivy in a small container, and here's a one-person bivy. You can see how small these are, you just throw it in your pack, and if you never need it you never know it's there. But when you do need it, it'll save your life. So definitely recommend that.
One of the things I like to carry on some big trips in the north Cascades is my SPOT 2 messenger. I can check in with my wife and kids, let 'em know that I'm okay, and if I do need help I can hit the button. It works with satellites, and it works very well. It's been out for a long time.
I also recommend that you maybe bring a plastic bag. This is great for shelter as well as keepin' everything dry if you're in a torrential downpour. You get wet, you get cold, you're in trouble. Things to think about is weight.
If you go on a trip, you obviously got to keep your weight in proportion to what you can carry. So scale down or scale up things depending on where you're going. Use common sense. Are you takin' a long trip, are there hazards, is there going to be weather problems? Be able to deal with everything. Nobody wants to call search and rescue and nobody wants to find themselves spending an unwanted night in the wilderness.
Choose The Right Footwear Clothes & Gear
#1: Choose The Right Footwear
IntenseAngler
Interviewer: What are the main categories or classes of hiking boots?
There's four main styles and categories of hiking boots. The first would be the low-cut, ultra-light hiking boots, and then it would be just a general, all-purpose hiker. And then you're going to go with a little bit heavier in a backpacking hiking boot, and then the heaviest and most durable would be the mountaineering and winter hiking boots.
The ultra-light hiking boots are designed for the backpacker who wants to cut down on their weight on their trips. Most of them are not waterproof, they're mostly lightweight, breathable, but they provide for easier comfort through the day, they're going to keep your feet dry, even if you go through water they're going to breathe a lot faster so you are going to dry out quicker.
Most of 'em do have a pretty aggressive tread to kind of keep going through most of the rugged terrain in Idaho. A lot of customers or a lot of people who are going out hiking prefer to not have ankle support. A lot of people do. People with ankle injuries especially don't like to have the hightop boots because it rubs on scars or scar tissue. And so we get a lot of people asking for a lower cut, still aggressive and still rugged shoe.
Interviewer: Now, I've heard that one pound on your feet actually equals five pounds on your back. Is that true?
Yeah, absolutely. The feet are moving all day, and if you think about lugging one of these around as opposed to one of these, it's way different. This is three pounds a foot, this is not even 16 ounces, it'd be like 12 ounces a foot. So you're cutting a lot of weight, and they're moving all day. And so at the end of the day you're going to have a lot more energy wearing these out than you are when you wear these heavier-duty mountaineering boots.
Interviewer: Seeing I'm more of a heavy-weight backpacker I go on a lot rougher terrain, I'm carrying weights of 30, 40, maybe even 50 pounds or more, what type of boot am I going to step up to in that situation?
When you're in that situation you're going to step up to an all-around backpacking boot. Most of them are an all-leather so you're going to get a lot of waterproofing, you can use a Nikwax or something like that to also waterproof them as well. And most of them have Vibram soles, and so they're going to provide a little bit more traction, and a little more stability. And it's a lot wider of a base than a traditional hiking shoe, and so it's going to provide that stability left and right. One of the main things to keep in mind which a lot of people don't know is trying on boots later on during the day. Your feet tend to swell as you're standing around and walking around, so knowing that your feet are going to be a little bit different, even a half size different later in the day, is going to help when you are tired at the end of a hike. So trying on shoes later in the day definitely helps cuz it's more of a true fit.
Interviewer: Is there anything else I can do in-store to make sure that the boot is going to work? I know some stores offer incline ramps or other devices. Can you maybe speak to that just quickly?
Absolutely. An incline ramp is crucial when trying out a boot. You definitely want to lace your boot up like you're going to wear it, and then start at the top and stutter step your way down and make sure that your toes aren't hitting the front. Cuz if they're hitting the front four or five steps down an incline ramp, they're going to hit on the way down from a mountain. And then you turn around and walk back up and make sure that your heel isn't slipping in the back, cuz that would cause a blister pretty quickly.
Interviewer: So once I've actually tested the shoes, picked 'em out, purchased them, what do I need to do prior to hitting the trail with them? Do I just break 'em out of the box and go for a hike? What do I do?
Prior to taking them out on your first trip or your first adventure would be just wearing them around the house for a short amount of time. A lot of these, the stiffer ones, are going to take a long time to break in. Some people have had 'em on for two, three years and still haven't broken 'em in. So definitely taking them on short walks around the block. If you've got a dog and you're walking a dog, or even taking them on little mini hikes, that way you're breaking them in but you're still not committed to them when you're out there and you don't have anything else to change into.
#2: Layer Up
Jonathan Simmons & Jenny Dennis
You only need a handful of garments to stay warm, dry, and comfortable in rain, wind, or snow so that you can enjoy views like this. Hi, I'm Jonathon Simons and I'm a wildlife tracker and bushcraft instructor. And in my spare time, a keen birdwathcher and hill walker. So I spend a lot of my time outdoors. Every time I do go out, I use the same versatile clothing system known as the layering system to keep me warm, dry, and comfortable.
And today, I'm going to show you how it works. I'm working with my friends at Go Outdoors who have all the know-how on outdoor kit at their fingertips. The light and packable clothing that forms the layering system is designed to be kept in your rucksack so that it can be pulled out at a moment's notice. To see how it works, we need to rewind to the start of the day.
The first part of the layering system is the base layer. It's designed to trap a thin layer of warm air against my body and pools, or wicks, sweat vapor away from the skin. It also keeps me very warm and dry. I'm wearing a base layer made of merino wool. Its fibers are so fine it doesn't itch or scratch. Merino also helps neutralize body odor.
And it's an environmentally-friendly, renewable fabric. There's one base layer fabric that you need to avoid, and that's cotton. Cotton soaks up sweat like a sponge, and this is bad news because when cotton gets wet, it draws heat away from your body. And this can lead to hypothermia. Hypothermia is a potentially lethal condition, and can be contracted in surprisingly mild weather. So unless you're in a hot climate, avoid wearing cotton clothing. And of course, avoid wearing cotton underwear and socks too.
Well, it's getting cooler so it's time to throw on the next part of my layering system which is the mid layer. Now, the mid layer is designed to trap body heat and to allow sweat vapor to carry on moving through the layering system. The most popular mid layer fabric is fleece, as it's affordable, durable, and quick-drying. The thicker the fleece, the more heat it traps.
So you want a mid-weight fleece for colder weather, and a thin, or micro-fleece like this one for milder conditions. As you gain altitude the temperature drops, so remember, on the summit it could be quite cold, even though it was really warm down in the car park. But ambient temperature's only part of the story. Wind and rain can have a big impact on just how cold and uncomfortable it can feel.
Which is where the next part of the layering system comes in. This outer layer, known as the shell, blocks wind and rain. It also allows my sweat vapor to leave the layering system. I'm wearing a waterproof Paramo shell, and I'm feeling very comfortable indeed. Lovely.
Woman: There are three types of shell: Paramo, membrane, and coated nylon. They all do a great job in keeping out the elements, but they vary in how quickly they allow sweat vapor to move from the inside to the outside of the garment.
Paramo's Nikwax Analogy fabric, which is what John is wearing, and membranes, are the two types of waterproof and breathable material that are best suited for active use. Paramo is very breathable, and great at keeping you comfortable in many weather conditions. But the material is heavier than some membranes and coated nylon.           
Membranes such as Gore-Tex, eVent, and Dew Point are lighter and more packable than Paramo, but they don't breathe quite as effectively.
The third type of outer layer is a coated nylon. These shells are designed for passive activity such as walking the dog, short rambles with a day sack, or hiking to the pub. Coated nylons are less expensive and less breathable than Paramo or membranes, and will feel sweaty during arduous activities.
You can use the layering system on your legs too. You can layer a pair of merino or synthetic leggings underneath your wind-resistant summer trekking trousers, and you can pull on a pair of breathable and waterproof overtrousers should the weather come in. An alternative to the legwear layering system is a pair of soft-shell trousers like these. Soft-shell is a popular legwear material, as it's time-consuming to adjust multiple layers on the move.
#3: Pack The Right Gear
Outdoor Life
Hi there guys, I'm out here enjoying nature again, just next to a nice little village on the Alps. And because I'm always out and about doing all sorts of adventures, a few people are asking me about hiking. Like "What sort of gear do you take when you go hiking, "overnight camping, and so on? "What do you need, what do you actually take when you go?" So here I've selected 15 items that I consider as the basic kit, things that you should be taking if you go on that sort of activity.
So let's get started with number one, is your tent. This might be for one to three or more people, maybe three seasons, four season, it all depends on what sort of conditions you're going to be facing.
Number two is some sort of isolating mat. The main function of this is not only to give you some comfort against the hard ground underneath your sleeping bag, but also to protect you from cold and humidity coming from the ground.
Talking about cold, number three is your sleeping bag. Make sure that the temperature rating of your sleeping bag is adequate to the temperatures that you're going to be facing. Consider that at night time the temperature can drop quite a lot.
Number four is your kitchen. It's a kitchen kit, really. So here's your stove. Several models out there: Gas, alcohol, multi-fuel, and so on. Your pots and eating utensils.
Number five is one of my favorites is your food package, breakfast, lunch, dinner, trail snacks, and so on. I'm going to be talking about all this gear on another video, giving more details and being more specific, but yeah. So that was number five.
Number six is water bottles. Not only to keep you hydrated during the walk and during the camping, but also to measure water for cooking, and a lot of them can be used with water purification systems.
Which is our next item, number seven. This could be a filter, you can use water purification tablets, maybe even boil water, but it's quite important to treat water. You don't want to get contaminated, especially when you're camping on remote areas.
Number eight is a torch. I personally like headlamps. Hands-free, walking at night, cooking after dark, and so on. Very handy, make sure you take spare batteries.
Number nine is a first aid kit with a multi-tool or a knife. I make sure that this is always in a waterproof bag, I do the same with the rest of my gear, but particularly with this one here.
Number Ten is your personal hygiene kit. This is where your toothpaste, toothbrush is. You might want to take a small microfiber towel, and your toilet paper also kept in a small dry bag.
Number Eleven is your clothing. Just a package of fresh, dry, warm layers so if the temperature drops you want to make sure you're warm and protected, and that's it.
So talking about protection, we got to number tweleve, which is a rain jacket and rain pants. When we're outdoors, we're always exposed. Rain, wind, snow and so on. You want to make sure you're dry and warm. They also give you a lot of protection against the wind.
The next item is a map covering the entire area and compass, and ideally some basic orienteering skills as well.
Alright, number 14 is a small pouch with your wallet, phone, and keys, and so on. Here you can also keep copies of reservations like an entry for a national park or some sort of ticket for transportation and so on.
And lastly, our last item, number 15, a backpack. Obviously something appropriate for hiking. It must be comfortable and with capacity big enough for all your gear, and maybe a little bit more so that you don't have to pack everything extremely precise, you've got a little bit of margin to play around with. Right, so these are pretty much the 15 basic items that I consider as the basic kit for hiking, staying overnight.
Thank You!
Thank you guys so much for watching, I hope you enjoyed. I'd love to know what did you think of this video, what was the message that you took home that you're going to immediately apply somehow in your life or maybe in your business. Leave it down in the comments below, I'm really curious to find out.
I also want to give real quick credit to Edward. Edward, thank you so much for picking a copy of my book Your One Word. I hope you're enjoying the read, man, and I'm so appreciative for your support. So thank you guys again for watching.
I believe in you, I hope you continue to believe in yourself and whatever your one word is, much love, have an amazing day, and I'll see you soon.
Summary
Choose The Right Footwear Clothes & Gear
---
More from Believe Life
---
Today we're going to learn how to communicate effectively.  Good morning, Believe Nation. It's Evan. My one word is believe, …
Today, we're going to talk about how you can create a massive action plan. Good morning, believe nation. My name …
Today we're helping you to stay motivated, and to learn how to motivate yourself! How to MOTIVATE Yourself - #BelieveLife Why MotivationGrid We're all …