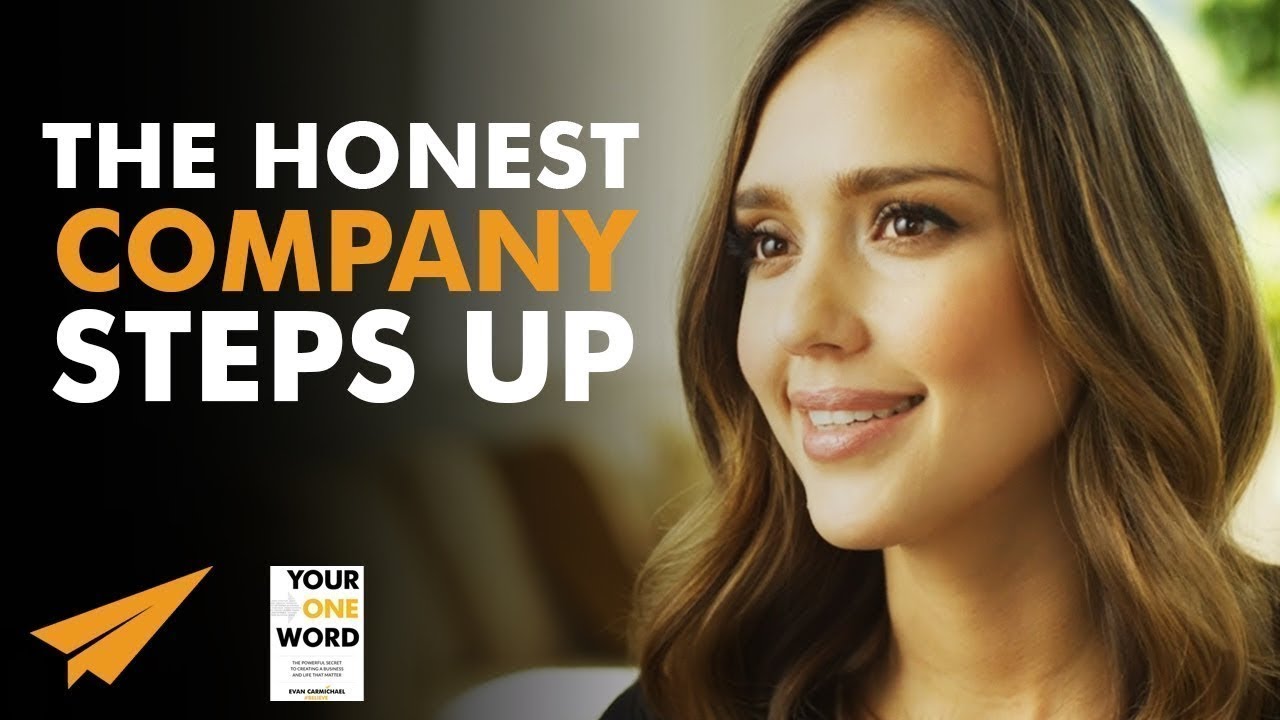 The Honest Company Steps Up.
Everyone I approached was skeptical. Even my husband, Cash, thought the idea was too big. Jessica Alba, co-founder of The Honest Company. The Honest Company took it's one word to the next level. Not only did co-founders Jessica Alba and Christopher Gavigan embrace the one word philosophy, they named their business after their one word, honest. Jessica and Christopher were disgusted by how unhealthy many children's products are.
They are laced with toxic chemicals that haven't been properly tested. They were making kids and Jessica sick. She and Christopher got fed up. So they decided to be the change they wanted to see in the world. They launched The Honest Company to provide non-toxic, eco-friendly, fashionable, and affordable products for kids ranging from diapers to bath and body products.
They believed in their business so much that they hired Jessica's mom to work for them. They loved their manifestoian product so deeply, that they hang them on their wall. Jessica practices honest management and the actress entrepreneur worth over 200 million dollars, doesn't have her own office. She sits right along side her team. They don't test their products on animals.
They test them on their own children. They give one percent of their revenue to charity in chemical research. From their employees, to their suppliers, they think about the impact they're leaving on the world. To reduce their carbon footprint, everything they make is produced within 150 miles of Los Angeles and they ship ground, not air.
They have unapologetically high standards in products, people, and business practices. Everything they do has to match up with their honest philosophy. The results? The Honest Company went from zero to hundreds of millions of dollars in sales.
After three years in business, the company was valued at one billion dollars. They are making money and making an impact by following their one word. So I asked Christopher to share his one word story.
Christopher: Early in my career, I was frustrated. I was frustrated with the lack of authentic relationships in business. I was frustrated when I saw that everyone would promise you the world and then there was no consistent follow-up. That's being totally dishonest.
What I found was the levels of transparency and authenticity and clarity and willingness to tell the consumer what was healthy and safe weren't there. And I'm thinking, wow, these are products that we are using on our bodies, in our homes, on our children.
We're ingesting them. How is that possible? When my business partner Jessica and I were developing our concept, we were imagining the world. Dreaming big and what we wanted in it. We were thinking about what's the world we wanted? I love the beauty of the word, honest. The simplicity.
To be honest is something that everyone wants to be. It's an aspiration as well as a real life fulfillment. It's an honor to hold that word. It's a privilege and it's a duty. It holds you to a standard and it drives us forward every single day. I wanted to challenge ourselves. To be honest. What does that mean? That's a lot to live up to. I wanted to see if we could do it.
We're constantly, as a brand and as a company, pushing ourselves to really achieve, to be more and more honest every single day. Everyone is here to see this mission and purpose-driven company fulfill its core goal and a lot of it is we're not here to build product. We're here to educate a new generation of consumers and parents. In our core mission, we don't talk about product.
We talk about what's the change in the world we want to see and how do we accomplish that? You have to align yourself with what you believe is right. What I love about us is we really act from our heart and if it doesn't feel right, we're not going to go there. Honesty is telling people the truth even though it might be uncomfortable. It's quality. It's saying what matters.
It's telling people what you won't do and what's not inside as opposed to what is inside. We're everything from a baby diaper to shampoo to fruit and veggie washes to a range of lifestyle products. At the end of the day, a parent just wants to trust you. I guard that trust.
I safeguard it every single day. It's the only thing we have. Our credibility and trust. I am such a strong, passionate advocate of keeping that trust and that level of connectivity with the consumer and letting them know we are doing everything possible every single day to build and improve on that level of trust and connected relationship.
---
You might also like
---
More from Book Videos
---
The extraordinary way to one million dollars. If I'm able to live an extraordinary life, If I'm able to do …
Evan: How to delight customers. My goal is to delight my own family of customers. Just like my dad did …
The $500,000 Family. It's not about skill level. For the most part, it's about an eagerness to help others, to …