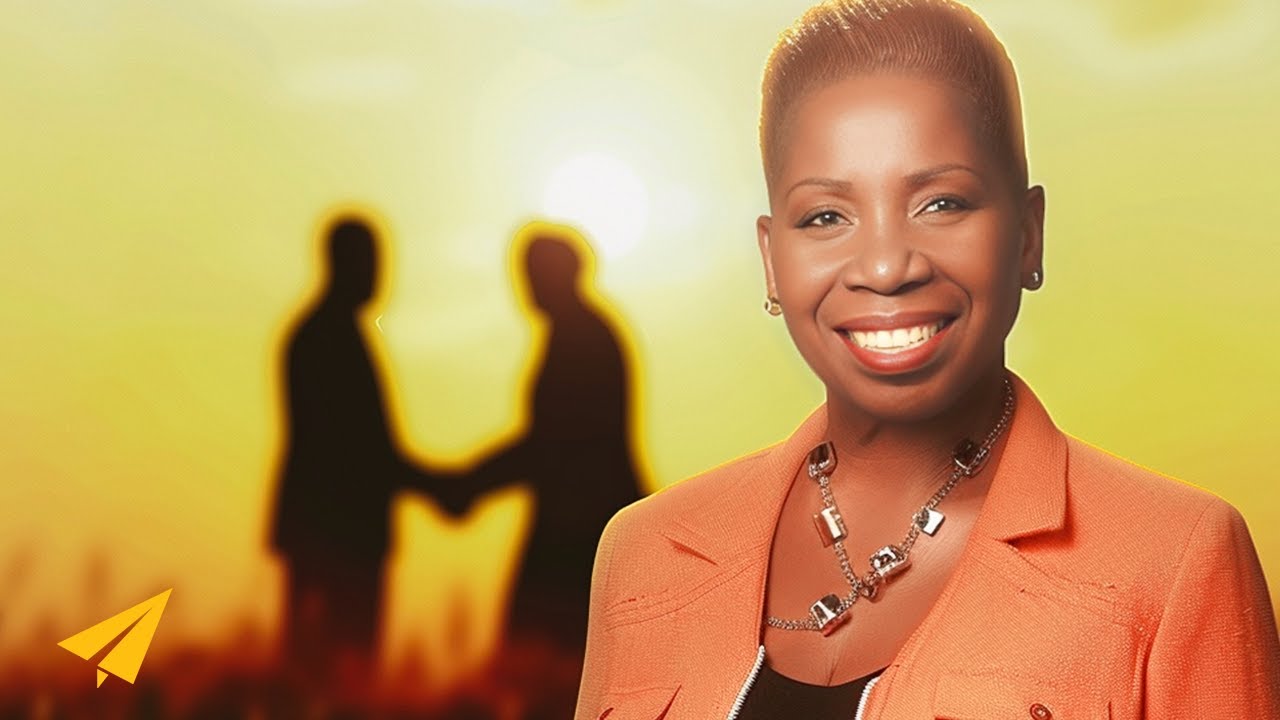 Famous Entrepreneur Quotes
Iyanla Vanzant's Quotes
"Fights, meaning upsets, disagreements, and arguments, are normal, even in the best of relationships. What matters is, how you handle it."
"An argument can either make both of you winners, or make both of you suffer, depending on how you do it."
"In a healthy relationship, you must respect each other's opinion, and you cannot do that if you're not willing to listen."
How to resolve differences and upsets in a relationship – Iyanla Vanzant
What's up, believe nation? It's Evan, I'm excited to launch a new series. We're code-naming it Believe Love.
The idea here is, it can be really hard for entrepreneurs, not just to start a business, you know how crazy it is to start and run a business, but also to manage your relationship at the same time. Maybe the person you're with is also an entrepreneur, and you're fighting to even spend any kind of time together, 'cause you're both so busy.
Maybe the person you're with is not an entrepreneur, and has a nine-to-five job, and that can be a struggle, just in terms of understanding each other, and support that you need. And so, I get so many questions from entrepreneurs, and wannabe entrepreneurs, that deal with relationships, and I thought: how about we make it a weekly series.
It's going to be a test; we'll see what you guys think. To showcase different pieces of advice that you might be able to use, bring it to your life, and hopefully help you have healthier, strongier, strongier, strongier,  happier relationships, because when you're happy at home too, you have so much more energy that you can bring to your business, and go off and do amazing things. And so today, we're going to learn from the legendary Iyanla Vanzant, and her tips on how to fight fairly.
Iyanla Vanzant
How to resolve differences, and upsets, in a relationship. So, I'm going to shorten that and make it: how to fight fair. Fights, meaning upsets, disagreements, and arguments, are normal, even in the best of relationships. What matters is, how you handle it.
Now, I know there are those people who think the first time they have a disagreement or an argument, that the relationship is over. Wrong! What makes an argument, or an upset, or a disagreement, even a slight breakdown in a relationship, meaningful, is how you handle it, and how you handle yourself.
So, whether it's a long-standing love ship, or a new relationship, understanding how to handle those difficult places, those upsets, and fighting fairly, is crucial for the success of any and every relationship.
Normally, when folks have a disagreement or an argument, even if they love each other, either of them instinctively wants to win and prove that they're right. However, when you are in a relationship, you really have to understand that fighting to be right, holding on to your position, is usually not going to turn out well for you.
In most arguments, we expect there will be a winner and a loser; when, however, we are dealing with a loving relationship, an argument can either make both of you winners, or make both of you suffer, depending on how you do it. So, here's a few tips, few things that I've learned along the way, that I'd like to share with you, because I was a gotta-win person.
How To Fight Fairly
#1: Stay Focused On The Current Conflict, And Resist The Temptation To Be A History Major
First, stay focused on the current conflict, and resist the temptation to be a history major. I'll explain that in a little bit, but when things get heated, it is easy to lose sight of the real conflict, especially when it feels like you are the one that's losing the argument.
When that happens, you will be tempted, particularly us ladies, to bring up everything, all of the history, of everything your partner or friend has done wrong. You may think that you're using evidence to make your point stronger, however, what happens is you are contributing to a shut-down, and frustration that will not resolve the issue or end the argument.
So stick to what the upset is about, what angered you in this moment, rather than every other upset that you never brought to the table. It will serve you to focus on one aspect, and solve that one issue, instead of going all over the place and dragging the other person through the mud of the past.
#2: Don't Low-Blow The Other Person
Next, and this is really, really, really important: don't low-blow the other person. There are times in a relationship when all you see is red, particularly when you're arguing. When this happens, the easiest way to hurt your partner, or the person you're in upset with, is to hit them where it hurts, by calling them names, or talking about how much weight they've gained, or how many things they've failed at doing. Not only are you pulling on, and triggering a sensitive nerve, digging around an insecurity, you are not fighting fairly.
Oh, you may manage to bring the other person to tears, to make them feel weak, but why would you ever want to do that? Just to prove that you're right and they're wrong? If you want to fight fairly, don't blow the other person, because that traumatizes them, and it creates something that you will only have to clean up later on, okay?
#3: Resist The Temptation To Be Sarcastic
Number three: resist the temptation to be sarcastic, because sarcasm hurts. Oh, really? Who, you? Yeah, I bet you will. These are just a few of the biting, stinging, sarcastic remarks that not only hurt, but also piss the other person off, and force them to start low-blowing you, or bringing up past issues, just to get even.
And when that gets started, a misunderstanding can lead to an all-out terroristic war. And guess what? Wars create casualties and fatalities. Sarcasm not only wounds the ego, it damages the heart and it diminishes the other person, while it dishonors you. Stay away from the low blows.
#4: Don't Come Into An Argument With Your Mind Made Up That The Other Person Is Wrong And You Are Right
Number four: don't come into an argument with your mind made up that the other person is wrong and you are right.  Okay? Be willing to ask questions and share your assumptions. Be willing to hear what is said, and without relying on what you have already made up, in your mind, when the other person wasn't even present.
Talk about what you feel and what you felt. Talk about your perspective and what you think is going on, without making accusations and assumptions. Be willing to get off your position in response to what you hear, because as long as you stay planted in the need to be right, the argument or the upset will linger and grow. Stay open to the possibility that you may have been mistaken, even in that conversation you had in your own head, where you won.
#5: You Must Listen To Each Other
Number five: supporting that last point, you must listen to each other. I know it's hard, but it is an absolute must. In a healthy relationship, you must respect each other's opinion, and you cannot do that if you're not willing to listen.
And guess what? The best way to be heard is to be willing to hear somebody else. Now, in listening, you need not agree, but you must listen to what is being said. You may feel attacked or wronged by an accusation, or maybe a very invalid point, however, it is important to fair fighting to make an effort not to cut the person off, and to listen to what they're saying.
And while you're listening, don't formulate your response in your head and then, respond to what you've heard rather than what was actually said.
In spite of what most people think, an argument can help a relationship get better, and help both of you understand each other more. However, if you do not listen you cannot hear what is being said. You will make stuff up that has nothing to do with the other person, or what is going on.
Remember, you need not agree, but you want to make the effort to listen and hear, so that you will be heard.
#6: Keep Breathing
Number six: mmmm, keep breathing. And I know this sounds stupid, but against everything, I want you to do your best not to raise your voice. I know, I know.  That sounds crazy in an argument. But all arguments don't have to operate at a 10; you can do it at a five, because when you raise your voice, it will no only infuriate the other person, who will probably start yelling back, it may frighten them, making them even more defensive.
And when they're defensive, they cannot be available to hear you; they can't be available to a resolution. Raised voices can make a mountain out of a molehill, and cloud the issue. Now, you're not talking to a wild child or a stranger; not sure why you would yell at either of them either, but, I do know that yelling does not make your point stronger or more right.
Staying in control of yourself, speaking with a calm voice, even if you go from three to five to six, hold it right there. A calm voice can also calm the other person down and turn an argument into a discussion, rather than a fight.
#7: To Fight Fairly, You Must Be Willing To Tell The Truth
Here's number seven: to fight fairly, you must be willing to tell the truth. Withholding information, distorting information, sugar-coating bad behavior, or out-and-out being dishonest is going to backfire sooner or later.
Lying will make the other person suspicious. People know when you're not telling the truth, and that destroys trust. Tell the truth, even when it's hard. Speak your mind and your truth in a way that doesn't intentionally inflict harm.  Say what needs to be said, and be willing to hear the truth about you and your behavior.
#8: Don't Blame Your Failures And Shortcomings, Or Behaviors, On Anyone Else.
Number eight, this is another big one: don't blame your failures and shortcomings, or behaviors, on anyone else. In the midst of an argument, it is absolutely essential that you own and accept responsibility for your behavior, your choices, and the consequences of both of those.
Nothing takes a disagreement down the road to disaster faster than when you are blaming the other person for what you did or did not do. Don't blame anyone else for your misfortunes, your failures, or your shortcomings.
If you feel strongly about something someone did, speak about it, owning your part in it. It may not be anybody's fault. Sometimes stuff just happens. Sometimes it could be a big misunderstanding, but you've got to tell the truth about what you did, what you didn't do, what you feel, what you said, what you heard, and what you want right now.
It may take some effort and humility to put your arms around someone after a fresh fight; this is why it is so important to fight in a way that shows that both of you respect each other, and that you love each other. Refuse to allow big or small irritating misunderstandings to come in the way of the love that you share.
Fight fairly. Stay engaged. Fighting fairly may not only help you understand each other better, but it means that you will have a healthier relationship when the dust settles. Remember, fighting need not be fatal. Pick your battles wisely, and always fight without drawing blood.
Thank You!
Thank you guys so much for watching. I hope you enjoyed. I'd love to know: what did you think of this video? Did you like some of the points here? Which one is most relevant, applicable to you in your situation right now? Leave it down in the comments below.
I'd also love to know: what do you think about this new potential series, Believe Love, once a week, on the weekend, to show a little bit more of the personal side, help you with your relationships? If you want it to continue, let me know. If there are topics that you want me to cover, within that relationship spectrum, let me know. I'd love to hear your thoughts; please share it down in the comments below.
Thank you guys so much for watching. I really appreciate all your support, and your love as well. I believe in you. I hope you continue to believe in yourself, and whatever your one word is. Much love, guys; I'll see you soon.
---
Summary
I'd love to know which tips you guys like the best.
How To Fight Fairly
Tell the TRUTH Even When it's HARD – Iyanla Vanzant – #BelieveLove video
You might also like
---
More from Believe Love
---
What's up Believe Nation? It's Evan, my one word is believe. And I believe in people more than they believe …
Hello Believe Nation, it's Evan. My one word is believe, and I believe in people more than they believe in …
What's up Believe-Nation, it's Evan, happy weekend. I started the Believe-Love Series because entrepreneurs and relationships can be tough. We …