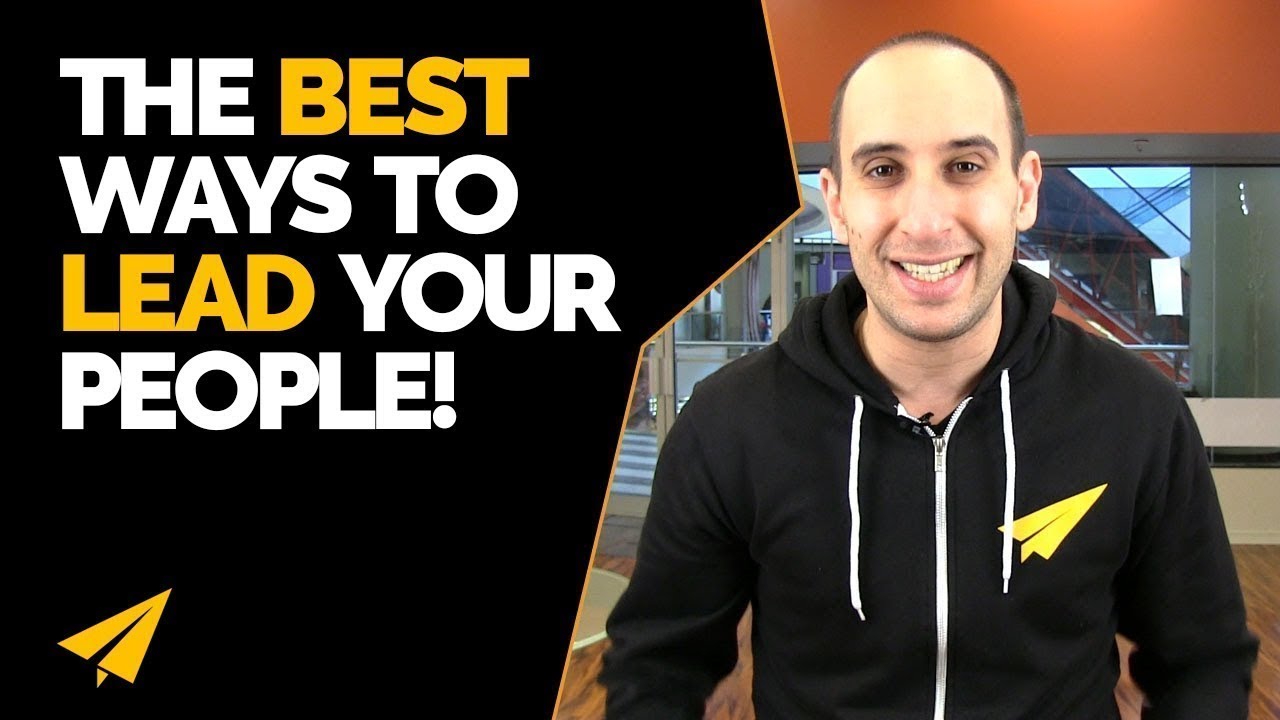 Good morning Believe Nation. Today we're going to talk about how you can be a better leader.
The why clip is my personal favorite, and make sure to stick around all the way to the end for some special bonus clips as well as my thoughts. And as always, if you hear something that really resonates with you, something that really hit the mark, please leave it in the comments below, put quotes around it so other people can be inspired as well, enjoy.
WHY
Jack Welch
I think building an organization and building a team. The idea that Jack Welch is the hero of creating all his value is silly. Getting great people in all these jobs, it's a team that makes this thing happen.
And so building a team is your strongest suit. And you got to love your team. You got to want your team to be promoted. And when you're coming up, the biggest problem I find with young MBAs at first the job is you shining, raising your hand, having the answers.
They want to do that all the time. They just got out of school, they want to show you how smart they are. Now the transition to manager it all changes.
"It's about growing your people, not you. You grow from the reflected glory of your people." – Jack Welch
So it's all about making them flourish. I like to use the line, that your job is walking around with a can of water in one hand, a can of fertilizer in the other hand, sprinkling on the seeds and watching them grow. You'll get some weeds and you got to pull those weeds out.
So everyone's not going to flourish, but you've got to be thinking about all the time loving to see your people thrive, loving to see them get promoted. It's a real turn on. It is what management is all about.
It's about bringing to people great lives, great futures. Changing their family's life, that's a turn on. It's a big deal, that's what you got to think about. – Jack Welch
HOW
Serve
Anthony Robbins
My number one belief about leadership is you're a servant. – Anthony Robbins
And here what I mean specifically. The word hero, that is in the archetype of men and you and I, I bet. Is it true that inside of you, you want you to be the best, you want to create the best, share the best, do the best, is that a metaphor for you in your life?
Absolutely.
Yeah, me too. So I think people in this room tend to have that as their metaphor. So all of us at some level, man or woman wants to be a hero. The word "hero", in it's Latin root means servo. Servo means servant. It actually means slave.
The hero, why they're the hero is become the ultimate servant of something larger than themself. People and so forth.
The person who thinks they're going to lead by demand or by position can only lead for a short period of time. – Anthony Robbins
But the person whose idea is serving is my belief is, if you can find a way to take any group of people and help them to experience their needs at a richer, deeper level than anyone else, then together, you guys can get anything done.
Anything. Now it may not work the first time, but together you can get to that point. 'Cus needs are ultimately what we're after. We're not after the vehicle we think we're after. You get a billion dollars and then you get it, I got plenty of clients and I'll tell you it is not the end game.
And so then they go after their second billion. Or you think it's getting married and you get it and you find out it's not the end game. There are certain needs that have to be there. And the ultimate needs are growing and giving.
'Cus you can only feel so good filled up by yourself. So my core belief is, I got to serve. If I serve I can lead. Because I believe motive does matter. If my motive is just to get you to do something for me, there's a certain amount of power that I can get to do that.
If I strategize, if I think, if I feel, and also if it serves a greater good. Even if I don't intend it. If the bumblebee goes to try to get the nectar it wants, it's selfish goal, I believe there's a higher power that guides it all. And when that bumblebee goes it doesn't intend to give anything, but pollen sticks to its legs.
As it goes about trying to get what it wants that's how flowers are created. I really believe that everything has a web of connection. If your intent is to serve yourself, you're still going to serve something more than yourself and you're going to get a certain amount of insight. If your intent and your motive is to serve something yourself, but also something more, just your kids, then I believe you get a different level of insight.
And because it's serving more of what serves life. It's not just me, it's me and my family. If you're trying to serve a community I believe you get a different level of insight. Trying to serve humanity you get a different level of insight. I get emotional thinking about it 'cus this is why I do what I do.
So when someone stands up it's not about business, it's not about anything, but about serving them. So I will use abrasive or creative language I'll use whatever it takes. Humor, stupidity, I'll make fun of myself, I'll challenge, I'll do anything to serve that's why I'm here. I don't need to do this anymore, but I love to see someone free, alive, and lit up.
So when that's your motive, no matter how people perceive you outside if they're around you long enough you can't hide what your real motive is. And they'll see it and they'll feel it. Motive does matter. If it's to serve something higher that doesn't mean you don't get served too.
And in business you got to be served or I used to do business and I'd lose money in the business and everybody else was happy. And it was wonderful except I had no business. So it's killing the goose that lays the golden eggs. So I've learned to put that balance in, but that gives me power. That's why time disappears for me. 'Cus I'm not about getting some action done, I'm about the outcome.
Have Empathy
Simon Sinek
My first job out of college I had a boss who believed it was appropriate to berate people to get the most of them. And I remember, this is a true story, I actually sat down with her, we used to have these monthly career updates. And she literally said to me, "You have no talent." And I went, "None?" And she said, "None."
And the good news was I thought that was funny. 'Cus you can't have none. Like if you told me I could only do one thing that actually probably would have hurt more, but nothing. And so I really paid attention as to how she managed and the rest of my career did the complete opposite.
Interviewer: Give me an example.
"I think pointing out people's strengths is a lot better than telling them they have no talent." – Simon Sinek
Also she had this belief that if you don't look harried and insane then you're not working hard. So I remember pretending that I was stressed out. 'Cus if I sauntered down the hallway and said hi to people she thought I was doing nothing.
So I started pretending, I'd be like, "I can't talk, I can't talk," and that way she thought I was very busy and she left me alone. Yeah, honestly in management, you know.
Treating people with respect, being honest about what they can and can't do, and committing yourself to helping people, not hurting people and pushing them down has been more effective for me. – Simon Sinek
Interviewer: Sometimes at work it's not what's happening at work for a lot of stressed out managers especially, it's what's happening outside of work. How do you try to figure out where the source is of the issue maybe to cut past some of the challenges you face communicating?
When I was entry-level, having empathy for my boss didn't factor in. Not knowing anything about sort of my place in the company and et cetera.
"But as I've grown up I realized that the only motivation for any kind of confrontation whether you're the one who's confronting someone because you feel that they have done something wrong or whether you're confronting them because you feel that you've been wronged the only motivation is empathy." – Simon Sinek
And so even if someone is coming down on me hard, or being unreasonable, or being you know. I'm not perfect at it, but I've worked really hard to approach it with confronting them that they hurt me or I feel wronged, but immediately go into considering that maybe there's something that's bothering them.
And that has proved to be really helpful. And we do it in life. I mean for example, somebody sitting next to you on the subway is slouched back they're legs open and your immediate reaction is to think, "What an ass," but the idea of practicing and say, "Well maybe he had a hard day yesterday and he's exhausted and he just doesn't want to deal." Maybe he doesn't want to talk to people.
To really just have empathy for the world around you. It's kind of powerful, and people respond to you a lot better as well because basically everybody wants to feel safe.
And so if you have empathy you give that to people up or down the chain of command. I mean we as employees want to feel safe. It is our bosses responsibility to give us that, but at the same time bosses want to feel safe. They don't want to feel that there's insurrection that's brewing.
And for us to let them know that we've got their back as much as we want them to let us know that they have ours is equally as important. And I believe there is responsibility of a manager, but there's a responsibility of an employee as well.
It's like the kids have to do chores at home. That's the kind of same thing. It's like we all, it takes all of us. The hierarchy doesn't mean that only the guys above are the ones with responsibility. We all have to contribute.
Create A Great Work Environment
Steve Jobs
"One of the keys to Apple is Apple is an incredibly collaborative company." – Steve Jobs
And so… You know how many committees we have at Apple?
Interviewer: No.
Zero. We have no committees.
Interviewer: No committees.
We are organized like a start-up. One person is in charge of iPhone OS software. One person is in charge of Mac hardware. One person is in charge of iPhone hardware engineering. Another person is in charge of world wide marketing. Another person is in charge of operations. We're organized like a start-up.
We're the biggest start-up on the planet. And we all meet for three hours once a week and we talk about everything we're doing. The whole business. And there's tremendous team work at the top of the company which filters down to tremendous team work throughout the company.
"And team work is dependent on trusting the other folks to come through with their part without watching them all the time, but trusting that they're going to come through with their parts." – Steve Jobs
And that's what we do really well. And we're great at figuring out how to divide things up into these great teams that we have and all work on the same thing, touch bases frequently, and bring it all together into a product. We do that really well.
And so what I do all day is meet with teams of people. And work on ideas and solve problems, to make new products, to make new marketing programs, whatever it is.
Interviewer: And are people willing to tell you you're wrong?
Yeah.
Interviewer: I mean other than snarky journalists I mean people that work for you.
Oh yeah, no we have wonderful arguments.
Interviewer: And do you win them all or?
Oh no, I wish I did. Well see, you can't.
"If you want to hire great people and have them stay working for you you have to let them make a lot of decisions and you have to be won by ideas not hierarchy. The best ideas have to win. Otherwise good people don't stay." – Steve Jobs
Always Be Growing
Brian Tracy
When you begin leading a new business or take on a new leadership role in a business you'd usually be relatively inexperienced in the constant thrust of business activities. Because of your lack of experience you will go into business with the wrong people and hire the wrong people and get involved with the wrong people at many levels.
Now this is normal and natural and it's to be expected at the beginning.
"The key is to always be growing as a person and as a leader. As you continue to grow and learn it will reflect on all parts of your life and in all parts of your business." – Brian Tracy
There's a universal principle that you've heard of called the Law of Attraction. This law says that you always attract into your life the people, and ideas, and resources, and harmony with your dominant thoughts. The fact is that you are a living magnet.
Like iron filings are attracted to a magnet you'll attract into your life the people who are in harmony with your current level of knowledge and wisdom and experience. The good news is that as your leadership skills grow and mature, you'll attract into your life better and better people. You'll attract better employees, and better customers, and better suppliers, and better bankers, and better associates. But you'll always get the people that you deserve based on your current level of personal and professional development.
"The more you learn and grow, the more experiences you have that you benefit from and the wiser you become as a business person the faster and more consistently your business will grow as well." – Brian Tracy
You'll always attract the type of people who are in harmony with your own level of personal development. The rule is your life only gets better on the outside when you get better on the inside. Now your people only get better when you become a better manager.
Your customers only get better when you become a better sales person. Your business only gets better when you become a better business person. There are no shortcuts and there's no other way. Fortunately you are in complete control of every aspect of your life. So always be improving yourself and you'll start to improve every other aspect of your life around you including your leadership abilities.
Continue to improve your leadership skills and qualities by practicing these things. Read in your field on a regular basis. Always be reading about the best practices and leadership skills that you can use in your personal development as a leader. And try them out everyday. Listen to audio programs on business and leadership success. And try out what you learn in those programs. Attend business seminars. This is one of the greatest learning tools in history.
You can gain new perspectives and ideas relating to your field and then put these ideas into action. Share ideas in your business mastermind groups and gain ideas from other people. If something is working well for someone else in your field there's a good chance it will work for you as well.
Use other people's great ideas to improve on yourself. As you improve on the inside, your business and every part of you life will improve on the outside.
"The only limits on what you can accomplish in your business are those limits you set on yourself with your own thinking." – Brian Tracy
You can go as fast and far as you want on your way to wealth, it's completely up to you.
Energize Others
Jack Welch
A boss's entire job is to get the combined intellect of his team to be raised to a new level and to instill spirit. Find every way to celebrate. Find every excuse to have a party. Every little victory counts.
"It is so, if a boss can't energize if he or she can't excite and make people want to be there they shouldn't have that title." – Jack Welch
Evan Carmichael
So if we think about my philosophy on leadership I believe that it's a leader's job to identify the limiting beliefs that hold the people on their team back.
"I believe that it's a leader's job to identify the limiting beliefs that hold the people on their team back." – Evan Carmichael.
I think you need to help the people on your team believe in themselves more, and help them expose these things that have been holding them back, and give them the path to break through, and give them the confidence, and courage, and abilities to break through.
I think it's important that when you are challenging somebody to push, and grow, and learn, and get better that it's all done with their self interest in mind not yours. – Evan Carmichael
And often those will be aligned. Somebody's self interest to be a better sales person, a better programmer, a better graphic designer. If that's one of their ambitions, that's great for you too being the leader. Sometimes it means that you push them away from the company.
It means that they have to go off and do something else 'cus their dream is to be a baker and you don't have an opportunity for baking in your company. So don't stick with me and be a C or D player here go be an A player over there.
People will only do something for you for so long. If you are forcing someone into do something, forcing them to show up on time, forcing someone to hit this deadline, forcing someone to grow, they will do it for a while 'cus you're paying the bills.
Because maybe they respect you, because maybe they want to make you happy, but when people will really give you everything they've got is because they see how it benefits them. It's because it's in their best interest to do it and it's not a sales job, it's not trying to convince them that doing this action is going to be good for them.
It's truly coming from a place of I want you to get better for yourself. Whether that means you stay with our company or not if you are going to be around us you are going to get better. We are going to help you break through these limiting personal beliefs, these actions that are holding you back. And I think a good leader brings that with them.
They bring a desire to make everything around them better. The people around them better, the environment around them better, the customers around them better because it's in their best interest and not yours. And they happen to line up a lot of the times which helps you in your business.
So that's my quick take. I'd love to know what do you think about leadership? What are some of the skills that you've learned some of the tricks, tactics that you've learned that helped you become a better leader? Or some of the things that you are trying to learn, please leave in the comments below. I'm going to join in the discussion.
Also what was your favorite clip in this video? What did you learn the most from some of the people who shared some thoughts today. Leave in the comments again I'll join the discussion.
Thank you guys so much for watching. I made this video because abhishek asked me to. So if there's a topic you'd like me to cover in the next edition of Believe Life leave it in the comments below and I'll see what I can do.
Finally I wanted to give a quick shout out to local Toronto entrepreneur Frank Hoffmann. Frank thank you so much for picking up a copy of my book. Thank you for tweeting that awesome picture out. I know there's a lot of other people's books in that picture, but Your One Word is on the top and so I really appreciate that Frank. I hope you enjoy the book.
So thank you guys again for watching. I believe in you, I hope you continue to believe in yourself and whatever your one word is, much love. I'll see you soon.
BONUS
Simon Sinek
So there's a wonderful story about listening. There's the problem when people say you need to be a better listener is we are human beings and we need to communicate. And communication is two ways listening and speaking.
So everybody's like you got to be a better listener. But here's the best understanding I have of it. So Nelson Mandela is universally regarded as a great leader. Which is important because different people are viewed differently in different nations, but Nelson Mandela universally regarded as a great leader.
He was actually the son of a tribal chief. And he was asked in an interview once, "How did you learn to be a great leader?" And he tells the story of how he would go to tribal meetings with his father and he remembers two things. They always sat in a circle and his father was always the last to speak.
And in terms of leadership and listening,
"I think the idea of be a better listener is actually half the advice. I think the advice is practice being the last to speak." – Simon Sinec
You see this all the time in meetings where everybody will sit around a room the senior guy will be like, "Alright here's the problem, "here's what I think we should do, "but I'm really interested in what your thoughts are "so let's go around the room." It's too late. You've influenced the room. You created the footprint.
And people bend and mold as opposed to saying, "Here's the problem I'm interested in what you have to say." Without saying anything and not even, this takes practice, not even giving a hint whether you agree or disagree. If anything you ask questions to learn more. You get the benefit of hearing everybody's opinion, everybody gets to feel heard, and then you get to render your opinion.
Reed Hasting
Interview:  Is part of the interviewing process do you essentially culture check?
Yes, but not like a checklist. Culture's always something that we interview for. Of kind of curiosity and it's easy to find people who say, "Oh I read the Netflix culture deck "I love it I really want to be there."
What's harder is what are the main things you disagree with and why? And when we get a blank stare we're like, okay not really a first principle thinker and when they say, "Well I thought the way that you didn't talk about "how to acculturate and if I'm not great in day three "am I out or is there, "do you look at it like an athlete "where it's over some time period to prove yourself "and if so, what's that time period "and why haven't you clarified that?" Then we're like, "Oh yeah, that's a good insight." First principle thinker. 
"So we're looking for people who are curious, typically self confident, and they're questioning everything around them." – Reed Hasting
Brian Tracy
"Another important quality in an effective leader is to be a role model. – Brian Tracy"
To be the kind of person that everyone else looks up to, wants to be like. This is true in your work, in your personal life, it's true in your family, but it's also true as a manager.
Effective leaders carry themselves at all times even when no one is watching, as if everyone was watching. Leaders imagine that they live in a gold fish bowl and everyone is watching the leader in the leadership role.
They're very aware of the impact of their words and gestures on the people around them. They realize that what they say has tremendous impact. So you must always be sensitive to the fact that everything you say or do is magnified many times by the people who look up to you or look up to you for guidance.
A positive remark from you to someone over whom you exert influence or control has inordinately positive effects. A negative remark or criticism from you has inordinately negative effects. The impact of both are multiplied. So choose your words and your behavior with care.
"If you aspire to become an inspirational and effective leader you must continuously work on yourself and improve your management skills." – Brian Tracy
No one starts off as an effective leader or manager, but you can aspire to improve your skills by learning what leaders do, and how they think, and how they feel, and then by copying them until you become one yourself. Remember leaders are made not born and they are self made through personal development.
---
You might also like
---
More from Believe Life
---
Today we're going to learn how to communicate effectively.  Good morning, Believe Nation. It's Evan. My one word is believe, …
Today, we're going to talk about how you can create a massive action plan. Good morning, believe nation. My name …
Today we're helping you to stay motivated, and to learn how to motivate yourself! How to MOTIVATE Yourself - #BelieveLife Why MotivationGrid We're all …