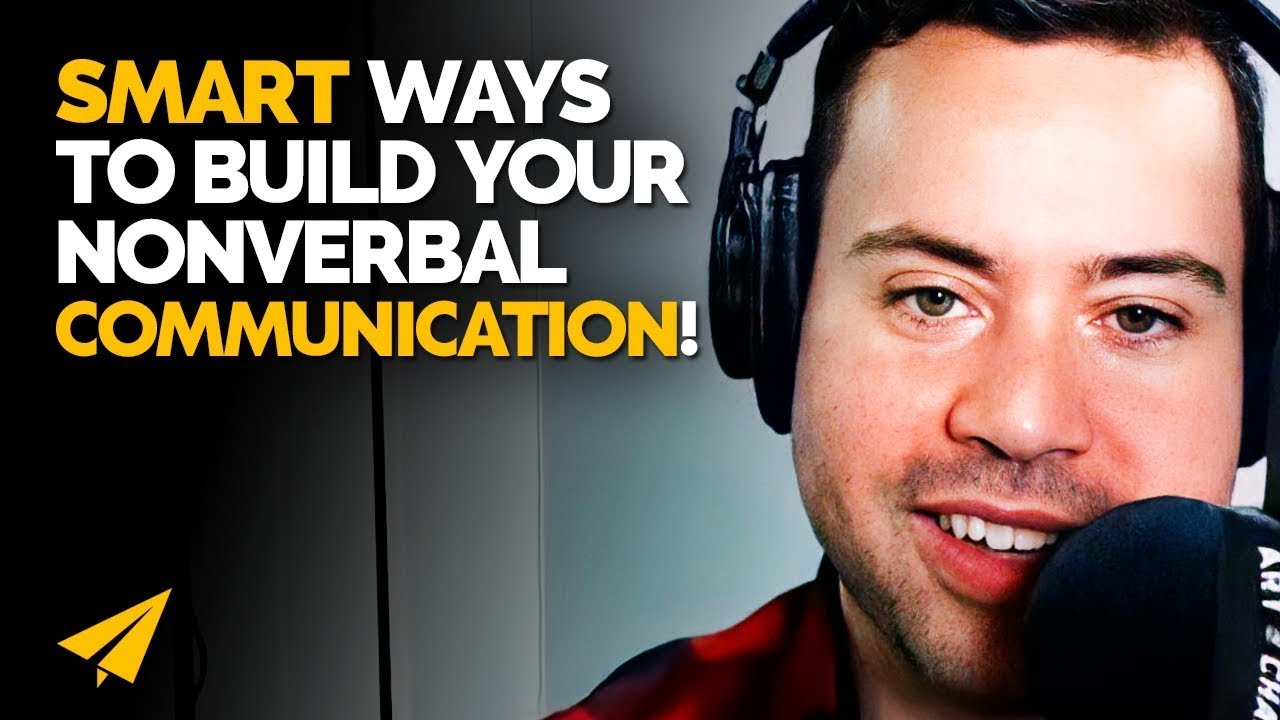 Welcome to another YouTube hangout.
Evan: Super excited to be here with a new friend and special guest, Jordan, who has an amazing podcast. I'm going to be on it shortly.
Jordan: That's right.
Evan: Talking about charm. It's called The Art of Charm. One of the top 50 podcasts. You can go check out, download. He is on today to help us talk about how to be yourself. How to talk yourself into and out of almost any situation that you want to. And I'm super excited to learn how I can maybe be a little more charming myself. Jordan, welcome aboard man.
Jordan: Thanks for having me, man. I appreciate it. I love the background. Are those acoustic panels with photos printed on them?
Evan: I wish that I was that smart.
Jordan: Oh man.
Evan: They are just canvas panels.
Jordan: Oh, okay.
Evan: They are not acoustic.
Jordan: They look like acoustic panels. I mean I have the same thing in my studio here, but I didn't put photos on them. I thought what a great idea.
Evan: We can combine our two ideas together. Yeah, I like that. Now, are you shooting video for your podcast as well?
Jordan: I don't so you're off the hook on all of the things you did to make yourself look so beautiful today. It's an audio-only program.
We'll use video so that I can see you to make sure that you're not like playing Candy Crush while I'm interviewing you, but I don't air the video. Which I think benefits me personally, having a face for radio and most of my guests, who get self conscious, you know, busy being a general, not busy being on TV or things like that.
But I love the YouTube format. I tell people all the time if I had to go back and start over, I've been doing this show for 10 years, but if I had to go back and start over, YouTube hands down. I mean it didn't exist then.
Even Gary Vee was using like Viddler or something back then, which pry doesn't exist anymore. But YouTube is a better format so props to you for getting on that.
Evan: Cool. Well before we dive too deep, can you just give my audience a little bit of an overview of the The Art of Charm, what you're all about, what you're doing, a little background.
Jordan: Absolutely, so what I do at The Art of Charm, there's a show of course by the same name which I host, but what we are is both a show and a school. The school is located in LA and people fly in from all over the world and learn about things like non-verbal communication, body language, persuasion, influence, networking, things like that.
So a lot of soft skills that we make, I like to say we turn 'em into hard skills, although that technically makes no sense, but what I mean by that is, instead of being like just be there for the person, it's like no, no, what does that mean. What does it mean to give emotional support.
What does it mean to be persuasive. It doesn't mean this, that, and the other thing. It's not what you read on some blog article by some buddy who's trying to do content marketing. I'll have a real person in here talking about this. And so, on the show, we try to also teach this very similar and same content. So I'll like, I had Tony Hawk on recently and he wasn't just talking about skating, he was talking about look man, building a business in this world that nobody cared about for 10 years and then became this cut throat competitive market space.
"I try to convey mindset in the show and again it's all stuff that practical and applicable, not just like you can do it." – Jordan Harbinger
Like why did he choose to make that brand. How has he protected his brand. How has he become famous in the face of all of this corporate industrial might in his face. I had General McChrystal on, who was our theater commander in Afghanistan and Iraq. Special forces guy and just, he was dismissed by Obama.
So I went through like, how do you make tough decisions where people could die and then also on the other end of that if you screw up, not only are people going to die, but then your career is over. And so, I talk about the decision-making process when it comes to that because I think that those of us where our biggest decision is do I go to Starbucks or Coffee Bean can also benefit from different modes of thinking.
So I try to convey mindset in the show and again it's all stuff that practical and applicable, not just like you can do it. Because I think inspiration is cheap, you know. It's so easy to find and actually hard to apply and become successful. So those are the people I like to deconstruct.
Evan: I love it. Now, talking about being able to talk yourself into or out of any situation, what are some of the things that people need to keep in mind? Or when somebody shows up at your school, kind of day one newbie, what are some of the most foundational things that you need to break or they need to understand before they're ready to move forward with some of the tactics?
Jordan: Sure, definitely. This is kind of a funny question in a way. Because there are two sides to the learning coin the first day at AOC. The first time people come in generally our perception of how good we are at, how I should say how well we have a handle on these skills is always way off.
People either come in thinking look I'm really good with people, I'm great at generating rapport, I'm pretty good at reading body language, I'm pretty good at the confidence thing, but I got to work on A, B, C, D. And I'm like okay great. We take that down on the intake form and we have a conversation about that.
Or they come in and this is more like guys like me, come in and go, I'm not that good at this, I'm not that good that, I'm really not good at this, and then I have to, as an instructor, my team in LA, Johnny and AJ and Fern and all those cats down in LA, they have to take that guy and go no, here's actual proof that you're better at these things than you know and now we're going to build the skill set.
So one of the things that we do on the very first day is we video tape people in real interactions and then we show them their body language, their non-verbal communication, the way they sit, stand, walk and talk.
And either they're thrilled, because we're building on this foundation that they didn't know they had or they're ready, I won't say horrendously disappointed, but other people are less than thrilled, but they are then ready to learn because their ego has kind of been white washed by the video tape because that tape don't lie. Does that make sense?
Evan: Yeah, it does. So nobody has that… For me, I think about people's relationship with money. I don't think people grow up having a healthy relationship with money. They either, like it's everything and it's the only thing that matters, or like I don't deserve money, like I shouldn't, I can't go out and get that. So at some point you need to learn the right relationship. And so I think it's the same thing. People don't have the right expectations going in. That's interesting. What are some of the basics then? Like I want to be more charming. I can see how that's going to impact my career, my business, my relationships. What are some of the foundational things that you work people through?
Jordan: Sure, so I'd love to give a practical drill slash exercise that everybody watching, hanging out with us can actually apply right away starting today, is that cool? Does that fit your model?
Evan: Yeah, do it. I love it. Can I do something? Am I moving around, what am I doing?
Jordan: Yeah, moving around. Well okay, so essentially, and I'm going to stand up too and I know that made no difference what so ever. When I sit, I'm as tall as I am when I stand on camera. So the way that this works, this is called the doorway drill and I'm going to back up and talk about why this is important at first.
So the doorway drill is essentially a first impression drill. And most people think their first impression, I don't think it's up for debate, your first impression is very important, bla bla bla, you never get a second chance to make your first impression. Cliche here, cliche there. That stuff is well known by everybody, but what most people do not know is that your first impression is not made when you open your mouth to say something.
"Your first impression is made when you become a blip on other people's radar." – Jordan Harbinger
It's not made when you want to make that first impression. And that's very important to know. What I mean by that, and just to put this kind of like a funny dating context, is if you're a guy and you're walking up to a group of women, your first impression is not made when you walk up and you're like hey ladies what are you drinking or whatever you know corny thing you've got on deck.
Your first impression is made when you become a blip on other people's radar. And so, what that means essentially is that when they see you that's your first impression and the next 20 minutes of you hanging out with your friends and interacting with other people and not them, that makes up the bulk of your first impression. It's not controlled by you.
And what that also means, since it's not what you say to them when you want to say it, it means that it's based on a visual assessment of who you are and this goes back to Evolutionary Psychology.
And women are much better at this than men are because of the way that, the safety concern that women evolved over hundreds of thousands of years and the human species and stuff that doesn't concern us here.
But what this means essentially for us is that the way that you sit, stand, walk, and talk is more important than the words coming out of your mouth, especially before you've actually had a chance to come up with your clever little opener and deliver it. And this is extremely, extremely important to know because this changes the time frame, the window in which your first impression is made.
It's much, much earlier. So instead of it being when you decide to go over there and chat after you've had three Jack and Cokes or whatever you're doing, it's made when you walk down the stairs into the venue or it's made when you step into the board room for the meeting. It's not made the first time you say something. That's counteracting your first impression or bolstering it. It's not your actual first impression.
When I worked on Wall Street, I used to be an attorney in a past life here. And I used to sit in meetings and conference calls and think of something really, really smart to say and be on my Blackberry and looking at the case stuff and I would say something, I'd be so proud of myself, and then after the meeting inevitably one of the partners would say, "Hey, you know you look "a little bit checked out."
And I'm thinking I'm the one who spoke in the meeting. How am I checked out? And I'm checked out because everything I did before I spoke was looking at my Blackberry, looking at the case law, looking at the facts, trying to make myself small so nobody called on me, just like I did in school, right. I mean this is very familiar.
So the doorway drill seeks to counteract that by building up your non-verbal communication, which is actually the bulk of your first impression. Because remember, it's not about what we say, it's about what we look like beforehand. And most of us are so self-absorbed we don't manage our non-verbal communication. So the way that we do this is we stand up straight, chin up, chest, shoulders back, and a smile on your face, right. And you don't have to exaggerate it.
You don't have to look like a serious weirdo when you're doing it. You're supposed to memorize and sort of get a feeling for how your body feels when you're doing this. And this is very important because we need to relegate this the level of habit. Because what most people do is they go, okay, my first impression's made not when I open my mouth, it's made when I become a blip on the radar.
"It's not about what we say, it's about what we look like beforehand." – Jordan Harbinger
Okay, so next time I go to this networking event or next time I go out, or next time go get coffee, or next time I do this, I'm going to make sure that I stand up straight and I got my shoulders back and my chin's up, but the problem is if you try to manage this stuff consciously what happens is now I'm talking to you and I'm, you're saying something and I'm like oh is my chin up, are my shoulders back, okay, I have a smile on my face. Oh crap, what was Evan talking about.
Oh my god, I wasn't listening. He's going to know I wasn't listening. Wait, oh crap, he's still talking and I'm still, ahhh, negative self talk, feedback loop from hell and then the plane just crashing into the mountain.
And so, what the doorway drill does is if we remember how this feels and how it looks, and we do this every time we walk through a doorway, we reset our physiology to this particular set of this particular stance, this particular body language, this open body language, positive body language, we do this even in our own house.
When you walk into your living room, your bathroom, your kid's bedroom, your front door, whatever, if you do this all the time, you're going to do this dozens and dozens of time every day.
And this is going to setup your physiology differently so that you no longer have to remember to do this, because you're building the habit of creating this phsyiology in yourself. And so what that means that the next time you do go down to Starbucks or next time you do go, or I guess you're in Canada, so next time you do go down to Tim Horton's, right. I grew up in Detroit so I got it.
Evan: We have Starbuck too, we have Starbucks too.
Jordan: I'm sure you do. I prefer Tim Horton's coffee though. That stuff is amaze-bomb. In Detroit, we basically were a short hop to Windsor to go get everything, including alcohol when you're 19. So that was my childhood. Explains a lot actually.
But what that means is that next time you go out the door, you don't have to worry or even think about your body language and your physiology, your non-verbal communication, because you have relegated, hopefully at this point a few weeks later of doing the doorway drill, you've relegated this to the level of habit so that next time you're interacting with people, you're physiology is different.
"If you change your physiology and people start treating you differently, your behavior starts to change as well. So it's a virtuous cycle." – Jordan Harbinger
Your first impressions are therefore different. And this creates a virtuous cycle because when you look a certain way and you start to behave a little bit with the way of that physiology, people start to treat you differently. And this is something that happens subconsciously. We're wired this way as humans.
People treat you like you're more friendly, open, outgoing, confident, whatever sort of positive attribute they attribute to this physiology. And when people treat you differently, this, as we know from science and research, is the primary factor that influences behavior.
How you're treated by your parents influences the way you grow up. How you're treated by your classmates influences the way that you socialize. So if you change your physiology and people start treating you differently, your behavior starts to change as well. So it's a virtuous cycle.
As people are treating you as an open, friendly, confident person, then you start to behave more that way, which also reinforces your new physiology, which means that at some level or at some stage in the next three, four weeks and few months after that, you're going to experience over time, essentially an identity level shift, a core level shift in who you think that you are and who you actually are.
Instead of being the quiet, meek person, or instead of being somebody who's maybe afraid to speak up, or somebody who feels ill at ease in their own skin in networking events, or in business meetings, or in a dating scenario, you start to be treated differently. You start to act differently.
You start to be differently. And this isn't meta physical baloney. This is science-back phsyiology research, sort of Amy Cuddy mixed with Art of Charm, Tony Robinsish type stuff in here, science-based is what we like to stick with. And so, the doorway drill is very powerful because it requires basically no commitment other than a millisecond shift in your physiology every time you walk through a doorway.
And it will change the way that people deal with you and it will change the way that you think about yourself. And it changes your abilities in social situations.
And so that type of thing is a really, really high leverage exercise that people can start doing right way and see results right away without like buying something or figuring out how to create this massive change in themselves manually which is very hard and basically impossible.
Evan: I love it. So as I'm walking through a door when I leave this I'm going to walk through a door. What are the three to five to seven things that I need to do with my physiology to now have that confidence?
Jordan: So the recap is essentially that stand up straight, chest up, shoulders back, chin up, smile on your face. And it's harder to do when talking because it does look more ridiculous, right. It looks like a very fake news presenter.
But it won't look fake if you simply change the way that your physiology works because you're not, again don't exaggerate this too much, because you don't want to feel goofy doing it. You just want to straighten up. Don't over think it, right. Just get out of hunched over computer all day mode, which is where most of us are, and get into the mode where your eyes are actually up and your chest is actually up.
"It's not about being a tough guy. It's just about straightening up." – Jordan Harbinger
And no arms crossed, that's kind of the rule. You'd be surprised. Most people don't walk with their arms crossed, but many people sit with their arms crossed and regardless of whether you're just cold or you're feeling a little nervous, it just signals to other people, look this person's not in the mood right now.
And so we want to encourage interaction with us. We want to encourage eye contact. We want to encourage a positive outlook from other people towards us. And the way that we do that is really simple signals through physiology, that's really it.
And it works for men and women. It's not about being a tough guy. It's just about straightening up. So you don't have to worry, like oh I did my shoulders back, but I didn't do my chin up high enough. Like just don't over think it. That's the number one rule.
Evan: Got it. And so, if people are standing there like this and then they're thinking, oh okay Jordan said I can't cross my arms, what am I supposed to do now?
Jordan: Right.
Evan: I can see being self conscious, oh should I…
Jordan: Yes, that's a great question. It's probably the most common question is, oh shoot, I always stand there with my arms crossed. What do I do with my hands now? And so, the answer is whatever you want. However, that's a terrible answer for somebody who's an engineer brain for example, because they're like, ah no, whatever I want, no. What's the right answer to this question. I was a good student. I need the right answer to this question.
And so, I would say either if you're holding something in one hand then fine, just have the other hand in your pocket with your thumb out, that way you're not tempted to do something weird in your pocket that looks awkward, just you know fingers in, thumb out. Or you can just have your hands resting like this or like this.
You know just clamped and just have them in front of yourself. It's still a little bit closed. It's not super ideal, but it's certainly better than this. What I'm trying to stay away from here is making people self conscious about what they're doing even now that they're straightened up.
Because the truth is it's just as easy to look awkwark by doing something like this while being straight up and then just trying to look like a tough guy or feeling that you're being perceived that way. So whatever you do with your hands is probably fine. It's just a matter of having that open and positive body language and not being as fidgety.
So yeah, if you're used to doing this and then you find yourself doing a lot of this stuff all the time because you're not sure what to do, the easiest thing that we teach the AOC students at workshops who really can't stop fidgeting is just fingers in pockets but thumbs out.
That way it's really hard to fidget. It's really also hard to do that thing where you have your hands in your pockets and you just look like you're really suspicious, because you're hiding something. Ideally, if you're just hanging out at a networking event or a business meeting or something like that and you have coffee or a beverage, you hold that in one hand and other hand can either go in your pocket or just rest on a table.
It's like I know that this sounds super, super simple, but if you start to look at what we do on a daily basis, most of us, we're just all over the place. We're not thinking about it and we tend to wear our emotional state on our sleeves non-verbally which is the natural state of us as humans.
However, if we look uncomfortable or unfriendly or scared when we do that, it's not doing us any favors. And it's making that first impression a pretty poor first impression.
Evan: Let me ask you this, this is interesting. Cause I will fidget a lot with my ring, I know we're both married, I don't know if you fidget a lot, but I'll play with it as I'm thinking, like I like to have something while I'm thinking or being creative, not of a nervous like I'm afraid to meet this person and I'm like what do I do, but if I'm in a brainstorming meeting or having a conversation with somebody, like the ring is coming off and flicking it around. Like I have it on my thumb a lot. What do you think about that? What's the message I'm giving out by doing that?
Jordan: I actually haven't seen it happen that much in real time, but what that would signal to me is actually, and what I think your brain is probably doing subconsciously is activating what's called the default mode network. And tell me if this is true for you. When you're in the shower, are you ever like oh my god I'm so doing that, that is such a good idea.
When you're in the shower, driving, that's generally kind of or maybe out for a walk, those are kind of the top three idea generating things throughout history. And if you look at famous people, I mean like famous inventors, Edison, Einstein, Thoreau, all these guys, there's a chart somewhere on the internet and I can try to find it or maybe one of us can try to find it.
It charts what their days were like, from their journals which of course all of these guys left back in the day. It charts what their days were like. And so every day, a lot of these guys, Tesla, Edison, they all took long walks.
Anywhere from half an hour to three plus hours on any given day and that was a mandatory part of their routine and the reason was, in retrospect of course, they're probably activating their default mode network. Which is their body is doing something that's taking up a certain percentage of their cognitive resources in order to manage. You're trying not to drop your ring.
You want to know where it is. You're experiencing a certain feeling of having it on your thumb. Another feeling of having it on your ring finger. Another feeling of having it on your pinky.
That is keeping the logical part of your brain, the prefrontal cortex essentially, busy enough so that other parts of your brain which having hundreds slash thousands of times more processing power, those things can then fire off without being corralled by the parts of your brain that want to make sure that the ring's on the right finger, make sure you don't forget your coffee, make sure you pick up the kids from school.
That stuff is all being taken up. All that processing power is being taken up. And that's why your brain can then come up with great ideas. That's why we come up with amazing ideas when driving and then forget how we got home. And then we come up with amazing ideas in the shower and we think did I wash my hair already.
I mean it depends, pretty soon I won't have that problem, but it will be something else right at that point. And so we're activating that default mode network. It depends on how you're fidgeting.
If you're fidgeting and you're looking around and you're micromanaging in your head how you're being perceived by others, that's lack of comfort in your own skin. That's going to put people off. However, if you're just messing with your ring while you're thinking about something, that's very, very natural and it's actually probably helpful for your brain to be creative while you're doing that.
Evan: Right. Yeah, I think this whole time I've been… (laughs) Just been playing with the ring. I think it definitely helps me. I'm not thinking of how people judge me. I'm thinking, now that you bring it up, I just probably won't change it anyway, because I got to be me but I'm wondering what the perception would be.
Jordan: Well, if you're not worrying about other people judging you doing this and you're fidgeting with your ring in order to come up with creative ideas, I'm saying don't change it.
Evan: Yeah.
Jordan: If you're one of those people who like me, I just constantly sip tea while I do the show. And I'll sip tea and then I'll put it down. And then two second later, I'll sip more tea. It's almost like if you saw me doing this while I was not doing my show, you might be like this guy is so weird. Every time he puts his tea down, but I don't worry about that. I'm not even thinking about drinking the tea.
Usually, I do when I'm listening and not talking of course. So if the guest is talking, I'm sipping tea, put it down, sip tea, put it down, but I'm processing what the guest is saying the whole time. And that's been very important to me. When I don't drink the tea, when I don't create something from my prefrontal cortex to do while the guest is talking, I've found over the years that I end up going oh man, I'm almost out of cough drops, damn it, what was he just talking about, I forgot, ah dang, right.
I just end up with this weird, kind of hyper brain that is not conducive to being a good listener. So I've learned how to cope with that by figuring out how to keep that part of my brain busy. And most creative types have done this. That's why you see creatives doing weird stuff all the time.
And some of the most creative people around, unfortunately, have issues with substances that also limit what that part of your brain can do. Because it's driving them freaking crazy and it's keeping their potential at bay.
Unfortunately, there are side effects that go along with alcohol, and painkillers, and things like that, but the reason they start doing that stuff in the first place is largely because of that creative process. And you hear creatives say things like, "I just don't feel like myself "when I'm not able to insert vice here." So your ring by comparison is a very healthy alternative to meth, heroin, painkillers, sleeping pills, alcohol, so go ahead and fidget with the ring as much as you want.
Evan: All right, back to the doorway test. I want to understand the connection with the mind and I get that the physiology leads to the confidence in the mind. I'm wondering is that the only connection or is there also, are you thinking something as you walk through the door or is it like okay, I'm happy. Are you telling yourself anything or is it just I'm going to do the body thing and the body is going to tell my mind to do it that way?
Jordan: That's a really good question. Actually, one of the maxims here at AOC, and again there's science behind this that I won't really bore you all with right now, the body follows the mind and the mind follows the body.
And this is like a very, very simple kind of almost obvious truth that a lot of people don't think about. And so, when we do have our physiology setup correctly, we do tend to experience something in our brain that says all right I'm coming in, I'm feeling good, I'm feeling confident, I'm feeling open. It's all subconscious.
It's not something that you have to tell yourself. You shouldn't worry about like getting yourself all jazzed up to go walk into Starbucks. It's really not necessary. You can if you want to if you find that it helps, Sure, give yourself every time you walk through the door. It might be helpful to sort of reduce it to one word where you just say something like open or positive or whatever or you can just say your name.
Like you can just be like, Evan. Right, I'm in Evan mode now. I'm upright, I'm confident, I'm happy, I got my smile on my face. That's fine. It can just be symbolic. Our brains are really good with symbolism. So if you're going to create that doorway drill and you want to sort of have a mantra word that you repeat in your head when you go through every door then go for it. I, personally, don't use it that much, but a lot of AOC students do use it, especially the guys and girls that have engineer brains where it's like they need to flip a switch and it can't just be a subtle physiology thing.
It's got to be like all right I'm in this mode now. It's got to be something logical that takes them into a different mode. And if that helps you then definitely go for it. But do avoid the self talk where you go, all right I'm walking in here, I'm going to be upright and oh my, there's a lot of people in here so I got to make sure I do that because that can spiral into what we call being in your head which is worrying a lot about how you're perceived by others, which is the actual opposite of what the doorway drill is supposed to accomplish. Does that make sense?
Evan: Yeah, absolutely. People on the live chat, first of all, they're loving you. Lots of comments, I like this guy, but also they're laughing because my book is called Your One Word.
Jordan: Oh yeah.
Evan: So it's like tell yourself one word.
Jordan: That was a little subconscious thing.
Evan: Nice parallel. I think of this documentary's on Regis and every time he left his office to go into studio mode, he would also touch the top of the door.
Jordan: Yeah.
Evan: Do you ever incorporate that? Like as your walking through as a physical reminder like touch the side of the door, touch the top of the door, and that sets you up or…
Jordan: You can, you can. The reason that I think he may have done that, and it's funny I haven't seen that documentary, but I definitely want to check it out. He's a funny guy. I've seen him a lot cause I used to work at Sirius XM radio and he was in there. And I remember one time I was going to the bathroom before my show when we were doing it live in Time Square.
And I'm going to the bathroom and I look next to me and I see, I look over and there's this like shorter guy, I go oh hi how you doing, you know the polite urinal small talk, and he goes, "How you doing?" And I was just like oh my god, it's Regis Philbin. (laughs) Right next to me and man is he tan for a guy who lives in New York, really tan.
Oh, I lost my train of thought. Oh yeah, so tapping the side of the door and things like that, that will work especially if it's always the same place. I would avoid doing that every time you walk into the airport, Starbucks, some random office, because it can back fire on you.
I've definitely seen there are times when you can't do it and you're going to end up with a physiological hang. But for example, this studio, I walk in here, every time I walk in here, I walk in pretty much the same way. I turn on the studio lights. I have a remote that turns on some of these other lights, some of which are off that you can see behind me, and I've got all my audio gear here that has all this digital stuff.
But I got this analog stuff, because it has just a gillion switches. And I like flipping those switches and watching them warm up and hearing the zzzzz. I like that because that's like all right, this is happening, we're going on air, and I find myself getting a burst of energy from that. It's a ritual.
Humans are wired for ritual so I would say yes, definitely do it. If you get to your office and the first thing you do is make yourself a cup of tea and throw in a piece of Trident or something like that, then that can be your ritual. But it shouldn't necessary be something that you transport with you every where you go, because if you can't do it, you end up with an unflipped switch in your head and you'll worry about it even if subconsciously.
And also, the other thing is it loses meaning if it's something you do every time you walk through a doorway. Because the point of the doorway drill is your physiology is going to stay positive and it's going to change the way that others perceive you. But it doesn't have to be you getting psyched up. And so, you shouldn't need to psych yourself up every time you walk through a doorway.
It would be impossible to maintain that level of energy and emotion throughout the day. So the drill would then lose meaning. The gesture of tapping the door would lose meaning. You see guys, like you said with Regis, he taps the doorway to his studio.
He probably doesn't do that when he walks into the can. Right, he's probably like this is business as usual. The other things on camera in front of a million people, one is decidedly more important than the other.
Evan: You got to witness it. Did he touch the door, Jordan?
Jordan: I know. Now I'm like did he touch the door before he went in? I don't know. I don't know if he tapped the side of the door.
Evan: Cool, man. Well, it's amazing how quickly half an hour flys by, man.
Jordan: Oh my gosh.
Evan: Really appreciate the love, the energy. For people who want to find out more about what you're doing, your school, the podcast, where are they going?
Jordan: Sure. If people are listening to podcast, which I encourage of course, you can find The Art of Charm podcast in iTunes or any podcast player. Or just go to TheArtofCharm.com and, of course, it's on SoundCloud and YouTube and all that. But it is audio only, which is good because I want people to absorb it and not just be watching my shiny forehead here in Studio.
Evan: I love it. Jordan, you gave so much value. Really appreciate it. Thank you guys so much for watching. Continue to believe and we'll see you soon.
You might also like
---