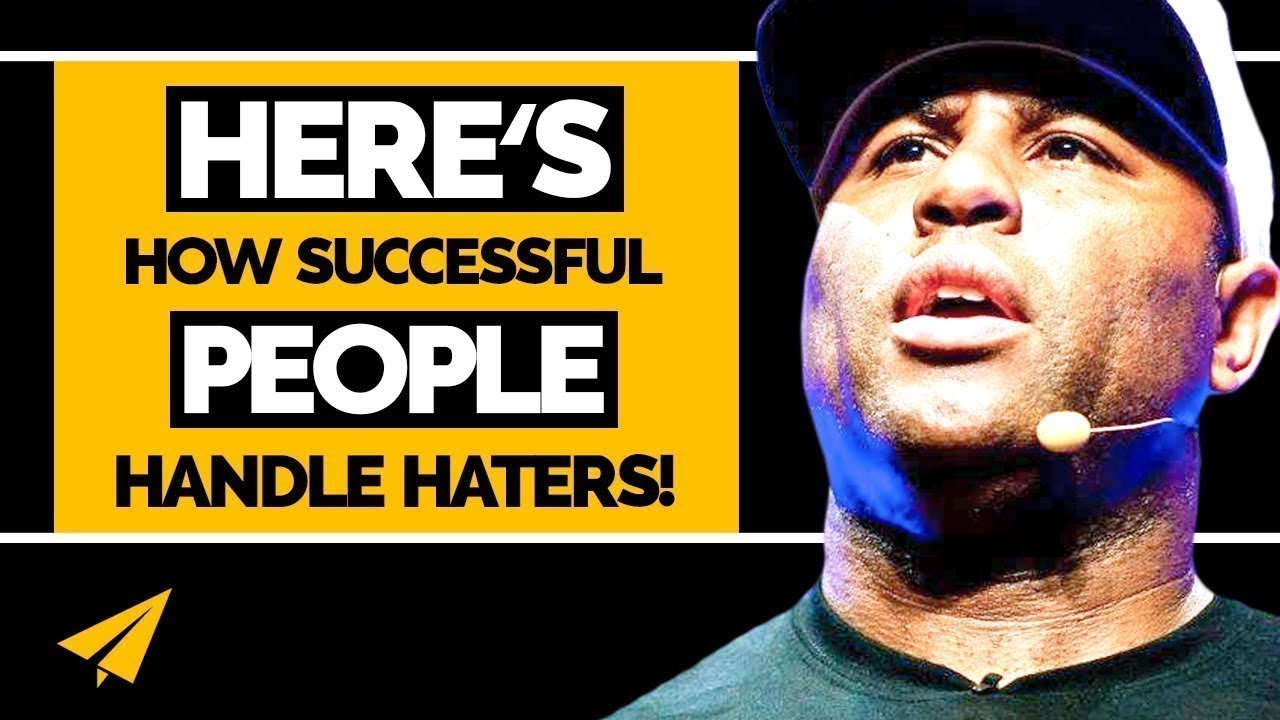 Good morning, Believe Nation. Today, we're going to talk about how to deal with haters.
Lesson number four is my personal favorite, and make sure to stick around all the way to the end for some special bonus clips. And as always, as people are talking, if they say something that really resonates with you, please leave it in the comments below and put quotes around it so other people can be inspired as well. Enjoy!
WHY
"Well, I love my haters, because my haters are going to tell me things my friends and my family are not going to tell me." – Eric Thomas
Haters are going to be very, like, they're haters because they've studied you.
So, they know a thing or two about you. And so you can learn from your haters. It's like, any information can be recycled, but I don't allow my haters to penetrate my spirits.
I don't allow them to throw me off of my plans. Like, if I've got a hater, I'm not saying, "Well, my hater…" I don't waste time talking about them.
I don't waste time getting engaged in the stuff that they want me to get engaged. I stay focused and do what I'm supposed to do. But I listen to them to see, is there anything they're saying, that's proper, that I can adjust?
HOW
#1. Approach Feedback Seriously
Neil Strauss
There's four things when someone gives you feedback, or criticism, however it's intended, whether ill or positive. And, so one is, not to take it in, but to kind of catch it. I think of it like a catcher's mitt.
If you tell me something, you come across this way, I'll grab it, and then I'll look at it and I'll think, "Okay, is it true?" If it's true, cool. I'll put it in and learn from it. If I think it's not true, cool, I'll throw it away. No harm, no foul. I'm not going to dwell on it, right?
And I think everybody needs this in this world, cause most of us are on social media, and we're all getting like, all our thoughts are getting picked apart all the time.
So we really need this more than ever. Then the third one, is, you get it and it's a maybe. Well, I'm not sure. You said this about me, I'm not sure. You know, what do you guys think? You know, what do you think?
I'll ask my friends and I'll ask other people and get some feedback and if it's true, Cool, maybe I'll learn from it. If everyone's like, "This is total nonsense, ignore that dude." I throw it out. But then there's a fourth one. And this is where the real growth is. Do you know what the fourth one is?
Interviewer: I don't.
The fourth one is, you get it, you throw it out. I'm talking to you and then maybe later I'm talking to you, I get it, and I'm like, "No, it's not true." I throw it out, and then later I'm talking to someone else, I get it.
It's the third time it's come back to me after I've thrown it out, and I'm like, "Wait, maybe I got to take this thing "a little more seriously."
And it becomes a maybe. And then it becomes a yes. And that's when the big growth thing is, because you kept ignoring this thing that was in your face.
"So, the best feedback, like where you really grow, is you keep getting the same feedback, you keep dismissing it." – Neil Strauss
At some point, you say, "Wait, maybe they have something." So, one way I do this is, I get together a group of people, and we sit together once a week and talk about the shhh stuff going on in our lives.
I find group therapy really powerful because if it's just one on one, I can just say I disagree with you. But when four or five people are saying, "Hey dude, no, you're really coming off like that." Or, "You're really having this problem in your relationship "and maybe you need to look at it." And five people are saying it. It's pretty hard to dismiss them.
#2. Be Driven By Negativity
Gary Vaynerchuk
Prince, as he was taking his last breath, and this is a big shout-out to Prince, I'm a huge fan. I don't think Prince cared what Billboard Magazine said. Or what anybody said. It's just the way it is. It's the way it is.
And so, if through this plea on this show on 201 on a Monday in the late spring, if I could get four of you to understand if I could get four of you to understand it's just not going to matter when people, I mean, I love when people, I don't even know what else to tell you, I'm going to say it very clear.
Let's get very focused here, because I want to really deliver this with all the drama that it deserves.
I like when people put me down. I get off on when people put me down. Nothing is more interesting to me than to prove all of you wrong. – Gary Vaynerchuk
I love the people who think I'm a huckster, or I've got some hidden agenda, or I'm not that good, or I won't be that great, or I think too big of myself, or my dad had a liquor store and that's the only reason I'm successful, or I got lucky, or, dut dut dut dut. Show me. Please, please, please continue to judge me and underestimate me.
Cause it's the only driver I have. And that's how I'm wired. And I don't expect all of you to be wired that way but if I can, through my energy, move any of you, and trust me, I'm reading your comments, cause your comments are my oxygen, and I see so many of you, so many comments over the last three or four months, of people saying, "Hum, I've got a little more cockiness "or confidence then I used to."
As a matter of fact, I see it in you guys. I truly see my inner circle have more confidence when they're around. It just rubs off. Indeed, you're getting cocky.
I probably am.
Have you felt it?
Yeah. I think confident is what I prefer.
I know, I know, I know. But, it's true, right? There's a rub-off. It's kind of like a leader on a sports team. It rubs off. And one of the great accomplishments in my life, will be the fact that I was able to rub off my confidence, not only on my inner circle, but on the community that decided to give me.
It's unbelievable how good I feel that I get to reward, the amazing reward that you give me. Which is, in all the things that you could be watching right now, you're watching this.
In all the things you could be reading. Spending time on. Time. You've decided to watch me. Me! Do you know how incredibly empowering that is? And it's that scale. It's not three people.
Do you know how empowering that is? And for me, knowing that not only do I give you tactical advice, or in a funny way that I answer question number three, a girl in Indonesia might say, "Well, if Gary Vee is bad at math and has been successful, "I can too." Or, in this ending rant, you can care a little bit less what your coworker or your older brother or that naysayer says.
Or, what I know so many of you deal with, which is, the trolling and the hate, and the disagreeing, even when it's done well. And I love when people disagree with me in the comment section.
I take it for what it is. Even when that happens. Do you know how pissed I was at Daily Vee 30? How many people emphatically were drilling me for a bad episode?
Fine. But like, after all, and that's fine and I agree, and we didn't do a good job setting that up, and I don't think I set up D-Rock for success. It's a genre that he's not as passionate about.
I could've done a better job. I understand that. But, it blows me away, how much venom people can put of like, like after you provide, you're only as good as your last ep back. 200 great episodes of a business show.
30 great episodes of a docu show. 5,000 interviews of business stuff. Unbelievable engagement. Answering your questions. Answering your snaps. Boom! One baseball fantasy thing, and pure and utter disagreement, disparagement, hate, negativity.
That's hard! I'm the most confident and it felt bad. And I didn't like it. So, what do I expect from others? I get it. But it is what it is. And at the end of the day, it's not going to matter.
And you have to love yourself first. And feel good and complete with yourself first. So, as a 15-year-old, I would do what I did as a 15-year-old, which is, start building those skills.
And not listen to your parents. And not listen to your teachers. And not listen to your friends. Respect it.
"But don't let anybody, anybody impose their way on you. It's you. You're with yourself. And you've got to make yourself happy first." – Gary Vaynerchuk
#3. Don't Give Away Your Power
Marie Forleo
Don't give away your power. So, anytime some nasty criticism or BS comes your way, you have to say this, "You cannot take me down. "I will not give you that power." I want you to make that your new mantra in life.
You got to realize that people can say whatever they want, but you do not have to take it in and you don't have to let it ruin your day. Your time on this earth is so precious and it's really, really important that you protect your soul.
#4. Empathize
Brendon Burchard
Empathize. You know a lot of people who are being in a negative mood or negative energy, you don't know why. You know? You've had a bad day, too. You've been rude.
Yes, I know you're amazing and you watch this show, and you're really into personal development, but at the end of the day, you've been rude to people too. You've had a bad day. You've snapped. You've been impatient.
You've hollered. You've been a jerk when you shouldn't have been. You know it. Well, other people do too. So, when somebody is negative, always wonder, "I wonder what happened today that lead to that." You know?
Maybe the kids got out of the wrong side of bed, and they were just horrible that morning and that person didn't sleep last night.
Maybe, something happened with their family. Maybe, on the way to their work, they just thought of something very depressing in their past. Maybe, the truth is, right now they're so unclear about who they are, and what they want in life, that they're taking it out on other people.
Maybe their own failures, their own struggles, their own disappointments have ravaged them and led them to depression. Led them to mental disorder.
"The reality is, we never know someone's story. And, once you can teach yourself that, I really believe you become a better human. You become more compassionate. You're better at listening." – Brendon Burchard
You're better able to understand because you have the intention to sympathize and say "Oh, that person's really in a bad place right now." You don't take ownership of that. Say, "Well, I didn't cause it." You just say simply, "Ah, they're in a bad place. I hope they're okay." I think it's a real, true personal power to be able to walk by negative people, and still say, "I wish you nothing but joy and health and strength "and love in your life." To have that hope for people, even when they're in a bad place, that's humanity.
#5. Accept Yourself
Ralph Smart
Your critics don't matter. Has there ever been a statue built of a critic? I remember the great writer Paulo Coelho said that he doesn't think about his critics, that's their job.
And it made me realize that, that is so true.
"You see so many of us. We spend our time worrying about people who don't serve us." – Ralph Smart
I say, I am letting go of whatever no longer serves me to make space for what the hell inspires me. And that is that beautiful pirana baby, right?
Now, in the grand scheme of criticism, right? We can write essays. We can write essays on criticism, because it's so exciting. Look at it like this, many people stop having fun, you play it safe when someone criticizes you.
So when I first started to make videos, someone said, "Gosh, Ralph, that video was so long." It was only four minutes. So I said, "Actually, okay. "I'm going to take on board what you say." And the next video, the next video was 26 minutes.
Can I get a hello there? You see? I made videos with my hair all over the place. And some people said, "Ralph, your hair looks terrible." Do you know how I felt?
Yeah, I felt like that. It was really hard. And, I thought, "Okay, I've got to make my hair like this, "I've got to make my hair like that." Then I said, "Actually, my hair does not define who I am. "I am not my hair. "I am so much more." So that gave me the strength to say, "Screw it."
And for many years, I made videos with my hair all over the place and guess what? I loved it. Can I get a hello there? Do whatever you want. Say whatever you want. Go wherever you want. And if anybody's got a problem with that, screw them.
Evan: Thank you guys so much for watching. I made this video because one of my teammates, Ivan, who does a lot of the research for these videos, wanted to put this one together.
So, thank you, Ivan, for all the work. And if there's a topic that you'd like us to cover in the next edition of Believe Life, please leave it in the comments below and I'll see what I can do.
I'm also curious to figure out what was the biggest lesson that you took from this? How are you having a hard time dealing with haters? And maybe, did one of these strategies stand out from the rest? I'm super curious to figure it out.
Leave it in the comments, your experiences below, and I'm going to join in the discussion. Finally, I want to give a shout-out to my publisher, Marian Lizzi. Thank you so much, Marian, for all your support in the launch of my book Your One Word, and for posting that awesome unboxing picture on Instagram. I really, really, really, really appreciate it.
So thank you guys, again for watching. I believe in you. I hope you continue to believe in yourself and whatever your one word is. Much love. I'll see you soon.
---
BONUS
Sri Sri Ravi Shankar
I'm one who always welcomes criticism. And I encourage people, you should should welcome criticism, and be bold enough to give criticism.
If the criticism is coming out of benevolence, that someone is criticizing so that I can become better, then it is always welcome. But if someone is criticizing just out of jealousy or trying to pull someone down, then that is not good.
Then that is coming from a malefic mindset. So, constructive criticism, I feel everyone should welcome. Criticism with compassion. Criticism with love is most adorable thing. And it should always be welcomed.
Brendon Burchard
"Use their energy. Use that energy they put out there. Use that challenge for your own character development." – Brendon Burchard
Really. See? When somebody's negative around me, I don't sit there and I don't become a victim.
Oh gosh, they're such negative… I don't go home and assume their energy, and now I'm negative. Instead, I go, "You know what? "This is a moment to test. "Am I really in command of my emotions and how I think? "Or are they?" Am I giving my power over to the world, so that they can just take my energy and turn it to what they want or am I in charge?
So I use it as a challenge. Not as something, I don't have to challenge or change them immediately.
I'll get to that point. But I get to the point where I say, "You know what? "Huh, here's a little challenge the world's "throwing me right now. "Can I stay on my game? "Can I stay centered? "Can I stay peaceful? "Can I stay calm? "Can I stay present, right here, right now "and not have to run away from it. "Not have to pretend it's not there, but use it." And I encourage you to do that. Because, if it's just something that you immediately complain about, well then, in your complaint you've just let them win.
Their negativity has turned you into noticing what is negative and you lost. You're not winning.
Even if you can critically throw a barb at it, make fun of it, you're still losing. You're being sucked into their pools of pessimism. You're drowning. So I say, use it. Recognize it and use it.
Bruno Mars
Harshest criticism. Look, the thing is, you know, in the beginning, it's a little funky but you got to realize that everybody nowadays has an opinion.
Everybody's a critic. And, you know, you can watch my video on YouTube and leave a comment. You can go to iTunes and buy my album and leave a comment. You can Tweet, whatever, you know. And, you're going to drive yourself crazy if you really take those things seriously. Just, not everyone's going to love you.
---
You might also like
---
More from Believe Life
---
Today we're going to learn how to communicate effectively.  Good morning, Believe Nation. It's Evan. My one word is believe, …
Today, we're going to talk about how you can create a massive action plan. Good morning, believe nation. My name …
Today we're helping you to stay motivated, and to learn how to motivate yourself! How to MOTIVATE Yourself - #BelieveLife Why MotivationGrid We're all …