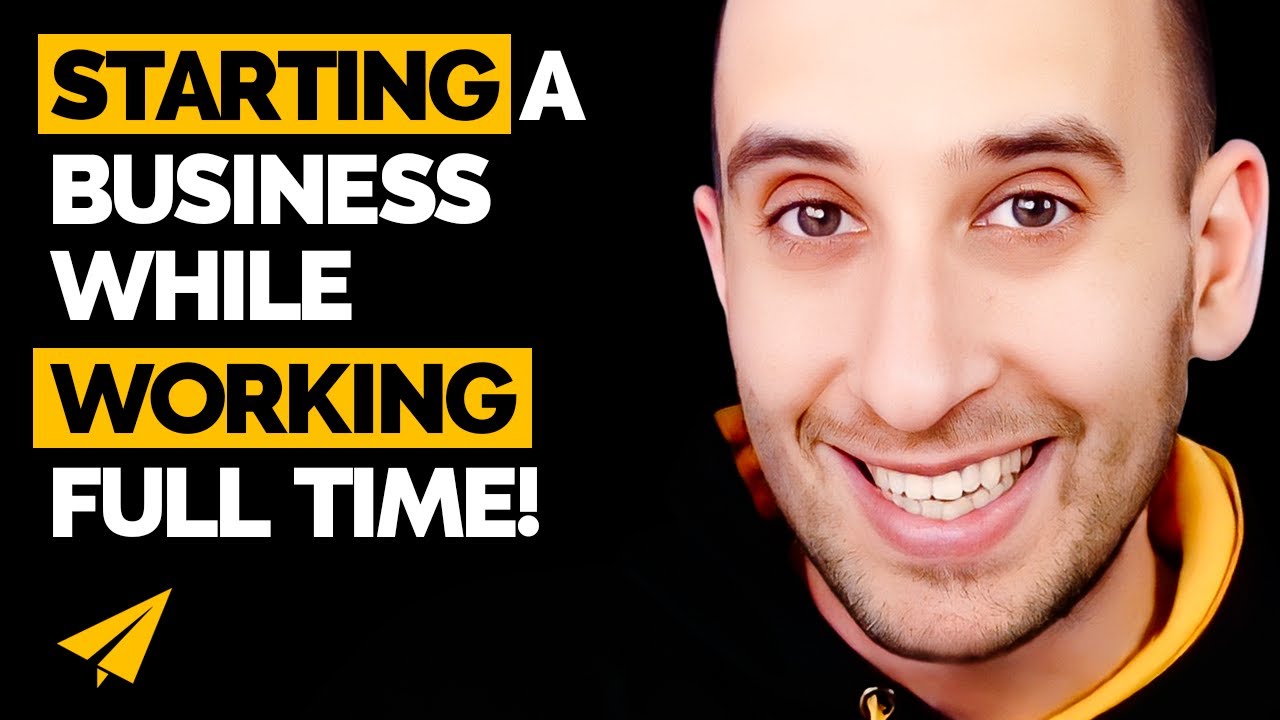 Evan: Next up is Kathleen Tate. Now Kathleen, she attended Sage Summit, she came to my session, and then when I was leaving she drove into the airport. She's a hardcore fan from Chicago.
She writes in to say, "My fear is that I'm a social worker "attempting to get into the fashion world. "I get motivation from Evan's channel "and now his book, Your One Word. "Do you have advice on moving from a part time entrepreneur "to a full time entrepreneur?"
Stephen: Yeah, hey Kathleen. I'm sorry I didn't give you a ride to the airport, but Evan Almighty, he rocked in Chicago. He set the Windy City alive, and I think some context around that.
I think we really have an opportunity. You're in search of work. Wow, what a great job you do. Without you, the world would be just a lesser place, and people who do social work should be valued by everybody, and it creates great social cohesion.
We've talked before about caring for the vulnerable, so you walk it everyday. Now I think if you want to get into things like fashion, designer fashion, actually you've got a great platform in terms of your current job.
What I'd advocate you do is again, you've got a big dream, it could be around fashion, and we love that, you get inspired by Evan, which is brilliant, but you have got the platform where, I hate to use that word, but you could kind of moonlight doing your current job where you get an income from being a social worker, but use that, and use the time at weekends and evenings to start creating your big idea.
And you're probably going to have a website associated with that products, and design, and maybe even start talking to potential customers and potential sort of distributors and stuff life that, and even a potential manufacturer.
So what would be a really cool idea, right, this would be it Kathleen, and you got to promise you can do this, we're going to do another of these broadcasts in a year's time, and you're going to come on the channel and say, "Evan, I'm now running a designer fashion business "with a million dollar turnover, "and I did it because of that broadcast "gave me the inspiration. "And I spent six months still being a social worker, "but actually that gave me the platform to build," even it's a few hundred thousand dollars, that would be unbelievable and totally amazing.
So I'd say with all these things, kind of cut the elephant down into little chunks.
You've got a great hopefully secure income being a social worker. Use that as a platform. You're doing an amazing job as a social worker.
Do some moonlighting in the evenings and weekends to say, "How am I going to use this platform "to connect me with my dreams, my passion, "which is all about fashion?" and then build that business. Go after it, build the business. Fund it sensibly just to kind of kick it off, get some product sales, then reimburse that in growth, and then you'll find you've got a business you love.
The only tough decision you've got is when you stop being the social worker and give your notice really, and I would advocate that you kind of jump off the diving board once you've got your business in a bit of momentum and you believe in it, then you should go.
Now the other thing, right, I got this great piece of advice from someone, oh wow, when I went off to, it was a start up company at the time, it was a company called Oracle Technology Company.
Everybody knows 'em, but at the time nobody knew 'em. They were a no name company and they were a startup. And I was with a pretty safe company at the time and I went to my boss and said, "Look, I got this offer from Oracle. "They sound like a pretty crazy American company, "going to rule the world, big vision. "They got this guy Larry Ellison running 'em." And I said, "I really am torn, "because I've got a great career here, pretty safe, "but I think I would want to risk an early stage company." And he said, "The good thing is, Steven," he said, "If you leave and resign, "you know the door is always open "if you leave well and you never burn your bridges, "so actually there should be no fear about your decision, "because you're well liked, you're trusted, "you do a great job for us, "but most of all you should go and try that, "and if it works out, "you're going to be a rainmaker somewhere else, "but if it didn't work out, "the door is always open here, "and the only thing that you might have to swallow "is your pride. "But you're a big guy. "You're a grown up. "That will be no problem for you." Good advice.
So Kathleen, I'd love 2017 to be the year where you make it happen and you follow your dreams, and you're an incredible brand in terms of design and fashion. That would be amazing.
Evan: I like the one year challenge to get to a million. I love that. And what did you say about elephant, cutting it into chunks? What was that expression?
Stephen: Yeah, yeah, yeah, hey, oh, they say this. Like they say, "Let's bring the moose in the room," in Canada. We say over in Europe, "Let's get the elephant on the table." But how do you eat an elephant? You cut it into very small chunks, break it into 2,000 chunks.
So when you're putting a business plan together, and you're going to be the biggest designer fashion brand on the planet, Kathleen, you've got to break it into little chunks.
What do I want to do for 90 days, 180 days?
And then you'll find momentum. You'll find you have a following. You'll find you'll have raving fanatics as customers. And you'll develop partners, and hopefully all your employees will be big brand ambassadors for you, and then you got rolling thunder, you got momentum, but you have to kind of start small, have a massive dream, big dream, and just a phrase I use, yeah, cut the elephant up in 1,000 chunks, and then you can eat it and enjoy it.
Evan: Eat the elephant one chunk at a time. Alright, I like that.
Stephen: That's it. I love it.
Evan: I like that. For people who are part time trying to move full time, I agree with Stephen.
"I would say you need to make sure that you are spending time every day on your business." – Evan Carmichael
It's easy to get caught up in your job and responsibilities, and if you have kids, life can get in the way and then you never actually got to do the thing that is also supposedly important to you, which is your business, so make sure you're spending time on it every single day, even if it's half an hour, like every day, something to help your business grow.
And then try to figure out where your skills are best used. What's the highest value that Kathleen can bring? 'Cause people will throw all sorts of ideas at you, like, "Kathleen, you got to get on YouTube! "Kathleen, you got to be on Instagram! "Kathleen, you got to talk to this manufacturer! "Kathleen, you got to go to these presentations!" whatever it is, and you end up doing everything in a mediocre way, instead of one thing really, really right.
What's the highest use of Kathleen's time that you can apply in those 30 to 60 to 90 to 120 minutes a day to really make them count?
You figure that out, and then you're on your way to going from part time to full time and beyond.
Stephen: Hey Kathleen, by the way, Evan and I, we're pretty humble guys. We're really happy to do product placements for really cool designer clothes that you're going to create over the next year or so.
So it would be pretty cool to come on Evan's, and I guess Evan would love to wear a Blue Jay shirt or designer clothes created and brilliantly inspired and nurtured by Kathleen. So we'll do product placements for you, and we'll pump… And the other thing, actually, if you get going and you follow your dreams, what I love doing is pumping out great ideas on social media, so we'll give you all the help we can.

---
You might also like
---
More from Evan Carmichael
---
Today we're going to look at seven different ways that you can make business alliances. What's up Believe Nation? It's Evan. …
Today's message is be confident. Good morning believe nation, it's Evan. My one word is believe and I believe that …