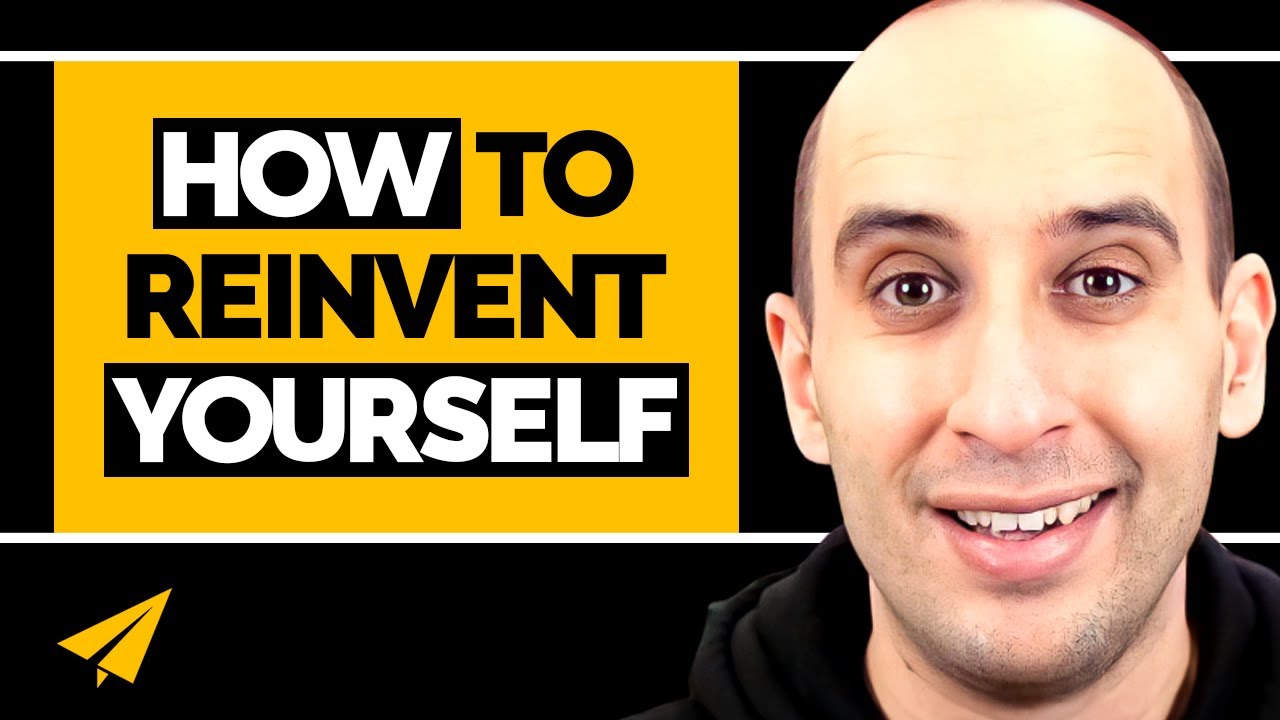 Good morning Believe Nation. Today we're going to talk about, how to reinvent yourself.
Rule number one is my personal favorite, and make sure to stick around all the way to the end, for some special bonus clips. Also, as people are talking, if they say something that really, really resonates with you, please leave it in the comments below, and put quotes around it, so other people can be inspired, as well. Enjoy.
WHY
Eric Thomas
You have to reinvent yourself. If the person you are today, is not allowing you to get to where you want to get to, you don't cry about it, you don't whine about it, you don't waste energy, cuz you only have so much of it.
What you do is say, I've got as much as I can get with what I have. I've got as far as I can go, with who I am and who I currently am, is not gon' take me to where I got to be.
So I got to reinvent myself. So you say, Eric, what do you mean when you say reinvent yourself?
I mean Michael Jordan. That's right. I know you thought Michael Jordan won championships his first year in the league, maybe you thought he won a championship in second. But, no, no, no. It took Mike, seven years, right. Seven years to make that dream become a reality.
So the first Mike, yup, he put up a lot of points. Yup, the first Mike, he won a dunk contest, you're right. Yup, the first Mike put up, like 62 against Boston, in the playoffs and still lost.
That's right. The Michael Jordan I'm talkin' about he had the fresh gym shoes, the Nike Airs, he had the t-shirts, right. Everybody knew him. But guess what, that Michael Jordan didn't win any championships.
I'm going to say it again. The Mike that could score 62, the Mike that could dunk from half court, the Mike that could wow you in the All-Star game. The Mike that we all loved. That Michael Jordan didn't win one championship.
And so guess what Mike had to do. Mike had to reinvent himself. And so what did he do? Mike started playing both ways. He just didn't play offense no more, he played defense. He didn't score a lot, but he started to pass. He started to work out a little different.
He developed not just a dunk, but he developed a little 16 foot eject, you know the little fade away. And guess what? The new Mike, ditched the old Mike. He just said, well ya know what, I'm puttin' up 62, I'm gettin' discouraged.
You know what I'm sayin'. I'm doin' all kinds of shootin', I'm scorin', I'm winnin' titles, I'm winnin' championships. No, no, no, no, no he didn't say that.
He says, I'm not able to do that, because the man I am, is not takin' me to that point, and so I got to reinvent myself. And so he didn't give up, he didn't quit.
He reinvented himself. He started playin' defense, baby. He started passin', baby. He started shootin' instead of just dunkin' and guess what?
He went from one, to two, to three, to four, to five, to six championships. And many of us believe, had he not retired, he probably would have won eight titles, baby, that's right.
Diaper Dandy, baby. Eight titles. And so it's your boy ET sayin' number one, you got to reinvent yourself, right?
"If you're not where you want to be, don't quit, don't give up. If you're not getting the goals accomplished, if you're not making your dream come– don't quit, reinvent yourself." – Eric Thomas
Marcus Lemonis
Entrepreneurs who have authored a product or a process that isn't working today, have to make the bold step of reinventing themselves.
I talk about it all the time. How over the course of my life, whether it was at 12 years old, or 18 years old, or 25 years old, or even today.
"I'm constantly working to reinvent myself." –  Marcus Lemonis
I'm not any different than a package on a shelf. People have to feel that it's relevant. They have to see the warning labels. They have to understand the contents. It has to be appealing. It has to provide value to people.
And so when an entrepreneur has a product or a process that they've authored, and they're not willing to change it, then they're going to end up like Circuit City, or Montgomery Ward, or Sears, or Fiat.
Or whatever these brands are that don't exist anymore, right? Every single company in this country today, if they're not evolving, they're dying. And I don't know why an entrepreneur would think that they would be exempt from that process.
I'm not interested in their ego. I'm not interested in their pride. I'm not interested in their feelings. I'm interested in their business being successful. And so, I think not only does their business have to do it, but we, as entrepreneurs have to do it as well.
HOW
Raise Your Standard
Tony Robbins
The break through happens by conditioning your mind every day, by feeding it a role model, or story. It's putting yourself in a peak state, when you follow through, by getting physically strong.
Its creating a little ritual, of doing a little bit each day, and then you get momentum. But, the most important thing of all, is what we start out with. Why?
Absolutely.
Why is it a must for you? It doesn't have to be you're against the wall, but it has to be something you're hungry for. Cuz the only difference in people, is hunger.
And if you're not hungry, get around people that are hungry, and somethin' will hit you. You'll watch a conversation, you get around people that are doin' better and all of a sudden you start goin', uh my life sucks.
I remember I went to a guy in LA it's one of the most well, multi-billionaire guy, I'll never forget. And I lived in the Del Mar Castle, and I was really proud. That was like the symbol of me, having taken myself from being poor to providing for my family, this great place.
It's built from castles in Europe overlooking the ocean, not far from you. And I went to this guy's house, he's a billionaire. He took me down to his wine cellar, and I don't even drink wine.
Went through this whole thing, at the end of the night I was depressed. I lived in a Del Mar tenement, as far as I was concerned.
I really was, I was like, I live in a crappy place, and all my standards changed. All of a sudden I wasn't willin' to settle for living there. All of a sudden, my back was to the wall in a different way, because as a man, I knew I was capable of more.
"So people can change their standard by gettin' around where it's better. People can change their standard by gettin' associated." – Tony Robbins
What's true like the bills they got to solve, the problems they got to do it. Or they can do it because they're excited cuz there's somethin' new they want to take on.
Everyone's different, but they got to find the why and they got to come up with some daily rituals to get 'em goin'. And just do a step at a time. That's where you get momentum.
Don't Sabotage Yourself
Eric Thomas
When I traveled across the country, and I talked to basketball players, right? When I talked to football players, when I talked to baseball players, right? This is what I tell these guys, you are this close to goin' to the league and makin' your dreams become a reality.
Do yourself a favor, don't sabotage yourself. Now dudes you got to hear me, I'm tellin' you, reinvent yourself, but after you reinvent yourself, I'm tellin' you, don't sabotage yourself.
What do you mean there? I tell my boys, listen to me, if you don't make it to the NBA, let it be because you had an injury. Not because you got kicked off the team because academically you weren't where you were supposed to be.
That's sabotaging yourself. Right, don't sleep in, right? When you supposed to be at prac– that's sabotaging yourself. Don't get a DUI, don't get kicked off the team because you've broken some school policy, or some teeny poli– that's sabotaging yourself.
If you get kicked off, let it be because you put in 120%, somebody was better than you. Or somethin' happened to you physically, and so you couldn't stay in the game.
But don't sabotage yourself. You say, Eric, what d'ya mean? Don't sabotage yourself, by pushin' the snooze button. Don't do it man. When you tell yourself you goin' wake up at five o'clock in the mornin'.
You look at the clock and it's five o clock, don't sabotage yourself by pushin' the snooze. Don't sabotage yourself by comin' to class late.
Don't sabotage, get there on time. As a matter of fact, the Vince Lombardi rule says if you get there 10 minutes early, you on time. If you get there on time, you already late. Don't sabotage your success.
When you get in there, put all your heart, put all your mind, put all your soul. And at the end of the day you put in 120 and you still didn't get a A, you got a B, or you got a C. At least you can walk away feeling good knowin' that you put everything you got on the table.
You put forth 120%. So don't sabotage yourself by hangin' out with the wrong people. Remember, birds of a feather flock together and eagles and pigeons don't hang out together, baby.
Alright, once again, it's your boy ET. And remember, baby, today is your day, man. Today is the beginning of a brand new life. Today is the beginning of makin' all your dreams become a reality.
And how do I know? How do I know? Cuz I started off as a high school drop out. I started as somebody who was homeless. I started from the bottom, and by God's grace worked my way up to the top, baby.
So, if I can do it, you can do it. But listen to me, you got to understand that the only way through storm, count on joy.
If you in the storm, count it joy. If you comin' out of the storm, count it joy. Cuz it ain't about the storm it's about your heart. It's about your mind, it's about your effort. Everybody goes through storms. Are you listenin' to me?
As ET was blowin' up, my mother-in-law got diagnosed with terminal cancer, and they told her she was supposed to die last December and she's still livin'. My number one fan Susan Turner, while I was blowin' up on YouTube, she was dyin.
Are you hearin' what I'm sayin' to you? Life happens, but when the tough get goin', when things get tough, man. When things get tough, the tough get goin'. And I like my man Tim, Tim put it best. Tim said, "When you goin' through trials and tribulations, "the best thing you can do is handle it. "The worst thing you can do is panic. "Use it to your advantage."
Why? Because if you've ever studied that eagle, baby, what you know about that eagle is the eagle flies best when there's storms when there's winds. Because what does the eagle do? It doesn't have to flap.
What it does is it uses the wind from the storm to push it and elevate it. And so, I'm here to tell you today, baby, I don't care what your trials are, what your tribulations are. Elevates like that airplane.
Get beyond the clouds, elevates. Don't worry about your haters. Your haters are like pigeons and guess what? Pigeons can only fly so high. So you don't have to worry about people, and circumstances, and situations. You just fly to a place that they can't go to.
"You elevate yourself when you fly to a place that nobody else can go to but those who are willing to be successful." – Eric Thomas
Diversify Your Gift
Steve Harley
My career, my entire career, is a study in reinvention. Ya know I started out as a comedian, that was it. I never planned on hosting a radio show, hostin' a game show, or hostin' a day time talk show.
I never did. Writing books? None of it. Making movies. None of it.
"Reinvention happens, when you diversify your gift. There lies your greatest secret for success." – Steve Hatley
You've got to discover your gift and when you discover it you got to soak it, you got to wring it out, man. You got to diversify it. Most of us only have one talent.
But do you know that that's all you need? Mine happens to be to take information and immediately transfer it into other kinds of platforms.
Now when I was younger, I actually thought that I could only do that with comedy. But as I've gotten older, I discovered through diversification that it was a little bit more than that.
That I could also take information, immediately, transfer it into inspiration. I could turn it into motivation, I can offer it as guidance. So now sittin' on a talk show, I actually have somethin' to talk about.
All the failed marriages. I got somethin' to talk about. The bein' homeless, I got somethin' to talk about. Bein' dead broke, I got somethin' to talk about. Havin' bad credit, tax problems, I got somethin' to talk about.
Whatever hole you been in I can just about drug myself through it. But I came out of all of it because I was not afraid to diversify my gift.
Even the book, Act Like a Lady Think Like a Man, it was all about me diversifying a gift. Okay, I had taken two failed marriages, and I had taken the love for my daughters, and I combined those things.
I taught my daughters, what I knew about men. Now little did I discover, that I had a little over four million daughters in this country. Cousins and nieces and stuff like that who needed that same information.
And that was a huge part for me, to take that information and turn it into a book that turned it into a mega star movie. And it produced a lot of things for me, but it also helped a lot of people.
"One of the other tricks for reinventing yourself, is not letting your background become a limitation." – Steve Harley
If you take that background that you're from and never let it define you, but allow it to redefine you all that stuff works for the good.
Do you understand that you needed everything that's happened to you, to happen to you in the exact order that it's happened in order for you to be the person that you are today?
All that failin' and gettin' over, you needed all of that.
So it's good to be steeped in the traditions of your gift but don't get stuck in 'em. Look if your gift is baking, don't assume that there's only one way to do it. If you bake, bake. But you can't just bake for people you know, bake for people you don't know.
You're a musician, let yourself explore other types of music. I'll tell ya example, The Roots, who play on Jimmy Fallon's show. They steeped in hip-hop, but they're also great musicians.
So what they do is, they take all of that talent and now guess what? Hip-hop, jazz, R&B, classic, pop, rock. They didn't just get stuck on hip, I'm doin' hip-hop, that's it. Nah, they do whatever.
LL Cool J. Hip-hop. One of the top actors on TV today. Queen Latifa, hip-hop, big actor right now, ya get it? Jerry Seinfeld, nothin' but a comedian, one of the biggest actors on TV today.
Remember, you can win if you're not afraid to reinvent yourself. Stop gettin' stuck. Just go ahead and give it a try, ya never know.
Find Your Plus, Minus Equal
James Altucher
Lewis: So how do we cultivate this idea of kind of reinventing but its more like, innovative ideas for ourselves to create something new. How do we cultivate these innovative ideas?
Well let me ask you a question. When you switched into, I don't know, did you play handball since you were a kid?
Lewis: No.
Okay so how did you decide I'm going to be an Olympic level athlete in handball?
Lewis: Sure.
and… what was the first thing you did?
Interviewer: I saw it on TV, I watched the 2008 Olympics. I was sleeping on my sister's couch still. With the, I'd just gotten my cast off from playing football, from a surgery. And I watched some Olympics and it, instantly I just had a new idea. I said that's something I want to do. I just like, I want to play on the USA.
So, so something.. stirred inside you?
Lewis:Yes, yes.
Like, you felt it.
Lewis: It was like a dream, a new dream was created.
And that happens to people, I don't want to say every day, but like, once a year, a couple times a year, once a month that you feel that and you don't always pursue everything, right?
Lewis: Right.
I'm sure there's many things you would like to do that you don't pursue.
Lewis: Don't have the bandwidth for, or it's not the right timing or whatever, yeah.
But you already had training as an athlete.
Lewis:Yes.
So you knew okay this is another sport. This is something where I hit, it's almost like a back door to the Olympics because,
Lewis:Yes.
or to the US team, because who else would think to do this.
Lewis: No one else is playing, yeah…
So, it seems like an old man swearing I can probably squeeze in here and get good enough. Okay, so what'd you do next?
Lewis: So next, I started researching. I went online and started researching like USA handball, handball teams in Ohio, there was nothing in Ohio. Then I said okay where are the teams in the country?
And then I started looking at like what are the best teams? cuz if I'm going to learn this quickly, I need to learn from the best. So I learned that the New York team, had won the national championships over the last few years. So I was like okay when I make enough money, I'm going to go to New York City and learn from these players, this team.
And for about the next year, I was like well how am I going to do that? Cuz I have no money, I'm broke on my sister's couch.
That's when LinkedIn started kind of opening up for me. And I started to make, like a few hundred bucks a month teaching LinkedIn. So I said, okay, when I make enough money doing this, then I'm going to leave Ohio and go to New York City. To like, see what this is like.
And by the way, when you were in New York City, it's not like you stopped making money on LinkedIn.
Lewis:No, no, I was still doing that.
These things are interweaving each other.
Lewis:They're all interweaving, yes. So I about a year later, a year and a half later, I started really making a lot of money like just kind of started happening.
Everything started to unfold and happen after a lot of action taking. And so I moved to New York City for a month. Now at the whole time for this year, year and a half, no one would respond to me on the USA national team for like the headquarters.
No one would respond to me at the New York team. I would email people, I would call numbers, no one would get back to me.
How were you getting better during this time?
Lewis: I was just training as an athlete, but I still hadn't played handball yet. But I still had this idea of like, I need to go and at least explore it, so I don't regret not trying to see if I could make this.
I was like at least I got to go and try it so I can kind of eliminate it from my mind as something I want to do or I don't want to do in the future.
But for me personally, I know that if I think about something, I want to do it and if I don't at least explore it I'll think about it for the rest of my life and I'll regret not trying. Not giving it a go.
Right
Lewis: So I said okay, no one's getting back to me anywhere. I'm emailing people every month. I'm trying to call people every month, no one's getting back to me.
So I say screw it, I'm going to go to New York for a month. I had a couple of speaking gigs in New York for like LinkedIn something, and had some social media conferences.
And I was like, I'm just going to go stay for the month and I'm going to show up at their practice. Cuz they had the practice address of where they practice on the website for the New York team.
So you got ready.
Lewis:I got ready.
By constantly training.
Lewis: Training, yep.
And then you just you fired.
Lewis:That's it, I just showed up. And I showed up at practice when they said they were playing, cuz no one picked up or got back to me.
No one gave you permission to do that.
Lewis:No one gave me permission. I showed up and the first day I got there, I was the only American on, who was in the court. And it was all these former professional players in Europe, who now moved to New York and kind of like, live and play for fun.
So as a white man.
Yes.
You were basically the minority on the American team.
Lewis: I was the minority. I was like– they barely spoke English. I was just like this outsider. And I got there and I go, hey guys, my name's Lewis, I'm here from Ohio and my goal is to make the Olympics and play with the USA national team.
And they just all started laughing. And then I just showed up every single week. I ended up moving there, to New York. I didn't go back to Ohio, I stayed there for the next year and a half. And nine months later I made the USA team. But I was there every single week practicing and just like learning and taking action and–
So what you did was, exemplifies something that I, and this isn't original to me I'll describe where it comes from but I call, in my book, I call this, you reinvent yourself by finding your plus-minus-equal.
"You reinvent yourself by finding your plus-minus-equal." – James Altucher
So your plus was all these people, you wanted to be around the best in the world
Lewis: People better than me.
Right so you could learn from them. So you have to find your plus. And at first they're virtual. You maybe watch YouTube videos about them, you read books about them.
You study things that they write, or photographs they take or videos they shoot. So then they became real for you because you actually joined them and started hanging around them.
Then you have to find your equals. Because if you're just crushed every day in a game of handball, it's going to be hard for you. You need lessons, but then you need people who challenge you.
Lewis: Yes.
So people who you can say ugh, I got that one more point off him, I feel challenged. Then you get better and better, and you can measure your results.
Lewis: And there were people there that were like that, who on the team were kind of beginners so I was–
Right. So you found your peer group.
Lewis: Right
You found… your new cohort. And then you find kind of, its almost a bad word for it, but you call it, I call it the minus. Which is people you could teach. I don't know if this was like, a catalyst for your reinvention.
But ultimately, you play people in handball, that you're a lot better than. Then you could teach them and that solidifies your learning.
Lewis: Right.
So and that's almost every reinvention, ya know you and I have both had hundreds of people on our podcasts they've all reinvented themselves. And I bet you in every single case, there's a plus-minus-equal.
Lewis: Yeah, I'm sure.
So that happens with all of 'em, like I talk to anybody from a rapper, to a huge entrepreneur, like a billionaire entrepreneur. They've all had their plus-minus-equal.
Ask Better Question
Peter Sage
Evan: What are some of the steps that you guide people through of how they can reinvent themselves?
Well again, everybody wants the sort of quick, magic pill and I think in the time that we've got available here, what I really want to do is guide people into some areas of focus that can really add some value.
And the first one that I always pick, is about asking better questions. Yeah, questions direct our focus. And if you're not direct in your own focus, I've got news for you, there's a lot of people that pay a lot of good money to Madison Avenue to ya know figure out how to do it for you.
Evan: Right.
And, that's not the life we want to live being programmed by other people's agendas. And I liken the mind to a compass needle. It can only point in one direction at a time.
And the challenge is just like if we take a needle and magnetize it, like back in high school. You take a magnet, a power source and you align it and keep stroking that needle in one continuous direction so that needle aligns to the magnetic field.
And becomes coherent pointed now all of the ions point in one direction, it becomes magnetized. Now our mind is very similar. Now if we are open to unconsciously being programmed, which unfortunately as human beings, we are you know we're a 24/7 constant adaptation machine.
Now our mind and our body, Now we understand the body part that's easy now the physical side of life everybody gets because they have experiential, now evidence of. Now your body will adapt if you put it in McDonald's, or if you put it in the gym.
It doesn't mind, it will adapt accordingly, that's its job. But our mind is far more programmable, far quicker than our body. And if the magnet that the strong force that's constantly magnetizing us, is usually the media and our peer group.
And if those two aren't optimal then ya know were going to be sucked along for the ride and don't really magnetize our true north for ourselves. So by asking better questions, what it does it shifts the direction of that needle. Now the challenge is, you can only do that for 10% of the time that you're conscious, or sleeping awake is how most people are 90% of the time.
You ask why when we're driving to work we can't remember the last two kilometers on the freeway, you know, what happened?
But, now if we focus on being able to magnetize or take charge of which direction our compass needle is pointing, we have a chance to start reinventing ourselves. Because otherwise yeah again, you're going to be drifting, especially in that 90% of the time when we do things out of habit, unconsciously.
That compass needle drifts back to it's preconditioned magnetic north. And most the time that doesn't serve us. Whether it's media conditioned, paper conditioned, and you know society conditioned.
You know, look out of your window, there's not many examples of who we want to emulate and become that surround us on a day-to-day basis.
So ya know the first question is, or the first step is ask better questions. Yeah, and what ignites you? What causes you to come from a place of wanting to really give your gift, not survive in today's world, cuz you got a mortgage to make.
Not take the path of certainty which if the entrepreneurs, if they haven't figured it out yet is, I'm sure you'll let them know as well, that there is no certainty in life.
Now so the ability to handle uncertainty is one of the core characteristics of an entrepreneur. And so to be able to do that ask yourself better questions. Now what resources do I have that I'm not using yet?
Great question cuz it'll start you looking in different areas. This is one of the best things about the human brain is if you ask a question it'll give you the answer.
The challenge is that most of us ask lousy questions. Yeah, why's this always happen to me? And it'll give you an answer. It's programmed to, right? Because you're worthless, because you deserve it, because you're not smart enough and all… So by asking better questions, we can search for better answers, and that's really the first place to start.
Evan: I love it. Is there a series of questions that you recommend everybody ask themselves? Kind of regardless of their situation? So that what ignites me, what gives me passion, what resources do I have that I'm not currently using are some that you mentioned. Are there others that you recommend people kind of get into the habit of asking themselves?
Yes, and it really ties into what our call really the next part of getting into reinventing who you are. And that is to check your why.
Ya know we're driven by reasons as human beings. Yeah everybody does things for reasons. Now they may not be your reasons, may not be my reasons, but yet we do things for reasons. Most of the time unfortunately, we do very little out of logical reasons.
Now we do a fair amount out of passion, but most of what we do we do out of habit. And those habits are formed based upon the repetitive questions we tend to ask ourself which usually are sub-optimum.
So if you were to ask questions that elicited your reason why. And here's what I found in the three decades of being an entrepreneur now. That is almost universally consistent, if your why is focused on you are not powerful, you're not present, you don't have the ability to dig deeper than you could.
Unless it was rather than if your why is focused on something greater than you. And yeah we can see this in evidence everywhere.
I'll give a classic example. You take the New York or the Boston marathon, Boston gets more pros, but the New York marathon's a goal for a lot of people in their fitness sort of resolutions.
And for those that haven't ran a marathon before its a big goal. It takes a lot of training ya know I've ran crazy stuff before and its not easy if you're not a professional athlete.
So if you take New York, 35,000 people lining the streets cheering you on, the amount of people that run the New York marathon for the first time not the people who do it for fun, or as an athlete on a regular basis, but for the first time.
There is way more percentage of those people that complete the marathon that are running for something else. Not themselves, not their ego, not the medal, not significance, not the bragging rights.
To support somebody they loved, in memory of somebody they cared about, to raise money for a cause they believe in, something beyond themselves.
And that's because those that are running for themselves most of those quit before the day of the marathon. It takes a lot to dig deep when you're just looking at going out of ego.
So questions that ask you to reevaluate your why. And most people's why, by default, is grounded in a an area that's really is fear driven.
What if I fail? Therefore my why for doing this because I think it's going to give me the best chance of success. Not because I'm passionate about it, not because it's giving my gift to the world, not because it's something I've always wanted to do.
So asking questions like if I knew it was impossible to fail, what would I do then? That removed the fear of failure away and opened up possibility thinking.
And what it'll do it'll start getting you in touch with what inspires you, what lights you up, what gives you that lift, not the motivational factor which is usually avoiding pain.
And needs a will power to get you through getting up at 5 a.m. when its cold. Inspiration you don't need motivation. Motivation is a fuel tank in a car, it runs out, it needs topping up.
Inspiration is a deeper well spring. Now asking questions, like if I could only spend my life doing one thing, what would it be?
And start tuning yourself in to that passion center that a lot of the time we build bars around to imprison it through not having to face the possibility of failure and therefore admit to ourselves we're not enough.
Which is usually what I see with so many entrepreneurs that are burning themselves out. They're running patterns of chasing things that they think will give them the success that will validate them in the eyes of others. Whether it's their parents, their business studies teacher, their elder brother who they perceive they're always trying to be in the shadow of.
It doesn't matter, we've all got our reasons. Whereas if your independence of what I call swimming in goop G-O-O-P the good opinion of other people.
Most people spend their life swimming in goop, and its a sticky, nasty smelly mess that will lead you to a fast track to mediocrity and nowhere.
So if you can escape the good opinion of other people, and stand proud in your truth, that win, lose or draw I'm not taking it with me. Ya know the only people that tried that were the Egyptians. And what happened? 3000 years later we dug it up and stole it.
Ya know I'm here to make the time I've got count. I'm here to make a difference, I'm here to give my gift. And you can only do that with the freedom of being independent of the fear of not being enough, or the fear of having to adapt myself consistently like a chameleon to fit the pictures of what I think other people should see me as, rather than say listen yeah, I respect where you're at, were always going to see things differently because that's who we are as human beings.
I'm celebrating my truth and I'm walking this way, and no one's talking me out of it. I'm providing that nobody is less than because you crossed their path. You know there's a moral basis to that. Then yeah swing the bat with a smile, and strike out or hit a home run but swing the bat.
Evan Carmichael
So my quick take on reinventing yourself is that it needs to be a constant. This isn't just one thing that every now and then, you reinvent yourself.
You are constantly evolving and changing as a human being. And the things that you do, what's scheduled into your calendar on a day-to-day basis, needs to change and evolve as you change and evolve.
I am a extremely rigid, scheduled person. If you look at my calendar, it's packed full of stuff that I have to do every single week, and I love that schedule. But at the same time I'm very hyper-focused and aware of where I feel like things are out of whack.
If I feel like I need to spend more time on my YouTtube channel, I'm being pulled in that direction. Or I need to spend more time with my wife, I'm being puled over here.
Or I need to spend more time at TorontoDanceSalsa, and I'm pulled this way. or I need to spend more time as a father, and I'm pulled that way. I'm constantly analyzing, and adjusting and then changing.
Making modifications in the schedule to support what I'm currently feeling, and I think too many people, your schedule is out of whack with your priorities.
Maybe when you first set up your schedule, maybe when you first set up your business, everything was in alignment. Here's what I want to do, here are my goals, here's what's important to me, here's my priorities.
Okay great, I'm going to create a schedule that's going to focus my efforts on achieving those goals. Amazing, as your priorities change, as life happens to you, you need to adjust your schedule accordingly, or you're going to be unhappy, you're going to be dissatisfied, you're going to constantly be feeling a pull to go over here, but you feel stuck here.
And as long as you feel stuck here, you're never going to be happy. And too many people are too afraid to then make that change.
As an entrepreneur, you have the ultimate freedom to be able to create the schedule that you want. And if you're not an entrepreneur yet, stop blaming other people.
It's not your boss's fault that you can't do what you want, it's not your parents' fault or your wife or husband's fault. It's not your kids fault, it's not your friend's fault. It's nobody's fault, it's your fault.
You're not doing the thing that you want to do, it's nobody else's fault but yourself. Own it, accept it and start making some changes.
As soon as you feel like you're being pulled somewhere, that you want to go try this thing out. That it's calling to you, then you need to make an adjustment in your schedule to allow for it.
Even if it's a temporary thing, maybe it's to learn salsa dancing. Maybe you go and you have a great time at that first class and you want to keep doin' it. Maybe you take that first class and you say, you know what, that's not for me, and you pull back, that's okay. What's not okay is the regret.
What's not okay is continuing to think of this idea that you have, continue to wish you had more time to spend on this thing that's way over here, and you stay stuck here.
Because until you find out, you're going to constantly live in regret. And it's going to get worse, and worse, and worse, and worse. The more that you want this, and you're stuck here it's going to get worse.
You're going to get increasingly unhappy. And so for me, it's not about getting so unhappy that you have to make this huge change, it's constantly adjusting what you do. Constantly adjusting your priorities, constantly adjusting your schedule.
And I strongly encourage you guys to whenever you feel like something is out of whack, on the business side, on the personal side, on the development side, whatever it is. You feel like you're being pulled to do something else other than what you're doing right now, find a time to adjust your schedule and make it happen.
It's on you to do it. Nobody's coming to save you. This is your responsibility, to live your life, to be the best version of you. And that happens when you follow that intuition.
And you find out, because finding out and getting the no, and getting a failure, and getting you know understand that's not for you.
Finding out is way better than never finding out. Finding out and losing is way better than never finding out. So do it.
*******
So thank you guys so much for watching. I made this video because Jude Silvera asked me to. So if there's a topic you'd like me to cover in the next edition of BelieveLife, please leave it in the comments below and I'll see what I can do.
I'm also super curious to find out what of the clips resonated the most with you? What did you learn today that you're going to immediately apply to your life or to your business?
Please leave it in the comments below, and I'm going to join in the discussion. Finally, I want to give a quick shout out to Torsten. Torsten, thank you so much for picking up a copy of my book, Your One Word. IT really, really, really means a lot to me.
I love seeing that picture of you holding it up. So thank you for posting it. Thank you guys so much for watching. I believe in you. I hope you'll continue to believe in yourself. An whatever your one word is, much love, have an amazing day and I'll see you soon.
---
BONUS
Marie Forleo
My question, how can I go about projecting myself as a writer first and a teacher second?
What business steps can I take to make this transformation? Thank you for all you do, Christina. Alright, so Christina, we got some good answers for you today.
There's actually three very simple, very effective things that you can do right now to make that transformation, and make it happen fast.
The first one is speak it. So words have tremendous power, all you got to do next time you find yourself at a cocktail party, just say you're a writer first. So anytime you introduce yourself talk about writing, talk about your books, talk about everything else before you start saying you're a teacher, and that's going to make a huge difference.
So what we like to say is justdoit, juss doeht, juzdooet, Christina.
Number two, number two, you want to write it so all language that goes out into the world. Think about this, what does your email signature say?
What does your business card say?
What about any social media profiles? The very first thing that you should have is ding, ding, ding writer, so if you don't have writer as the first thing listed on all of your written paraphernalia.
Go and make that change right now, I'll wait. Do it? Didja jussdooit? Okay good.
Number three and this is the most important one of all is be it. You have to write as much as you can. So if you don't have a blog I would highly suggest you start blogging, perhaps journaling 'll be more your thing, but just really be the writer that you actually are.
And it becomes pretty simple if you're doing something habitually, you're writing every day, you're putting out blog posts, you're publishing more books. Naturally it's going to be the first thing that pops out of your mouth.
Jame Altucher
Interviewer: Do you think people are screwed if they don't start thinking about how they're going to reinvent themselves?
I think so because I think ya know Kevin Kelly who is, he's got a great blog, I've known him for a long time. He has this great quote, and he's a founding editor of Wired magazine.
He has this great quote, "Productivity is for robots." So what that means is it's not about like rushin' around being as productive as possible, 20 hours a day. And some people say that, that you have to like work, work, work, work, work and then you know reap the benefits later.
What he's really saying with productivity is for robots, is that everything that is not about you learning personally is going to eventually be outsourced or automated.
And so you kind of have to create your own have your own ideas about what you want to be and what you want to do. And then you know work to create it, and then eventually either outsource it or move on.
So Foreston Ferriss talks about this in the four-hour work week where eventually he started to automate his processes, so he moved his work week down from 80 hours to four hours.
That was the premise of that book, but I think it's more happening on a corporate level, on a Fortune 500 level where entire layers of middle management and middle employees and even the workers working at the factory, that's all being automated or moved to another country.
What's going to happen when self-driving cars are driving everybody around? It's 90% of the auto industry is just going to disappear, and it's not like they're just going to be transferred into the self-driving industry, that's going to be a smaller industry.
Interviewer: They're going to have to reinvent themselves.
They're going to have to reinvent themselves. That's just one industry. Same thing's happening in publishing, in the music industry, in accounting, in the legal industry, I mean..
Interviewer: There's new software coming out that makes everything simpler for accounting, you don't even ya know.
Yeah, and also let's say you and I were doing a contract. We're going to be partners in some new business. I don't need a lawyer I'll go to legalzoom.com, download s document and then we'll sign it. And so many things are happening now, and companies are catching up, individuals are catching up, and you know hopefully the listeners are catching up.
---
You might also like
---
More from Believe Life
---
Today we're going to learn how to communicate effectively.  Good morning, Believe Nation. It's Evan. My one word is believe, …
Today, we're going to talk about how you can create a massive action plan. Good morning, believe nation. My name …
Today we're helping you to stay motivated, and to learn how to motivate yourself! How to MOTIVATE Yourself - #BelieveLife Why MotivationGrid We're all …